1 View
November 19th, 2021 6:07 PM
Share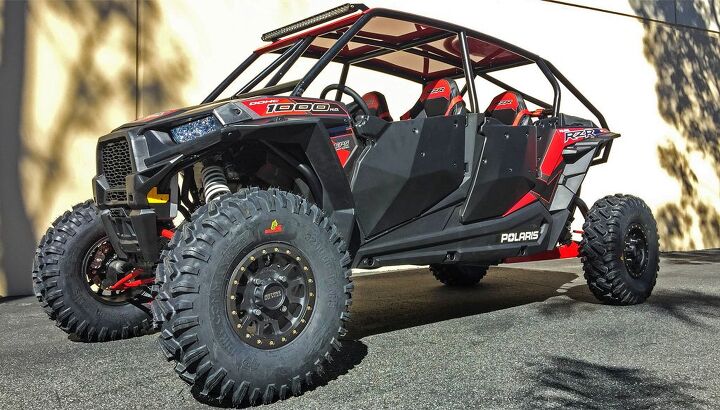 GBC's line of rugged off-road tires is ready for just about anything
GBC Tires has built a strong reputation in the off-road world and this buyer's guide looks at a host of available tire options for ATVs and UTVs.
Selecting the right tires for your utility ATV or UTV can be both easy and difficult, given the numerous brands available. Let's take a look at some of the more popular GBC tires to see which might be the best fit for your machine and style of riding.
I admit it. I'm a gear head. While I love the machines and the stock parts that are offered on them, I am always looking at the aftermarket offerings to see what's new, what's cool and, most importantly – what I want. It used to be, back in the day, that there were only a few tire companies offering products for ATVs. Of course, there weren't as many ATVs back then. Now we have more companies in the mix and some really great tires coming from quite a few major players. One of those major tire companies is GBC Motorsports.
GBC tires are available for both ATV and UTV applications. There is a wide range of tires that work in different terrains, with a strong emphasis on rocky, desert terrain, an area the company has become quite well-known in. Let's take a look at some of the best GBC ATV tires available for every different terrain that will also work on most UTVs as well.
Table of Contents
1. Editor's Choice: GBC Terra Master Tires
Truly unique in the off-road world, the GBC Terra Master is the industry's first UTV tire with an asymmetrical non-directional tread pattern. This means you can run the tire in either direction and get a different level of performance, giving you two tires in one. With the A-side (treads that come to a triangular point) pointed out, the tire is better suited for soft to intermediate terrain. Flip it around and run the B-side out (more squared off treads) and the tire will perform best in intermediate to hard terrain. This 10-ply tire is available in 26, 27, 28, 29, 31, 31, 32, 33, and 35-inch sizes.
2. Runner Up: GBC Kanati Mongrel Tires
If you have ever ridden in the desert or in really rocky terrain, you know that this type of riding can be hard on the tires. Even the most careful and cautious rider is eventually going to find a way to get a flat. There are some tires that are legendary for toughness and a couple of them are GBC tires.
Probably the number one GBC tire for this terrain is the GBC Kanati Mongrel 10-ply radial. It attains this legendary status by being a 10-ply tire, which means it is really tough. This is a smooth-riding tire that works extremely well on hard-pack and rocky terrain. It's a cool product too, because you can get these GBC tires for both your UTV and your truck. It works pretty good in softer terrain, and even some mud, but know going in, this is a tire meant for hard pack stuff.
3. Best Hardpack Option: GBC Dirt Commander Tires
Another great tire for hardpack and intermediate dirt is the Dirt Commander. If you bought a Polaris RZR S lately, then you already have these GBC tires, as the Minnesota company chose them as the OEM stockers. These are 8-ply, heavily siped tires that get really great traction on a wide range of terrain types. I pounded a set of these tires for a season and they still looked new.
4. Best Sport ATV Option: GBC XC-Master
Looking for a high-speed hard-pack dirt tire? The GBC Afterburn is for you. This is a 6-ply directional tire that excels at going fast on hard to intermediate dirt conditions. It has a flat profile to increase the contact patch and the construction balances light weight with durability to give you the performance you need.
5. Best Mud Option: GBC Spartacus Tires
While there aren't any true mud-specific GBC tires, they do produce tires that work amazing in soft terrain with moderate amounts of slick mud while retaining good manners in more general terrain types. That isn't something that can be said for many mud tires. One of the more extreme GBC tires that fits this bill is the Spartacus. These hefty 8-ply tires have directional tread that moves well through nasty mud and soft, loose-pack soil. The open design helps with cleaning, and the constant contact patch makes these GBC tires quite capable in harder terrains and even on rocks. The heavy-duty tire is also quite puncture resistant. As a plus, with the name Spartacus, you can claim to have some gladiator in you when you're driving.
Another of the extreme terrain tires is the GBC Grim Reaper. Why would this tire be called the Grim Reaper? Well, if you think about it, the Grim Reaper doesn't care who you are, or what you look like. He takes on everyone the same. That's how this GBC tires look at the terrain ahead. It's an 8-ply tire with a skeletal tread pattern with deep, cleaning lugs and siping to grip hard pack and rocks. The solid center patch means good contact and a smooth ride. It's nice to not fear the Reaper.
How do I figure out which tire is right for me?
That really depends on where you spend more of your time riding. If you like fast desert riding, you'll want something that has an aggressive tread and is puncture resistant. That means a good tire with bead protection and a good 8 to 10-ply tire construction that's able to take a pounding at high speed without leaving you with a flat tire. The same tire obviously won't work for mud because the tread patterns for the desert obviously won't work for the other. Focus on the tread patterns that would work best for your riding area and start narrowing down from there.
What is the best tire size for my machine?
There are numerous factors that determine this answer. First and foremost you need to determine how much clearance you have in the fenders and the clearance of the tire when you turn the steering wheel from lock to lock. In many cases, the addition of a lift kit can provide the tire clearance you want/need to run a larger tire. The next thing you need to take into consideration is the weight of a larger tire. In many cases the larger diameter can increase the load on your engine, drive and suspension components. Ask around to what other people are running and see what works best for them.
Additional Resources
Recent Updates
11/19/2021: Updated product descriptions, updated product links, ranked product, removed obsolete product, added GBC XC-Master, added FAQ and additional resources.
We are committed to finding, researching, and recommending the best products. We earn commissions from purchases you make using the retail links in our product reviews. Learn more about how this works.
Published July 6th, 2020 4:00 PM
Top Brands
Popular Articles