1 View
June 16th, 2015 6:35 PM
Share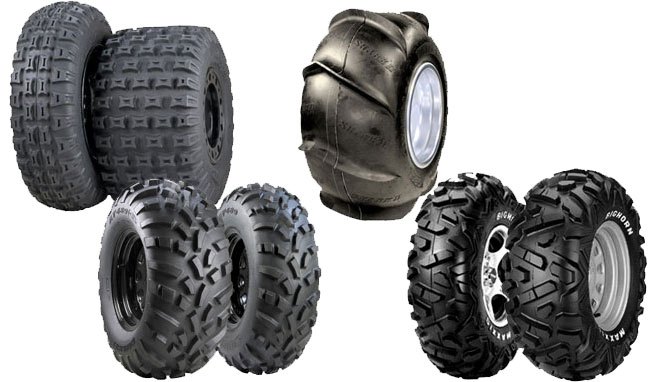 New rubber can make a world of difference
This is the second in a series of ATV Buyer's Guide articles. This series will look at everything from riding gear to performance modifications and everything in between. We will look at products and services from a wide variety of companies to help you see what your options are when it comes to spending your hard-earned money on ATV-related goodies.
After tackling helmets in the first Buyer's Guide article, we decided to work our way over to the ATV itself and take a look at tires.
We can't think of any other purchase that can change the characteristics of your ATV like a new set of tires. Replacing the rubber can turn your big bore utility quad from a trail cruiser into a mud bogger or a rock climber. If sport ATVs are your thing, new tires are the first thing you need to set up for tight cross-country trails, motocross tracks, wide-open sand dunes and everything in between.
Like everything else, when it comes to tires you've got no shortage of choices. A quick search netted us 20 different ATV tire makers and we're quite sure you could find plenty more. We can't list everybody here, but we'll try to provide a wide variety of styles and prices. The prices we list are from various retail Web sites. You may find a better deal if you search around.
AMS
Official Web Site
AMS primarily builds ATV wheels and tires. The company is represented by Parts Unlimited, so the dealer network is very strong. If you don't have a lot of money to spend on replacement tires, AMS has plenty of low-budget options that don't skimp on quality.
The Zipper from AMS is designed to allow reversal of tire rotation for increased traction in a variety of conditions. It features a lightweight 2-ply casing to reduce unsprung weight and increase flotation in sand and snow. Prices start from about $51.
The Fox A/T features a V-shape pattern for straight line traction and clean out in hard-packed and loose terrain. Lightweight 2-ply radial casing provides a large footprint for improved traction and a smooth predictable ride. Prices start from about $21.
Carlisle
Official Web Site
Carlisle Tire & Wheel is a division of Carlisle Companies, Inc., which has been in business since 1917. The company manufactures tires for a variety of uses, from mining and construction equipment to golf carts and trailers. Carlisle mostly focuses on utility ATV and UTV tires, but you find some Carlisle tires for sport quads.
489 tires are Carlisle's most popular. The 489 XL (pictured) offers a similar footprint and aggressive tread pattern, but comes in a durable 6-ply design. Prices start from about $60 per tire.
Mud Wolf tires, as the name suggests, are designed to perform in the mud. They feature an overlapping cut-out V tread pattern and a 6-ply carcass. Prices start from about $75 per tire.
Dunlop
Official Web Site
Dunlop and tires are pretty much synonymous the company's origins go back to 1889 when John Boyd Dunlop designed and patented a tricycle tire. The ATV world has embraced Dunlop tires and today Dunlop tires come standard on many ATVs.
Quadmax Sport front and rear tires feature radial construction to allow all four tires to function together. A double-center rib design on the front tires provides solid traction, while the rear tires has an asymmetric tread design for maximum side and forward traction. Prices start from about $63.
Quadmax tires are designed for utility ATVs. They feature an aggressive tread pattern designed to provide superior performance in tough conditions. A flatter profile offers a larger footprint for more traction, while the tire carcass incorporates two nylon plies. Prices start from about $67.
ITP Tires
Official Web Site
Unlike most other manufacturers, ITP Tires only produces tires for ATV and UTV applications. ITP is heavily involved in ATV racing and much of the product testing is done by racers. ITP produces tires for just about every situation – from the motocross track to the mud bogs.
Introduced in April of 2009, ITP says the QuadCross MX Pro Lite is the next big step in race tire technology. The motocross-specific tire features a 2-ply carcass and utilizes a sidewall apex design that stiffens the sidewall during side loads. The front tire is one pound lighter the rear two pounds lighter than the QuadCross MX Pro. Prices start from about $77.
ITP calls the new BajaCross its most rugged tire ever. It has been designed to handle the toughest and heaviest UTV applications, but it can also work for utility ATVs. An 8-ply rating, extended-life rubber compound and overlapping tread pattern make this the highest mileage tire ITP has ever produced without sacrificing trail comfort. Prices start from about $108.
GBC Motorsports
Official Web Site
GBC Motorsports evolved out of Greenball Corporation, which has been building ATV tires since 1980. GBC Motorsports was formed in 1995 to focus on designing ATV tires for every riding style.
The Sand Shark is GBC Motorsports' best selling sand tire. The classic V-angled paddle features eight deep diagonal lugs and is designed to churn sand and ensure traction and excellent cornering and turning stability. Prices start from about $62
An aggressive all-terrain trail ATV tire, the Dirt Commander is built using tough 8-ply construction and offers excellent puncture resistance. The tire features a siped thread design to provide additional biting edges for better traction. Prices start from about $92.
Kenda
Official Web Site
In business since 1962, Kenda is a leading manufacturer of tires for ATVs, motorcycles, bicycles, trailers and industrial uses. When it comes to ATVs, Kenda has tires for just about every purpose. ATV.com used Kenda Klaw tires for our Raptor 250 Project quad.
Kenda Klaw XC tires are designed for cross-country riding. They feature GNCC style radial casing and are designed to meet the demands of the toughest cross country terrain. Dual rotation tread design allows the rider set up for soft to medium terrain or medium to hard terrain. Prices start from about $68.
The classic front Dune Runner features a reinforced rib for positive steering while cutting through the sand. The rear features horizontal paddles for even hook-up, traction and pulling power. Replacement of Dune Runner tires is easy as there is no specific left or right designation. Prices start from about $52.
Maxxis
Official Web Site
Maxxis has been making tires for more than four decades and has distribution in approximately 160 countries. As one of the biggest names in ATV tires, Maxxis has a tire for pretty much every style of riding you can think of.
Maxxis Bighorn tires feature a wide footprint and a tread pattern designed to provide exceptional traction. It's a very versatile tire that can be found stock on several ATVs and UTVs (like the Polaris Ranger RZRS) and is also used in 4×4 ATV racing. Prices start from about $100.
Maxxis calls the MudZilla the ultimate ATV mud tire. Designed specifically for riding in the mud and muck, this 8-ply tire features an aggressive look with massive pyramid-shaped tread blocks for maximum traction. The tire also offers a rim guard for wheel protection. Prices start from about $110.
Related Reading
ATV Tires: Buyer's Guide
Yamaha Raptor 250 Project: Wheels and Tires
Published September 23rd, 2009 12:27 PM