14 Views
July 19th, 2021 2:39 PM
Share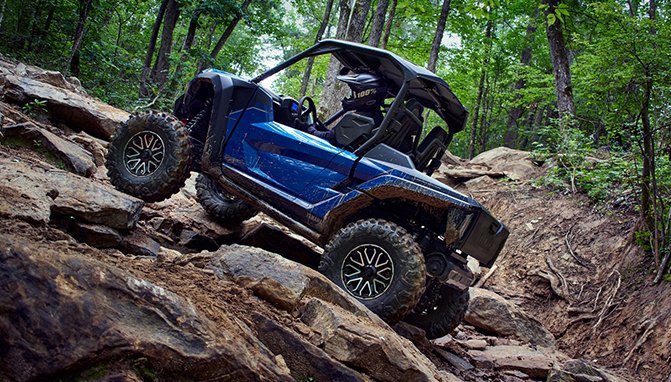 Whether an upgrade in size or looks, these wheels are some of the best you can buy
Whether you're chasing after a certain aesthetic, or you're trying to unlock a bit of extra performance from your UTV, a new set of 14 inch UTV wheels is one of the absolute first modifications you should consider.
Each aftermarket wheel has its own distinctive look, and 14 inch UTV wheels are available in every style you could possibly want – from open, racy-looking lightweights to thick-spoked, brawny wheels with beadlock bolts and an imposing character. Less obvious are the ways that aftermarket wheels can improve your UTV's performance. Fitting wheels that are lighter than stock means less rotating mass, which translates to better response when accelerating, braking, or turning, not to mention less unsprung weight, resulting in a quicker-reacting suspension that's better able to maintain traction. Beadlocks, available on numerous different 14 inch UTV wheels, use a set of rings to "lock" each tire bead to the rim, permitting you to safely air down more for superior off-road grip.
Need some help navigating the big, wide world of 14 inch UTV wheels? That's where we come in. We've put together this handy list of the best 14 inch UTV wheels on the market today. The list includes a number of 14-inch beadlock wheels, for you hardcore off-roaders, as well as non-beadlock options for the average budget-conscious driver.
1. Editor's Choice: Fuel Vector
Fuel is well-known in the off-road truck world as the manufacturer behind some of the most dependable, brawny-looking wheels around, and the company puts just as much care into its 14 inch UTV wheels. The Fuel Vector is a perfect example of this. It rocks a durable one-piece design with twelve big spokes and a tough matte powdercoat finish. Two versions of the wheel exist – one with a genuine beadlock ring, and one with a simulated faux beadlock appearance – but regardless of which version you go with, you get the same superb design and build quality. At 20 pounds per wheel, they're not the lightest 14-inch UTV wheels out there, but they're on par with other wheels offering this level of durability.
2. Best Baller Option: Method Race Wheels 401
If you're willing to pay more to have the best, you'll find it in the Method Race Wheels 401. Made from high-pressure cast aluminum alloy with 6061 aluminum alloy beadlock rings, the Method Race 401 might be one of the absolute strongest 14 inch UTV wheels in the world, with a 1,600-pound load rating and zinc-plated Grade 8 beadlock hardware. Even if you didn't know the specs, you might be able to guess that the 401 is made of tougher stuff; it certainly looks the part, with its twelve thick spokes and big, broad center. The only downside? The price. The Method Race Wheels 401 is decidedly not for those UTV owners shopping on
3. Best Steel Option: ITP Delta Steel Wheel
Aluminum alloy may be the most prevalent material for aftermarket 14 inch UTV wheels today, but there's a very good reason that steel has stuck around: durability. Steel wheels are generally less likely to suffer impact cracks than their aluminum alloy counterparts, and should you ever manage to bend one, it's typically far easier to round back out. All of that makes ITP's Delta Steel Wheel a thoroughly solid, dependable option. The wheel features a precision rolled rim and a high strength stamped center, leading to roughly 35% greater overall strength than the average OEM wheel, per ITP. Each one is shod in a matte black powdercoat finish to help stave off rust and keep it looking great season after season.
4. System 3 Off-Road ST-3
Beside serving a functional purpose, beadlock rings and their hardware just look cool. The good news is that you don't need to spring for genuine 14 inch beadlock wheels to get the beadlock look; the System 3 Off-Road ST-3 has simulated beadlock rings that look the part with black wheel lips and contrasting cadmium-plated bolts. They also feature a slinky, lightweight-looking design, with eight Y-shaped split spokes and a choice of black or bronze finish, both of which are sure to instantly elevate your side-by-side's curb appeal. Lightweight and strong with a 1,000-pound load rating, the System 3 Off-Road ST-3 is one of the sharpest-looking 14 inch UTV wheels around.
Get yourself some great 14 inch beadlock wheels for less, with the Tusk Racing Teton Beadlock Wheel. This wheel is a gift to budget-conscious off-road performance drivers everywhere, with a cast aluminum rim and center, and a functional forged aluminum beadlock ring combining to deliver outstanding strength with a 1,200-pound load rating, and true beadlock capability. It doesn't hurt one bit that the Tusk Teton Beadlock Wheel is a looker, too, with brawny orthogonal split spokes and a choice of machined, gunmetal, or dark bronze finish. Each of those available color finishes contrasts with the standard black beadlock ring and zinc-plated hardware, adding up to a wheel that looks every bit as good as it goes.
Superb looks and a light weight are the STI HD7's greatest weapons. Available in a variety of different exciting finishes, featuring black with blue, red, orange, or "smoke" gray spokes, the STI HD7 features six split spokes and an open design that looks great and helps keep weight to a minimum. The wheel lip is reinforced for extra strength – a lifesaver if you enjoy driving your side-by-side like you stole it – which contributes to its impressive 1,000-pound load rating. No beadlock option is available on the STI HD7, but if you don't often find yourself airing down your tires for the trail, it's the perfect blend of strong, lightweight, and stylish.
Looking for some budget-friendly 14 inch UTV wheels that won't break the bank? The RockTrix RT103 gets our vote. It's hands-down the least expensive wheel on this list, but it still offers plenty of benefit, from its lightweight cast aluminum alloy construction to its distinctive eight-split-spoke design and sharp black finish. Sadly, the RT103 is only compatible with side-by-sides with an independent rear suspension, according to the manufacturer, and there's no beadlock option, meaning those on the hunt for the right set of 14-inch beadlock wheels will want to look elsewhere. But if you're just looking to shed some weight from your factory wheels as inexpensively as possible, the RockTrix RT103 is a solid choice.
Simple, elegant, and offered with a lifetime structural warranty that will see the manufacturer replace your wheel should you ever manage to bend or break it, the ITP Hurricane is the complete package – although it's only available without a beadlock. Still, the ITP Hurricane is a strong, lightweight wheel with excellent looks, backed by ITP's enviable reputation for supplying some of the best, most dependable UTV wheels and tires on the market. It also has a nifty little trick up its sleeve: an exclusive "Rock Armor" inner wheel lip that's designed to guard your tire's sidewall from rocks and debris, helping to prevent punctures and get the most out of your tires. If you're looking for a significant boost in appearance and performance, and you're not ready to pay an arm and a leg to get it, the ITP Hurricane is a great option.
What Are Beadlocks, And Why Would I Want Them?
A beadlock, as the name suggests, is a method of securely fastening the bead of the tire against the lip of the wheel rim using a ring – usually made of forged aluminum – that clamps the tire bead on using a set of bolts. While they're legal equipment across the US, many states don't allow beadlocks to be in used while on the road, which is something to keep in mind if you ever plan on taking your side-by-side out on the street: they're for off-road use only.
The benefit of a beadlock is that it helps to thwart one of the leading causes of flat tires off-road: popping the bead off the rim. It's common practice in certain treacherous terrains to partially deflate the tires, thereby expanding the contact patch for better flotation and overall traction. The problem is that letting air out of the tires means there is less air pressure to keep the bead – the reinforced edge of the tire that seals against the wheel – properly seated in its groove. All it takes is one good bump and suddenly, the bead lets go of the rim, losing its seal and deflating the tire completely. A beadlock counteracts this by maintaining a constant, firm mechanical pressure that holds the bead against its groove on the rim, making it far tougher for bead separation to occur. With that extra bit of help, you can safely air down your tires further than normal for extra traction on the trail.
This list includes several different 14-inch beadlock wheels, and many more that do not offer beadlocks. As useful as they are, beadlock wheels tend to be heavier and more expensive than their one-piece counterparts – something to keep in mind while you shop for your new 14 inch UTV wheels.
Can I Use Factory Lug Nuts with My New 14 Inch UTV Wheels?
When it comes to reusing your factory lug nuts with your new 14 inch UTV wheels, unfortunately, there's no cut-and-dry answer: it all depends on the wheel. Some wheels on this list – like the Tusk Teton, for instance – have lug cavities that are too small for most factory lug nuts and wrenches. In order to fit these wheels, you may need to purchase slimmer aftermarket lug nuts and a specialty socket. That's not something that's necessarily advertised front and center, but it's important to be aware of in case you need to get up and running again straight away after swapping wheels.
The best advice we can give is to not only check any and all manufacturer information, but to peruse customer reviews online, as well. If there is an issue using factory lugs and a conventional lug socket, someone has probably noted it in their review.
We are committed to finding, researching, and recommending the best products. We earn commissions from purchases you make using the retail links in our product reviews. Learn more about how this works.
Published July 19th, 2021 2:38 PM
Top Brands
Popular Articles