23 Views
Best Can-Am Maverick Tires For A Better Bite
July 13th, 2021 4:56 PM
Share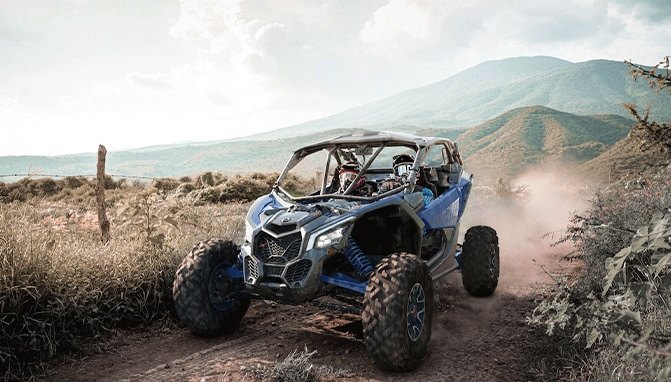 If you're shopping for a set of tires for your Maverick, you've come to the right place
Finding the best Can-Am Maverick tires can be overwhelming when you're ready to replace or upgrade your worn out tires. With so many brands and tread pattern options available, how do you know which is right for you? That's where we come in.
If you're looking for a set of Can-Am Maverick tires to replace your worn-out rubber, there are plenty of factors to take into consideration. Are you happy with what you're currently running, or could you benefit from a different tire that is more specific to the terrain where you ride? Whether you like to tackle dirt, mud, sand, or any other terrain, there are plenty of tire options to consider from some of the best best-known ATV and UTV tire manufacturers like Maxxis, Kenda, ITP, and many more. Many of which offer tires sized to fit the Maverick's factory wheels, in styles ranging from all-terrain to mud-terrain, to extreme-terrain and beyond.
Of course, all tires aren't created equal, and which tires you choose comes down to the sort of driving you do and the quality of the tire's construction. To help you zero in on the perfect set of Can-Am Maverick tires for your ride, we've put together a great list of best tires currently on the market.
1. Editor's Choice: GBC Terra Master
GBC knows a thing or two about tires, and when it comes to replacing your worn Can-Am Maverick Tires, their Terra Master is the favorite of our staff. "Two-in-one" products rarely live up to their promises, but with the Terra Master, GBC has managed to create a two-in-one tire that really works. Its party trick is what GBC calls the industry's first asymmetrical non-directional tread pattern. Translation: mount the tire one way and the tread is optimized for soft-to-intermediate terrain. Mount it the other way, and you have something aimed more at intermediate-to-hard-pack terrain. In addition, you get an ultra-rugged, puncture-resistant 10-ply-rated radial carcass, and a non-directional design that delivers outstanding traction in all directions, all in a tire that meets and exceeds all DOT requirements, making it a hands down top choice replacement tire for your Can-Am Maverick.
2. Best OE Replacement: Maxxis Bighorn
The Maxxis Bighorn is factory equipment on many Can-Am Maverick models, and it's proof positive that a radial tire is every bit as good off-road as a bias-ply tire. The BigHorn is at-home in the desert as it is on soft-pack and rocky trails, delivering the ride comfort, responsiveness, and high-speed stability of a radial-ply tire. With a six-ply rating and big shoulder lugs designed to help protect the sidewalls, the Bighorn is plenty strong enough for the average Maverick driver, yet light enough to deliver great acceleration, braking, and steering. If you're not sure what Can-Am Maverick tires to go with, you can't go wrong with original equipment.
3. Best Desert Terrain Tire: Kenda Mastodon HT
An outstanding hard-terrain-focused tire from a company that knows a thing or two about high-performance, the Kenda Mastodon HT is begging to be ridden hard with its rugged, puncture-resistant 8-ply radial construction. That same radial construction lends itself to a smooth ride and predictable high-speed handling, while the light truck-inspired tread design delivers outstanding traction, allowing the Mastodon HT to excel whether it's being driven at high speeds over the desert or testing its mettle through tight, rocky trails making it one of the premier Maverick tires. Perhaps best of all, the Mastodon HT meets or exceeds all DOT requirements, making it a solid option for Can-Am Maverick owners in states where they are street legal.
4. Best Rocky Terrain Tire: Sedona Rip Saw R/T
Hands down one of the best extreme-terrain tires around, the Sedona Ripsaw R/T looks every bit as aggressive as it drives. It's a 6-ply-rated radial tire with jagged, 1-1/8"-deep tread blocks that wrap around onto the sidewalls for a super aggressive bite. This all adds up to an extreme-terrain Can-Am Maverick tire designed to deliver outstanding traction in just about any sort of nasty terrain, from deeply rutted trails to thick mud, jagged rocks, and everything in-between. It's not a cheap tire by any means, but considering its extreme-terrain credentials and the weight of the Sedona name, the Ripsaw R/T well worth the investment for your Can-Am Maverick.
5. Best Light Mud Tire: ITP Mud Lite XL
As one of the most popular mud tires on the market, the ITP Mud Lite XL is a well-rounded mud-terrain tire, capable of tackling trails with surprisingly good steering feel and a smooth, comfortable you would expect from a radial Maverick tire. True to its name, the ITP Mud Lite XL is a lightweight tire, making it quick to respond to throttle, brake, and steering inputs, while being able to thrive in intermediate and soft terrain to rocks, ruts, and snow among its long list of proficiencies.
6. Best Deep Mud Tire: SuperATV Intimidator
A revered brand among serious ATV and UTV owners, SuperATV routinely knocks the ball out of the park when it comes to accessories like UTV windshields, bumpers, and lift kits. Why should the all-American brand's tires be any different? A versatile, aggressive mud-terrain tire par excellence, the SuperATV Intimidator is the answer for those on the hunt for something that can claw its way out of just about any mud hole, and still handle itself on the trail. It rides surprisingly smooth, with big, beefy 2"-deep tread lugs that don't bend and deflect to the point of getting out of sorts on intermediate trails, and lots of hard biting edges that deliver traction even on slick rock faces. If you love mud, the SuperATV Intimidator is the tire to end all Can-Am Maverick tires.
Recent Updates
7/13/2021: Updated product descriptions, added FAQ info, added additional resources
Additional Resources
We are committed to finding, researching, and recommending the best products. We earn commissions from purchases you make using the retail links in our product reviews. Learn more about how this works.
When I replace my Can-Am Maverick tires, do I have to get the same size?
Definitely not. You can increase the tire size, but are limited to the rim diameter that you're currently running unless you want to upgrade your wheels as well. Also you're limited by the clearance you have from your frame and body work, but fortunately there is a lot of play in that area. Next time you go riding, look for other Can-Am Maverick owners and see what they're running.
What should I consider when choosing Can-Am Maverick Tires?
First and foremost, you need to think about the terrain you primarily ride in. If you spend more time on high speed hard packed trails but occasionally come across a mud hole, the SuperATV Intimidator probably isn't the right tire for you. Look for a tire that best suits your favorite and most consistent riding terrains. Tires like the Terra Master, Bighorn, Mastodon and Rip Saw are very capable all-terrain tires that might excel in specific terrains. One other thing you might want to also consider is the weight of the tires you select. If you do a lot of mud riding and opt to install a set of Super ATV Intimidators, you might want to consider upgrading to stronger axles to prevent a mechanical failure in the future.
Published February 11th, 2021 10:00 AM
Top Brands
Popular Articles