1 View
Best Can-Am Maverick Wheels for Next-Level Performance
July 13th, 2021 5:03 PM
Share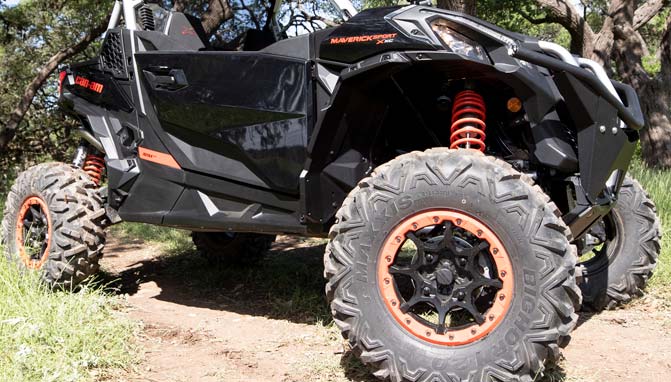 New wheels open up lots of tire possibilities for your Maverick
If you want to take your Sport UTV's performance to the next level, a new set of Can-Am Maverick wheels should be high on your wish list.
The right set of Can-Am wheels can be almost as important as your tires for helping to maximize the performance of your side-by-side. Equipping wheels that are wider than stock, for instance, can facilitate the fitment of wider rubber, giving you a larger contact patch with more traction over all sorts of terrain.
Opting for lighter-weight wheels helps the suspension react more quickly to bumps and dips in the trail, and less rotating mass contributes to quicker directional changes and enhanced acceleration and braking. And of course, even if you aren't necessarily looking to replace your factory Can-Am Maverick wheels, you might find that you want a spare set to keep some sand paddles or extreme mud-terrain tires mounted and ready to go, even if you don't want them equipped all the time.
Here, we've rounded up some of the best Can-Am Maverick wheels available today, from well-known and trusted manufacturers including ITP, Pro Armor, and Tusk Racing.
1. Editor's Choice: Tusk Teton Beadlock Wheel
A tough, hard-wearing beadlock wheel for Can-Am Maverick models including the Maverick Sport and X3, the Tusk Teton is more than just an aesthetic upgrade – although it is certainly that. Measuring 14 inches in diameter with 7 inches of depth, these Can-Am Maverick wheels can accommodate plenty of the best off-road rubber, and they feature forged alloy beadlock rings with Grade-8 zinc-plated bolts rated to 1,200 pounds, so you can tear it up all day on the trail without having to worry about popping a bead. Its great looks and rugged durability make it the staff favorite of all the Can-Am wheels.
2. Budget Pick: ITP Delta Steel Wheel
If you want a set of Can-Am Maverick wheels you can ride hard off-road and not have to worry about bending, there's no replacement for steel. They may be heavier than a set of alloys, but steel wheels are generally also much easier to repair. That's why these ITP Delta steel wheels make the list of our favorite Can-Am Maverick wheels. According to the manufacturer, they're a full 35% stronger than the stock wheels, but thanks to their "D-window" center design, they're not so heavy that they'll impair your ride: just 17.5 pounds per wheel. But perhaps best of all, their low price makes them perfect as a spare wheel set.
3. Baller Wheels: Method Race Wheels 405 Beadlock Wheel
An extremely strong, durable wheel from a legendary manufacturer, the 405 Beadlock wheel from Method Race Wheels is hands down one of the best performance Can-Am Maverick wheels out there. Perfectly suited to models like the Maverick X3, X RC, and Turbo, these Method Race wheels measure 15 inches in diameter, opening your ride up to some of the biggest and best all-terrain and mud-terrain tires out there, and they ship with black forged beadlock rings and Grade 8 hardware, rated for up to 1,600 pounds of load. If these Can-Am wheels are good enough for the fastest UTV racers in the world, they're good enough for you.
If you're hoping for a slinky, sporty-looking set of Can-Am Maverick wheels, you're in luck: these STI HD4s are just that. Cleared to work on most non-X3 Maverick models, these STI wheels may not be beadlock-capable, but they make up for it with their light weight and solid responsiveness. Their gloss-black-and-machined-aluminum looks won't please everyone, but this eight-spoke design is certainly unique among aftermarket Maverick wheels.
5. Pro Armor Knight UTV Wheel
Want a ridiculously deep set of Can-Am Maverick wheels so you can mount some seriously wide rubber? Enter the Pro Armor Knight UTV wheel. Measuring 10 inches deep, these wheels are a full 3 inches more broad than the stock ones – perfect for many of Pro Armor's own high-performance off-road rubber, the company notes. On top of that, they look uniquely cool, with a matte black finish and an aggressive deep-dish design that's sure to turn some heads. Pro Armor notes that these wheels will fit 2016-2019 Maverick X3 and 2018-2019 Maverick Max models, but they may fit other Can-Am models as well.
6. System 3 ST-3 Bronze ATV Wheel
If you're looking for some lightweight alloy Can-Am Maverick wheels that won't break the bank, these System 3 ST-3 Bronze ATV Wheels are right up your alley. Weighing just 14 pounds apiece, these aren't true beadlock-capable wheels, but they effectively mimic the beadlock look with their black rim faces and mock hardware. System 3 does offer true beadlock capability in wheels like the SB-4, but for the combination of price, light weight, and appearance, these ST-3 Bronze wheels earn their spot on our list. Note: these aren't designed to work with Maverick X3 models.
7. ITP Hurricane ATV Wheel
Rounding out our list of the best Can-Am Maverick wheels is this set of 16" black Hurricane wheels from ITP. Lightweight and reasonably priced, these wheels are seriously big, giving your lifted Maverick access to all new options with regard to tall, high-performance off-road rubber. Of course, it doesn't hurt that they look fantastic, with a sporty, aggressive Y-spoke design and an attractive gloss black finish that looks just as good caked in mud as it does clean and fresh. These wheels aren't intended for use on Maverick X3 models, but for the rest of the lineup, they're the perfect way to get access to 16" rubber.
What is the bolt pattern on a Can-Am Maverick?
If you are going to pick up new wheels for your Can-Am Maverick, you have to make sure you are getting wheels with the correct bolt pattern. The good news is pretty much every modern Can-Am ATV and UTV has the same 4/137 bolt pattern, which makes it easy to swap wheels if you own multiple Can-Am vehicles.
What to consider when choosing Can-Am Maverick wheels
When you're shopping for Can-Am Maverick wheels, there are a numerous options that you'll want to take into consideration. The most important is looks. You want your Maverick to look sharp and one of the most stand out features are the wheels. There are numerous brands that offer multiple design styles for you to choose from. When it comes to the technical side of your wheel search, you want to make sure that you're purchasing the right wheel diameter for the tires you have, or you could just buy new tires at the same time. It's totally fine to increase your wheel size, but if you want to downsize for some reason, you need to make sure that you have proper clearance between the wheels and your brake calipers.
The last thing you want to look for is the wheel spacing. By changing your wheel spacing, you could potentially widen the stance of your Maverick but you'll be putting additional stress on components like ball joints and wheel bearings that could lead to premature failure. This could also drastically affect the handling of your machine.
Recent Updates
7/12/2021: Updated product descriptions, ranked product, added additional resources, added additional FAQ content.
Additional Resources
We are committed to finding, researching, and recommending the best products. We earn commissions from purchases you make using the retail links in our product reviews. Learn more about how this works.
Published February 24th, 2021 11:58 AM
Top Brands
Popular Articles