8 Views
Best Can-Am Maverick Doors
October 13th, 2021 2:56 PM
Share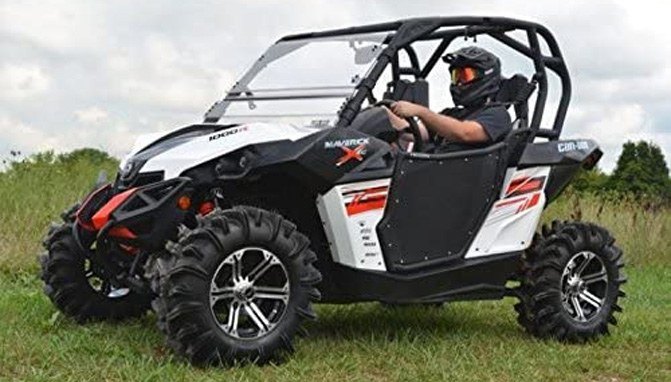 Add some protection and style to your Maverick
Full Can Am Maverick doors are among the most popular accessories out there for Can-Am's premier sport side-by-side, and it's no wonder why; spend enough time on the trails, and inevitably, you're going to end up being pelted by the odd rock or tree branch. We love a sense of open-air freedom as much as the next guy, but at the end of the day, you're supposed to be out there conquering the trail – not wearing it home.
Thankfully, there's absolutely no shortage of strong, stylish, great-fitting Can Am Maverick doors on the market, with options for all different body styles and model years. They effectively spare you from all sorts of trail debris, as well as mud and water, while you're in the cabin, providing a sense of security and comfort that just isn't there with the factory half-doors. Most are molded from durable, high-quality plastics with a steel frame for rigidity, or fashioned entirely out of lightweight aluminum alloy. In either case, they don't add much to your Maverick's total curb weight, and they fit almost seamlessly with the factory bodywork.
To help you navigate the bevy of Can Am Maverick doors available today, we've rounded up our favorites below.
1. Editor's Choice: SuperATV Can Am Maverick Aluminum Half-Doors
One of a few all-aluminum options out there, these Can Am Maverick doors are among our favorites thanks to their excellent fit and OE levels of quality. Seriously, with 1-1/4" aluminum tubing frames and CNC brake press-bent aluminum panels, these doors are built to last. Adding to their durability is an attractive black powdercoat. The doors feature an ergonomic shape and height for a comfortable ride, and they ship pre-assembled to make installation simple on 2013+ Maverick models.
2. Dragonfire Racing Hiboy Can Am Maverick Doors
While not the cheapest option on this list, these Can Am Maverick doors from Dragonfire Racing earn a spot on our list solely on their quality. Customers rave about their rigidity, durable construction, and high-quality latching and lock mechanism, which boasts two-stage slam-shut latches and Delrin-sleeved striker pins. They fit numerous Maverick models from 2013 on, including the 2013+ Maverick, Maverick X MR, and Maverick X RS, and deliver what just might be the most comfortable, most rattle-free experience you can get in a full-aluminum Can-Am Maverick door.
ECOTRIC offers up a shockingly affordable set of metal Can Am Maverick Doors. These doors are built using 0.9" steel door frames with aluminum door skins. These full doors feature suicide opening to make getting into and out of your Maverick a little bit easier.
There's not much in the way of reviews of these ECOTRIC doors, so it's hard to say how they are going to stand up. But seeing as these doors come with steel frames and are priced similar to soft doors, the value seems excellent.
4. Best Can-Am Maverick MAX Doors: SuperATV Heavy Duty Aluminum
If you're looking for a set of four Can-Am Maverick MAX doors, SuperATV has a set of heavy duty aluminum doors that would be a solid fit. These doors are built with brake press bent aluminum and are braced with 1" steel tubing, so they should last as long as your Maverick does. Other features include SuperATV's Quiet Latch assembly to prevent slamming.
It's worth noting that these are the most expensive doors on our list, but the built quality and materials used make that price tag a bit more palatable. And installation is a snap. Since the doors come preassembled and replace the factory door lowers, you just bolt on and hit the trails. SuperATV promises a rattle-free fit and their customer service is top notch if you have any problems.
5. BRP Can Am Maverick X3 Full Aluminum Doors (X3/MAX)
Or, there's this full-height door option from the manufacturer, which replaces the original plastic doors and delivers OEM-quality fit-and-finish for the Maverick X3 and X3 MAX. These Can Am Maverick doors don't come cheap, but if you're looking for high-quality aluminum doors straight from the manufcturer, you've found it. They're constructed from 5/64" aluminum for strength, with deluxe door handles and a durable, attractive textured black powdercoat finish
6. Kemimoto Can Am Maverick X3 Lower Half Door Panel Inserts
The Can-Am Maverick X3 series has unique design, coming from the factory with upper half-doors that leave a big, wide open void at the bottom. But you can plug the gap with these lower door inserts from Kemimoto. Available for both the two-door X3 and four-door X3 MAX from 2017 on, what we love most about these lower half doors is the price, which is just a small fraction of what you might expect to pay for a set of full-height Maverick doors. They don't impose much of a weight penalty, either, and they're made from high-quality plastic molded to match beautifully with the factory body lines, with a metal frame for rigidity.
7. Can-Am Maverick Upper Soft Doors
Designed for the two-seat Can-Am Maverick Trail and Sport models, these soft upper doors feature a sturdy steel frame that can help keep the cold and rain outside with a zipper closure. While these won't as long lasting as the aluminum doors on our list, but they are a good bit less expensive and the supplied mounting hardware allows for easy removal on hot sunny days. The doors are a perfect fit for all Maverick Trail models and can also be installed on Maverick Sport models or Maverick Trail models equipped with Sport Half Doors.
I'm new to owning a UTV. Why is having doors better than the net that comes installed?
There are numerous reasons, but the one that we always focus on is safety. When you're out on the trails, there are numerous things that can be flung into the cockpit and injure you and your passenger. Whether they're plastic or metal, when you add a door or door insert to your Maverick, you're adding an extra layer of protection from trail rocks, tree branches or any other trail debris. Additionally, the doors help to keep you more secure in the cab, preventing legs and possibly arms from contact with the ground if you happen to find yourself in a precarious situation. They also add a level of comfort and protection from the elements.
My Maverick X3 comes from the factory with doors, do I need to replace those with a whole new set?
If you like the doors that your X3 came with, there's absolutely no need to replace the whole door assembly if you want to seal in your cab area. There are plenty of insert offerings, both factory and aftermarket, that will convert your stock doors to a fully enclosed door for much less than a set of brand new aftermarket doors.
Additional Resources
Recent Updates
April 28, 2021: Added ECOTRIC doors, SuperATV Maverick MAX doors, and soft upper doors to the list.
10/13/2021: Replaced upper soft door with Can-Am product, updated product descriptions, added FAQ, added Additional Resources, updated OOS product links.
We are committed to finding, researching, and recommending the best products. We earn commissions from purchases you make using the retail links in our product reviews. Learn more about how this works.
Published September 25th, 2020 3:46 PM
Top Brands
Popular Articles