1 View
What's the Best Way to Improve Your Can-Am Maverick X3's Handling?
April 10th, 2023 1:52 PM
Share
The superhero movies like to say that, with great power, comes great responsibility. In the case of the awesome Can-Am Maverick X3 Turbo machines, it is more like, with great power, comes the need for great handling.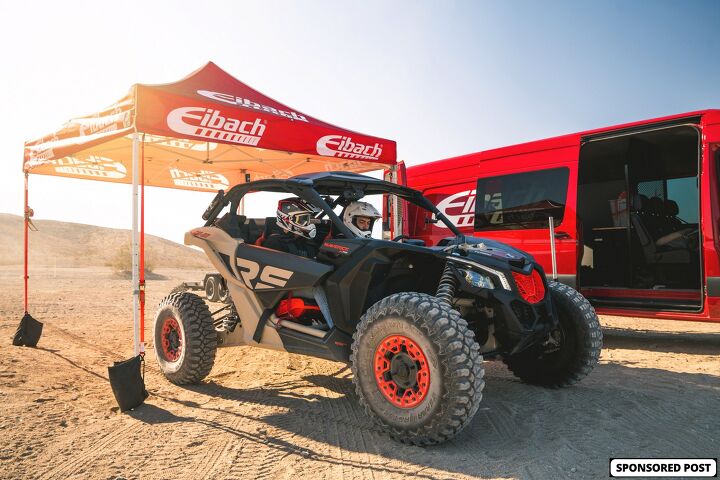 These machines can have a massive, turbo-charged engine that can produce 200 horsepower in stock form, and not everyone leaves the motor stock. With that many ponies, you need amazing handling or you can find yourself in a whole lot of trouble in fast order.
Can-Am does a pretty good job with the stock suspension, but it is designed for a wide-range of people. If you want better handling, you can customize the suspension, and the best way to do that is to install a set of Eibach Pro-UTV springs. It is the best way to improve your Can-Am Maverick X3's handling.
All About the Springs
Let's say you went out and bought a new 2023 Can-Am Maverick X3 X RS Turbo RR 72. This is the powerhouse model of the X3 lineup with Fox Podium 2.5 shocks with 22 inches of travel in the front and 3.0 shocks with 24 inches of travel in the back. You head out and are putting that 200hp motor to work, hammering through the terrain, but no matter what you do with the stock suspension adjustments, you're still feeling some deflection on the front from bumps and rocks, and the rear end still swaps a little when you're hard on the gas through the rough stuff. This is where the Eibach Pro-UTV spring kit shines.
There are two kits available - the Eibach Pro-UTV Stage 2 and Stage 3. Both kits come with eight springs and adjustable lockout collars, and are designed for overall better machine characteristics when loaded with a full complement of people aboard and an additional 99-pounds of gear.
The adjustable lockout collars give you fine tuning of the transition point of the dual spring setup. This gives you a smoother ride over the harshest terrain. These spring kits help prevent bottoming in the g-outs and landings thanks to higher spring rates. That smoother ride helps with deflections and helps absorb the impacts of the trail with less noise being transferred to the steering wheel, you and your passengers. The overall handling of the machine improves, especially in rough corners. It also helps the tires stay planted to the ground better and more consistently, giving you better hookup and grip to accelerate through the terrain.
The Stage 2 kit is designed with the "weekend warrior" in mind. With careful tuning of spring lengths, rates and crossover points they found a slight increase in combined rate over stock greatly improved handling and damper function. If you need more spring rate for your aggressive driving, or multi-passenger vehicle, like the Can-Am Maverick X3 MAX X RS Turbo RR 72, you will want the Stage 3 kit. The Stage 3 kit gives you an edge when you're pushing the limits of the machine, and is perfect for a UTV loaded down with passengers, tools and perhaps a spare tire. The more you push the Stage 3 Pro-UTV spring kit, the better it responds.
How Does Eibach Develop its Spring Kits?
Eibach does a rigorous amount of testing to develop a spring setup for each machine, and this testing process doesn't ever really stop. Eibach is constantly working with its own internal design and testing team, as well as professional racers across the country, and feedback from consumers. To get a shock that will perform at absolute peak, it takes much more than simply adding a heavier spring. Extensive testing gives Eibach the data to know exactly how much added rate to add over the stock spring.
Eibach also knows how its spring will perform at every stage of the stroke the shock goes through as it compresses and rebounds. For a spring kit to make it through testing and be ready for Eibach to sell it, it must compress at the right rate, rebound at the right rate and improve every aspect of the handling of the machine.
Production
The spring production process is precisely controlled. Eibach Pro-UTV springs start out as high-quality spring steel that must meet demanding standards. Eibach springs start out as pre-hardened, cold wound, high tensile strength spring wire that is formed into a set diameter for the sizes used on most UTV shocks. These springs are then stored as broad coils until formed into a specified spring for a particular UTV model.
Specialized CNC machines wind the springs, and every aspect is carefully controlled and inspected to get the proper ratio of spring load and deflection, or rate as it is commonly referred to. Each spring that is produced gets carefully measured and tested to produce a completely matching set of springs. The springs are then shot-peened for added strength and uniformity, and then beveled at the ends, making them easier to work with and perfect for installation.
Eibach tests with its own spring kits to not only find the best rates and designs, but also for quality control purposes. The result is the best springs to improve the handling of your Can-Am Maverick X3, as well as other UTVs.
Find the right spring kit for your X3 on Eibach's website.
Published April 10th, 2023 1:52 PM
Top Brands
Popular Articles