1 View
The King of the Hammers Experience
June 19th, 2015 3:56 PM
Share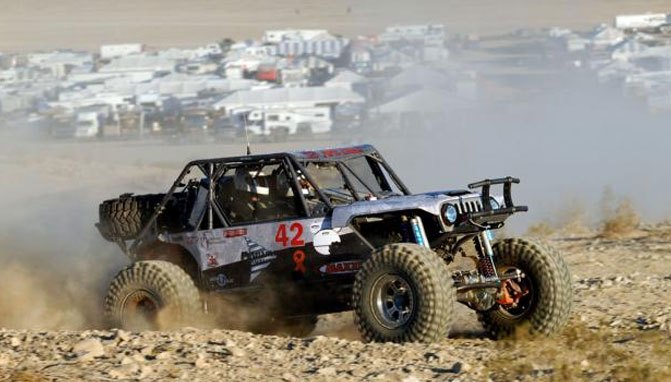 A week in the dust with 40,000 of our closest friends
Once a year, in a normally deserted spot in Southern California's Mojave Desert, a massive herd of off-road aficionados gathers to take in some of the wildest racing in the world. The area practically turns into its own city with around-the-clock action.
The Ultra4 King of the Hammers week in the Johnson Valley OHV Area draws over 40,000 spectators to the Means Dry Lake Bed, which is the rally point for an exciting variety of hotly contested hybrid rock crawl/desert races based around the legendary Johnson Valley Hammers rock formations. The Hammers have become renowned with four-wheel aficionados worldwide for their insanely technical passages, which can snap a driveshaft like a twig or waste the undercarriage of even the most heavily armored 4×4 faster than you can say "We need a winch."
And it doesn't really matter what your favorite recreational vehicle is, whether on two wheels or four, chances are good that KoH Week has a race on its schedule that you will enjoy watching. The event delivers such radical action that extreme sports energy drink sponsor Red Bull has even become involved. This year there was also a special night-time event known as the King Shocks Back Door Challenge that added to the spectacle.
Read our 2013 High Lifter Mud Nationals Report
KoH is the off-road equivalent of Daytona's Speed Week and Bike Week events, or the Black Hills Motorcycle Rally in Sturgis, South Dakota. It has become an annual pilgrimage for extreme 4×4 competitors and off-road enthusiasts from all over North America and around the world, so it's no wonder that it also attracts off-road journalists from just about every corner of the earth. It's a must-attend happening for ATV.com and our sister websites, Off-Road.com and DirtBikes.com, so there was no question that ORC editor Josh Burns, new Editorial Director Sean Alexander and I were going to make the scene. And this year we did it in style, with a rented motorhome and a mixed arsenal of dirt-worthy fun machines including Yamaha's new Viking 700 and Kawasaki's Teryx 4 LE. But even we were stunned by what we witnessed.
Everything from motorcycles to UTVs to full-on desert race trucks compete at King of the Hammers.
The brainchild of founders Jeff Knoll and Dave Cole, KoH debuted in 2007 with just 13 race teams and a handful of spectators outside of the race's officiating team. Fast forward to the 2014 event, where the total number of race teams was closer to 100, and if you didn't arrive the week before the King of the Hammers main event, finding a campsite anywhere near the epicenter known as Hammertown is a real hit-or-miss proposition. About 15,000 rabid off-road fans were on hand before the King of the Motos presented by Trail Tech motorcycle race kicked off the week's racing events.
King of the Motos attracts some of the nation's top factory-backed off-road motorcycle stars. Contenders at this year's event included such top dogs as top International Six Days Enduro top American Taylor Robert and reigning AMSOIL Grand National Cross Country Champion Kailub Russell for the factory KTM team. The technical nature of the King of the Motos course is practically tailor-made for trials riders, too, so it's no wonder that former World Championship and American trials specialists such as Great Britain's Graham Jarvis and inaugural King of the Motos Champion Cody Webb find success here. The spectator-friendly King of the Motos affords attendees the opportunity to watch these guys practice their wizardry over some truly brutal terrain. Webb was so dominant in the second half of this year's race, which included a crazy land-rush start, that he could afford to stop and replace a crash-damaged wheel en route to becoming its first two-time winner.
Cody Webb won the 2014 edition of King of the Motos.
At times, KoH Week rivals a three-ring circus, with racing events and special timed qualifying sessions for the week-ending Griffin King of the Hammers presented by Nitto often taking place simultaneously, while the center of Hammertown features a healthy aftermarket manufacturer's midway where you can check out some of the latest off-road hardware. It's a gearhead's paradise.
Read our 2013 Oregon Dunefest Report
But KoH Week offers more than just a place to view races. It's also a true hands-on-the-wheel gathering, as only a scant few sections of the course are off limits to attendees in-between races, and many of the attendees show up to test their driving skills and the integrity of their off-road vehicles, which run the gamut from nearly stock Jeeps and UTVs to dirtbikes to purpose-built rock-crawling rigs that can easily surpass six figures. We ran into 'wheelers who came from as far north as Vancouver, Canada, and as far east as Kansas. Day and night, these hard-cores and thousands like them turn King of the Hammers into an endless motorized parade as they head in and out of Hammertown to enjoy the diverse selection of terrain for which Johnson Valley is famous.
For the most part, KoH Week attendees are responsible folks, the real Neanderthals kept in line by the constant presence of the California BLM. Speed limits must be strictly adhered to near Hammertown, and those who press their luck run the risk of earning a citation and a heavy fine. But that doesn't stop KoH Week from being a veritable off-road Burning Man Festival after nightfall. Loud music permeates the air, fitting right in with a sky ablaze with the glare of fireworks. Huge parties, some thrown by the event's sponsors and fueled by copious amounts of adult beverages, are commonplace. And no matter which direction you look, the mountains surrounding Hammertown are a blur of high-watt headlights as rigs travel up and down the outlying routes like a stream of army ants. KoH enthusiasts play hard, 24/7.
Much like another popular desert metropolis, Hammertown is a blur of activity for 24 hours a day.
Our crew got in on the 'wheeling act while testing the Viking 700 and Teryx 4, and we had a blast hitting endless miles of serpentine trails on our Beta 520 RS and KTM 500 EXC dual sport motorcycles…that is right up until Sean, who was holding his own despite just getting back into the swing of off-road riding, crashed and suffered a wrist injury that sent him packing early and left us kind of bummed, as the week was just getting started. At least the prognosis was good, and he should make a full recovery.
After a break on Monday that allowed all of the KoH competitors the chance to pre-run the course in preparation for their chosen races, King Shocks hosted a special competition on Monday night called the Shootout at Backdoor. Over 50 racers showed up to the floodlit event, which featured a real stadium vibe, to battle for a chunk of the $12,500 purse put up by King Shocks, 4 Wheel Parts, Raceline Wheels, RCV and Dynomax, with over 2000 crazed fans urging them over Back Door's treacherous ledges. Carnage was the rule, with several competitors left wheels up or with other serious damage after failed do-or-die attempts at clearing the first ledge. The wildest scene came courtesy of one competitor who flat refused to back off even after ripping his buggy in two.
Brave competitors fight for cash in the Backdoor Shootout.
Others, like 2013 KoH Champion Randy Slawson, cleared the ledges like the rock-crawling veterans that they are. Slawson was the fastest, posting a time of 30.522 seconds up the marked section to earn the Shootout win and a healthy $7,000 check for his efforts.
Read our Rock Crawling Tips and Tricks
Of course, being hyped by all of the horsepower on display, some of the spectators couldn't help but get sucked into full racer mode on the way back to Hammertown following the event. The usual procession of vehicles being punctuated by impromptu Baja-style races between various off-road vehicles. Our Viking 700 was even chosen off by two far-out freaks driving a beat up golf cart and wearing heavy metal long-hair wigs. These clearly inebriated surf ninjas came from out of nowhere, blowing past us in a hail of ground-out suspension sparks and flying brush as they veered off the trail, double-jumped over two pucker bushes and then slammed back onto the trail right in front of us, laughing and throwing us a friendly wave as if to say, "Thanks for leaving the opening, duuuude!" Josh and I giggled at each other through our helmets, and then Josh mashed the loud pedal on the Viking to promptly return the favor with a well-executed pass that left the rockers choking on our dust all the way back to Hammertown.
We spent much of the week tooling around in a Kawasaki Teryx4.
Tuesday is reserved for qualifying for all classes on a short course that uses one of the smaller rock sections, known as Waterfall, in the foothills right next to Hammertown. The short course gives fans plenty of opportunity to watch the vehicles without having to stray from camp and offering plenty of photo ops.
Wednesday is the big day for the UTV class, and the 2014 event featured 24 teams vying for the win. It's amazing how well prepared these little-guy racers are – some of them are better-equipped for trouble than their full-sized fellow competitors in the big classes are. Speed is important, but the winning team is often the team that stays out of trouble in the Hammer sections. After 114 miles of brutal, rocky racecourse in Johnson Valley, that team was the father-and-son duo of Mitch Guthrie Sr. and Mitch Guthrie Jr., who crossed the finish line in their Polaris XP 1000 to earn their fifth King of the Hammers victory in the Pro UTV class. The Guthries finished their two-lap run with a time of 5 hours and 13 seconds. Their race was practically flawless despite having to winch out of couple tight spots. Only seven Pro UTVs even made it back to the finish line. John Duckworth earned the Sportsman UTV win with his time of 4:35:24 posted on a shorter course that cut out some of the sections that the Pro teams had to traverse.
The Guthries (Mitch Sr. and Jr.) won their fifth King of the Hammers UTV title in 2014.
When it comes to prestige, Thursday's Smittybilt Everyman Challenge for stock-based vehicles arguably takes a backseat only to the King of the Hammers main event. The race features multiple classes, with the modified rigs leading the way. John Currie earned his third consecutive Everyman Challenge, although he was challenged by rock-crawling royalty, Brad Lovell, for most of the race. Lovell suffered a rollover on Wrecking Ball, however, effectively ending his bid for the race win.
Read about How To Build a Rock Crawler
But the Griffin King of the Hammers presented by Nitto is still the granddaddy of them all, KoH Week's reason for bein'. The race teams, in their custom-fabricated 4X4s, start at 30-second intervals from Means Dry Lake bed and navigate through the desert in an impressive display of horsepower and speed that approaches the performance of Class 1 Baja buggies and Trophy Trucks. It helps to be fast in the desert sections, but the race is ultimately won or lost in the various Hammers routes that make up the technical sections. This year, Nitto Tires-backed Loren Healy did the event's presenting sponsor proud by capturing his second King of the Hammers victory to back up his surprise 2010 win.
Former KoH champions Erik Miller, Randy Slawson and Healy were all in contention for the win all day. Tom Wayes was actually the first racer to cross the finish line, and he did so in dramatic fashion with no tire on his front left wheel. Unfortunately, Wayes missed a number of key trail sections during the race and was assessed a number of time penalties that put him out of contention. In a thrilling conclusion to the 12-lap race, the leading teams crossed the finish line within a few seconds of each other, with Healy earning the win on adjusted time. Race fans couldn't have asked for a better finish to a fantastic week of racing.
Plans are already underway for an even bigger 2015 King of the Hammers week. Whether you're interested in competing, you enjoy taking interesting off-road treks in challenging desert terrain or just want to hang out and be a part of one of the biggest happenings in the off-road world, King of the Hammers should be on your bucket list. With Red Bull anticipated to step-up its involvement next year, King of the Hammers promises to be better than ever. Don't miss it!
Published March 12th, 2014 10:54 AM
Top Brands
Popular Articles