1 View
How To Build a Rock Crawler
June 17th, 2015 1:09 PM
Share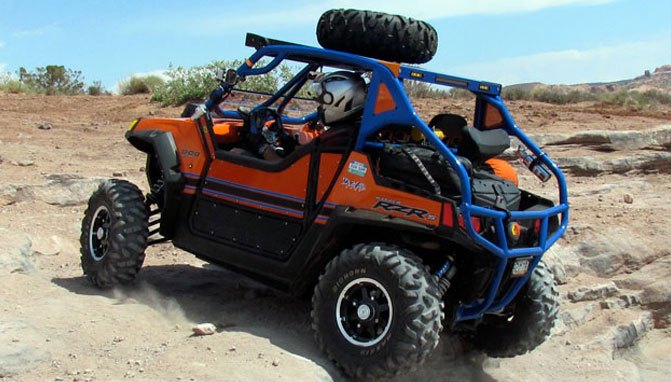 Getting ready for high thrills at low speeds
When we attended the 2013 Rally on the Rocks event in Moab, Utah a while back, the rock crawlers really grabbed our attention. Although it's not strictly a rock crawling event, Rally on the Rocks definitely brings out the big guns in terms of highly modified Side-by-Sides equipped for tackling the craziest rock obstacles.
Rock crawling is a different kind of thrill than most people expect when you hop into a side by side. How much fun can you really have creeping along at barely five miles an hour? But for thousands of UTV enthusiasts around the country, conquering a challenging rock obstacle or climbing up a nearly vertical ledge is quite the thrill.
While you don't have to get too crazy with modifications just to dabble in rock crawling, if you want to tackle some of the more challenging obstacles in a place like Moab there are some modifications that you'll really want to consider. Many of these pertain to safety and others are more geared towards helping you navigate those challenging sections with a little more ease.
Safety First
Just because you're crawling along, sometimes under five miles an hour, doesn't mean accidents can't happen. Many popular riding areas have steep, challenging climbs that can land you on your lid if your UTV happens to tip or lose traction. For that reason there are a few safety modifications that are highly recommended when constructing a Side-by-Side for rock crawling.
A six-point roll cage offers additional protection in the event of a rollover.
While most UTVs come stock with a sufficient four-point roll cage, if you're going to be getting serious about rock crawling, a six-point cage with added bracing for strength isn't a bad idea. The stock cage is tested and designed to protect the driver and passenger in the event of a rollover, but when tackling rough, particularly steep terrain, the chances of a rollover are increased. A six-point cage will offer even more strength and protection – it also looks cool.
VIEW: Read our 2013 Rally on the Rocks Report
To make sure you stay inside that protective cage at all times, we definitely recommend replacing the stock seatbelt with an aftermarket four- or five-point harness. The harness is designed to keep you securely in the seat should your Side-by-Side decide to take you for a ride. As well, a five-point harness has more mounting points so your weight is more evenly distributed across the harness.
A set of aluminum doors will keep you and your extremities inside in case you take a tumble.
A good set of aluminum doors to protect you from rocks and debris is also a smart idea investment. When it comes to safety as it pertains to rock crawling, the main idea is to keep the driver and passenger safely inside the vehicle. Rollovers can and do happen, but as long as everyone (and their extremities) remains inside the vehicle, most injuries are easily avoidable.
Ground Clearance
You're going to have a tough time navigating challenging rock fields if you get hung up every time you drive over a boulder. Getting up and over large obstacles requires a great deal of ground clearance. A combination of long-travel suspension and larger tires is the solution.
Many of today's sport Side-by-Sides like the Polaris RZR XP 900, Can-Am Maverick and Arctic Cat Wildcat come straight from the factory with long-travel suspension. For these vehicles it's not always necessary to add an aftermarket suspension setup; however, many aftermarket long-travel kits greatly increase the strength and durability of the control arms.
Long-travel suspension offers more ground clearance and comfort.
If you happen to have a Side-by-Side that comes with factory long travel, the quickest and easiest means of gaining some additional ground clearance is a set of larger tires. In Moab, 30 inches seemed to be the go-to size for most of the machines we saw, but STI does make a 32-inch version of its Roctane if you want to get really crazy. Most UTV tire manufacturers are still catching up with the demand for bigger tires, but currently GBC, STI, Maxxis and ITP each make a 30-inch tire. Just be aware that most of these larger sized tires will require some trimming of the bodywork to get them to fit.
VIEW: Learn how to build a serious mud machine
When selecting the right tire for rock crawling, it's also important to find a footprint that fits your specific style of riding. If you're going to be riding primarily on slick rock like many of the trails at Moab, a less aggressive tire with less spacing between the lugs will work well. If you prefer a mix of rocks and desert, you're going to need a tire that is aggressive enough to bite in loose soil but has enough surface area to grip the hard face of a rock. The Maxxis Bighorn and GBC Kanati Mongrel were the two most popular tires in Moab and seem to work well in all conditions.
When looking for traction, lower tire pressure will let your tire stick to a rock better by allowing the tire to flex to the shape of the surface, keeping more of the tire in contact with the rock. For that reason, beadlock wheels are a helpful addition because you can get away with running lower air pressure without the fear of popping a tire off the bead.
Beadlock wheels allow you to run low air pressure without the danger of the tire popping off the bead.
Keep in mind when adding larger tires that you will be putting extra stress on the clutch, axles and CV joints. You definitely don't want your belt slipping while your pivoting on a rock with only three tires touching the ground. Either you or your dealer would be wise to do some research on online forums about what clutch modifications people have made to your specific machine with similar modifications. At minimum you'll probably need to install heavier clutch springs to limit belt slippage.
To keep from breaking axles, probably the biggest thing you can do is avoid the temptation to mash the throttle. Rock crawling is about precision and having complete control over your machine at all times to be able to ease it up and over certain obstacles. While you may have to get on the gas pedal from time to time, keep in mind there is a lot of weight on those axles and CV joints. If you're pinned in between a couple of rocks, getting on the gas too hard is going to put a lot of force on those axles.
Non Performance Enhancing Modifications
While a winch clearly does nothing to affect the performance of a Side-by-Side, it certainly is an item that no serious rock crawler should be without. On many trails around the nation, getting up certain obstacles, like waterfalls and steep rock ledges, would be impossible without the use of a winch. Not to mention if you or someone in your group breaks down out on the trail, you might find yourself winching your way back over all the obstacles to limp back to camp.
A lead rope will help you keep your wheels on the ground on the nastiest climbs.
It's always a good idea to carry a lead rope as well. Most UTVs have enough power to make it up steep climbs, but gravity has a tendency to act in surprising and unexpected ways. A lead rope will allow a spotter to keep the side by side from rolling over if gravity starts to take effect. We watched a brave soul tackle the Devils Highway hot tubs on one of our rides in Moab and if it weren't for several guys holding the lead rope, I don't think there's any way he would have made it out without flipping over backwards. A lead rope isn't always necessary, but its cheap insurance and in the case of the guy on our ride in Moab, it provided the extra little boost he needed to make it to the top.
VIEW: A first-timer's guide to ATV racing
A spare tire rack like the Quickshot from Pro Armor is also a highly recommended accessory. You never know what obstacles you might tackle out on the trail and the quick shot provides you a usable space to store a spare tire, shovel, fire extinguisher and more.
The Pro Armor Quickshot can carry an array of tools and equipment that can help get you out of a jam.
Finally, some good protection to keep the underside of your UTV from getting banged up is a necessary and wise investment. A host of aftermarket companies offer body armor ranging from aluminum skids to rock sliders and trailing arm guards. Let's face it, you're going to hit some rocks. Protecting the underside of your Side-by-Side will keep you from sustaining unnecessary and costly damage.
Beyond that, get out and climb some rocks! These are not "must-have" modifications to be able to go play in a place like Moab. In fact, most stock Side-by-Sides are built well enough for you to get your feet wet and I've spoken to people that have driven virtually stock units down some of the most challenging trails in Moab. However, these modifications will make the experience safer and much more enjoyable. The more serious you get about rock crawling, the more you'll want to outfit your UTV with some of the modifications we've mentioned here.
Published July 2nd, 2013 11:12 AM
Top Brands
Popular Articles