23 Views
Building a Serious Mud Riding Machine
June 17th, 2015 1:11 PM
Share
We're committed to finding, researching, and recommending the best products. We earn commissions from purchases you make using links in our articles. Learn more here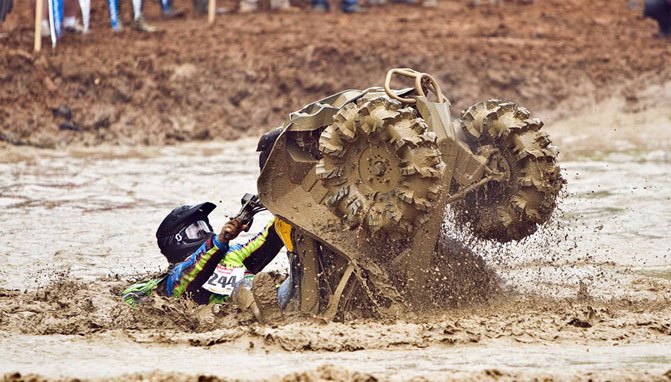 What you need before you get down and dirty with your ATV or UTV
Are you the kind of rider who loves playing in the mud on your trusty ATV or UTV? Though this can be off-roading at its best, there is one small nasty side to the mud riders' lifestyle – when you realize you have not prepared properly for the big ride. Usually this fact rears its ugly head when ego overruns ability and you find yourself stuck or broken down.
As we have learned from participating in the awesome fun of mud riding, some things just need to be done to the ride you depend on if you want to make it out the other side. This will ensure that you will get out of the muddy trails in the same condition you came in. Except for lots of muddy stuff coming with you, of course!
In our list of must-have mud riding details, you will find some basic information that will come to mind the moment you decide not to heed it. Don't be that guy (or girl).
VIEW: 2013 High Lifter Mud Nationals report
Get the Right ATV
When it comes to mud riding, you need the right tool for the job.
Before you start digging into your wallet for your machine to make it mud worthy, make sure it's something worth fixing up. Dumping thousands into a small displacement 2WD probably isn't your best bet. Make sure it's something that is going to be mud-worthy once you're done modifying it.
Keep the Water Out!
Keep water and mud out of your engine with a snorkel kit.
Make sure your machine is ready to go in deep watery mud. Unless you have a Can-Am XMR or Arctic Cat Mud Pro, your machine needs snorkels. You'll want to vent all the necessary lines as well (diffs, carb, etc).
VIEW: Read our review of Can-Am's mud machine – the Outlander 1000 X mr
Tread Heavy
Regular trail tires won't get the job done in the mud. For serious mudding, the Gorilla Silverback (left) is a greeat option. For a mix of mud and trail riding, the Silverback X-Lite (right) is the better choice.
Trying to figure out your most typical mud-covered riding conditions can be tough, so choose a tire is versatile. If you want to go with a very aggressive mud tire (Gorilla Silverback) or more of an all-terrain tire (Gorilla Silverback X-Lite), you'll need to look at your budget as well, as price and performance vary widely. You'll have to make sacrifices either way, so just decide on what you want your tire to do.
Lifting the Saddle
This is an extreme example, but a lift kit will help you get through the deep mud and water.
Depending on what size tire you decide to run, you may need a lift kit to give the needed tire clearance. Lifts also give you more center frame ground clearance, which really helps in the rutted out or root-filled holes. Decide how big you want to go, but remember other parts such as axles and drive belts will suffer the higher you go. You can find lift kits ranging from one inch all the way up to 12 inches.
Give Me Some Power!
You need big power to get through the nastiest terrain.
Since you're adding a lot more stress on your engine with the larger, more aggressive tires, you'll need more power to effectively spin them in the mud. A big, heavy lugged mud tire is no good if you can't turn it over in the thick stuff. You can go with simple power upgrades like an exhaust and an electronic fuel injection programmer (or jet kit for carb quads), or go with extensive modifications like big bore kits and other power adders. However, there are limits. Don't expect to mount 32s on your blaster and have power to go after only a jet kit.
VIEW: A first-timer's guide to ATV racing
Odds and Ends
You'll want to play in the mud all day, so an LED light bar will help you find your way home.
If you do get the chance to build a great all-out mud machine, be sure to keep a few extras in mind. Getting into the big trail with the deep ruts is a fun adventure, but it will eventually leave you out past dark so get you some extra light for your rig. Adding an LED light bar is a good way to light the way for the ride back to the truck. As well, do not forget the fact that you may be the one leading the crew!
If you do get stuck, a winch will help get you back on dry land.
Being the big dawg at the ride spot means you may need to pull some folks from their watery graveyard before the ride is over, so a nice winch set up is crucial. If your wallet is too light from the extensive building of the beast, a good strong Bubba rope will help so you can pull or be pulled!
Riding Smart
Deep mud is usually conquered best when going slow. Keeping the tires turning at a slow steady pace is the best way to get out of deep ruts and mud. Rock the ATV side-to-side to make the tires bite if high centered on a rut. Also, you never know how deep the hole may be so if you're going too fast you may get yourself into a bad situation. It always pays to be a smart rider.
Though it looks like pure power and traction will get you through anything, smart riders don't get reckless.
Always investigate the water hole before diving in. Check and see if there are ruts or tracks coming out of the other side. If not, you may be better off leaving it alone. If vegetation is growing on top of the water that is typically a sign that the hole hasn't been messed with for quite some time, which means there's a reason for it. Better to leave this alone, unless you're confident you and your machine are better than everybody else (you're probably not).
If you are going to ride the majority of your time in a deep, mud-covered creek bottom, then you'd better heed the warnings. We are here if you need any other help, but if you choose not to listen to our advice, its fair game to humiliate you in front of your peers. We did tell you so! And if you have a buddy who didn't listen to this advice, send us your pictures to our Facebook page to be posted on the ATV.com wall of shame. Published May 8th, 2013 1:09 PM
Top Brands
Popular Articles