3 Views
The Evolution of UTVs in Rally Racing
June 16th, 2015 4:49 PM
Share
We're committed to finding, researching, and recommending the best products. We earn commissions from purchases you make using links in our articles. Learn more here
From laughingstock to contender
When most people think of Stage Rally racing they are either remembering the old Group B days with insanely powerful Audis and Lancias or they are thinking of the bevy of blue Subarus with giant rear wings of more recent years. What they don't think of is UTVs.
Just a few years ago UTVs were fighting for inclusion in many of the top desert and off-road racing series in the country. Now, however, they are often outpacing many of the traditional trucks, buggies and bikes they have been thrown up against while becoming a valued and welcomed addition to almost every type of racing you can think of.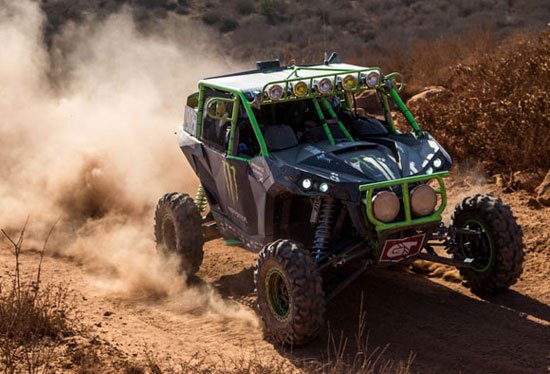 It wasn't long ago that racing a UTV in a desert series was unheard of. As Marc Burnett shows here, modern UTVs are at home in all sorts of racing environments.
An example of just how far UTVs have come and how wide ranging their acceptance was shown at the 2014 Idaho Rally International. Centered around Boise, Idaho, the IRI has been running in its current form since 2007. Stage Rally events in the United States are sanctioned primarily by two different organizations (think TORC vs. LOORRS in the short course off-road world). The more well known of these organizations is Rally America, where luminaries like Ken Block, Travis Pastrana, Dave Mirra and others have and do compete. The second sanctioning body is NASA Rally Sport, a segment of the National Auto Sport Association that is known for races like the 25 Hours of Thunderhill, numerous HPDE events across the country and a large number of asphalt related events.
NASA Rally Sport has typically been viewed as the more grassroots oriented organizer. You don't find the big names or TV coverage at your typical NASA stage rally (to this point). What you do find are some very hungry racers and some very forward thinking. Being "smaller" does have its advantages. One of these is the ability to be more nimble, have a willingness to try new things and bring change to what can be a very insular sport.
Back in 2007 NASA RallySport approved the addition of a RallyMoto class to its annual SandBlast Rally held annually in South Carolina. Intended to cater to adventure motorcycles and similar dualsports, it has drawn a number of Dakar entrants over the years and seen some 300 entries on any number of big KTMs, BMWs and similar machines. Finding that RallyMoto did seem to strike a chord with a new branch of stage rally competitors, it was expanded to a number of other NASA RallySport events including Rally West Virginia, Black River Stages (in NY), Magnum Opus Rally (in MI), and Rally Tennessee.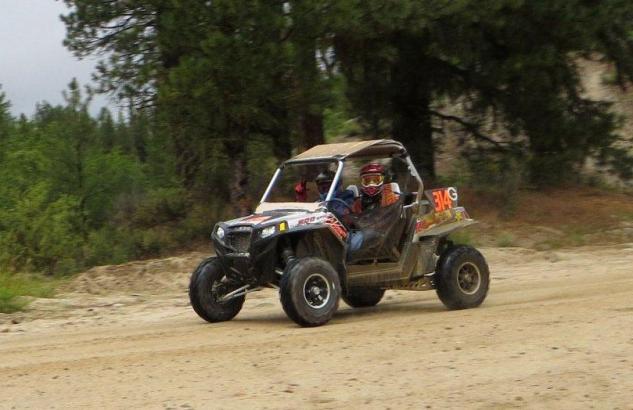 NASA RallySport approved a UTV class in 2013 at the Sandblast Rally in South Carolina.
Finding a bit of success in bringing new competitors to the sport via the acceptance of a new class of vehicles, NASA RallySport looked at other potential classes that fit within the scope of what Stage Rally is. Stage Rally is not, technically, an off-road race. Instead, Stage Rally is intended to be run on closed, public roads. While these roads can be on the very rough side and certainly have their fair share of rocks, ditches, sand, water crossings, jumps, etc., a Stage Rally vehicle is supposed to be fully capable of being registered, insured and driven on any normal street so that a competitor can get from one closed racing stage to another. This necessarily limits the types of vehicles allowed – you likely won't be seeing a tube frame rock crawler in a Rally anytime soon. That said, NASA RallySport did find a way to incorporate UTVs (which are able to be registered and plated in some states).
Beginning with the SandBlast Rally in South Carolina in early 2013, NASA RallySport has sought to open select events to UTV competitors who wish to compete. Mike Penland, his co-driver Scott Kilby and their Can-Am Maverick became the first of these competitors. Though they didn't finish the event they certainly showed the fierce determination common in UTV racers across the country. Since the UTV was not street legal, they were asked to reload it onto their trailer after each of the seven racing stages and transport it to the next location – a pain in the butt asked of no one else.
Even prior to NASA RallySport's national acceptance of UTVs to Stage Rally racing, the Idaho Rally International event, which has frequently been an independently sanctioned event, started pitting UTVs against cars back in 2011. 2014, however, was the year that UTVs came into their own and became a force to be reckoned with against even the fastest of Stage Rally vehicles.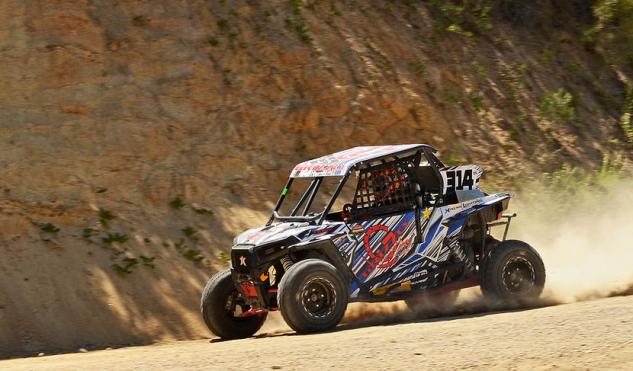 It only took a year of rally racing before UTVs were holding their own against the fastest Stage Rally vehicles.
Foremost, but certainly not alone amongst the UTV racers showing up for the 2014 edition of the Idaho Rally International was Carl Marcum. Marcum has an extensive history with his UTV, frequently running in short course races at the Central Oregon Off-road Race Park and regional Lucas Oil Off-road Racing Series events, grabbing the top spot on the podium in May and June LOORRS events this year. Like most UTV racers, Marcum didn't start out on four wheels, or wheels at all for that matter.
Marcum's family took advantage of its northern locale in Idaho and was heavily into snowmobiling during his youth. With the motorsports bug having its fangs firmly entrenched, Marcum was soon on quads and motorcycles while competing at the pointy end of the national downhill cycling scene. If that wasn't enough, you can throw some dabbling with sprint cars and hillclimb events under his belt as well.
Building a Serious Mud Riding Machine
It was a chance encounter between Marcum and Brent Heck at Grizzly Sports in Caldwell, Idaho that really got his UTV career rolling. There on a sales call in 2012 for his line of snowmobile accessories, Heck asked Marcum if he might be interested in running a UTV in the Idaho Rally International. Marcum jumped at the chance with Heck providing a '12 RZR XP 900 just two days before the race. Behind the wheel of a UTV for only the second time in his life, Marcum put 40 miles of testing on the brand new machine, finding the engine power a bit lower than he expected (being used to a 360 HP Mitsubishi Evo for hillclimbs), but the suspension and handling a revelation.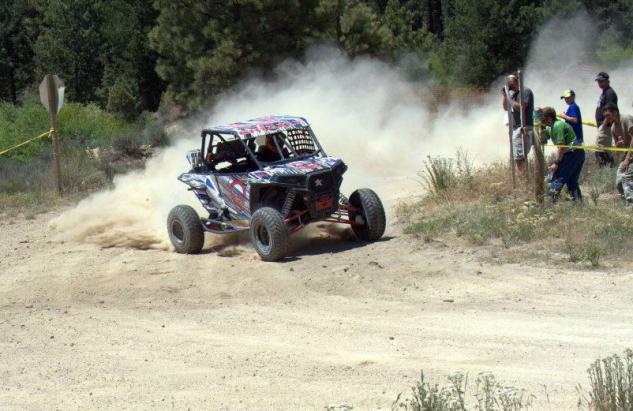 Carl Marcum competed in the 2013 Idaho Rally International. He was surprised with how good the suspension and handling was on his UTV.
Completely stock, Marcum would go out and take the UTV/ATV class win with a "hand-crafted" cardboard roof as his protection against the frequent rainstorms – something the nicely closed cab and full windshield stage rally cars never have to deal with. Communication at this point (something critical for Stage Rally teams as the codriver reads out a constant stream of directions for the upcoming road) consisted only of a smack if he was coming in to a corner too hot or an extra foot on the accelerator if he was going too slowly. Despite these unconventional tactics, his combined stage times in the event would have been good enough for seventh place overall – had the UTV scores been integrated with the overall results.
By the time the 2013 Idaho Rally International came around, Marcum had added doors, a Polaris Stage 2 kit and a full set of custom valved Fox shocks to the 900 XP. With his father, Rod Marcum, in the co-driver's seat and a communication system allowing some stage notes to be called, they again ran well. Still feeling a bit down on power, however, Carl drove the final two stages of the event solo and with the reduction in weight found himself to be markedly faster. He concluded that in a UTV, the benefits of a co-driver did not literally outweigh the additional weight. By the end of the '13 race, Marcum's stage times not only took the UTV class win but his time placed him fourth overall for the event – again, had the UTV scores been integrated with the overall results. With a second successful stage rally race in the books, Marcum and the other UTV racers were beginning to crack the frosty exterior of the other racers. "Rally drivers started to talk to us more as peers rather than just annoying guys on UTVs," says Marcum.
For 2014 Marcum wanted to close the gap with even the fastest of stage rally cars and instead of trotting out the 900 for a third Idaho Rally International he was able to get his hands on a Polaris RZR XP 1000, added a Bikeman exhaust system at the last minute and raced it using the suspension setup it had been using to compete in Lucas Oil short course events. If things don't come together at the last second, he figured, they don't come together at all…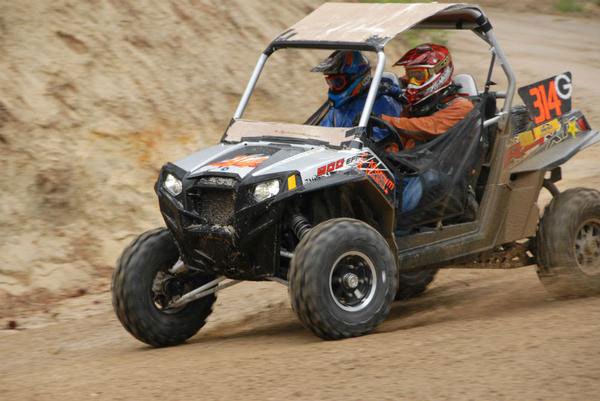 Marcum transitioned to RZR XP 900 for the 2014 Idaho Rally International.
The increase in power was immediately apparent to Marcum and holding back from pushing the limits of the new machine this early in the race was a bit of a challenge. "With the RZR 900 you have to overdrive it to get the center differential to make the car do what you want it to do; the 1000 is so much more intuitive," says Marcum. "Going into a corner you check your speed, set up for exit, get back on the gas and let the AWD pull you through."
His 2014 race really got going on the second stage, where at least three cars had crashed/broken, requiring some quick maneuvers on Marcum's part to avoid becoming a DNF himself. "That's one thing I LOVE about rally; they don't stop for rain, most wrecks … etc. It is a very hard core group of competitors," says Marcum.
By the third stage on Day 1, the 1000 was hitting speeds around 75 mph through the single lane, tree lined roads. "…you have to be 100% focused on the road ahead. Every corner is an opportunity to gain a fraction of second, or lose a couple of seconds," says Marcum. "This is especially true for UTV's; we don't have the power the top cars have so if we overshoot a high speed corner it takes us much longer to accelerate from 40-70 than the cars. The advantage we do have is corner speed…"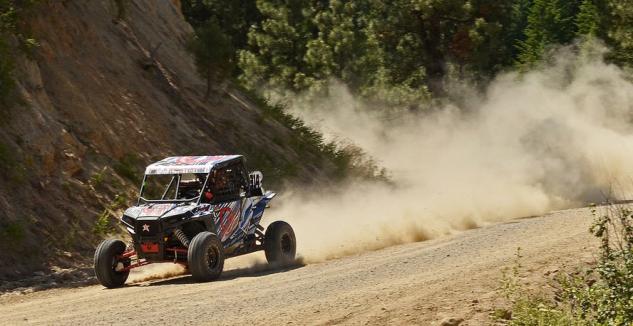 While the RZR XP 1000 could reach speeds up to 75 mph, it was its performance in the corners that set it apart.
After avoiding the yard sale, Stage 3 presented Marcum with a moving obstacle. "I started seeing dust ahead; a weird sight as they start to UTVs 10 minutes after the last car," says Marcum. "A few corners ahead and I see a Honda Civic. How am I going to pass him in the woods? Fast forward a handful of corners and there is a small window for an outside pass next to a 6-10 foot drop off. I throw the RZR into the corner with a slight oversteer on acceleration and pull out ahead." Marcum finished Day 1 in first place amongst the UTVs, five minutes and 15 seconds ahead of his nearest UTV competitor (Chris Cash in a RZR 900) and fifth overall behind three Subaru WRXs and a BMW M3.
Day 2 of the 2014 Idaho Rally International was hardly absent of challenges. An impact with a rock at 60 mph resulted in a flat to a rear tire with more than half the stage to go. Only a set of Douglas beadlock wheels saved Marcum from having to stop on the stage for repairs or slowing to a crawl. As is often the case in racing, one unfortunate event can cause a cascade of errors and Marcum's rally was no exception. After finishing the stage on the flat, Marcum sped (literally) back to the pits to effect a change. "As I was rushing back to the pits for a tire change I broke a transit speed limit and got a one-minute penalty," says Marcum. "Very foolish on my part as they gave us plenty of time for repairs and I was being unnecessarily impatient."
With the flat replaced, Marcum anticipated starting the second stage of the day but a bad wreck and injured driver resulted in the cancellation of the stage and moving on to the remaining mileage. Unfortunately, some Marcum's top of the field speeds were partially negated on the final stage of the event with a clutch issue that was not resolved with a new belt, leaving the RZR only able to top out at around 55-60 mph for its near 13 mile length. "I used it as an opportunity to really focus on cornering as I didn't have anything in the straights," says Marcum. "End result was hopefully improved cornering technique and a time that was 32 seconds slower than the previous day."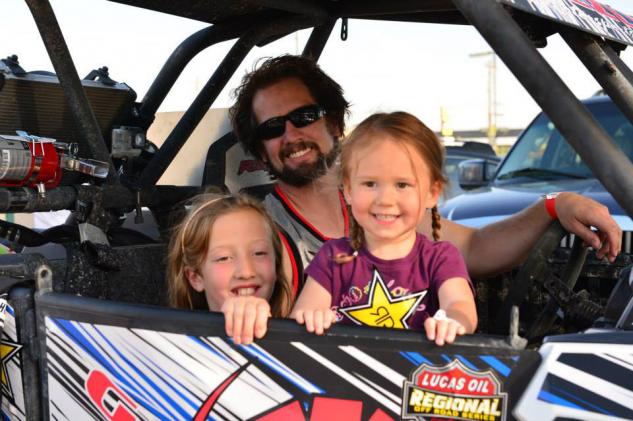 Marcum poses with his two biggest fans.
By the end of the event Marcum had wrapped up his third consecutive UTV class win at Rally Idaho International (by some six minutes over Robert Crawford, and seven minutes Chris Cash, both in RZR 900s), finishing fifth overall (Carl's father, Rod Marcum finished the event in 23rd in a second RZR 1000). In all, eight UTVs entered this year's Rally Idaho, making up 13% of the 61 vehicles entered (seven Polaris RZRs and one Arctic Cat Wildcat). Every single UTV finished the event, which stands in stark contrast to the cars in the event that saw 16 DNFs out of 52 auto entries.
Displaying speeds near equal to those of the top end auto entries with minimal development, even less aftermarket support for Rally specific UTV modifications and unmatched durability, UTVs are impacting yet another motorsport in ways not thought possible just a few years ago. So if you're a UTV owner and interested in competing against the best of the Stage Rally racers in North America – not only is it possible via forward thinking sanctioning bodies like NASA Stage Rally, but you might just find yourself getting a slap on the back from a shocked and at a loss for words rally driver who can't believe the times your little buggy is putting down.
Thanks for the assistance with the article go to: Carl Marcum, Anders Green of NASA Rally Sport, and Dick Rockrohr of Idaho Rally International
For his continued success in all his UTV racing efforts Carl Marcum would like to thank: Brent and the crew at Grizzly Motorsports, Jim at Cognito, GBC Tires, Rigid Industries, Dillon at Dobeck, Feethookers, Impact Dairy Supply, Jimmy and Erich at Bikeman Racing, Fokus Graphics, Rod at YMC, Inc. for allowing Carl the time off to race, and of course his supportive wife, Emily. Published November 13th, 2014 10:07 AM
Top Brands
Popular Articles