1 View
A First-Timer's Guide To ATV Racing
June 16th, 2015 4:34 PM
Share
Getting started racing is easier than you think
I don't know about you but where I grew up, ATVs were used for work and recreation. While I had read about all the big racing series and was familiar with all the big names in the sport, racing, and the whole ATV racing environment, was pretty foreign to me. Yeah it looked cool, but all those guys had fancy (and expensive) ATVs and they all raced in far off places like Tennessee and Alabama. How was a kid from a tiny town in Oregon supposed to find a way to get involved in ATV racing?
Well it took me a few years, but by my sophomore year of college, at the urging of my dad, I started digging for a local ATV motocross series so I could give this racing thing a try. At that point I had ridden a couple of small practice tracks so I felt comfortable on table tops and small doubles, but the notion of lining up and doing battle with other racers was very intimidating.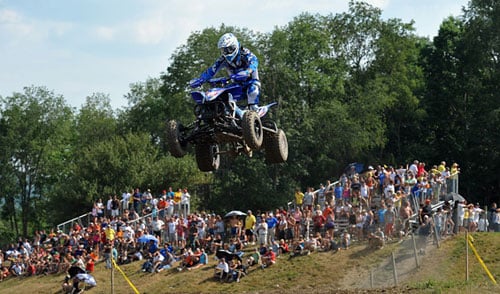 You may never win pro races like Chad Wienen, but you're guaranteed to have a blast whenever you race.
Now that I have a few races under my belt, looking back I'm disappointed that I didn't start sooner. While I wouldn't call myself a racer, I've competed in a handful of local motocross events and even a few of the more demanding WORCS races that combine motocross with desert and off-road racing. Most series make it very easy for a first-time racer to come out and try their hand at ATV motocross. However, there are a few things to keep in mind before you head for the starting gate.
Preparation
Even seasoned vets like Tim Shelman felt the burn of arm pump when they got started.
First and foremost, have some experience on an ATV. The "beginner" class isn't for someone that's never ridden an ATV, it's meant to provide an entry-level format for experienced ATV riders to try racing in a controlled environment. You don't have to be an expert, but you should be comfortable riding an ATV and have some previous experience riding a motocross track.
Even if winning isn't your main priority, your physical fitness is going to play into the success of your first racing experience, just ask veteran racer Tim Shelman. Shelman got a late start in racing and entered his first race on his 30th birthday. Oddly enough there were no other ATVs entered in the lone quad class at his local Friday night series, so Shelman had the track to himself. Despite having no competition on the track, his arms were burning so badly by the final lap that he couldn't pull the clutch in and he actually stalled his machine in the final turn of the "race."
Arm pump is every racer's worst enemy and the best way to combat it is seat time. You might be able to go trail ride for hours, but in racing situations, the high level of adrenaline can cause you to work harder than you normally would. That's why we recommend spending a good bit of time on a practice track before you actually try to race. Couple that with some cardio by either running or swimming laps and you'll greatly increase your chances of not tiring out during the race.
What's it Going to Cost Me?
One of the things that always held me back from racing was my machine. Growing up (yes, pre 4-stroke era) the most popular platform for ATV racing was a highly modified Honda 250R. By the time I decided to give this racing thing a try, I was riding a 1991 Suzuki LT250R in a class littered with production 450cc machines. I stood out like a sore thumb and in practice, the race official may or may not have suggested I run with the "old farts and the girls" because of the dinosaur I was on. Nonetheless, I managed to hold my own. I bring this up because I think it's far more important for you to be comfortable with the ATV that you're racing than it is to have the newest fastest equipment. Most series have a beginner or novice class for virtually any Sport ATV.
Nerf bars are mandatory equipment for racing. We'd also suggest heel guards.
In terms of necessary equipment, there area few mandatory items but it really doesn't take a whole to be ready for your first race. Every ATV must be equipped with a tether cord kill switch, which will cut the engine in the event that you become separated from your machine. Nerf bars are also mandatory to keep you from getting your wheels tangled with those of another racer. I recommend nerf bars that feature an integrated heel guard for a little added protection just in case your foot happens to slide off the footpeg. Also, make sure you have a rear facing number plate. Most series require one in addition to those on the fenders and the front hood.
Depending on your budget and how involved you're looking to get into racing there is a progression of sorts in terms of other modifications you can make to your ATV. For most people starting out, a stock machine with the mandatory nerf bars, kill switch, and number plates will suffice. No need to spend thousands on suspension or motor work unless you decide to start racing regularly. When the time is right, starting with little things like tires, wheels, and exhaust will increase the performance of your ATV without breaking the bank and you can even find sponsors to help offset the cost.
Once your ATV is ready to go, the largest expense is likely to be the gas to and from the track. Racing fees, even for a major series like WORCS, range from $20-$35 per class. Some series will charge an association or membership fee, but if you're only racing one race they usually have a daily pass you can purchase for around $10.
Many series will also require the use of a transponder for timing and scoring the race. You can usually rent them for as little as $10, but make sure you return it at the end of the day as the promoters usually charge a deposit. The deposit is refunded if you return it, but if at the end of a long day you forget to return it you can kiss your $100 goodbye.
Where to Race
Talk to your local dealer or just search on Google for an ATV race close to you.
As we mentioned in our previous article, a lot of motocross tracks aren't necessarily quad friendly, but those that are typically include ATV classes in their racing programs. You can usually find information about local racing series or even one-off racing events like hare scrambles or GPs by contacting your local dealer. Some of the major racing series span a pretty large distance so it's very likely that you could find a major national race reasonably close to your home. If all else fails, Google ATV racing in your state and start there. You can always contact the tracks that you find and ask if they have any ATV races on their schedule.
When reviewing a track or series to race, pay special attention to the classes offered. Most series will break things up by skill level and for your first race you'll want to enter a beginner class, sometimes called "C" class that correlates to the engine displacement of your ATV, for example "450 C."
When you show up to the track, the first thing you'll want to do is find the sign-in area, pay your fees and get a schedule of events. Most races will have a few practice sessions in the morning before the actual racing begins and you'll definitely want to take advantage of that. Just make sure you go out with the correct group so you don't end up on the track with the pro riders.
To keep everything safe and fair, many series require all ATVs to go through a tech inspection. Usually they will check to make sure your kill switch is operational and they might test your exhaust to make sure it's under the required decibel limit.
Beyond that, once you're signed up and practiced up, you're ready to go racing. Just make sure you're at the starting line ten to fifteen minutes ahead of your scheduled race time. A safe way to make sure they don't start without you is to stage near the starting line when the gate drops on the class before you.
Ready for Launch
After you've got some experience under your belt, you can start thinking about winning holeshots and races.
In my opinion, aside from getting comfortable on a motocross track, there really is no other means of getting prepared for your first gate drop. The start of the race is the most intimidating, adrenaline packed and nerve racking part of the racing experience and the better start you have, the better your chances of finishing near the front. Shelman shared with us that he was so nervous during his first race that he forgot to let up and completely blew through the first turn.
Although I practiced starts before actually entering a race, I managed to overlook the fact that I would be racing against loud 4-strokes that would completely drown out the sound, and feel, of my little 2-stroke engine. I had no hope of being able to hear and feel the RPM of my ATV to know when to up-shift, so when the gate dropped I resolved to dump the clutch and start grabbing gears.
Looking back, a better approach, and one I would recommend for any first-time racer, would have been to work on my timing and memorize exactly when I needed to shift. When practicing starts, begin counting the moment you release the clutch and memorize the intervals at which you shift to another gear. Your specific intervals will depend on your ATV and how hard you're pushing it, but counting out loud "one one-thousand, two one-thousand, three one-thousand" and familiarizing yourself with the specific points that you need to shift will ensure that come race day, if the combination of sound and adrenaline gets the best of you like it did me, you'll have some idea of when it's time to shift gears.
Although it can be intimidating, getting started in ATV racing isn't as difficult as it may seem and it won't cost you an arm and a leg just to get started. What's more, the ATV community is full of great people who are happy to help. Keep in mind you're not racing for a national title, so you don't have to win your first race out. Finishing the race with both man and machine in tact is a great goal for any first-time racer. If you get bitten by the racing bug you'll be ready to go and have some experience under your belt the next time around.
Related Reading
ATV Motocross 101: First Trip To The Track
Where Have All The Sport ATVs Gone?
How To Get Sponsors For ATV Racing
ATV Drag Racing 101
2009 Suzuki QuadRacer LT-R450 Review – Woods Racer
Published December 19th, 2012 6:05 AM
Top Brands
Popular Articles