1 View
ATV Motocross 101: First Trip To The Track
November 28th, 2012 7:47 AM
Share
How to get started riding motocross
So you've seen pictures of the top racers in magazines and read all about ATV motocross over the Internet, but to this point, you've restricted your ATV riding to the pasture, the trails, or maybe the occasional trip to the dunes. Yes, racing, jumping, and roosting around a motocross track looks like a good time, but it takes a whole different kind of person to actually get out there and do it, right?
While your apprehension has merit, it might not be as difficult as you'd think to translate your riding from the trails to the track. I'm not talking about racing, but merely getting out on a motocross track to burn some laps and try out this alternative, and incredibly fun, format of ATV riding.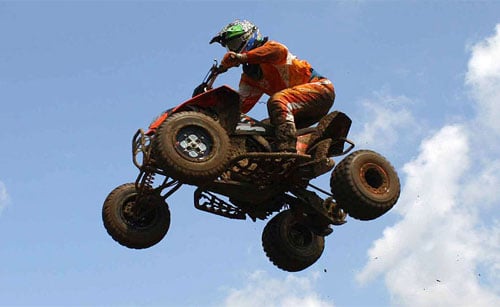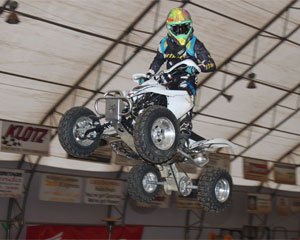 One of the biggest reasons people give for avoiding the motocross track is that they don't have the right equipment. Either their ATV isn't sporty enough or the stock components are unsuitable for the rigors of motocross.
Depending on the particular ATV you ride, I might agree with you if you were racing. However, since we're talking about just getting out and having some fun on a motocross track, virtually any Sport ATV will be sufficient, even in stock form. Just about any of the current production Sport ATVs will be sufficient with the 450cc class machines being the obvious choice. Power-to-weight ratio is what ultimately makes a great motocross ATV, so the lighter Sport ATVs are going to be the best choice. That being said, really any Sport ATV that you feel comfortable on will be sufficient for giving motocross a try.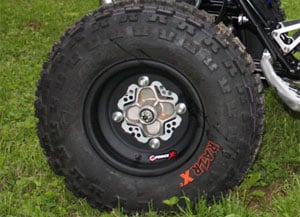 Some more good news is that you really don't need any special equipment just to practice on a motocross track. While nearly all tracks require ATVs to make use of a tether cord kill switch and nerf bars on race day, most don't require any special equipment for practice. Lower profile 18-inch tires will come in handy as you improve your skills and get more serious about motocross, but for our purposes the stock setup on just about any machine will be fine. To play it safe, you can check with the track to make sure they don't require any special equipment for practice only, but if the track is open to quads, you more than likely you can run what ya brung!
Most manufacturers provide a standard pre-ride checklist that includes things like checking the oil, air filter and tire pressure. I would pay extra attention to making sure the air filter is clean and properly oiled. Also make sure all of the wheel lug nuts are tight. Losing a wheel or having your engine cut out over a jump because it sucked in sand is a bad deal for anyone, especially someone trying motocross for the first time. These few precautions will help lessen the chance of equipment failure and enhance your first motocross experience.
Location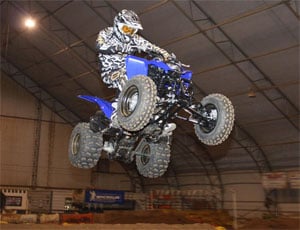 Depending on where you live in the country, finding a motocross track might be your biggest challenge. Some states are more ATV friendly than others and unfortunately, our two-wheeled friends have gone to great lengths to keep ATVs off many exciting and popular tracks around the country. However, many OHV areas and off-road complexes still cater to the ATV crowd and if you look hard enough, you should be able to find a motocross track that allows ATVs within a few hours drive of your home.
Again, the search will largely depend on your immediate geographical area. I would begin by stopping by your local powersports dealership. Undoubtedly these guys will know of any tracks in the immediate area and if that fails, Google is where we find seemingly everything these days. I would begin by searching for motocross tracks in your state and then contact them directly or visit their websites to see if they allow quads and when.
While some motocross tracks are not so quad friendly, many of them (our favorite ones) still believe in supporting the sport and will often times have ATV-specific practice days. Some of the bigger complexes will even have ATV-only tracks that are open for quads all the time. These are usually the best places to start because most ATV-specific tracks are fairly tame with no large jumps. While experienced motocross riders tend to find these tracks a little mellow, they are great for beginners because you don't have to worry about sharp edges, steep jump faces and large doubles.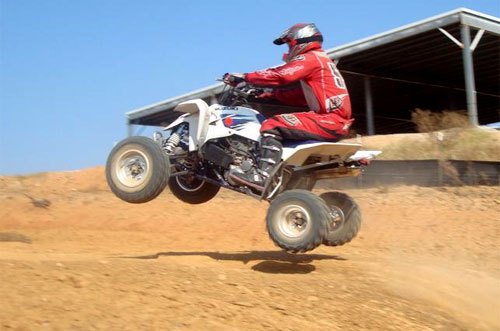 OHV parks are another place to find excellent, entry-level motocross tracks. Different from motocross complexes, many off-road parks offer trail riding, rock crawling and a host of other off-road experiences. Because these parks tend to cater to a wide range of users, if they feature a motocross track, my experiences has been that they are usually pretty tame. For one, the facility has a lot more to do than focus on maintaining the motocross track. Secondly, facilities like this want to appeal to a wider ranger of users and skill levels. For that reason, most motocross tracks in big off-road parks and complexes tend to lean toward the tamer side.
Safety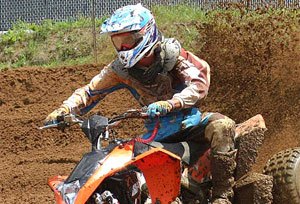 Less is not always more and when it comes to safety, I'm going to say better safe than sorry. At minimum, the standard helmet, gloves, goggles, over the ankle boots, protective pants, and long sleeve shirt should be worn. Not all motocross racers wear chest protectors or roost deflectors because they can feel somewhat restrictive; however, for your first time on a motocross track I highly recommend one. While the goal is not to crash, when you start working towards jumping the risk factor increases and a chest protector can save you from broken ribs in the event you gut check the handlebars or happen to fall off the ATV.
I would also recommend a mouthpiece. Some people probably think that's overkill, but if you're going to be attempting jumps for the first time, it only takes hitting your jaw or mouth on the handlebars
once to leave a lasting impression. A 99-cent mouth guard is a lot cheaper (and less painful) than hundreds or thousands of dollars in dental work. Believe me…I know.
Lastly, I strongly recommend outfitting your goggles with several tear-off lenses to ensure you're vision is always clear. While you're not going to be racing anyone, there will likely be other people on the track and most motocross tracks I've ridden have been heavily watered. Poor visibility from a splash of mud or roost from another rider is the last thing you need while navigating a motocross track for the first time.
On Track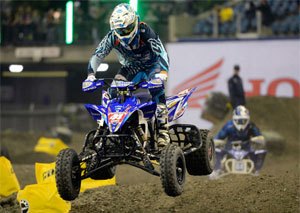 Rather than just pinning it down the start straight, it's important to get acquainted with a track before you start going wide open. If you're not familiar with jumping, a motocross track is going to be a very new experience.
Use your first few laps to go out and familiarize yourself with the track layout and the feel of the obstacles. Because things like jumps and whoop sections on motocross tracks are man made, they can be very different than the ones that develop naturally in the dunes or on the trails.
Jumping is without a doubt one of the most thrilling yet intimidating aspects of riding on a motocross track. It's important to ride within your abilities and not attempt things like large tabletops, step ups or doubles until you feel comfortable in the air over smaller jumps. Tabletops are a great way to get familiarized with being in the air and gradually work up to jumping higher and farther.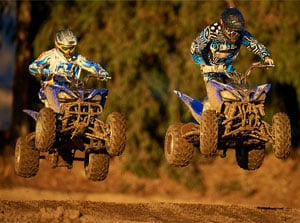 When it comes to doubles, different people have different schools of thought. One method is to find someone who is comfortable jumping a particular double and pace that person to match speed. That will allow you to know how fast you'll need to be going to clear the jump safely.
Another method is to gradually work towards clearing a double by jumping the first one and rolling the second. Gradually increase your speed until you are landing almost at the base of the second jump. That will give you an idea of how much you'll need to increase your speed to successfully downside the second jump.
When it comes to jumping or really any aspect of motocross, the name of the game is ride within your ability. Spend lots of time on the track and gradually work up to doing the bigger tabletops and doubles.
Keep in mind there are other people on the track of varying skill levels. If practice sessions are broken up by skill level, make sure you go out with the beginner group. Your buddies at school might be impressed if you tell them you practiced with the pros, but if you're out their rolling the jumps and not moving at the same pace as the other people on the track, you're risking danger to others as well as yourself.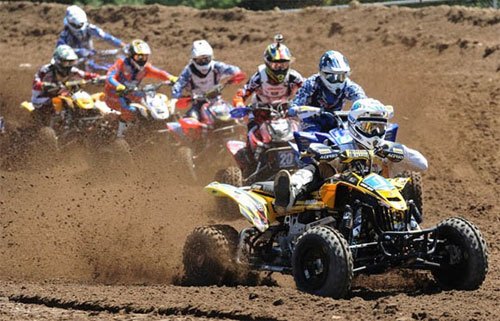 Published November 28th, 2012 7:47 AM