4 Views
ATV Freestyle 101: Getting Started
August 29th, 2012 10:34 AM
Share
Exploring freestyle basics and catching up with the Moore brothers
I was once told that riding freestyle motocross takes skill, guts and a bit of a loose screw. Sure there's a certain adrenaline rush that comes with catching big air, but is it really safe (or sane) to hang off the side or completely let go of an ATV in mid air?
Most people try to keep their ATV right-side-up, not intentionally flip upside down 30 feet off the ground, but brothers Caleb and Colten Moore have made quite a name for themselves doing just that.
On a recent outing to the Oregon Dunefest, I had an opportunity to catch up with the X Games standouts as they were back at Dunefest performing for the first time since 2007. The Moore brothers have been performing freestyle motocross shows around the globe for several years and are directly responsible for much of the growth of the sport. They are two of the best and have inspired countless other thrill seeking ATV riders to get involved in freestyle, myself included.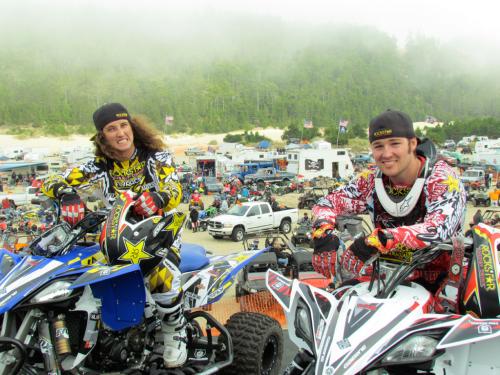 While I've never come close to their level, I've spent a fair bit of time riding ramps and even learning from them at their own private facility. With this opportunity to reconnect with the Moores, I thought it would be a unique opportunity to provide a breakdown of freestyle motocross and explain some of what goes into a freestyle performance, from takeoff to landing.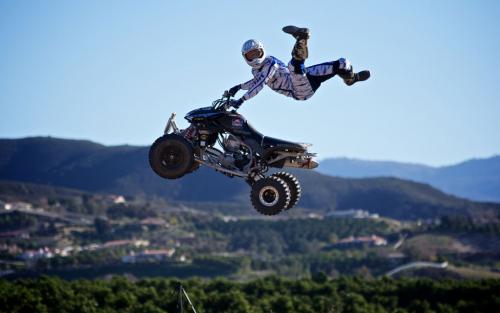 This event was particularly special to me because four years prior, I had attended Dunefest as an unknowing but passionate enthusiast, desperately trying to get my feet wet in the world of freestyle motocross. I had recently acquired a freestyle ramp and was trying to find companies that would help me set my quad up for riding freestyle. In the process I got in touch with Caleb to talk about bike setups, ramp dimensions and any other insight he could give me.
Machine Prep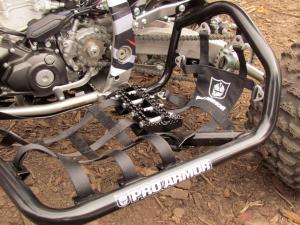 Starting out, I rode a nearly stock Honda TRX450R. Most Sport ATVs, typically 450 class ATVs, are a sufficient platform to start with. The first addition needs to be nerf bars. Almost every freestyle trick in the book involves taking your feet off of the footpegs and if you happen to miss the pegs on your way back to the quad your freestyle days may be over before the even begin. You should get a set of nerf bars before you even consider taking your feet off the pegs. Company's like Blingstar, Pro Armor, and Rath Racing offer nerf bars with integrated heel guards for added protection.
Another must have is a crossbar pad on your handlebars. A lot of handlebars nowadays do away with a cross bar, which eliminates the pad. I know several riders who have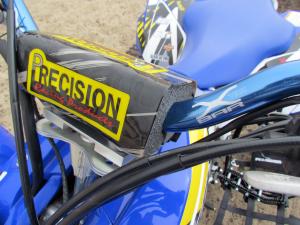 false teeth because they crashed and took a bite out of the bar clamp. If that's the style you choose, make sure you find a square bar clamp pad to ensure your pearly whites remain intact. A mouthpiece is also an inexpensive safety precaution to take. I still have a metal shard on a tooth from a clutch perch bolt that I got before I started wearing a mouthpiece.
Everything in freestyle is high impact. Even if you manage to downside the landing perfectly, there's a lot of gravitational pull on both man and machine. I managed not to crash at all my first day hitting a ramp and yet my body ached worse than it did after a week of high school football practice. Following that first day, I had a tough time getting consistent with my speed of approach toward the ramp. Whether you over-jump or come up short on the landing, your wheels, axle and suspension absorb most of the impact.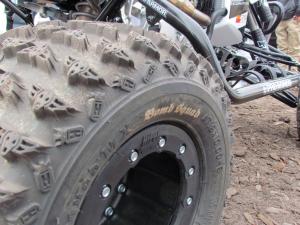 At Dunefest, the Moore brothers had their Yamaha YFZ450Rs outfitted with Hiper Technologies beadlock wheels. I've used both Hiper and DWT beadlocks and both handle the abuse well. Beadlock wheels are a tad heavier than traditional spun aluminum wheels, but they are much stronger.
Because several freestyle tricks involve letting go of the handlebars with one or both hands, most freestyle riders include a steering stabilizer. In the event you don't have a great grip on the bars by the time you land, the stabilizer will keep the bars from being yanked out of your hands.
While we're talking about handlebars it's worth mentioning that the use of a taller bar clamp or a longer steering stem will increase the height of the handlebars and make tricks look bigger. The higher and farther away from the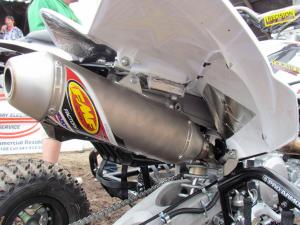 ATV you get, the greater the wow factor. Several companies offer anti-vibe bar clamps that act as additional suspension for your handlebars.
Unlike racing, going crazy with engine modifications isn't really necessary for freestyle. On demand power is important for accelerating quickly up the face of a ramp and most riders will add an aftermarket exhaust that increases horsepower in the mid- and top-end. Many stock exhausts will work just fine, but if we're being honest, freestyle is cool and most stock exhausts don't sound very cool. I currently use a Motoworks exhaust and FMF has supported the Moores almost their entire career.
Site Prep
Back in the 1990s when freestyle was first evolving, most takeoff ramps were little more than sculpted piles of dirt. They were different from event to event and riders just about had to draw straws to see who would be the first one to try it out. Today, metal ramps have become the standard and having a solid, consistent takeoff ramp has both improved safety as well as allowed for incredible progression in the types of tricks.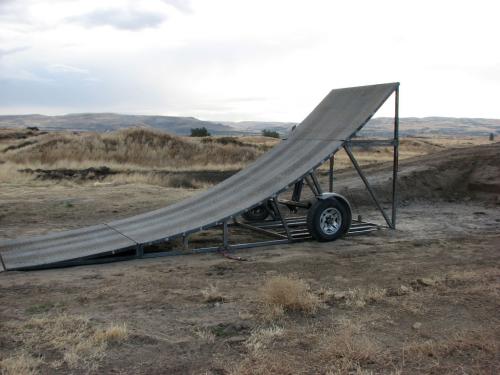 My first ramp was far from a thing of beauty with support braces welded every which way and the transition (curve) of the ramp had been changed several times. There are ramp designs of all shapes and sizes floating around, but most ramps used in contests and demos are very similar. The typical freestyle ramp is about eight-feet tall and 21-feet long. The width varies and while many dirbike folk aren't fond of us ATV freestyle riders, they sure like using our wide ramps to help them throw their massive whips.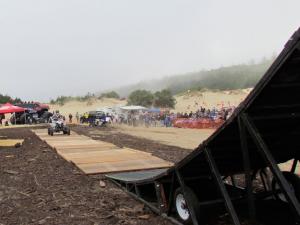 Freestyle shows are held in unique venues all around the world, from rodeo arenas to concert halls. Some have low ceilings and some have extremely short runways. I remember riding in a stadium so small that we actually aimed the landing ramp at an exit door of the arena. I would start in an entryway beneath the bleachers, pin it off the ramp and then skid out of the arena after landing.
Flat, smooth ground with plenty of room to get up to speed and lots of space after you land is preferred. Something else to consider is traction. Obviously asphalt is about the smoothest surface you can get, but where can you find 300 feet of asphalt around to just setup and practice? If you're looking to get into freestyle, you'll want a large piece of flat ground. It's important to have a smooth run up so you can hit the ramp squarely and under control.
An event like DuneFest creates a challenge because it's basically held in a sandbox. Organizers made a makeshift runway through the event area out of mulch; however, it was still too rough of an approach. As a remedy, they laid out sheets of plywood leading up to the ramp to give it smoother feel and improve traction.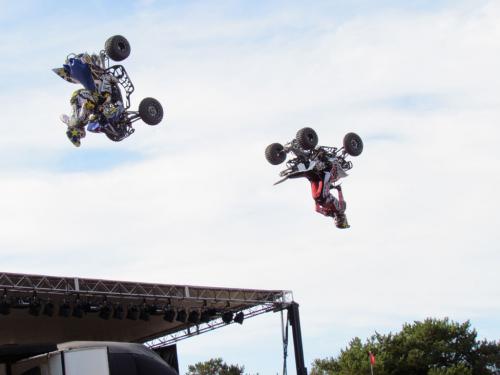 If you're interested in trying freestyle motocross remember to take small steps. If you're doing heel clickers off the biggest tabletop at your local track, you just might be ready to step it up to a ramp. Most tracks don't have jumps nearly as steep as a ramp, so if you get the opportunity to try jumping off a ramp, start small. Find a big landing and scoot the ramp up close. Start small and move it back a little bit at a time. Even professionals like the Moore brothers still do that from time to time if the conditions aren't just right.
Freestyle motocross has a steep learning curve. It can take years to master and only moments to get hurt if you try to go too big too fast. Setting your ATV up the proper way will not only keep you safe, but will help lesson the blow of hard landings, especially in the beginning when you're just getting things figured out.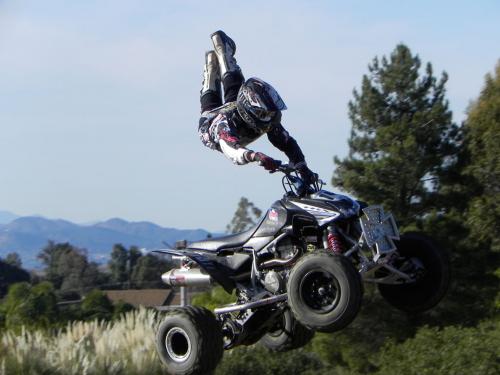 Published August 29th, 2012 10:34 AM
Top Brands
Popular Articles