19 Views
2010 450cc Motocross Shootout – Part 1
September 10th, 2015 11:48 AM
Share
We're committed to finding, researching, and recommending the best products. We earn commissions from purchases you make using links in our articles. Learn more here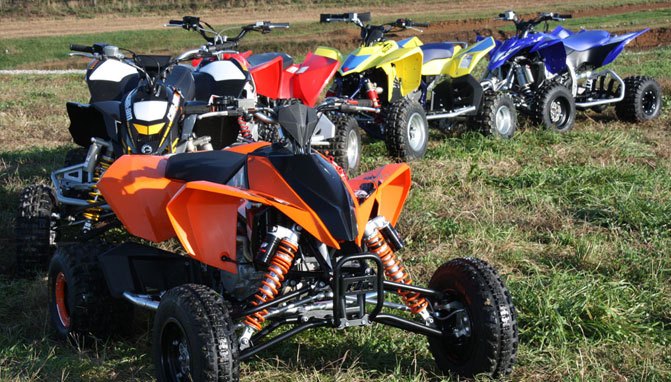 Yamaha YFZ450R vs. Can-Am DS 450 X mx, vs. Polaris Outlaw 450 MXR vs. Suzuki LT-R450 vs. KTM 450 SX
Update: Check out Part 2 of our 450cc Motocross Shootout here.
Each and every year prices on everything seem to rise. There isn't much in life that you can do for less money today then you could 10 years ago. Surprisingly enough, ATV racing is one of the few exceptions to the rule.
Back in the year 2000, a racer looking to go motocross racing had several options. Many purchased half worn out, 10-year-old Honda 250Rs and built them from the frame up, which could cost upwards of $16,000. Another choice was to buy a brand new 400EX or Yamaha Banshee and wind up spending just as much money on a less effective machine. Those who spared no expense even purchased new high performance four-stroke motocross dirt bikes, robbed the engine and added it to an after market chassis with the entire machine often costing nearly $25,000!
Fast forward 10 years to today and five manufacturers are producing high performance four-stoke ATVs purpose built for motocross racing. Today's high performance motocross ATVs offer comparable performance to the $25,000 machines of ten years ago, however the most expensive of them costs less then half the price. If you think you can't afford to go ATV racing, the reality is the sport hasn't been this affordable since the early 1990s!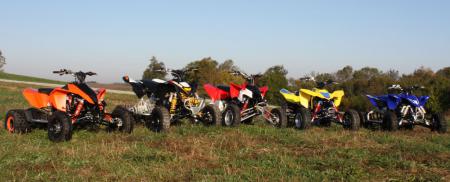 The five contenders for our 2010 450cc Motocross Shootout.
To help you choose the right machine for your racing exploits in 2010, we assembled five track-ready machines for our 2010 450cc Motocross Shootout.
The Contenders
Suzuki's LT-R450 ( full specs) comes to us fresh off of back-to-back Pro national championships piloted by factory rider Dustin Wimmer. Originally released in 2006, it's the oldest design in our shootout, but the LT-R450 has received a number of updates over the past four years to maintain its effectiveness.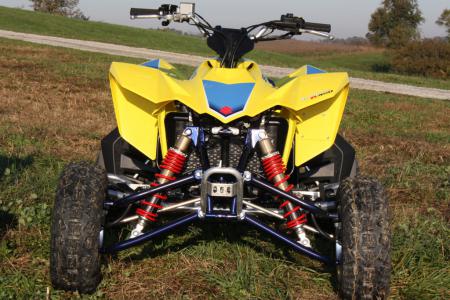 Suzuki QuadRacer LT-R450
Polaris' Outlaw 450 MXR ( full specs) is the most affordable machine in the shootout. The KTM-powered quad was released in 2008 and received a number of updates a year later.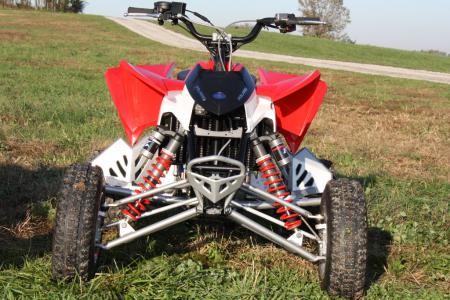 Polaris Outlaw 450 MXR
Based on the DS 450 released in 2008, Can-Am released the motocross specific DS 450 X mx ( full specs) in 2009. For 2010, Can-Am's motocross steed features new nerf bars and other minor updates and is perhaps the most technologically advanced machine in the shootout.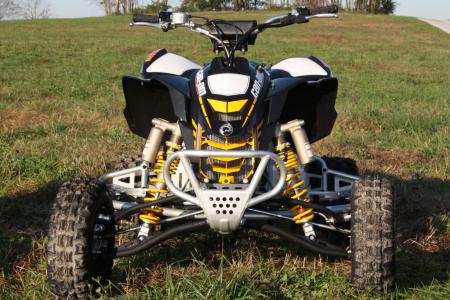 Can-Am DS 450 X mx
KTM dropped a huge bomb when it unveiled its 450 SX ( full specs) in 2009. While it is the most expensive machine in the shootout, it features a full chromoly chassis, has the highest level of adjustability and is claimed to put out over 50 horsepower bone stock.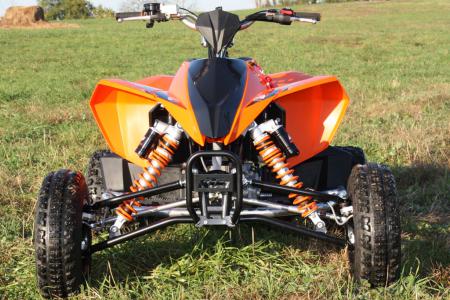 KTM 450 SX
Yamaha was the first major manufacturer to build a high-performance 450 back in 2004, but was the last to come to the market with a motocross-width machine. This gave Yamaha engineers an edge in experience and the opportunity to study the competition. Dustin Nelson took the YFZ450R ( full specs) to the 2009 Quad Cross championship. Only minor wheel and shock updates are new for 2010.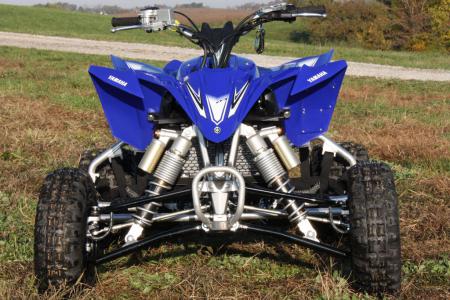 Yamaha YFZ450R
Since we wanted to make sure our Shootout was available in time for those buying new machines for the 2010 season, we were unable to acquire 2010 units from all of the participating manufacturers. Our Can-Am and KTM are 2009 models; however, none of the few updates made to these machines have an impact on their on-track performance. Also, Suzuki is holding back its 2010 models due to the ecomonimc slowdown so our test unit is a 2009.
Since virtually no one races a bone stock ATV and we wanted to see how these machines performed under true race conditions with their EPA restrictions removed, we allowed the manufacturers to replace their stock exhaust and add a fuel management system or re-jet their carburetor. Air box lids were removed on all of the machines except the KTM, whose filter mounts at the top of the air box. We also allowed for the use of different wheels, along with the mandatory addition of nerf bars and kill switches for units that don't come with them as standard equipment.
Specifications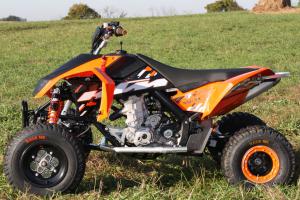 Only KTM and Polaris chose to use carburetors instead of fuel injection.
All five of these ATVs feature water-cooled, four-stroke engines ranging in displacement from 448cc to 450cc. Also, all feature four-valve heads except the Yamaha, which features five (three intake and two exhaust). All of the top ends also feature double overhead cams except the Polaris, which has a single cam.
The Yamaha, Suzuki, and Can-Am all feature fuel injection while the KTM and Polaris feature 41mm and 39mm FCR carburetors, respectively. Fuel injection systems do a better job of adapting to temperature and altitude, but they require the addition of a third party fuel system manager or device to make use of upgrades such as adding a pipe and removing the air box lid.
Of course, each test unit comes with a five-speed manual clutch transmission. Polaris is the lone manufacturer offering reverse and the extra weight that comes with it. Polaris and KTM also feature hydraulic clutches while the others feature standard cable clutch actuation.
When it comes to the chassis, the differences in the five ATVs start to come to light. The Polaris and Suzuki both use steel frames, A-arms and swingarms. The 450 MXR has a steel subframe while the LT-R450's is constructed of aluminum. The LTR also benefits from an anti-vibe steering stem.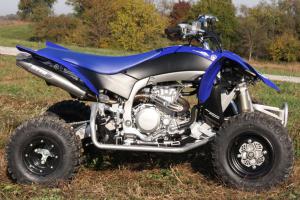 The YFZ450R frame is constructed using aluminum except for the bottom rail, which is made of steel to help lower the center of gravity.
The KTM features a chromoly main frame, A-arms and swingarm with an aluminum subframe and steering stem. The A-arms are camber and caster adjustable, the chromoly axle is adjustable in width and the four-position adjustable anti-vibe steering stem allows you to move your handlebars forward or back.
Yamaha's frame is a hybrid of aluminum and steel. It has steel lower and aluminum upper A-arms, aluminum subframe, and a light weight cast aluminum swingarm. The YFZ450R's steering stem is also four position adjustable allowing you to move the bars forward or back.
The Can-Am features a full aluminum frame held together using lock bolt fasteners borrowed from the aircraft industry. The DS450 X mx has chromoly A-arms, aluminum subframe, and cast aluminum swingarm. A-arms are camber and caster adjustable and the chromoly axle is adjustable in width.
Four of the ATVs share similar dimensions – spanning between 48.8 inches in width (Yamaha) to a full 50 inches (KTM). The Polaris sits just 47 inches wide, nearly two inches narrower than its closest competitor.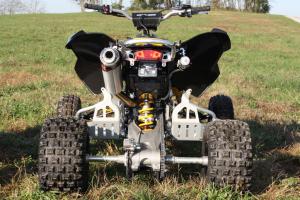 Can-Am's DS 450 X mx is blessed with 10.7 inches of travel front and rear.
Each of our motocrossers comes standard with high quality, highly adjustable suspension. Front wheel travel measures in at 9.6 for the KTM, 9.8 for the Yamaha, 10 inches for the Polaris and Suzuki, and 10.7 inches for the Can-Am. All of the front shocks feature preload, hi and low speed compression and rebound adjustment except for the Suzuki, which is fully adjustable minus low speed compression, and the Polaris, which is preload and compression adjustable only.
In the rear suspension department, the Polaris has 10 inches of travel, the KTM has 10.2 inches, the Can-Am has 10.7 inches, the Suzuki features 10.9 and Yamaha's rear wheels travel a full 11 inches. All of the rear shocks are preload, hi and low speed compression and rebound adjustable with the exception of the Polaris, which is fully adjustable minus low speed compression damping.
Each unit also features hydraulic disc brakes front and rear. The fronts all feature dual-piston calipers with the exception of the KTM, which features Magura four-piston calipers. Single-piston calipers are found in the rear of each unit except for the Yamaha which has two-piston grabbers.
Tires and wheels vary significantly between manufacturers. KTM and Can-Am offer eight-inch beadlocks in the rear and standard 10-inch front DWT and ITP wheels respectively. The other machines feature standard non-beadlock wheels. Suzuki uses an eight-inch rear wheel providing the optimum size rim for most aftermarket motocross tires, while Yamaha and Polaris use nine-inch rear rims allowing their customers more options for off-road tires.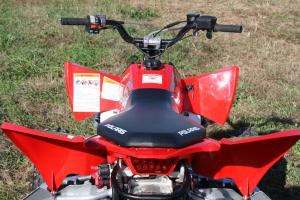 Polaris outfitted the Outlaw 450 MXR with a steel handlebar with a rather large bend, which puts the rider in a more upright riding position.
Four of five units utilize18-inch rear and 20 or 21-inch front tires, which are considered ideal for motocross. Polaris and KTM both come with Maxxis Razr MX tires, although the KTM features Maxxis' soft compound tires which provide superior traction but wear faster. The Can-Am DS 450 X mx comes with ITP Quad Cross tires and the Suzuki rolls on Dunlop rubber. Knowing that many of its customers won't ride exclusively on motocross tracks, Yamaha outfitted the YFZ450R with 20-inch rear and 21-inch front Dunlop radials which have been proven to work well on both tracks and trails but don't necessarily excel in any one area.
The Polaris features an adjustable front brake lever and comes with aluminum heel guards as apposed to the plastic ones used on the other machines (besides the DS 450 X mx). The Suzuki features an adjustable front brake lever, quick adjust clutch perch and wide foot pegs. Unfortunately both Polaris and Suzuki both use substandard steel handlebars. An Answer Pro Taper handlebar is found on the YFZ450R, along with an adjustable front brake lever, quick adjust clutch perch, super wide pegs, and quick release body fasteners. The Can-Am features a good quality 1 1/8-inch handlebar, adjustable front brake lever, quick adjust clutch plus nerf bars with built in heel guards. The 2010 Can-Am comes with netted heel guards – a step up from the ones found on our 2009 test unit. The KTM comes to the shootout loaded with additional features, such as Magura handlebar, adjustable brake and clutch levers, a kill switch, nerf bars, wide foot pegs and more bells and whistles.
Setup, Price, and Power to weight
We loaded up all five machines and took them to GT Thunder, located in Millersburg, Ohio where we met up with owner Las Sommers. Here is where the manufacturers' aftermarket setups were installed and the units were dyno tested and weighed.
With an MSRP of $11,398, the KTM 450SX is the far and away the most expensive ATV in the shootout. However, it is also the only machine which received absolutely no modification, giving it an as tested price of $11,398.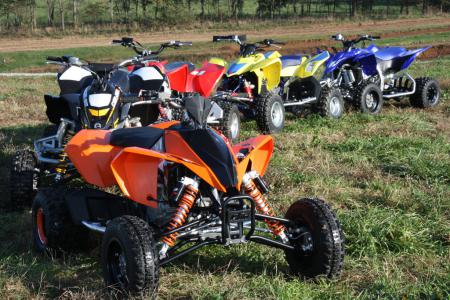 After making all the necessary modifications, we took our five contestants to GT Thunder for dyno tests and a weigh-in.
At $8,499 the Yamaha YFZ450R is third in stock price but as tested it comes in second highest. We added a GYTR slip-on exhaust, ($349.99) and GYTR Nerf Bars with Heel Pockets ($419.95). As well, we installed 18-inch Quadcross MX Pro rear tires on eight-inch ITP beadlock wheels ($569.90) and 20-inch Quadcross MX Pro front tires were mounted on the stock front wheels ($179.90) to give our YFZR track-specific tires. A GYTR tether kill ($37.95) rounds out the mods, giving the YFZ450R an as tested price of $10,056.69. It's worth noting that if you race on sandy tracks the stock tires may actually perform better, saving you the $750 on the wheels and tires used on our machine.
For $9,149 you can buy a Can-Am DS 450 X mx at the dealership, making it the second most expensive stock machine. However, as tested it takes third. The DS received a Motoworks SR4 slip on muffler ($299.99), a Motoworks FMI fuel management system ($279.99), and Pro Design tether kill switch ($34.95), giving the Can-Am DS 450 X mx an as tested price of $9,763.93.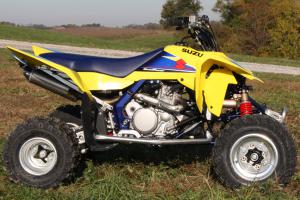 Despite having the second lowest MSRP of this group, Suzuki opted for very few modifications for the shootout.
The Suzuki LT-R450 retails for $8,099 – the second lowest price of our test units. We added a Yoshimura Cherry Bomb fuel management plug in ($39.95) and Suzuki had us remove the baffle from the stock silencer. Genuine Suzuki nerf bars were added ($222.99), along with a Pro Design kill switch ($34.95), giving the LTR an as tested price of $8,396.89.
At $7,399, the Polaris Outlaw 450 MXR is the least expensive off the showroom floor and as tested. We outfitted the Outlaw with a Yoshimura RS-5 full exhaust system ($595), Pure Polaris nerf bars (149.99), and Pro Design kill switch ($34.95), for an as tested price of $8178.00.
It's worth noting that in our current economic situation it is very much a buyer's market! You can find loads of leftover 2009 and 2008 units sitting in dealerships. Most of the manufacturers, including KTM, are running incentive programs and dealerships are making deals to move units so many of these machines could be had for substantially less than the MSRP.
After we completed our modifications, we dyno tested and weighed each unit with one gallon of fuel. At 403 pounds, the Suzuki was the heaviest of the five ATVs, followed by the Polaris at 386 pounds. Both the Yamaha and Can-Am weighed in at 379 pounds, while the stock KTM was the lightest at 372 pounds.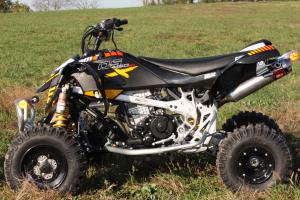 The DS 450 X mx may have the lowest peak horsepower of the bunch, but the powerband is very smooth and linear. How will that translate to the track?
In terms of peak power the Can Am ranks fifth with 45.77 hp. The Can-Am doesn't stand out in any one area of the RPM range, but it is one of the smoothest, most linear powerbands in the shootout and offers good over-rev performance.
Yamaha takes fourth in peak power with 47.48 ponies. It pulls notably harder then the Suzuki or Can-am from bottom through the midrange; however, several small flat spots were found in the power curve that may be noticeable on the track.
Third in peak power is the Polaris at 48.11 hp. The Polaris pulls hard from the bottom through the midrange, only outperformed by the KTM. The Polaris lingers near its peak horsepower for some time but falls off earlier and much more abruptly then its competitors.
Suzuki ranks second in peak power at 50.30 hp. From the bottom end through the lower midrange the Suzuki is comparable to the Can-Am but then begins pulling ahead. The LT-R450 doesn't peak until shortly after the KTM and offers more over rev than any other machine. On paper it has the broadest and smoothest powerband in the shootout.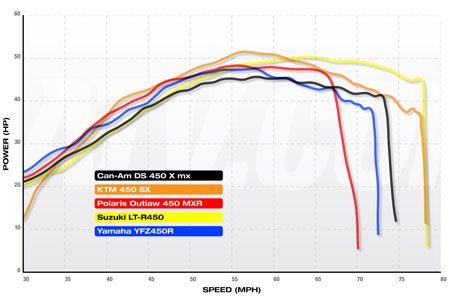 KTM and Suzuki were the kings of the dyno.
At 51.33 hp the KTM is king of peak power. It also makes more power pulling harder then all of its competitors throughout nearly all of the usable powerband. The KTM looks to be the fastest machine in the shootout with the most usable power curve, but what you see on a dyno doesn't always translate to what you feel on the track.
So far we've covered a lot of information but don't run to the dealer just yet. There's still plenty you'll need to pick the right ATV for you. In Part II we will examine on-track performance, durability and give you our suspension settings to make sure you have your new machine dialed the first time you take it to the track.
Our friends at ATVOnDemand.com put together a video on Part 1 of our shootout. Click here to check it out.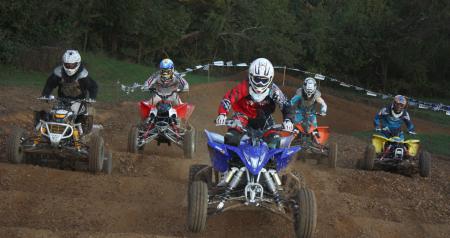 Published January 27th, 2010 2:06 PM
Top Brands
Popular Articles