74 Views
2009 KTM 450 & 505 SX Review
June 19th, 2015 2:55 PM
Share
We're committed to finding, researching, and recommending the best products. We earn commissions from purchases you make using links in our articles. Learn more here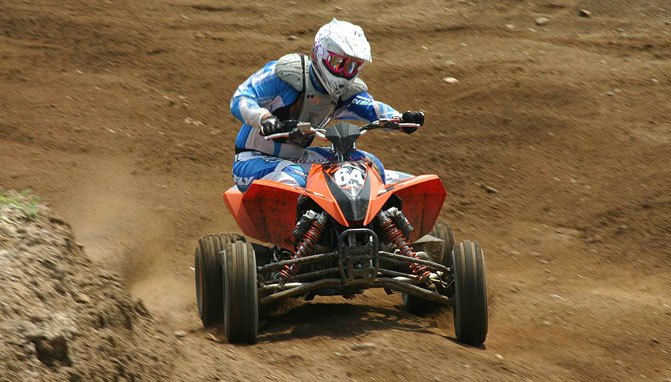 KTM's race-ready, motocross-specific quads
Utility and sport ATVs are like night and day in the off-road world. Austrian ATV manufacturer KTM currently has no desire to be in the utility market, but it does have every intention of being a force in the sport world.
Last year KTM started this effort by introducing the 450 and 525 XC models into the off-road market and after only one season KTM has already claimed several racing successes with its powerful machines. With its successful debut in off-road racing now in the record books KTM is poised to take on all the manufacturers competing in ATV motocross.
During the tenth round of the ATVA Motocross Nationals (also known as ATVA MX) held at Red Bud in Buchannan Mich., KTM debuted its newest race ATVs – the 2009 SX 450 and 505. These new SX machines combine KTM racing ingenuity in a package truly designed for motocross.
All media in attendance were able to test out the new quads on a technical track, while KTM engineers were on hand to tune the out-of-the-crate bikes to our personal preferences and racing styles. This was in conjunction with the Industry class race on the Red Bud national track the following day featuring 14 of the new KTMs.
KTM's new motocross-specific steed.
Among the long list of new innovations the KTM engineering team presented us with, a few race-specific innovations caught my attention. These included the powerful engines, wide axle and A-arm placement, special WP suspension components, DWT wheels with beadlock, Razr MX tires, Magura factory installed parts, nerf bars, and a factory installed tether cable kill switch.
The new SX power plants are identical except for the obvious difference in displacement. The 450 felt strong on the track at Red Bud, providing an excellent blend of power and performance. The 505 showed off its extra power with fantastic hole shots and low-end torque that tore through the technical Red Bud track.
There's plenty of power in the new KTMs to clear the doubles.
The 450 is a 449cc DOHC 4-valve liquid cooled single with a 97 mm bore, 60.8 mm stroke, and a compression ratio of 12.5:1. The 505 (which uses the same block) boasts a 477cc displacement as a result of its larger 100 mm bore, but identical stroke and compression. What's new for this year is a re-design that better ventilates the engine and the positioning of the engine has been lowered to bring down the center of-gravity.
The SX models come stock with plenty of extras like nerf bars, front grab bar and skid plate.
This new design also allows for a deeper oil sump increasing engine performance with an increased oil capacity of two liters. This oil lubricates the engine, clutch, and gearbox and the single oil filter is in an easy access location, keeping maintenance simple. Both motors utilize a Keihin FCR-MX 41 mm flat slide carburetor with an acceleration pump and TPS (Throttle Positioning Sensor).
The SX airbox features an exclusively designed snorkel for increased air intake and is mounted high under the seat to avoid water and mud collection. The seat has a quick release lever and the no-tool airbox allows for simple service
The SX uses a standard motocross-style transmission with five gears and no reverse. The KTM transmission is coupled to a Magura hydraulic clutch with a maintenance free design featuring automatic adjustment, stainless steel braided line, and quick-change clutch covers.
My testing on the track gave me a chance to feel not only the responsiveness of both SX bikes but also to closely review the combination of components that make up these race quads. And make no mistake – this unit is not meant for much else besides racing. First there is the lightweight powder-coated Chromoly steel frame that is based on the proven XC design. It has an easily removable lightweight subframe, made of aluminium, and a rear grab bar that can also be quickly removed. KTM has simplified this removal by not attaching any of the bike's electrical parts such as CDIs, modules and wires to it.
The SX suspension is also race-ready, KTM claims. It features Chromoly steel A-arms with a 1,265 mm wheelbase that can be adjusted to reflect individual tastes for caster and camber angles. The SX uses fully adjustable WP piggyback shocks on the front with high and low speed compression preload and rebound adjustments. The springs are dual rate and with adjustable crossover the SX has a total of 244 mm of front wheel travel and it's easy to make fast adjustments. We had a glimpse of this as the KTM team at Red Bud allowed the media a chance to play with the suspension on their assigned bikes.
The suspension is easy to adjust, so you can quickly set it up for any track condition.
A hallmark of KTM design is simple maintenance with replaceable needle bearings, upper/lower ball joints and Heim joint bearings. Also the Chromoly rear axle is easy to lubricate with high performance roller bearings and the WP shock has preload features, high and low speed compression as well as a rebound adjustment. This axle also has an adjustable width and can quickly go from 1,213 mm to 1, 265 mm thanks to the self-locking rear axle nut. This rear-end uses a no-linkage design for reduced weight, and with dual rate springs provides a total of 264 mm of rear wheel travel at a low weight. And that weight is impressive. KTM says the both SX models weigh in at 363 lbs with all fluids except fuel.
KTM has teamed up with Maxxis for motocross-specific RAZR MX tires – 20×6-10 in the front and 18×10-8 in the rear. The tires support DWT (Douglas Wheel Technology) powder coated aluminium rims designed especially for KTM. The rears have an eight-inch bead-lock rim – a standard on most motocross applications.
The Maxxis RAZR MX tires provide solid traction.
Getting the new SX rolling isn't a problem thanks to all of KTM's innovations. But how about stopping the new bike? Magura supplies a specially designed hydraulic brake system exclusively for KTM. It features a four-piston fixed calliper with 180 mm floating disc. It's well vented, cleans itself, and is fitted with a lightweight parking brake.
In keeping with KTMs race-ready philosophy, these front brakes are easily serviced and cleaned. The front brake pads can be removed in a matter of moments using nothing more than a pair of needle nose pliers. For the rear Magura has provided a single-piston floating calliper with a larger 200 mm disc and an integrated reservoir and master cylinder.
Also giving the SX an edge on the competition are wide serrated foot pegs, stock heel guards that provide the rider with excellent stability and standard bolt-on nerf bars.
Stability isn't a problem, thanks to the wide footpegs and stock heel guards.
Just like the XC, a four clamp adjustable Magura handlebar made of tapered aluminium is standard on the SX but was redesigned to be 10 mm taller than its sibling. The SX also comes prepared with a standard steering stabilizer mount for an optional Ohlins steering stabilizer. All plastic on the body can be easily removed for quick access to the engine and chassis or for racing purposes.
Overall the feel of the 2009 SX is that of performance and simplicity. During my test ride time I rode a 505 SX and found that no part of the track was intimidating whilst in the saddle. I felt confident that I had the power to overcome any obstacle on the course and even though the SX rarely left 3rd gear it had ample pull to grunt through the corners and power up the ramps. I did not adjust my suspension on the 505 because I found the stock setting to be quite comfortable to my novice riding approach – even though my six-foot, 240 lb frame is slightly larger than most racers.
A couple of times I did find myself landing short on the track ramps and was expecting to feel quite a jar, but to my surprise (and relief) the rear end soaked up the shock like a good suspension should. The SX 505 cornered well with the stock suspension – working as well in the tight turns of the test track as it did in the wide sweeping corners of the national track.
You're likely to see KTM's SX models on plenty of motocross podiums in 2009.
Sitting on the bike felt quite comfortable with the height and bend of the handlebars, though I did get KTM mechanics to roll the handle bar back a bit so I could sit further back in the saddle (giving me a better riding position), but otherwise everything seemed to be right where I wanted it.
KTM has built a truly competitive stock ATV that is capable of competing at the national level – whether you're a novice or experienced racer.
Are you ready to race? If you're looking at a KTM the answer is a very confident and simple, yes.
2009 KTM 450 and 505 SX Specs:
2009 KTM 450 SX
2009 KTM 505 SX
Single cylinder, 4-stroke, SOHC, 4-Valve, liquid cooled
Displacement:
449cc
477cc
Bore x Stroke:
97 x 60.8 mm
100 x 60.8 mm
Compression Ratio:
12.5:1
Starter:
Electric starter / 4 Ah
Transmission:
5-speed
Carburetor:
Keihin FCR-MX 41
Lubrication:
Dry sump, pressure lubrication with 2 Eaton pumps
Primary Drive:
31:78
Final Drive:
14:38
Cooling:
Liquid cooling
Clutch:
Wet multi-disc clutch, operated hydraulically
Ignition:
Kokusan digital
Chromoly
Subframe:
Aluminum 7020
Handlebar:
Magura tapered aluminum, Ø 28 mm
Front Suspension:
WP fully adjustable, twin A-arm
Rear Suspension:
WP PDS mono-shock, fully adjustable, swingarm
Suspension Travel front / rear:
9.61 in. / 10.16 in.
Front Brake:
180 mm (7.08 in.) floating WAVE discs, 4-piston fixed caliper x 2
Rear Brake:
200 mm (7.87 in.) disc, single piston floating caliper
Rims, front/rear:
5.0″ x 10.0″; 8.0″ x 9.0″ Douglas
Tires, front/rear:
20″ x 6″-10″; 18″ x 10″-8″ MAXXIS Razor MX Soft
Chain:
520 X-ring chain 5/8 x 1/4 in.
Main Silencer:
Aluminum SX Racing w / Spark Arrestor
Wheel Base:
50.39 in.
Ground Clearance:
10.43 in.
Seat Height:
31.3 in.
Tank Capacity:
2.72 gal.
Weight (no fuel):
363.8 lbs
Related Reading:
KTM introduces new SX ATV Published September 15th, 2008 11:41 AM
Top Brands
Popular Articles