1 View
Tips for the Aspiring ATV Racer From an Aspiring Racer
June 16th, 2015 4:50 PM
Share
We're committed to finding, researching, and recommending the best products. We earn commissions from purchases you make using links in our articles. Learn more here
How to prepare your ATV for a season of racing
The GNCC series is upon us. Getting ready to commit to a season of bar banging fun is easy, but being ready is a bigger concern. The days of get on and run what you brought to the track are very much over in most classes and one young very talented rider from Dawsonville, Ga. we worked with last year found this out painfully quick.
Anna Byrd grew up circling the concrete oval in her quarter midget for a few years before stepping into the dirt kart arena. Anna also took a seat in a high-horsepower, late-model dirt race car for a few days of training with goals of someday becoming like her NASCAR heroes. Anna made her name and presence known often to the other drivers on the track and was affectionately named "Little Earnhardt" at some point during her quarter midget racing days. It wasn't until she stepped into ATV racing that she realized that a pretty good challenge lay ahead. A 2007 Honda TRX450R was her rocket ship and Anna had her dreams set on the podium.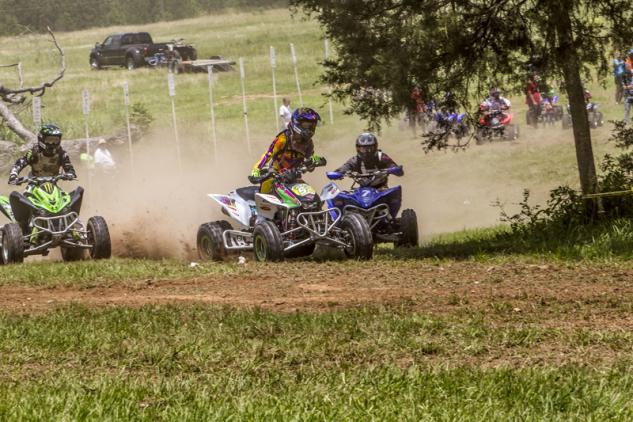 So what does this have to do with you, the aspiring racer? Like Anna did for her first few races, you need to prepare yourself for a few things and take a close look at your machine as well as your own personal fitness to get the results you desire out on the track. With progressively better results, Anna made changes to her 450R that really gave her the edge up on the competition. Here are a list of several items Anna used and a short explanation of how they helped her feel better about race day as well as the resulting finishes.
Shocks
The first item changed on any ATV that is in stock form should be the shocks. Suspension gets you through the rough stuff and helps lessen the fatigue for the two-hour race. You can have all the power in the world, but if you cannot effectively control the machine it will not help. Anna sent her stock TRX450R piggyback shocks to JET Suspension for an overhaul.
JET revalved the shocks for Anna's weight and removed the single stock springs to be replaced with a triple rate spring system. This means there are three springs of varying tension now and this gives a more progressive and smooth feel for the shock. JET also removed a portion of the shock body to give the shock more travel. This combination alone advanced the Dawsonville native several positions in the final race results at each event. Get your suspension set up to your weight and riding style first.
Tough Wheel
You can very well run a stock rim and possibly win a few races, but the outer edge being non-protected can cause the tire to be shifted off its bead and create a flat. Beadlock wheels that are also reinforced on the inner lip of the wheel will be super tough, hold tight to the tire and keep this from happening.
OMF Performance beadlock wheels are one of our favorite options as they are often created using a stock wheel. Anna sent her stock 450R wheels to OMF and had the inner reinforcement rings installed and the beadlock was welded in to the outer side of the wheel. This means she can run faster and hit things a little harder without worrying about unseating her tires.
Tire Choice
Running last year's worn out tires can leave you sitting in the parking area wishing you had seen that hit coming. You need good traction and a product with plenty of background. We chose to go with CST tires for Anna's machine.
CST makes a great affordable cross country tire that is cut out for the rigors of the GNCC racing terrain. The CST Pulse is a six-ply tire that resists puncture and provides plenty of grip in the corners yet is very predictable when you slide the rear out. The Pulse up front guides your machine with stable handling and the side knobs add that extra bite. These tires have not only given Anna many races without wearing out but at the first event Anna attended the Pulse grabbed the ground and propelled her TRX450R to take the holeshot in front of her class. Get good tires!
Read: ATV Motocross 101: First Trip To The Track
No Flats
One of the biggest problems plaguing riders during a race is a flat tire. Getting quality tires is just part of the solution as you will soon want to invest in a run flat system so you do not have to DNF over a flat tire. This was where Tire Blocks came into the picture for Anna.
Tire Blocks are blocks of dense foam that are inserted into the tires very tightly. These blocks allow the tire to be cut open and the rider will probably never know if they lose air in the tire. No flat tire means you finish the race and finishing means you have a better chance of winning!
Frame Skids
The stock engine skid plate will not be enough to protect the underbelly of your machine. Also, the stock swing arm guard is not an ideal source of protection. If the chain wheel or brake rotor is hit and damaged you will most likely be out of the competition.
Anna used the TCS Motorsports rotor guard to keep her chain wheel protected while saving weight on the swinger. The TCS Motorsports "Shark Fin" also gave her EBC brake rotor protection against any hard slams on trail rocks and roots. Keeping the engine safe is vital and once again TCS Motorsports provided Anna's TRX450R with a slick skid plate made of a tough plastic that indeed glides over most rough terrain without hanging on it. Keep the machine moving by protecting the moving parts. It's a must do!
Brakes
Getting a fast machine stopped can be a tall task and you do not want to be out in the woods racing along with cheap brakes. Priority shifts to being safe as a primary rule and having dependable braking components that will not fade during the race is imperative.
For the TRX450R Anna went with EBC brake pads and rotors. This combination gave her the confidence to pick up the pace a little more knowing she was in control should she need to slow it down a notch.
Safety Gear
This is the first item every racer should invest in even before the preliminary parts begin being removed from the ATV. Good quality racing protective gear for the rider means you have a better chance of getting home in one piece after the big day. Anna chose FLY Racing gear to give her that extra edge of safety as well as great looking style.
From the brightly colored jersey and pants to the full size boots and custom helmet, Anna is ready on the starting line with plenty of confidence. A helmet that fits is important and it needs to be comfortable as well. Be sure your helmet has a DOT or SNELL rating so you know it will indeed protect your head and not just look good.
Quad Style
Feeling good and looking good go hand in hand for a successful race day. If you pull up on the starting line feeling bad about the way your machine looks then you might have already defeated yourself and allowed other racers to really get in your head. This is where Anna turned to the experts at G4 Graphics.
The G4 custom graphic kit set her machine apart from the rest of the competition and made her feel proud to strut her ride on the starting line. These custom graphics have endured some tough local series races and two GNCC events without giving in.
Conclusion
Each and every part of Anna's setup has pushed her further up into the top ranks as a local racer. Before this program came together Anna found herself riding mid-pack with only the hopes of a solid finish. The first ride on her TRX450R with the new shocks from JET Suspension Byrd took home a second place trophy. That's how much suspension really means to the rider! By the second race on her machine she had her CST Pulse tires and Tire Blocks installed in the OMF beadlock wheels, which was rolling out front taking the first turn in first place. Anna finished the SORCS series with a solid second place for the season and is headed into the 2014 year looking for that number one spot.
Anna Byrd's program and constant attention to her health through exercise keeps her in the hunt for the big trophy. These are only a few things that can change your success at the track, but Anna knows this works and has proved it over the last year in every race. Published March 6th, 2014 7:27 AM
Top Brands
Popular Articles