1 View
Terracross Brings Big Names and Big Action to UTV Racing
June 16th, 2015 4:49 PM
Share
We're committed to finding, researching, and recommending the best products. We earn commissions from purchases you make using links in our articles. Learn more here
Series takes unique approach to UTV racing
What do you get when you combine a fleet of Polaris RZRs, a gnarly off-road course and a field of (mostly) celebrity drivers from both past and present? The answer can be summed up in one word – Terracross.
The Mystik Lubricants Terracross just wrapped up the 2014 season at Charlotte Motor speedway, closing out its biggest and best season yet and organizers are already at work making sure next year's series is bigger and better.
For those unfamiliar with the sport, Terracross is a form of short course off-road racing where competitors race identical Polaris RZRs on a specially built course designed to test the limits of both man and machine. Although the tracks are not particularly long, they are littered with obstacles like moguls, tractor tires and, new for this year, an over under jump. As well, multiple line options are available throughout the course to create more opportunities to pass.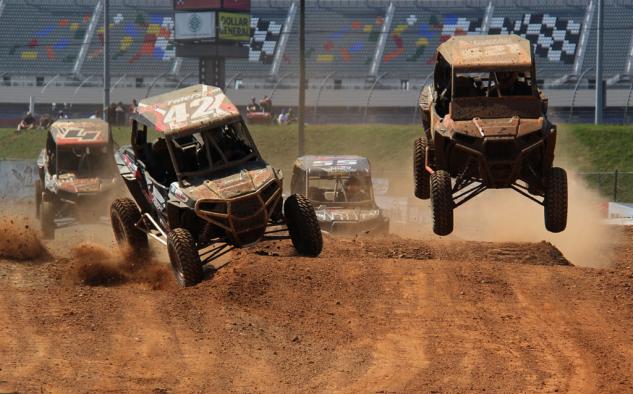 Terracross Then and Now
Terracross actually got its start back in 2001 as a part of the Great Outdoor games held in Orlando, Fla. TV host and X Games commentator, Tes Sewell, organized the first event to bring a unique aspect of off-road racing to the games. It involved 4×4 Utility quads on an endurocross-like course and featured some of the biggest names in the ATV racing world.
Tips for the Aspiring ATV Racer from an Aspiring Racer
Fast forward a few years and Tes was hired to bring the same type of event to a rapidly growing motocross series called the WPSA under the name QuadTerrain Challenge. This event saw ATV champions like Daryl Rath, Doug Gust and William Yokely turn out to race Utility ATVs on a major television network.
Unfortunately the WPSA series folded after only two years and the Quad Terrain Challenge disappeared with it. However, Joe Duncan, X Games snowmobile promoter (among other things), resurrected the series in 2012, this time with a few new spins.
"I always wanted to bring back a 4×4 Terracross style of racing and that's kind of what the game plan was, but the Side-by-Side stuff just kind of took off," says Duncan.
In 2012, with the help of Mystik Lubricants, Polaris and several other backers, Duncan was able pull the right team together to make the Terracross Championship become a reality. The first season back had two events that included several big names from around the ATV community. The inaugural season was a success and attracted even more attention from media as well as other high profile celebrities.
How it Works
The big picture idea is that racers are able to fly into the event where their RZR XP 1000 is already prepped and waiting for them to jump in and race. During the course of an event, if something breaks, there is a team of Polaris mechanics and engineers onsite to make any and all necessary repairs to get the driver back out on the course.
We attended the final round at Charlotte Motor Speedway and it was impressive to watch the mechanics rallying to repair numerous vehicles between heats. Belts, clutches, tie rods, steering racks; you name it, they were fixing it.
Each event starts with qualifying heats and a last chance qualifier (LCQ) leading up to a 20-car main event. As far as the UTVs themselves, the racers are competing in nearly identical, stock Polaris RZR XP 1000s. According to Duncan, putting everyone in the same car levels the playing field.
Read our Polaris RZR XP 1000 Review
"Nobody has a special vehicle and seventeen mechanics verses a guy that has one mechanic who is working out of his truck," says Duncan. "How hard you push that vehicle is how far it goes."
Drivers are allowed to make slight cosmetic modifications like doors, seats and roofs, but that's it. They are also encouraged to seek out their own individual sponsors to help cover the cost of racing. While the $39,000 price tag to compete in the 2015 Terracross series might seem a little outrageous, it's really not a lot of money considering what you get.
First of all, every driver gets to keep their Polaris RZR XP 1000 at the end of the season. During the events, the Polaris mechanics make any and all repairs to the vehicles at no charge, the driver is simply responsible to pay for parts at a significant discount. Lastly, the Terracross staff transports all of the vehicles to and from the events, allowing the racers to fly in and out of the events without spending a fortune on fuel and travel. When adding up the transportation costs alone, not to mention assembling a crew of people to help keep the car running, you'd end up pretty close to that $39,000 mark anyway.
That being said, the amount each participant pays is contingent upon the level of exposure they might bring to the series. Simply paying to play is not what the series is going for.
"We want high profile athletes and racers," says Duncan. "People that have ability, history and can tell a story."
In addition to series regulars like ATV champions Doug Gust and Daryl Rath, several other notables made appearances throughout the season. Winter X Games Gold Medalist Colten Moore has competed in each of the last two seasons of Terracross racing and even managed to talk his father into joining him on the series. Other notables include the King of Supercross, Jeremy McGrath, Snowvross champion Levi Lavallee and Sirus XM radio host Jason Ellis.
Read our Interview with Colten Moore
The 2014 season included two rounds held at each of the three stops, giving racers six total opportunities to score valuable points in the hunt for the overall Terracross Championship. Consistency is key in this form of racing, particularly because so many drivers who push the vehicles end up breaking them. With numerous heat races, one small mistake can cost you a race and land you in the LCQ, which at best, puts you near the back of the pack in the main event.
BC Vaught was among the top finishers at every round and was leading the points chase coming into the final two rounds. Unfortunately for Vaught, mechanical issues cost him the race in round five and a difficult heat race sent him to the LCQ for round six. Although he was able to make the main and pass up to seventh place, he ultimately lost two positions and finished out the season in third place.
"I got through the LCQ okay with a win but started at the back of the pack for the final main," says Vaught. "I reminded myself to be patient but to keep working towards the front. My RZR and I persevered and finished the race keeping me on the podium for the season and with that, I was very satisfied! To be honest, I was really happy to see Jason Luburgh and his sister both with the championship!"
Former Pro ATV racer Jason Luburgh, who trailed Vaught by one point coming into Charlotte, remained consistent for most of the season and managed to wrap up the series championship in Charlotte.
Luburgh's sister, Jami Luburgh Ward, was one of a handful of women who competed in the Women's class all year long and took home the Women's Pro Class championship. In addition to the Pro Terracross class, each event hosts a Women's class and a Pro Am class that anyone can enter, regardless of vehicle type or modifications. Terracross does not provide the vehicles for these classes, but it's a great opportunity for local or regional racers to come out and gain valuable television exposure for themselves and their own sponsors.
According to Joe Duncan, 2015 plans are already well underway with some great changes coming to attract more partners and even bolster the presence of women in the series. They are also working hard to include an adaptive class in partnership with the Wounded Warrior organization to allow military vets an opportunity to get back in the saddle and drive a RZR equipped with hand controls.
We are very excited to see the level of exposure the Terracross Championship is bringing to the UTV community and equally as excited to see some big names from other industries getting involved in the sport. To stay up to date with the 2015 season or find out if the series is coming to your area, check out http://www.terracrossracing.com/. Seth Fargher
Growing up in Oregon, most of Seth's involvement in the powersports world was limited to what he saw in magazines and videos. Following a brief stint in the corporate world, Seth took a flying leap (literally) and moved to California to pursue a career in freestyle motocross. Though short lived, the opportunity immersed him in the industry and is now a well-established off-road writer.
More by Seth Fargher
Published October 8th, 2014 11:59 AM
Top Brands
Popular Articles