1 View
June 16th, 2015 4:29 PM
Share
We're committed to finding, researching, and recommending the best products. We earn commissions from purchases you make using links in our articles. Learn more here
We catch up with the ATV freestyler and Side-by-Side racer
The first time we ran into Colten Moore was back in 2009 at Dumont Dunes in California, where he and the rest of his crew of quad freestyle riders were filming for what would be the final installment of the popular Huevos video series. Fast forward a couple of years and we ran into him again at the Oregon dunes, fresh off the Nuclear Cowboyz tour and after having won not one but two medals at the 2012 Winter X Games.
Since that time he's spanned the globe flipping both an ATV and a snowmobile while riding with the likes of Travis Pastrana and the rest of the world's greatest action sports athletes. We caught up with the Krum, Texas native at the final round of the Mystik Lubricants Terracross Championship to find out what he's been up to and to get a sneak peak of what the future holds for him.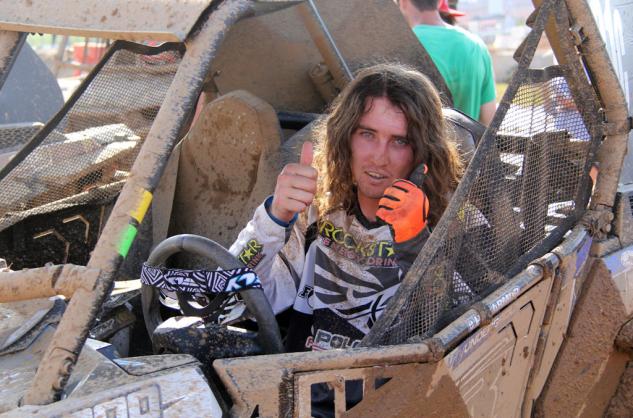 2014 has been quite a year for you. Can you give us a bit of a snapshot of some of what you've been up to?
Yeah, this has been the busiest year I've had, I started out riding X Games, going back and riding for my brother. I got gold so that went good. We started off the year right. I went through Nuclear Cowboyz like I have the past four years. That lasted about four months and as soon as I got done with that I hopped on with Nitro Circus. That was really cool. I got to do one tour last year with them so to get to go back it was a lot of fun. I've been to China, Russia…I've been going all year long. Now we're here at Terracross racing RZRs and this is the final round. I think maybe after this we're gonna do the Caleb Moore memorial race and then I'm actually going to have some time off, so that'll be good.
What are a few of your favorite, or the most unique, places you've visited in the last year?
I got to go to China. I've never been to China before and it was really interesting. I was expecting a lot different than what it really was. We were in Macau and it was like a Las Vegas but in China. That was pretty cool. I thought I was going to be eating terrible food and dealing with a strange environment, but it was actually real neat so as far as this year that was one of my favorite places I've gotten to go.
You pulled double duty on two of the biggest freestyle motocross tours in the world with Nuclear Cowboyz and Nitro circus. Are they pretty similar or do they each have some unique elements?
They're definitely a lot different from each other. Nuclear is more like choreographed with dancers and lights and lasers and it's more like a production, whereas Nitro is just like all out gnarlyness. Just tons of riders – BMX, skate, FMX and contraptions. It's just the craziest thing you've ever seen.
In addition to the big tours, you still do some stand-alone shows around the world. Do you prefer the routineness of a rehearsed show or the uniqueness of the stand-alone events?
It depends on the show. There are some shows that are definitely worth it to go to like X Nights in Costa Rica. I haven't gotten to go to it in a long time, but that's a huge show and I just love being down there so its fun to mix it up every once in a while, but tours are always good because its guaranteed shows and you're busy. You're guaranteed a job for a while, basically. Tours are fun, too, because you travel with all the same people and it's like a big family traveling around, so it's a lot of fun.
When you ride these stand-alone events are those primarily on an ATV or a snowmobile?
Summertime pretty much mainly on the quad. There have been a few that I've done on the sled but in the summertime I prefer a quad because the sled is just a pain. (Laughs)
For Nitro Circus do you ride a sled or an ATV?
A quad on Nitro Circus.
How is it working with Travis Pastrana and a group of the most talented, progressive athletes in the world?
It's insane. I've watched that guy for a long time and I finally got to meet him and hang out with him last year and ya know they're all super humble people. They help you out, they hang out, they're cool and like I said it's just a big family. We all get along and we all just get to do crazy stuff together.
Nitro Circus has gone around the globe and back again. Are some cultures more into it than others or is it pretty well received everywhere?
It's funny because normally we run half the show and then do an intermission and then the other half of the show. Well last year in China I guess they did that and at intermission the people were confused and they started leaving so this year we just ran it straight through because over there they don't have intermissions. And then over there they're more quiet. Like they'll clap and then they're quiet, whereas in Australia you've got people going nuts. It's pretty funny. The show will end and almost every show you've got someone jumping out of the crowd to try to mob onto the field and you'll see them just get tackled.
Obviously Winter X Games was a big deal this year for a lot of reasons. A lot of people wondered if you would even come back to compete in 2014. Can you tell us a little about your perspective on returning to the event and then how it felt to win your second Gold Medal?
* Editor's Note: Colten Moore's brother, Caleb Moore, died from injuries he suffered at the Winter X Games in 2013.
Going into X there was lots of talk. No one ever asked me straight up about it. I think they really didn't want to bother me with it, but I never had any doubt from day one that I was not gonna go back and ride. That'd be the worst thing I could do. I wanted to go back and ride for Caleb and take the gold for Caleb. I had a lot of eyes on me so it actually made me nervous, because me and Caleb every year were pretty much the underdogs and we liked coming in as the underdogs and that's what I got used to so coming in with all the hype I was nervous. I didn't want to let people down. I didn't want to let my brother down, so to go there to get gold and have all my family there it was like the best thing that could have happened. It turned out exactly how we wanted it to happen. I walked away from there, was able to get gold for my brother and go away as happy as I could be with all my family and got to celebrate. It's been really good every since.
Do you plan to continue competing at Winter X?
Definitely. As along as Winter X is going I'm going to be there.
It sounds like you spend the bulk of your time on an ATV. How hard is it to transition back to a sled when it comes time to train for Winter X Games?
The first couple of years it was a little difficult, but now that we've ridden sleds so much, it takes me maybe a day to get uses to it. It might take a little longer to get all the flip tricks and all the tricks back, but it's getting easier and easier every year. It helps if I can ride a few times throughout the year, so I don't go eight or nine months without riding, but it's getting easier.
You're wearing a lot of hats between ATV freestyle, snowmobile freestyle, Winter X Games and now Terracross. Do you like being busy?
For the most part, yeah, I like it. It's just what I like to do. When I'm sitting around I get board or I'm worthless (laughs) so I like to keep going and doing stuff and trying to progress. At points when you're gone for a month or two or however long of not getting to be home, you start to miss home a little bit. You go back home for a few days, you get your fix and then get back on the road.
When did you throw Side-by-Side racing into the mix?
We always kinda messed around with Side-by-Sides a little bit, but last year, BC Vaught, my manager, said something about Terracross and I was all in because I'm actually wanting to get into truck racing so this is a good opportunity to start off with RZRs, so last year I ran Terracross. I'm running it again this year and we're hoping to maybe progress into like a Pro Lite or something.
Freestyle is about feel and movement. Do you like being harnessed inside a cage?
It's actually comforting to be harnessed in a cage. I mean I'm not floating off and letting go, I'm in a cage and strapped in. I've got my helmet on. It's kind of a bad thing because it's like I have no fear, I just don't hold back at all. That's probably why my car isn't staying together. (Laughs)
You've had some impressive lap times, but have yet to make a podium this year. What do you think is the reason?
(Laughing) I just can't keep a car underneath me. I don't know I guess I'm just pushing it too hard. Every race I've set top five lap times, if not usually in top three, but I don't know, I guess I just push the car too hard and I always break it. Not once have I kept a car under me. I feel sorry for these mechanics out here.
Do you like the stadium format of Terracross or would you prefer something a little more wide open, like WORCS or GNCC?
The tight courses for Terracross are fun because it keeps everyone close and it keeps it challenging because you're having to watch every turn and you've got guys right next to you all the time. I would like to see some bigger tracks, though, just because I feel that with tight courses like this, it's real easy for someone to just bump you and push you out of the way or something like that. I think with a bigger course it'd be a little more spread out and you'd have time to get your skills together where you don't have someone just constantly pounding you.
What's it like having your dad out there racing with you?
It's awesome. My dad got to race the whole Terracross last year. He was a little timid last year, but we've been riding a lot so he's progressed a lot and this year he's killing it out there and it's fun for me to go out there with him and get to watch him. Basically just travel together and ride together, it's awesome.
He has a pretty good presence on social media and is entertaining to follow. Do you guys do some trash talking on there?
(Laughs) Not a whole lot of trash talking, but I've actually had a lot of people tell me that my dad is like one of their favorite Instagramers to watch and it cracks me up.
Who's faster?
I'm definitely faster than my dad…I can't give him that. (laughing)
After Terracross, is it right back to the grind or will you have some time off?
I actually have some time off for the first time in a long time. I don't know, I think I'm probably just going to practice at my house and see if I can't come up with some new stuff.
What's life look like when you're not living out of a suitcase?
I don't know – spend a lot of time riding at my house, practicing and then I like to spend a lot of time on the lake. I've got a boat so I take all my friends out. We go to the lake and go wake boarding, surfing and all that, so it's just a good time.
What's 2015 looking like?
Mmm 2015…I like to just live for the moment, but as of right now I know I'm going to be on Nitro Circus and I have 52 confirmed dates with them, so it's gonna be a busy year.
How about beyond that? Is there anything you're working toward that you can give us a teaser of?
I'm going to compete in speed and style at Winter X this year. I'm not too great at speed and style, but I'm gonna practice a lot and see if I can't get into that and get some more hardware. After this RZR race we've been working towards getting into a Pro Lite or some kind of truck. Something with a cage you know. A little more safe.
You can follow Colten Moore on his worldwide adventures on Facebook at http://www.facebook.com/coltenmoore and on Instagram at http://www.Instagram.com/colt45moore
Oh, and his father Wade's Instagram is http://www.Instagram.com/wademoore31 Seth Fargher
Growing up in Oregon, most of Seth's involvement in the powersports world was limited to what he saw in magazines and videos. Following a brief stint in the corporate world, Seth took a flying leap (literally) and moved to California to pursue a career in freestyle motocross. Though short lived, the opportunity immersed him in the industry and is now a well-established off-road writer.
More by Seth Fargher
Published September 30th, 2014 12:14 PM
Top Brands
Popular Articles