2 Views
2012 High Lifter Mud Nationals Report
June 24th, 2015 4:44 PM
Share
We're committed to finding, researching, and recommending the best products. We earn commissions from purchases you make using links in our articles. Learn more here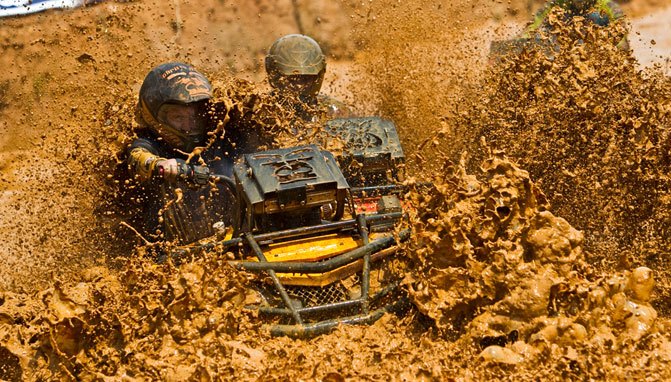 Ridin' dirty in the muddy heart of Texas
As a kid I played in the creeks and muddy fields around our house. The cool river and raging mud holes brought many hours of enjoyment for my friends and me. That's why I'm always excited to head to Jacksonville, Texas every year for the High Lifter Mud Nationals at the Mud Creek Off-Road Park.
This is one of the biggest ATV events on the calendar and one that draws an estimated 12,000 mud-starved people to Jacksonville every year. The 2012 running of the Mud Nationals was even bigger as organizers suspected as many as 15,000 ATV/UTV mud riding enthusiasts made their way into the 4000-acre spread for three days of the nastiest mud-filled extravaganza you could imagine. We certainly didn't want to be left out, so with a rental car and a full tank of gas we headed west to Texas to get in on the action.
As the Mud Nationals gain in popularity, organizers add more events to keep everybody entertained. On Wednesday crowds began to gather for a bar-b-cue cook off. The first official "Outlaw BBQ Throwdown" was underway and it looked like the competition was very close. Damon Blue from Keithville, La. came out the top chef and took home the $500 cash prize and a trophy to prove his success. Calvin Walker and Heath Shockey finished second and third and both took home trophies.
As Thursday morning rolled in the clouds and rain did as well. The fact that we were at a mud event and the rain looked like it had a good tight grip on the area did concern us just a bit. Yes, the rain brings the mud, but it makes for a terrible time trying to get great photos. Being patient was the key, though. The clouds held off the rain just long enough for the DynoJet-sponsored Bad 2 'da Bone custom ATV/UTV show to go on. This event gets better every year as contestants gather their rigs and clean them spotless for a chance to take home the top prize of $500 – a small drop compared to what most put into their custom rides. The Can-Am Renegade of Ben Darbone was the victor and he took home the title of Bad 2 'da Bone for at least one year. Other notable mentions were custom creator extraordinaire Mark Wise and his wife Lisa's 2012 Can-Am Outlander 1000 specially named Rust Bucket. This marvelous piece was sheer excellence and just really displayed the talent that the Wise guy possesses.
So like any custom ride show there has to be a custom stereo to go with it, right? Many eardrums were damaged during the Planet ATV Mud jam loudest stereo contest. The most notable ride and winner of this year's tune-blasting machine trophy went to Wicked Off-Road's Scott Reeves. This SxS had enough bass and bump to wake up all the crawdaddies in the swamp.
With the day's events drawing to a close it was time to invest in a little Cajun cuisine around the vendor area. My first stop had to be for the bacon-wrapped shrimp at Uncle Ray's. These little packs of awesomeness had eluded me all year but it was time for a five pack and some lemonade. In the product vendor area everything was for sale. This little section of prime aftermarket products had been busy all day with everything from the release of the new STI Gorilla Silverback X-Lite medium duty mud tires to High Lifter's own gigantic tent of products for the mud ducks. The High Lifter Outlaw 2 tire was also on sale and the vendors couldn't keep them in stock. This vendor area keeps getting bigger and with more ATV and UTV product manufacturers getting wind of the huge market growth I'm sure it will continue to expand. As the dinner began to settle and the last refill of lemonade had been funneled out it was time to hang it up and rest for the Friday morning festivities.
Early Friday morning we scoped out a spot for some great photos in the EPI Endurance Challenge Buddy Run competition. This year I had expected the water in the highline to be very deep because of the massive amounts of rain, but it seemed to be almost identical to last year's challenge. Every year riders choose a partner and try to get from one end of the highline to the other while staying on one quad or SxS. This is simple in theory, but the equipment you choose could and most of the time does have another idea. As the riders/drivers rolled out into the muddy trench the parts sales just started to ring up. Belts on the CVT driven machines were burning up left and right with some taking on water and others simply too weak for the strain.
Brent Stalk and his partner, Carlee Montour, had the fastest time with Dakota Klein and Can-Am's newly named Ultimate Mudder, John Ferranti, coming in with second place. There was only one SxS entered in the buddy run and unfortunately it did not make the entire run as it broke just halfway back to the start/finish line.
The next scheduled event started in just a couple hours at the Straight-Line Mud Bog. The soupy mess only brought 80 total entries and just three side-by-sides showed up. Most would spare their equipment for fear of breaking and not being able to compete in the CMR series points race the following day. The racing began as usual and with the high powered, lifted, brutally fast machines lined up it was definitely exciting. It amazes me just how powerful some of these machines are and if you have never witnessed a 700-pound ATV skim a 3-4 foot deep mud bog you have missed the boat for sure. Saturday brought out all of the super high-powered machines and many more UTVs for uncontrolled action in the round track. These guys give it all and never give up until the checkered flag flies. Equipment can break around every corner and it's not impossible to be last on the first lap and first on the last lap!
The sun has set on another day of racing action and with the headlining bands and fireworks to top it off it was a great time had by all. Clay Wylie and the boys of the CMR had put on an awesome race event and rolled up the carpet to head back east until the next round. Scott Smith along with Tracie Engi and the massive crew of workers produced another successful week and we appreciate them making us feel welcome there year after year. The awesome Cajun food vendors were wrapping up Sunday morning and I myself had to hit the road for Georgia. It was a great time and I can't wait to be in the Mud Creek Park again next year for some awesome mudding fun. Come see it for yourself next year! Published April 9th, 2012 12:08 PM
Top Brands
Popular Articles