1 View
2011 High Lifter Mud Nationals Report
June 24th, 2015 4:46 PM
Share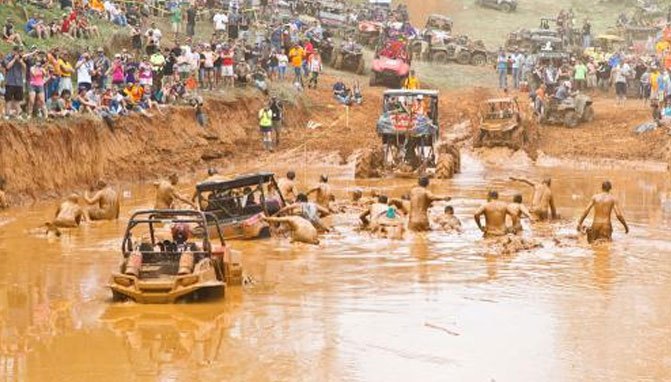 ATVs send the mud flying in Texas!
Ladies and gentlemen boys and girls, children of all ages, its time to play in the mud again!! What do you think of when you hear the word Swamp Donkey? Or maybe the group of guys you see at a local gas station in southeast Texas are members of the Mud Mafia? Maybe you've even heard about an award winning prize given to all people for walking bare-chested in a crowd while screaming "throw ya girlfriend on tha floor show that donkey how you roll, get that girl out on tha floor and drop it low, low, low, low!" Well I can tell you this, it's not your usual social event and with 13,000 people and counting. It's a truck load of fun in the muddy, swampy mire of Jacksonville, Texas!
It's called the High Lifter Mud Nationals and for the last nine years it has drawn family and friends from all over the USA and other foreign countries out to eat, sleep and breathe the wonderful world of muddin! The gates at Mud Creek Offroad Park flew open and before the events had even started the rolling hills of this quaint little town's mudder park had started filling up. Campers rolled in by the hundreds and if you didn't have a camper then you pitched a tent for the four day event. The showers had been cleaned meticulously and the vendor area grew with food and beverages for all ages. Products were flying out of the hands of many home grown entrepreneurs like planes out of DFW airport. The atmosphere was set to bring in many racers and crew to beat the neighbors in a one-way dash for cash and prizes.
Tracie Engi has spent all of her days since Highlifter Mud nationals 2010 trying to figure out how the crew could better serve the visitors and vendors alike. You see this young lady is the center of the event and even with all that weight on her shoulders she took the time to care for us like we were one of her own. "It's not easy," exclaimed Tracie "but we want to be sure everyone has a great experience when they come to our event."
There's no doubt that when Scott Smith, owner of High Lifter Products, set out to create this now world famous event he had no idea just how big of a monster he had introduced into the world of ATVing. The fan experience is fashionably set on over 3,500 acres and with many new trail heads and options for rerouting the heavy traffic areas they flow should be better than previous years.
Our journey began on Thursday as we watched the annual Show and Shine competition (known as the Dynojet Bad 2 'Da Bone) get underway. Many very innovative rides had been driven into the coral area at the vendor row north to be seen and voted upon. Someone was walking away with $500 as a top prize for their hard work and it must have been a very hard decision for all who voted.
The next contest wasted no time getting started as many unsuspecting fans were treated to thumping stereo systems in an attempt to take home not only a trophy but top prizes in the cash variety again of $350. This was the first year for this type of competition and I heard more than one person say that next year they wanted to win the Bad 2 'Da Bone contest and drive over to take the money in the Stereo Jam as well. Sounds like this thing is heating up already one year in advance!
Well I do know one person who may have an in for the stereo contest, but I'm not revealing that one. I will take bets though!
So the clean machines had been shown and the music had turned and headed out into the wilds of Mudd Creek Offroad Park for the remainder of the evening. The greatest minds had gotten through the first day of events and laid one more success in the record books. It was time to go get dirty and I mean that in the cleanest way possible.
We met up with friends that had so graciously taken us in last year and it was like we had just picked right up where we left off. The Pate family made us feel right at home last year. It was an honor to spend some more time with these fine folks and I can honestly say that my Texas peeps know how to do it up right, camping style0021
Walking through the park I had places to go and some that required wheels instead of feet so with a begging style of asking I was able to wrangle a Can-Am Outlander from the showcase rig parked along the hillside of the parks inner circle. This was one of the new MR versions of the Outlander and I could go deep with this puppy. I'm not sure how deep so I didn't press my luck but when the crowd grew tight I simply rode off the trail through the water crossing and passed a few slower cars like I was in the high banks at Talladega! It was nice to ride and not walk so without further adieu I want to thank you Can-Am!
The highline filled up as the sun slowly dropped behind the trees and when total darkness was upon us the mood and people began to change just a little. It was like the wild inner soul came out and before I knew it I was surrounded by super cool, highly energized people trying to find out how many times they could drive in a circle and collect plastic beaded necklaces before the spotlight changed directions. I can say this and only this on the record, its funny what a piece of plastic can be traded for!
Our Friday morning started with the Buddy Run, a race down the highline to see who could run the length of the almost one-mile course without leaving their buddy behind. You see it takes two to tango in this event and you can either be the driver/coordination person or the rider/big dummy grab bar holder onto'er! Words could not express how fun this has to be and when you have your two-person team you start at one end of the highline and you'll have to make it all the way down and back without losing either in the team and hope that nothing is lost off the machine either. It's a great way to enjoy the fresh mud of the morning.
After the Buddy Run there was another annual event called the "Can-Am Mud Bog." This year the straight-line drag race was to be taken back to the old school, deep woods, pit-style competition. Its biggest test unfortunately was the fact that the sun had dried all the water out of the pit and only real thick muddy slop remained, which made each race a mini-reality series. Racers pulled into staging one after another finding any direction they could to get from the big end to the other side of this pig heaven.
All of these scheduled events made having a great time possible and all the while Highlifter and Polaris had been giving out golden tickets in order to finally give away a really nice new Polaris Ranger RZR XP 900. From shooting t-shirts into the crowd to throwing a water bottle filled with a golden ticket into the mire for contestants to swim after, there was no excitement left undone. The 30 tickets were given out and then each person with a ticket waited until the final "Mudda-Cross" racers on Saturday had finished so they could trade their ticket for a key to see if their key would start the $16,000 dollar machine. There was a winner and his name is Rodger Bartley of Texarkana, Texas. Great luck my friend!
I could talk for hours on the fun to be had at the High Lifter Mud Nationals but until you get out and do it for yourselves you'll just never understand! So I'll see ya there next year?
Related Reading
2010 High Lifter Mud Nationals Report
Published April 15th, 2011 2:46 PM
Top Brands
Popular Articles