1 View
2014 High Lifter Mud Nationals Report
June 17th, 2015 1:33 PM
Share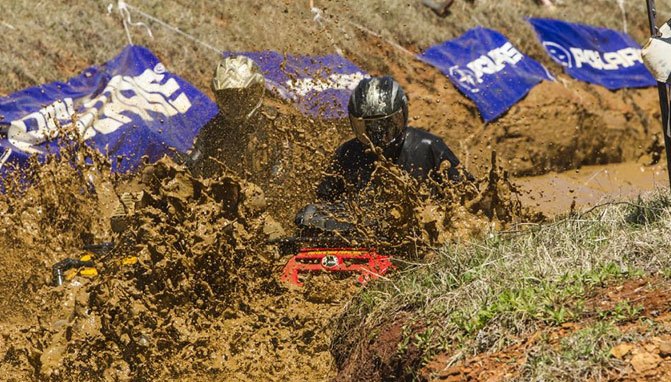 Heavy rain and wild machines converge in Jacksonville, Texas
Sometimes we step back and wonder just how a little fun in the mud could bring people from all over the United States and around the world to one small town in Texas. The small town we are referring to is Jacksonville and this self-proclaimed " Tomato Capital of the World" gets about 13,000 extra visitors for at least a week in the Mud Creek OffRoad Park for the High Lifter Mud Nationals event every year! We had the chance to attend again this year and the weather dealt out some of the deepest, stickiest and downright dirtiest mud to date!
Arriving into Jacksonville on Tuesday evening, the rumor of a terrible storm Thursday as well as Friday had us a little concerned. How could High Lifter pull off each event in the tornadic winds and potential hail that had been forecasted all around this area? It was simple, a small blessing from above stabilized the overcast skies and the Bad 2 'Da Bone competition got underway on Wednesday with a cool breeze blowing through the vendor area.
The sun gave everyone on the scene plenty of light to see the incredible machines that had been built in hopes of taking home bragging rights from the year's biggest mud event. From LSU themes to the artistic custom roll cages and airbrushed paint jobs, it was apparent that many had dreamed of this very day for months in advance. The raw talent that had been presented by each individual was astounding and we were stunned that most had been created in home garages.
This year's sound competition, sponsored by Audio Formz, was also a treat as new classes had been created to give each individual a better chance of winning a prize instead of lumping them all together. The unlimited sounds and sound systems blared into air and we're sure there were many def ears afterwards as the decibels ranged from 100 to 120 or more. Welding in extra tube steel in order to mount extra speakers is becoming the norm in this contest. One machine had over 30 speakers mounted on it. It looked like Roger Rabbit's pocket full of gun barrels pointed into the sound mic! I do applaud the effort given by every participant as each rig really had to take many hours if not days of wiring and labor to construct.
It's too bad this LSU-inspired UTV doesn't have enough speakers.
So what do you do when the contests are over for the day at Mud Creek? You get something to eat and maybe head out and ride. Over 4,000 acres of nasty mud combined with hard pack trails makes for an incredible adventure and many stuck machines. Food is in abundance at the High Lifter Mud Nationals, but be careful because if you have a tender digestive system the Louisiana and south Texas Cajun belly monster may just get you. There were plenty of choices and going hungry isn't an option. As we headed around the vendor area we were greeted by our friends at STI Tire & Wheel. STI was showing off a new 32-inch monster tire called the Outback Max. This was on a 17-inch wheel, which was simply stunning. The tire industry has changed so much over the years, but for mud riding maybe even more so. Look for a review of this beast in the future on ATV.com.
After a good night's sleep, courtesy of the Best Wetsern hotel, I was ready to go again. But Mother Nature had her agenda as well. As Garth Brooks would say, " The Thunder Rolls" into Jacksonville on Thursday just in time for the Massimo Obstacle course event. Not to worry, though, as I rolled up my pant legs, threw on the frog togs, took one for the team and headed down to the course for some rain testing on the old Canon camera.
This Obstacle course event is always exciting and some go to great lengths to make it hilarious. Joe Dirte' came to the race at the obstacle course dressed in his bibs and sporting his trusty Honda Three wheeler. You may remember him from last year as he had the entire crowd on his side and in stitches the entire race. This year was no different. Your objective for this event is to at least make a good effort to try each and every obstacle on the course. If you fail to do so you will be laughed out of the track and publicly humiliated. Not really, but seriously, you had to hit each part with enthusiasm and remembering all the while that a stopwatch was running to keep up with your time there. Obstacles like railroad crossties, huge rocks, mud bogs, crushed cars and more would slow you down along the track. This was quite possibly my favorite part of the week as it was a challenge for everyone. This was all about rider skill.
The rain never really let up on Thursday so we had to call it an early day and head into the safe confines of our hotel room to avoid the predicted yet thankfully non-arriving hail storm. The wind was really starting to lift the circus tents of the vendor area as many were over heard chanting " there's no place like home, there's no place like home" while the wicked wind cried out. Rumors had swirled about golf ball sized hail just northwest of us and we had no intention of getting in the middle of that!
Friday morning came around a little quicker than my already tired feet wanted it to, but it was time to get some real mud racing on. It was time for the Caleb Moore Endurance Challenge down on the highline. Some call this the Buddy Run. If you have not had the grand experience of the buddy race you are missing a whole lot of dirt-in-your-eye competition. If you ever hear a man say he has to drag his wife to the races, just watch this event close as Seth Russell drags his wife Caroline through the race! The objective starts by taking one or more machines and two competitors per team down the highline course. Both have to come back on a single machine or both machines. The goal is to get both teammates to the finish line together to score the fastest time. Dakota Klein and Dave Ostapiw made it in a snap this go round to get first with Seth and Caroline Russell taking second place.
Once the Endurance challenge was finished it was time to jump in the nasty straight bog at Mud Creek. Organized racing has always been a part of the High Lifter Mud Nationals as the Championship Mud Racing Series gets its year started off here. Clay and Rhonda Wylie, as well as many on their crew, wrangle up the racers for the straight line Mud Bog. Getting a heavy yet very powerful race rig down the straight pit is not as easy as it sounds and it can end badly if the machine accidentally gets turned over into the murky mire.
Freestyle was on tap for the evening on Friday, but rain halted that as the ramp and ground leading up to the jump was just too wet. These freestyle pro's had one more day though as a second show had been planned for Saturday evening at 5pm and it went off without a hitch. The Guetter brothers brought their simply amazing skills to the freestyle ramp and spent almost an hour jumping huge distances while tricking out on their Can-Am DS450 ATVs. It takes a brave person to jump what seemed like 50 feet in the air and turn loose off a perfectly good quad. I applaud their talent and wish them well, but ill keep both feet on the pegs myself.
Saturday brought awesome weather and yet another day of competition in the Mudda-Cross circle track. Trophies were won along with some spending money. Hearing team names like "Team Anything Goes" and "Team Gorilla" or even the official Team High Lifter Polaris is the norm at these races and even married couples form parts of the team. It's awesome to see the spirited competition at the High Lifter Mud Nationals and it's even better knowing I will walk away this year having caught up with great friends and even made several new ones.
All went well once again at the annual High Lifter Mud Nationals in Jacksonville, Texas and I could spend hours telling the stories from the mud. If you have a chance, be sure to stop in near the end of March each year to soak your feet in the mud bath. This is on our radar every year and who knows, we just might get that desire to compete ourselves next time it comes around!
Be sure to check out our complete photo gallery for mud-fueled images from the 2014 High Lifter Mud Nationals.
Published April 3rd, 2014 2:42 PM
Top Brands
Popular Articles