1 View
2019 Can-Am Outlander 1000R XT vs Polaris Sportsman XP 1000: By the Numbers
June 8th, 2018 3:50 PM
Share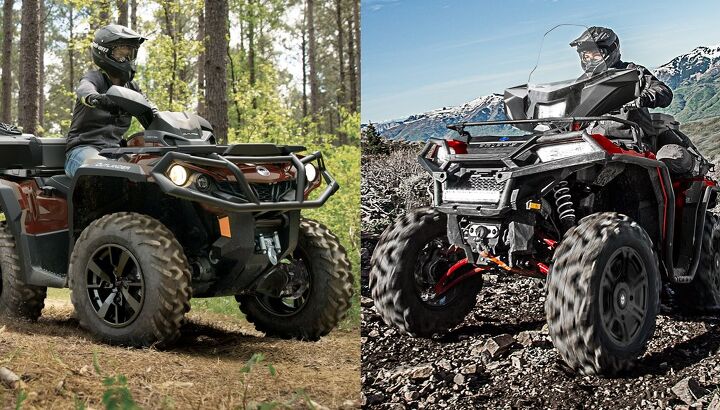 The new 2019 Can-Am Outlander 1000R XT takes on the Polaris Sportsman XP 1000 in our latest specs comparison.
Can-Am's re-envisioned big-bore bad boy Outlander aims to take down the reigning king of 1,000-class recreation-utility ATVs, the Polaris Sportsman XP 1000. Does the new 2019 Can-Am Outlander 1000R XT have what it takes to take the crown? Only you can decide, so let's start with looking at them by the numbers.
When we're talking about big-bore ATVs, there are several options on the market that are all great machines. There is really a fine line between what separates all of the various options with many manufacturers divided by a few cc of engine size. However, when we start talking about the 1,000-class monsters, there's only a couple right now.
Polaris has reigned supreme with the awesome Sportsman XP 1000 for a little while now. It was fully redesigned a couple years ago with many upgrades over the previous models. If you've never checked out the XP, you need to. These are fun and amazing machines to ride. The competition, Can-Am, has been doing very well with the Outlander 1000R, too. This beast of a machine has proven to be a formidable opponent to the XP. Now we want to see how the new 2019 Can-Am Outlander 1000R XT stacks up against the Sportsman.
You Gotta Have Heart
The heart of any machine is, of course, the engine. With either machine there is no shortage of engine or power, for that matter. The new Can-Am Outlander 1000R XT is on the receiving end of a power boost for 2019. The 976cc Rotax V-twin that powers the biggest Outlander gets a boost to 91 horsepower. This is two more than the 2018 model, which had 89. This boost in ponies gives the Outlander 1000R the most horsepower of any production ATV to date. Of course Polaris has yet to release its 2019 models, so we'll keep an eye on that. The new Can-Am also has a completely re-mapped iTC Intelligent Throttle Control system. This drive-by-wire throttle digitally controls the gas when you're stabbing at the throttle and gives you optimal throttle control and alters the power curve. Three modes – Sport, Normal and Work – give you the best use of your engine's horsepower for the application. Work mode controls the speed of the machine, but gives you full use of the torque and power for doing things around the farm or job site. This helps you get tasks done without having the machine get away from you. Normal mode gives you a standard power curve for normal trail riding and use. Sport mode opens up the power delivery for a pretty intense ride.
Polaris runs a 952cc ProStar engine that produces an astoundingly smooth 90 horsepower. If you've never ridden one, the power delivery is best described as electric. There is no lag in performance and the machine builds silky-smooth to an arm-stretching amount. Polaris also uses a drive-by-wire throttle system with Normal, Work and Performance modes. These modes operate the same as Can-Am's new version, so you get the basic idea. I can tell you from personal experience that the Performance mode on the Sportsman XP 1000 is more than enough to raise the hairs on your arms regardless of who you are. It'll get you thinking you're not on an 800-pound plus utility/rec machine, which for some is a bad thing. Seriously, only the experienced need apply for either of these machines!
Keeping You in Suspense
Part of the Sportsman overhaul a couple years back included and all-new suspension system that helps give the XP increased ground clearance and an improved ride. It's part of what makes the Sportsman feel electric when you ride it. Gas shocks ride in arched A-arms front and back with 9-inches of travel in the front and 10.25-inches in the rear. The XP has 11.25-inches of ground clearance and the machine is 47.6 inches wide. It has a stable feel and is well balanced. You can stab the throttle and pop over trail obstacles with ease.
If you can sense a trend here, the Can-Am Outlander 1000R XT comes with brand-new, purpose-built and recalibrated suspension for 2019. It also now comes with front arched A-arms, and an improved front sway bar. There is 9.2 inches of wheel travel. Out back, Can-Am's Torsional Trailing Arm Independent (TTI) rear suspension has been improved to match the action up front. You get 9.9 inches of travel out back. The width has been increased to 48 inches for added stability and improved handling.
Final Thoughts
Other improvements to the 2019 Can-Am Outlander 1000R XT include a new front grill design inspired by the Maverick X3 Side-by-Sides and additional bumper protection and a 3,000-pound Warn winch with the XT package. ITP Terracross tires now come standard too. If you're intrigued, and you should be, check one out at your local dealership soon, or go here to learn more.
The 2018 Polaris sportsman XP 1000 is available now at your local dealership and I'm sure they'd be more than happy to tell you more information and probably temp you with a smoking deal on one. You can also learn some more information by going here.
Published June 8th, 2018 3:50 PM
Top Brands
Popular Articles