2 Views
2019 Polaris Sportsman XP 1000 Premium vs. Can-Am Outlander XT-P 1000R: By the Numbers
December 14th, 2018 4:04 PM
Share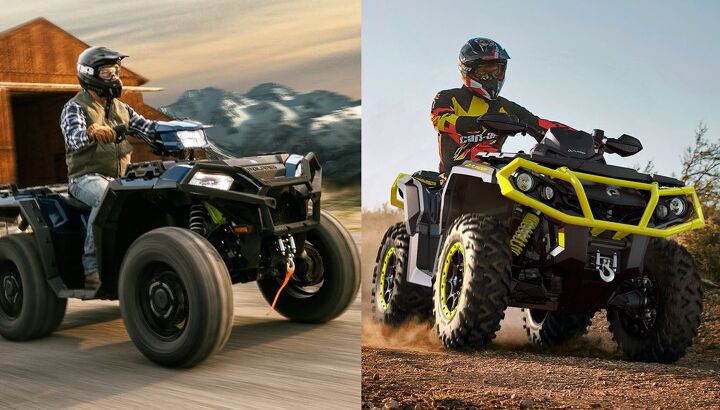 When it comes to Utility ATVs, it's the 2019 Polaris Sportsman XP 1000 Premium and Can-Am Outlander XT-P 1000R are industry leaders.
The 2019 Polaris Sportsman XP 1000 Premium and Can-Am Outlander XT-P 1000R are at the top of the food chain when it comes to Utility ATVs. Let's see how they compare…by the numbers.
We all know how well the standard Sportsman 1000 and the Outlander 1000 perform. These are two seriously amazing and powerful machines that are not for the faint of heart, or the inexperienced rider. Both companies could have sat back and just let the standard trims of these machines duke it out on the sales floor and the trails, but both companies know their consumers. They know that there are those among us who aren't about to settle for stock. These versions of these four-wheeled beasts come with factory added accessories that add cool looks, extra convenience and in some cases, boosted performance capability. If that sounds interesting to you, then buckle up. This showdown is going to be a bumpy ride.
Motor Talk
I know we've talked about these powerplants before, but we really need to again, because they make ridiculous horsepower and talking about power and engines and stuff is just a lot of fun, right? When the major manufacturers agreed to the Consent Decree, one of the provisions in there regarded engine size. If you recall the ATVs from the 1980s, they didn't have as big of engines as we have today, but there were no limits on speed. Anyone who ever went fully tapped out on an 86 ATC 250R, or a Banshee or Quadzilla knows what I'm talking about. Even though the Decree has expired, the manufacturers are still following it for the most part. Basically, they are staying under the radar so more crazy laws don't get handed down.
Once the Decree expired, however, it didn't take long for the manufacturers to start marching up to the levels we're at now. I honestly think they were a little intimidated to march much past 500cc at first. But we've now gone well past that. These two brands have been in a bit of a power struggle. Both like to claim the horsepower title. That crown currently belongs to Can-Am. The Can-Am OutlanderXT-P 1000R is powered by a 976cc Rotax V-Twin that produces 91 horsepower, with iTC digital throttle control and full electronic fuel injection. This motor has serious grunt to it. Not for the timid! It pulls hard and builds to a glorious top end. If you are a grip it and rip it type of rider, this is the engine you want.
The Polaris Sportsman XP 1000 Premium runs on a 952cc ProStar twin that produces 90 horses and is fed through a digitally controlled electronic fuel injection system. Like the Can-Am, the Polaris has a digital throttle system with different mapping options that let you choose between modes suited for work and play. Power deliver with the Sportsman is electric. This is the smoothest big-bore beast on the market. When you're riding it, you have instant power at any moment when you stab at the throttle. This power delivery makes the Sportsman easier to ride for long periods of time.
Accessorize
The Polaris Sportsman XP 1000 Premium comes equipped with some features to make your ride a little easier and to look cool doing it. Perhaps most noticeable is a sweet-looking Steel Blue paint job on the fenders that looks really sharp. It also boasts a cut-and-sewn seat to match. Polaris also added a front bumper and a 3,500lb HD Pro winch. Knowing riders love the mud, Polaris added matte-finish fender flares along with 27-inch Duro PowerGrip tires mounted on aluminum wheels. The wheels are a matte finish that matches the rack extenders Polaris added to this model. A couple years ago, Polaris put arched A-arms on the Sportsman and with the tires, you get a full 12 inches of ground clearance. There is 9 inches of suspension travel at the front and 10.25 inches of travel out back. The Polaris Sportsman XP 1000 Premium will tow 1,500 pounds, too. Polaris still insists on a 1.25-inch receiver hitch on the Sportsman, though. We'd love to see a 2-inch receiver on this ATV in the near future.
The Outlander got a serious overhaul for 2019 and the new model is more stable than ever, thanks to new arched A-arms up front and a slightly wider stance. The Can-Am Outlander XT-P 1000R gets 26-inch ITP TerraCross tires mounted on 14-inch beadlock rims. Can-Am loaded on a 3,000-pound Warn winch, front and rear bumpers and handguards to help keep your fingers safe. The black with florescent yellow highlights color scheme is striking and fast looking. It matches the new grill perfectly for a very aggressive-looking machine. It'll tow 1,650 pounds, and yes, it has a 2-inch receiver. The suspension of the Outlander is what really pulls it away. Can-Am opted for Fox Podium 1.5 shocks with 9.2 inches in the front and 9.9 in the rear mounted on their torsional trailing arm system. This suspension really gives you the confidence to use that horsepower to its fullest potential.
Go Check Them Out
Both machines are available now at a dealership near you. The Polaris Sportsman XP 1000 Premium is priced at $12,799. The Can-Am Outlander XT-P 1000R will set you back a little more, at $14,499. Like I told my wife, don't worry – they finance! Go check them out for yourself.
Published December 14th, 2018 4:04 PM
Top Brands
Popular Articles