30 Views
2017 Can-Am Outlander 1000R X MR vs. Polaris Sportsman XP1000 High Lifter: By the Numbers
May 21st, 2017 8:58 PM
Share
We're committed to finding, researching, and recommending the best products. We earn commissions from purchases you make using links in our articles. Learn more here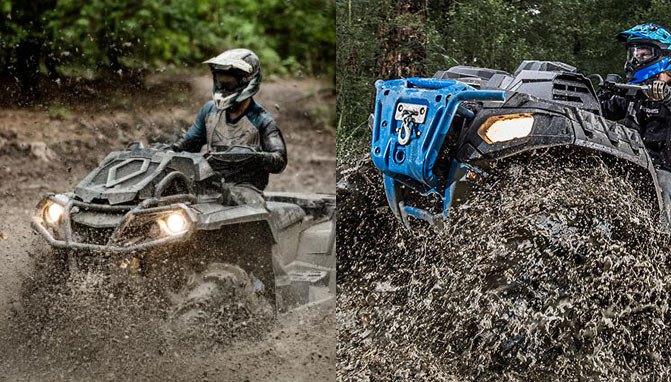 Two high-powered mud machines do battle in this specs comparison
Dirt and water – two things that make up most of the planet and both vitally important to life. Add them together to create mud, something that for many of us is very important to "livin' it up." Playing in the mud is something we start doing as kids and some never grow out of. For those that see the slop as a way to kick back and have a good time, there are a couple of specialized mud machines ready to take playing in the mud to a whole new level. Let's take a look at the Can-Am Outlander 1000R X MR and the Polaris Sportsman XP1000 High Lifter Edition by the numbers.
| | | |
| --- | --- | --- |
| | 2017 Can-Am Outlander X MR 1000R | 2017 Polaris Sportsman XP 1000 High Lifter |
| Price | $14,299 | $13,999 |
| Engine | 976 cc V-twin, snorkeled, liquid cooled with relocated radiator | 952cc 4-Stroke SOHC Twin Cylinder ProStar |
| Horsepower | 89 | 85 |
| Driveline/Differential | Selectable 4WD with Visco-Lok‡ QE auto-locking front differential | High Performance On-Demand True AWD/2WD |
| Transmission | CVT/P/R/N/H/Extra Low L, standard engine braking | Automatic PVT P/R/N/L/H |
| Wheelbase | 59 in | 53 in |
| Overall Dimensions (LxWxH) | 97 x 50 x 51.5 in | 83.25 x 47.6 x 50.75 in |
| Dry Weight | 990 lbs dry | 822 lbs dry |
| Front Tires | Gorilla Axle Silverback 30 x 9 x 14 in | 29.5 inch High Lifter Outlaw 2 |
| Rear Tires | Gorilla Axle Silverback 30 x 9 x 14 in | 29.5 inch High Lifter Outlaw 2 |
| Ground Clearance | 13.0 in | 11.5 in |
| Fuel Capacity | 5.4 gal | 5.25 gal |
| Front Suspension | FOX 1.5 PODIUM QS3 | Hi Clearance Arched Dual A-Arm 9 in |
| Rear Suspension | FOX 1.5 PODIUM QS3 | Hi Clearance Arched Dual A-Arm, Rolled IRS, 10.25 in |
| Front/Rear Brakes | Dual 214 mm ventilated disc brakes/Single 214mm disc | Single Lever 4-Wheel Hydraulic Disc |
| Rack Capacity | 200 lbs rear | 240 lbs rear |
Horsepower
Playing in the mud with the big boys takes power and these two machines have it in great supply. The Can-Am has an 89-horsepower, Rotax 976 cc V-Twin at its core. The big thumper has a nice growl to it and lots of power to run through the slop. The liquid-cooled beast is fed through a snorkel air intake and the radiator is relocated to the front rack, keeping it up and clear from mud.
Polaris powers the Sportsman with a 952cc four-stroke, SOHC twin-cylinder ProStar engine that puts out 85 horsepower. Polaris also moves the radiator and air intakes up and away from the mud to keep the Sportsman purring like a kitten, albeit a dirty one. The Polaris features full engine braking and they use dual inverted fans to keep the radiator running cool.
Tires
The Outlander runs custom wheels with special Gorilla Axle mud tires. The tires are a full 30 inches tall with deep lugs and sidewall tread for digging out of the mire.
The Polaris is outfitted with 29.5-inch High Lifter Outlaw 2 meats. These tires have deep, two-inch lugs spaced for running the muck. They come mounted on custom aluminum wheels designed to shed mud as well.
Specialization
There is so much specialized equipment with these machines. The factories took what consumers were doing to stock machines and produced versions capable of competing in mud runs right off the showroom floor.
The Can-Am starts with the Outlander MAX, retaining the longer wheelbase and even the rear passenger footwells, but has the standard seat for a single rider. This gives the MR a longer frame for wheeling through the goo. It also lets the rider reposition his/her feet. It comes with front and rear bumpers, aluminum handlebars with handguards, and a 3,000-pound Warn winch. Specialized Fox Shocks keep the wheels on the ground.
The Polaris comes with shielded ducts and intakes to keep mud away from where it's not supposed to be. It features a specialized, high-mounted front bumper and winch assembly and a 3,500-pound Polaris HD winch. The transmission is geared specifically for mud running and the bigger tires. Handlebars have a custom high-centered mud bar for when things get extreme. The shocks run stiffer springs to keep things smooth and all the electronics and switches, including the keyed ignition, are sealed to prevent water intake.
So there you have it. If you're serious about mud running, get into your local Can-Am or Polaris dealer and look at one of these mud monsters.
Can-Am Outlander 1000R X MR Specs Derrek Sigler
Derrek's love for all things ATV started when he was a mere 11 years old, growing up on his family farm. His mom gave him and his sister a choice - get a horse, or a three-wheeler. The sister wanted the horse, and Derrek wanted the ATV. Luckily he won out, and was soon burning up the trails on a Yamaha Tri-Moto 200. By the time he was 14, he had saved enough of his own money by working on the farm and in his folks restaurant to buy a new 4-wheeler. That happened the day he and his mom were driving past the dealership and saw 1987 Banshee. His mom had no idea what he was buying, and he never looked back. He's been riding ever since, and been writing professionally for many years. He has ridden all over North America and been behind the controls of just about every machine out there. And yes, he still has his 1987 Yamaha Banshee.
More by Derrek Sigler
Published May 12th, 2017 4:48 PM
Top Brands
Popular Articles