1 View
Polaris RZR XP 1000 High Lifter Edition vs. Can-Am Maverick X mr
June 18th, 2015 2:03 PM
Share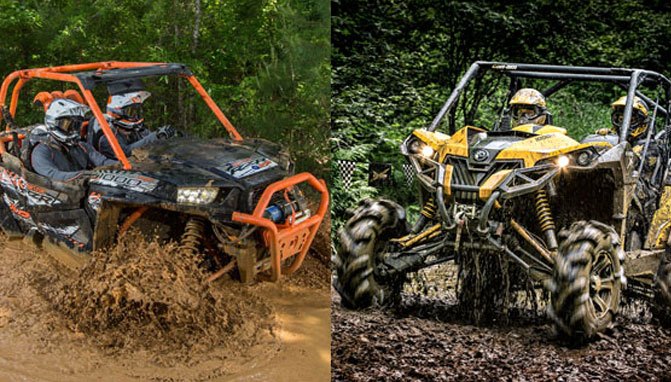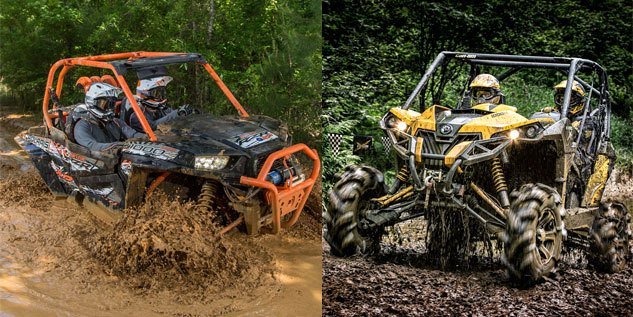 How do these mud-specific UTVs stack up on paper
Polaris recently unveiled its entire 2015 line up of Side-by-Side vehicles and once again made quite a stir. Among a variety of upgrades to the RZR XP 1000, the replacement of the RZR 800 with the RZR 900 and the RZR S 900, Polaris introduced the RZR XP 1000 High Lifter Edition – a mud machine that was clearly designed to stand toe to toe with the only other mud-specific UTV on the market, the Can-Am Maverick X mr DPS.
While Can-Am was the first to market with a Side-by-Side dedicated to the hardcore mud crowd, Polaris followed suit with a mud machine of its own and at first glance, appears to have upped the ante. Although each machine has several unique characteristics, both manufacturers paid special attention to the details that would be necessary to make a machine perform well in the mud.
Mud-Specific Side-by-Side Specs Comparison
Polaris RZR XP 1000 EPS High Lifter Edition
Can-Am Maverick 1000 X mr DPS
Price
$23,499
$20,799
Engine
999cc Dual Overhead Cam Twin
976cc Single Overhead Cam Twin
Horsepower
110
101
Engine Braking
No
Standard
Transmission
Automatic PVT park, reverse, neutral, low & high
CVT, sub-transmission with high, low, park, neutral & reverse
Drivetrain
On-Demand True AWD/2WD
Selectable 2WD / 4WD shaft driven with Visco-Lok auto-locking front differential
Fuel Delivery
Electronic fuel injection
Electronic fuel injection
Wheelbase
90.0 in
84.3 in
Overall Dimensions (LxWxH)
122″ x 64″ x 75″
118.8″ x 64″ x 74.2″
Curb Weight
1,530 lbs
NA (Base Maverick 1000 is 1,297 lbs)
Front Tires
29.5 x 9-14 High Lifter Outlaw II
30 in. Gorilla Axle Silverback tires
Rear Tires
29.5 x 9-14 High Lifter Outlaw II
30 in. Gorilla Axle Silverback tires
Ground Clearance
14.2 in
14.5 in
Fuel Capacity
9.5 gal
10.0 gal
Front Suspension
Dual A-arm Walker Evans 2″ Body Comp adjust w/reservoir -16 in. travel
ACS (Air controlled suspension) FOX PODIUM X Performance 2.0 HPG Piggyback shocks w/ compression and preload adjustments – 14 in. travel
Rear Suspension
Trailing arm Walker Evans 2.5″ Body, Comp adjust w/remote reservoir – 18 in. travel
ACS (Air controlled suspension) FOX PODIUM X Performance 2.0 HPG Piggyback shocks w/ compression and preload adjustments – 14 in. travel
Brakes
Hydraulic disc w/Dual bore Front and Rear Calipers
Dual 214 mm. ventilated disc brakes with hydraulic twin-piston front calipers & single piston rear calipers
Lighting
White LED, High/Low & Red LED Tail/Brake Lights
240-W from four 60-W projectors with tail lights / brake light
Instrumentation
Digital Gauge: Speedometer, Odometer, Tripmeter, Tachometer, Coolant Temperature, Volt Meter, Hour Meter, Service Indicator, Clock, Gear Indicator, Fuel Gauge, Hi-Temp Light, Seatbelt Reminder Light; DC Outlet
Multifunction digital gauge: Speedometer, tachometer, odometer, trip and hour meters, fuel, gear position, sport mode, ECO™ mode, seat belt and 4×4 indicator, diagnostics, clock, auto shut off
Bed Capacity
300 lbs
200 lbs
Power Steering
Yes
Yes (Tri-Mode DPS)
Winch
4,500-lbs winch, synthetic rope, integrated in dash switches, remote control.
4,500-lb WARN† winch with roller fairlead, wired remote control and integrated winch remote storage
First and foremost, both machines feature relocated engine intake and clutch intake and exhaust systems to maximize airflow and keep things cool. EPS is standard on both models, which you could expect since steering in the slop without it could be very cumbersome.
COMPARISON: Read our review of the 2014 Polaris RZR XP 1000
Both machines feature tall, aggressive treads, with High Lifter's own 29.5-inch Outlaw II tires on the Polaris and the 30-inch Gorilla Axle Silverbacks on the Can-Am. The tall tires improve ground clearance which is almost identical on both vehicles – 14.2" for the Polaris and 14.5" for the Can-Am.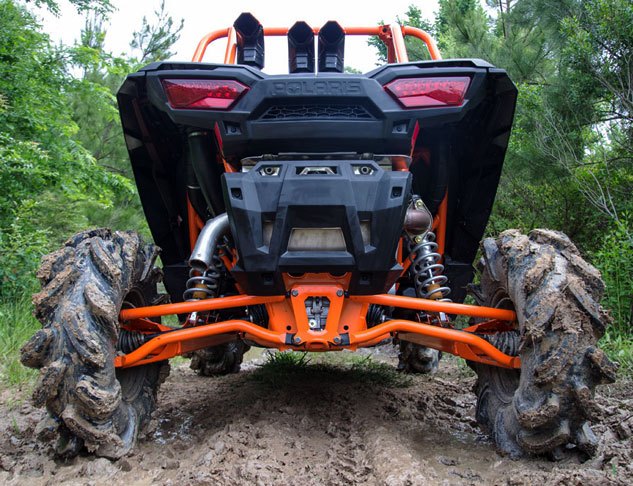 Polaris' new RZR XP 1000 High Lifter Edition offers 14.2 inches of ground clearance, thanks in part to its 29-inch mud-specific tires.
The Polaris is a touch longer and features a six-inch longer wheelbase, but the machines are nearly identical in height and width. Fuel capacity is similar with 9.5 gallons for the Polaris and an even 10 gallons for the Can-Am. Both machines offer analog speedometers with digital displays for all the standard instrumentation and hydraulic disc brakes come from the factory on both models.
Neither vehicle offers a receiver hitch, but there is available storage toward the rear of both vehicles. The Polaris features an enclosed bed with a 300-pound capacity while the Can-Am offers a 200-pound capacity rack with the LinQ quick-attach accessory system.
COMPARISON: Read our review of the 2013 Can-Am Maverick 1000R X rs + Video
Since Polaris was clearly looking to create a machine that would outperform the Can-Am, the two areas where we see most of the differences are the engine and suspension systems. At 110 horsepower the XP 1000 High Lifter edition offers nine more ponies than the Maverick X mr's 101 horsepower powerplant. To combat the sticky, power-sapping conditions that these machines were designed for, both Polaris and Can-Am reworked the gearing on the transmissions to provide more low-end torque. Can-Am says its lower version of the "L" gear provides 15% more torque than the previous model and Polaris reduced the gearing and added a larger reverse chain to optimize power and torque.
Though it's down slightly in power, the Maverick X mr DPS still produces a neck-snapping 101 horsepower and mud-dominating low-end torque.
Both vehicles offer a little something special in terms of their suspension, though the RZR XP 1000 High Lifter Edition boasts two extra inches of front travel and a full four inches of rear suspension travel thanks to the Walker Evans compression adjustable shocks. As well, the Polaris is outfitted with long travel, high clearance A-arms and rear radius rods for maximum clearance over whatever snares might be lurking below the surface.
Although the RZR XP 1000 High Lifter Edition outshines the Maverick X mr in overall suspension travel, the Maverick provides a tremendous amount of adjustability via its industry exclusive ACS (air controlled suspension) system. In addition to dual speed compression, rebound and preload adjustment, the Fox Podium X performance shocks offer up to four inches of ride height control via a small onboard compressor.
COMPARISON: 2013 Can-Am Maverick 1000R X rs vs. Polaris 900 RZR XP LE EPS + Video
So how much are those extra inches of suspension travel and horsepower boost going to set you back? With a sticker price of $23,499, the Polaris RZR XP 1000 High Lifter edition will tap your wallet for an extra $2,700 over the Can-Am Maverick X mr DPS. While extra horsepower and more travel are never really a bad thing, the remarkable similarities between the two machines can really make it a tough decision. Both vehicles offer the essential mud-specific modifications like snorkeled intakes, aggressive tires, power steering and even similar 4500-pound winches.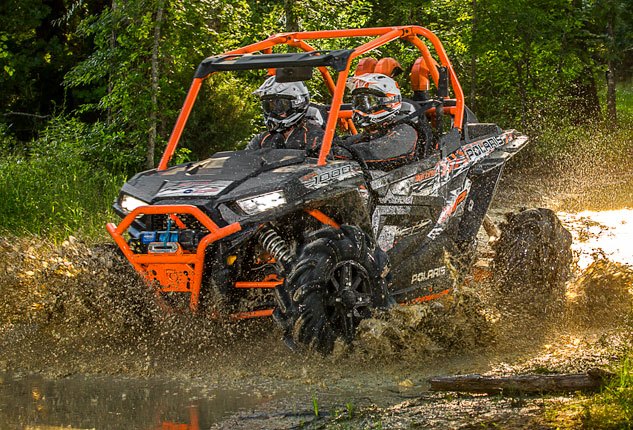 The Polaris RZR XP 1000 High Lifter Edition stands out with its suspension travel – 16 inches up front and 18 inches out back.
Beyond small differences in things like cab storage capacity or LED verses halogen lights, the improvements to the engine and suspension are the most notable differences and most would expect those to come at a price.
We're confident both machines will excel in the mud; however, the price verses power and suspension tradeoff will simply boil down to a matter of preference.
Published August 13th, 2014 9:53 AM
Top Brands
Popular Articles