5 Views
2014 Can-Am Maverick 1000R X Mr Preview
June 17th, 2015 5:01 PM
Share
We're committed to finding, researching, and recommending the best products. We earn commissions from purchases you make using links in our articles. Learn more here
A mud-ready Maverick
BRP unveiled some new products at its recent dealer meeting, including the mud-specific 2014 Can-Am Maverick 1000R X mr.
The 101-horsepower Rotax powered Can-Am Maverick 1000R X mr is built to attack a muddy trail or closed-course bog. The new vehicle is based off the two-seat Maverick platform, but includes an industry-exclusive and mud-specific X package, as well Tri-Mode Dynamic Power Steering, Visco-Lok QE and an updated gauge package. The Maverick 1000R X mr also wears an Air Control Suspension (ACS) with FOX Air Assist HPG Piggyback shocks (with a four-inch range of adjustment) and 30-in. Gorilla Axle Silverback tires. In addition, to keep the engine air intake, CVT air outlet and CVT air inlet free of water and debris, they have been snorkeled to strategic locations on the machine. A 4000-pound WARN winch will help you get through any mud hole that was a little more challenging that you expected.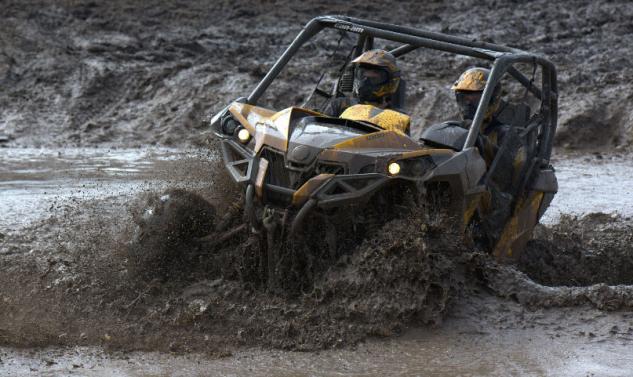 Maverick 1000R X mr Package
Air Control Suspension (ACS) with FOX Air Assist HPG Piggyback Shocks
Via an onboard compressor, the industry-exclusive ACS system adjusts the front and rear high-pressure gas FOX Air Assist HPG Piggyback shocks to six rider-selectable preload levels – for a total adjustment range of 4 inches. This allows the suspension of the X mr to be adjusted on-the-fly depending on terrain or vehicle load. It also comes with a hose that can be used to fill tires or other accessories while out on the trail.
Gorilla Silverback Tires
The same tires found on the Can-Am Outlander 1000 X mr ATV, BRP chose the 30-inch Gorilla Axle Silverback tires for their exceptional mud-riding characteristics. With a tall lug and aggressive tread pattern, the tires are designed to offer superb mud performance, yet a smooth ride when traveling to the mud hole. The tires are mounted on 14-inch cast aluminum wheels.
Engine Air Intake and CVT Inlets/Outlets
BRP moved critical components like the CVT intake, CVT exhaust and engine air intake as high as possible on the Maverick 1000R X mr. The system is designed with the proper air volume to keep everything operating efficiently.
Mud-Calibrated CVT Transmission
According to BRP, the CVT system is calibrated for performance in wet terrain and conditions and features a 13-bolt sealing system on the compartment cover. A dedicated drain plug is built into the cover and easily accessible if the need ever arises to remove water from the CVT housing. The CVT intake is at a higher location in the chassis for optimal performance in wet riding conditions.
Tri-Mode Dynamic Power Steering (DPS)
BRP's Tri-Mode DPS system offers variable steering assistance and is designed to offer less assist at high speed and more assist at low speed. It also allows the driver to dial in his or her preference with three modes (Hi, Med, Lo).
Visco-Lok QE
All DPS-equipped models come with the Visco-Lok QE calibration giving an even quicker engagement of the front differential. It progressively transfers power from a slipping front wheel to the gripping one – automatically with no buttons to push or levers to pull. This differential does not have a speed or rev limiter.
WARN Winch
A 4,000-pound WARN winch kit includes a roller fairlead, wired remote control and integrated remote storage.
2013 Can-Am Outlander 1000 X mr Review
Analog/Digital Gauge
The Maverick 1000R X mr has an upgraded gauge over the base Maverick and now includes a 3-D background for enhanced visual clarity. Featuring state-of-the-art instrumentation with an analog tachometer and speedometer combined with an advanced digital information center.
Custom Steering Wheel
A three-spoke steering wheel is outfitted with molded grips and a brushed aluminum centerpiece to add to the Can-Am side-by-side's performance looks.
Front Bumper
A rugged front bumper protects the Maverick 1000R X mr from trail debris.
X-Package
Stitched with the X-package logo and accented with white and yellow highlights, the seats on the Maverick 1000R X mr are eye-catching. X-package graphics and sponsor logos complete the look. Published September 16th, 2013 1:04 AM
Top Brands
Popular Articles