1 View
2013 Can-Am Maverick 1000R Preview – Video
July 3rd, 2015 12:11 PM
Share
Can-Am joins high-performance Sport UTV class
Editor's Note: Click here to read our ride impressions of the Can-Am Maverik.
You just knew the performance-minded team at BRP had something up its sleeve. While the Can-Am Commander is a fine sport/utility machine, BRP has a rich history of boundary-pushing performance machines. This is where the 2013 Can-Am Maverick 1000R family comes in. A high-performance Maverick 1000R X rs package is also available and the four-seat Maverick 1000R MAX will join the lineup next summer.
One look at the new Maverick and any illusions of utility quickly vanish. BRP has taken direct aim at the Polaris RZR XP 900 and Arctic Cat Wildcat 1000. With 101 horsepower on tap, you can bet Polaris and Arctic Cat have taken notice.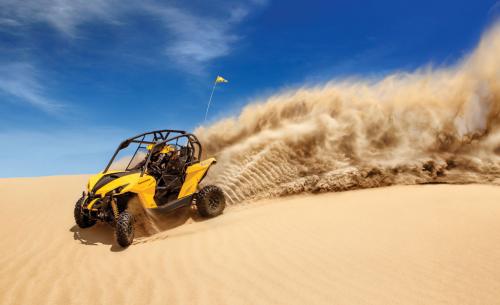 BRP has made a bold statement with the introduction of the Can-Am Maverick 1000R.
Powerplant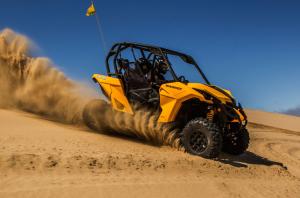 With 101 dune-taming horsepower at its disposal, the Maverick is a force to be reckoned with.
No, that was not a typo. The Maverick 1000R is the first UTV to crack the 100-horsepower barrier! At the heart of the Maverick is a 976cc, liquid-cooled, single-overhead-cam, Rotax V-Twin engine. The engine is fed go-juice via a 54mm Bosch throttle body and two VDO Siemens fuel injectors. According to BRP, the electronic fuel injection system automatically keeps the engine's performance at its peak, regardless of temperature or altitude.
"The end result is a high-performance side-by-side vehicle capable of producing the most power, acceleration and best power-to-weight while at the same time maintaining excellent fuel efficiency," BRP says in a release.
To help produce more power, BRP optimized air intake, combustion and exhaust flow to improve engine efficiency. As well, BRP increased the flow volume of the intake plenum and independent intake runners that allow the tuning of each cylinder for optimal performance. A high-flow head to optimize the combustion chamber, thanks to larger intake and exhaust valves and an increased compression ratio (12.0:1), and high-flow dual exhaust all contribute to the more-powerful and efficient engine.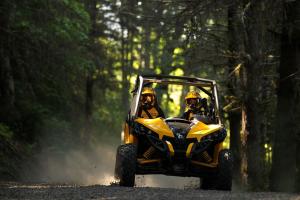 Controlling all that power comes down to an electronic throttle-by-wire iTC system, which BRP says offers a smooth throttle delivery even if the driver's foot is bouncing due to the rough terrain. BRP says the iTC system – which features a rider selectable twin-mode toggle switch for throttle control – can detect unwanted bounces and then filter the input, resulting in more throttle accuracy, especially at low speed. Drivers can choose between a progressive mode (standard) and a Sport mode, which offers linear throttle control. This system also reduces the number of moving parts in the vehicle; requires no maintenance; has no cables to adjust, lubricate, or replace, and the system has an increased life span.
The Maverick utilized a dual exhaust system, which uses tuned manifold lengths and resonator chamber to create more flow, optimizing performance and sound. As well, BRP says an industry first catalytic converter and closed-loop system ensure optimal combustion from an emission standpoint, meeting new EPA/CARB standards for 2014 models.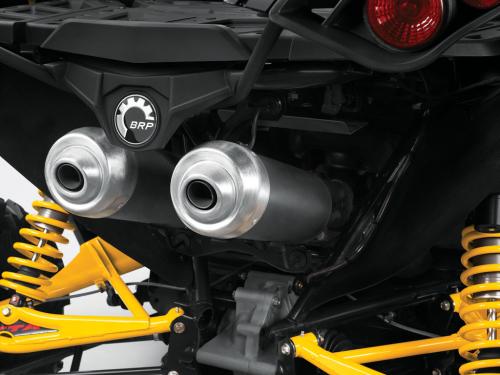 A dual exhaust system creates more air flow to optimize performance and sounds. Braaaaaap!
Chassis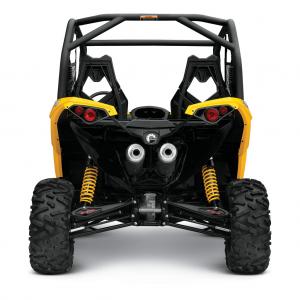 A compact five-link rear suspension is the centerpiece of the Maverick chassis.
You can't just throw a 101-horsepower mill into just any chassis and BRP is well aware of this. To handle all that power, the Maverick features a whopping 14 inches of suspension travel at all four corners – right on par with the RZR XP 900. Up front the Maverick is outfitted with a double-A-arm front suspension, which should sound familiar to Can-Am Commander owners. In the rear, however, BRP has upped the ante.
The TTA rear suspension on the Maverick 1000R is engineered to be compact, lightweight, efficient and deliver the performance sport enthusiasts demand. As BRP explains it, this is a compact version of a five-link suspension (the Wildcat uses a longer five-link rear suspension) for no bump steer and the lowest scrub for optimized bump absorption and tire-to-ground contact. As well, BRP says it has less rear unsprung weight than other sport side-by-sides. The system features a double A-arm setup where each A-arm acts as two links and uses a toe-control link as the fifth link. The result, according to BRP, is a more condensed and lighter package with less pivot points and spherical ball joints making it more durable because it reduces free play and wear, and is more resistant to undercarriage damage.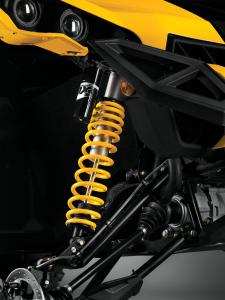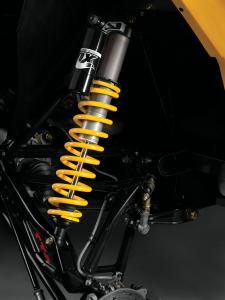 FOX Podium X Performance 2.0 HPG piggyback shocks with compression and preload adjustments are found at all four corners. Re-buildable design should allow for easy service and valving changes. This shock features dual-rate spring, high-volume 6-inch (152mm) piggyback reservoir, velocity sensitive damping control, hard-anodized aluminum body, forged piggyback body cap, hard-chrome plated heat-treated shaft, upper and lower bearing mounts, racing-developed high-flow piston and specially formulated oil for optimal performance at variable temperatures.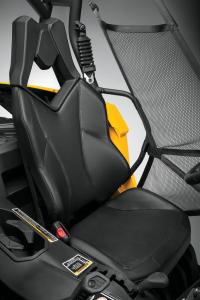 To help handle more challenging terrain, the Maverick has 13 inches of total ground. The suspension and frame were engineered to produce a vehicle that can tackle rugged terrain in predictable fashion while also remaining precise in aggressive cornering.
Also helping the overall handling of the Maverick is the engine sitting low and close to the center of the wheelbase. Both the Wildcat and RZR XP 900 are rear-engine designs, but BRP says its mid-engine setup improves weight distribution and mass centralization while also making the machine quicker to react to direction changes. Add in an 84.3-inch wheelbase and 64-inch width, and the BRP says the result is a nimble UTV that is as predictable and confidence inspiring.
Holding everything together is a new frame that BRP says offers more engineered rigidity compared to its closest competition. According to BRP, with more torsional rigidity, a frame can improve handling by allowing the vehicle's suspension to work properly and with increased precision. A 2-inch diameter, high-strength, ROPS-approved cage helps keep the occupants safe in case of a rollover.
Features
Completing the Maverick 1000R package are front and rear dual 214mm ventilated disc brakes, 12-inch center-less cast aluminum wheels, 27-inch Maxxis Bighorn 2.0 tires, Visco-Lok front differential, removable free-standing seats, adjustable driver seat, tilt steering, quick attach/detach side nets, multi-purpose rear rack (200-pound capacity),multi-function digital gauge, 240-watt lighting, and 625-watt magneto. Finally, a largest-in-class 10-gallon fuel tank will help keep you out on the trail longer.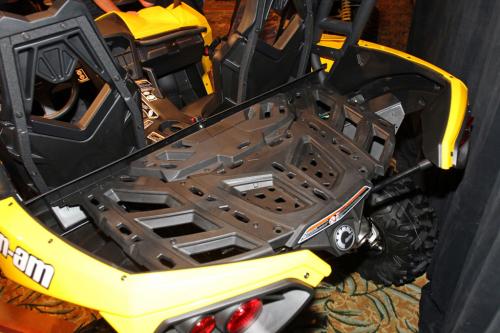 The rear storage rack can hold 200 pounds.
Electronic power steering does not come standard and is not available as an option. However, it wouldn't be surprising to see EPS make an appearance in the next year or two.
Accessories
As you'd expect, BRP already has a host of accessories available for the Maverick. A Baja-style spare tire holder, wheel jack, roof options, and sport aluminum doors are among the choices.
Maverick 1000R X rs
Nobody likes high-performance packages like BRP and the Maverick 1000R X rs should fit the bill for performance junkies.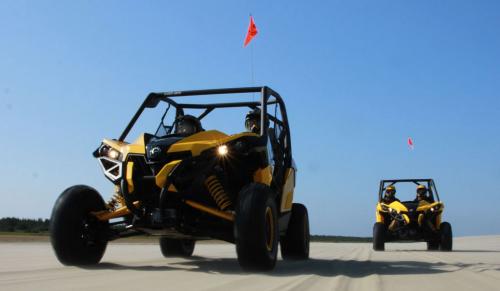 For those who want the best of the best, the Maverick 1000R X rs may be just the ticket.
The key feature of the Maverick 1000R X rs is its shocks. FOX Podium X Performance RC2.5 Piggyback Shocks cushion the blow at all four corners. Developed in collaboration with FOX, the high-grade shocks make their first appearance on a factory-built side-by-side vehicle. The re-buildable shocks are fully adjustable for dual-speed compression and rebound. The 2.5 Podium shocks offer a high-volume 6-inch piggyback oil reservoir and specially formulated oil for improved flow and heat dissipation. Proven technologies such as upper and lower spherical bearing mounts, velocity-sensitive damping control and a high-flow piston, optimize performance in varying terrain. They are designed to be extremely durable with a hard-anodized 2.5-inch aluminum body, forged aluminum piggyback body cap and a 5/8-inch (16mm) hard chrome-plated, heat-treated shaft. The FOX shocks' extension velocity after compression can be fine-tuned to optimize vehicle control.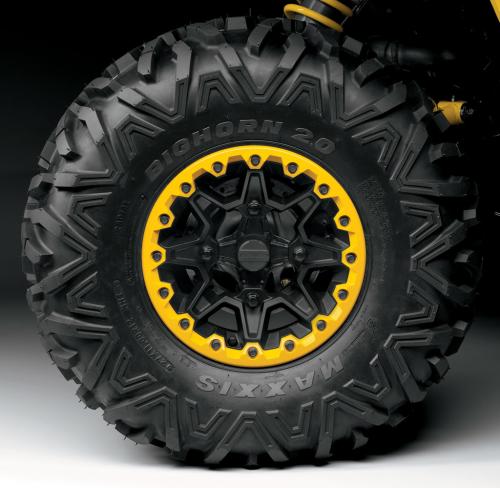 12-inch aluminum beadlock wheels help complete the X rs package.
Other X rs features include 12-inch aluminum beadlock wheels, upgraded analog/digital gauge, custom steering wheel, and X-Package seat trim and graphics.
The Maverick 1000R X rs retails for $17,499, while the Maverick 1000R will sell for $15,999. Both Mavericks will be released in limited quantities in December 2012 and will see full availability in February 2013.
Maverick 1000R MAX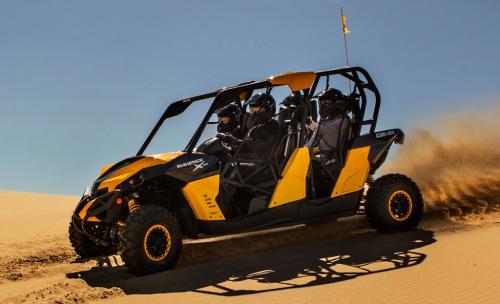 Published September 14th, 2012 5:05 PM
Top Brands
Popular Articles