4 Views
2019 Can-Am Maverick Sport Unveiled
April 3rd, 2018 10:15 AM
Share
We're committed to finding, researching, and recommending the best products. We earn commissions from purchases you make using links in our articles. Learn more here
Fast Facts
MSRP: $14,699-$17,999
Engine: Rotax 976cc V-Twin
L x W x H: 119 x 60 x 71.1"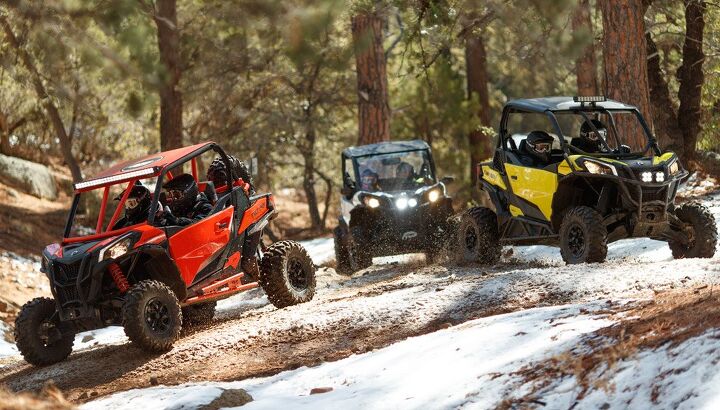 Can-Am continues the overhaul of its Maverick family with the introduction of the new 60-inch 2019 Can-Am Maverick Sport family that starts at $14,699.
Can-Am, upholding its promise to refine its side-by-side vehicle family by the year 2020, continues its aggressive approach in the off-road market with the introduction of the all-new Maverick Sport family. This true 60-in. (152.4 cm) class performance side-by-side vehicle arrives with both Maverick X3 and Maverick Trail undertones and, of course, innovation to set it apart from the competition. Arriving with the most desirable and adaptable width for off-road environments, the Maverick Sport is engineered with a daring, precise and confident design to better equip trail enthusiasts in their terrain-conquering adventures. This thrilling family of Maverick side-by-side vehicles will tick the emotional needle further in the direction of pure enjoyment — no matter the end use.
At its very soul, sits a sturdy, rear-mounted 976cc Rotax V-Twin mill, one that delivers torque, proven reliability and the unique ability to simultaneously connect to the driver's foot and smile at the same time. Buyers can choose between an unflinching 75hp Rotax 1000 engine or the intense 100hp Rotax 1000R. Large air intakes, an oversized radiator and a Donaldson airbox come standard on both, but the 1000R variety includes the larger airbox from the Maverick X3, a unique exhaust line and muffler, an additional CVT intake and the same CVT driven pulley from the Maverick X3 for more dynamism.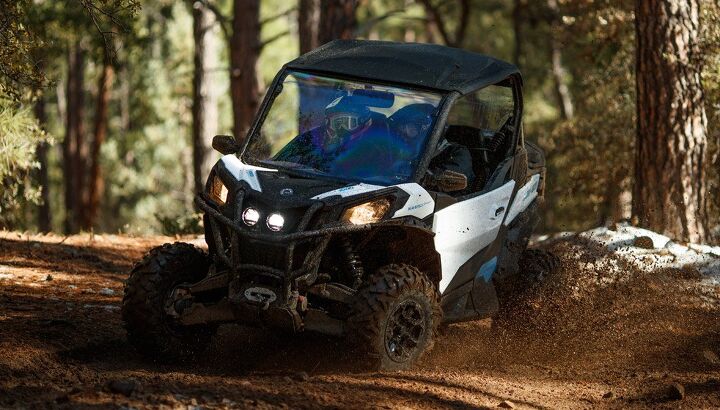 2019 Can-Am Maverick Sport 1000
Much like the Maverick Trail vehicles, the Maverick Sport family's engine is mated to a CVT type transmission with QRS (Quick Response System) that includes P/R/N/H/L ratios ideal for trail performance. The CVT also features Electronic Belt Protection for peace of mind. A hardy gear-on-gear rear differential and helical gear transmission is both durable and quiet.
The Maverick Sport DPS models have Dynamic Power Steering and selectable Sport and ECO modes for precision control off-road. The package also includes a selectable 2WD / 4WD with Visco-Lok QE auto-locking front differential.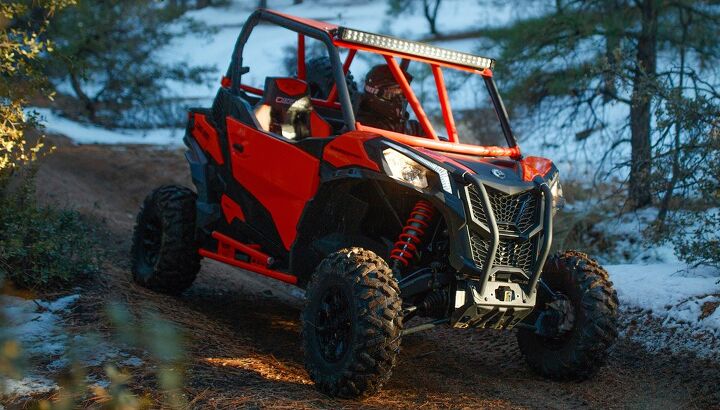 2019 Can-Am Maverick Sport DPS 1000
Utilizing the same, stable 90.6-in. (230.1 cm) wheelbase proven with the Maverick Trail family vehicles, the Maverick Sport offers a spacious cockpit, enhanced ergonomics and better ride qualities than the competition. Steadfast engineering resulted in a low seating and optimal front-to-rear weight distribution to generate predictable handling and ample ground clearance for a wide variety of terrain. A supple suspension setup, complete with a Double A-Arm front suspension, Torsional Trailing Arm (TTA) rear suspension and FOX 2.0 Podium shocks, improves the vehicle's capabilities and handling without comprising comfort.
Recreational riders and performance enthusiasts each demand onboard storage and the Maverick Sport side-by-side vehicles reward them with cleverly-placed stowage for gear and supplies. A large tow rating and class-leading fuel tank means long excursions and weekend getaways are commonplace.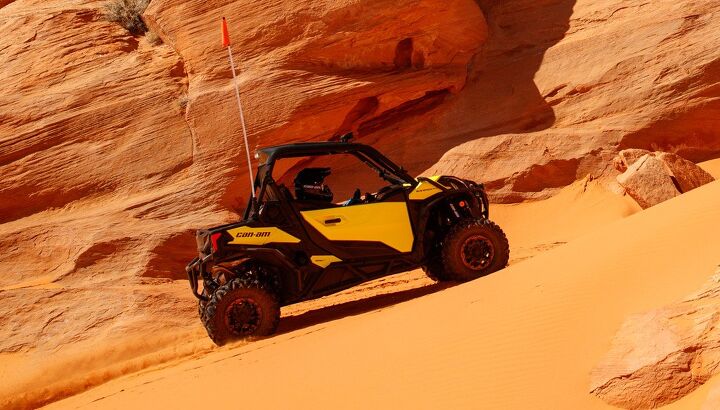 2019 Can-Am Maverick Sport DPS 1000R
All Maverick side-by-side vehicles are known for their spacious, well-designed cockpits that come standard with low-stance ERGOPRINT seats. Onboard conveniences, integrated ergonomic improvements, added protection, half doors and driver's side adjustability heighten the off-road driving experience and have set the bar for side-by-side vehicle comfort.
The new trail-friendly Maverick Sport family offers reduced maintenance intervals and a highly durable chassis, but its overall design remains DIY friendly. The Can-Am Maverick Sport family comes well equipped (starting at $14,699 USD / $17,899 CAD) from the factory, but with roughly 140 Can-Am accessories, owners can outfit it to their liking. The Maverick Sport lineup consists of three packages (Maverick Sport 1000 / Maverick Sport DPS 1000 / Maverick Sport DPS 1000R). The vehicles are available in three color schemes: White (base 1000), Can-Am Red (DPS 1000, DPS 1000R) and Sunburst Yellow (DPS 1000R).
Maverick Sport 1000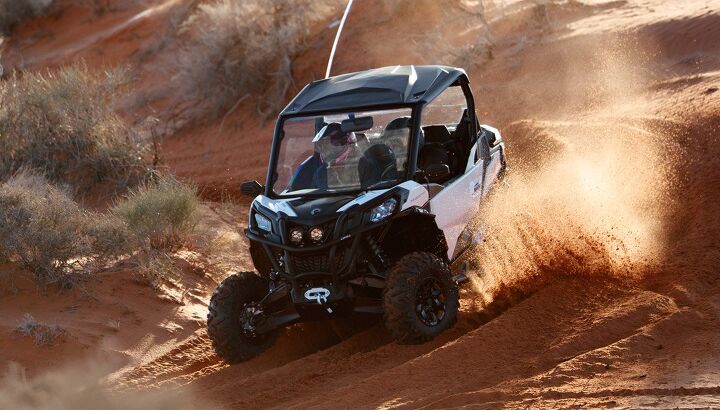 MSRP US$14,699
75hp Rotax 976cc V-twin, liquid cooled
Selectable 2WD / 4WD with Visco-Lok auto-locking front differential
Intelligent Throttle Control (iTC)
Quick Response System (QRS) CVT with Electronic Drive Belt Protection
10-Gal. (38 L) of fuel capacity
Double A-arm front susp. / 11.5-in. of travel
TTA rear susp. / 12-in. of travel
FOX 2.0 Podium
12-in. Aluminum wheels
27-in. Maxxis Bighorn 2.0 tires
90.6-in. of wheelbase
12-in. of ground clearance
1,377-lbs. of dry weight
Profiled cage
Adjustable driver's seat adjustability
2-in. hitch receiver
Front 55-W reflectors
Multifunction Digital gauge
Premium half doors
Color (white)
Maverick Sport DPS 1000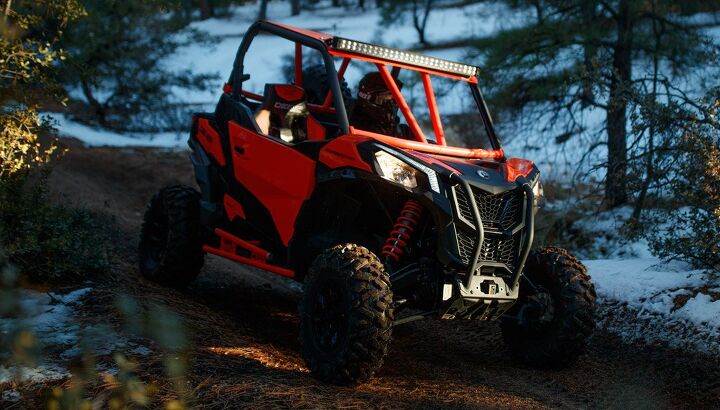 MSRP US$16,499
75hp Rotax 976cc V-twin, liquid cooled
Selectable 2WD / 4WD with Visco-Lok QE auto-locking front differential
Intelligent Throttle Control (iTC) with SPORT / ECO modes
Quick Response System (QRS) CVT with Electronic Drive Belt Protection
Dynamic Power Steering (DPS)
10-Gal. (38 L) of fuel capacity
Double A-arm front susp. / 11.5-in. of travel
TTA rear susp. / 12-in. of travel
FOX 2.0 Podium
12-in. Aluminum wheels
27-in. Maxxis Bighorn 2.0 tires
90.6-in. of wheelbase
12-in. ground clearance
1,392-lbs. dry weight
Profiled cage
Adjustable driver's seat
Ergoprint seats with color accent
2-in. hitch receiver
Front 55-W reflectors with LED Can-Am signature
Multifunction digital gauge
Premium half doors
Painted color (Can-Am Red)
Maverick Sport DPS 1000R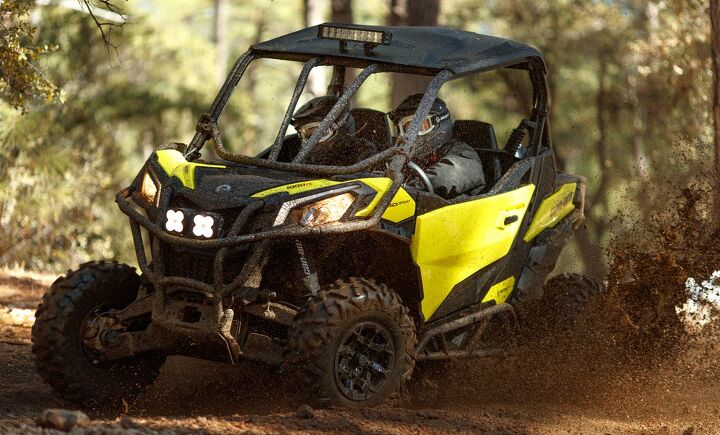 MSRP US$17,999
100hp Rotax 976cc V-twin, liquid cooled
Selectable 2WD / 4WD with Visco-Lok QE auto-locking front differential
Intelligent Throttle Control (iTC) with SPORT / ECO modes
Quick Response System (QRS) CVT with Electronic Drive Belt Protection
Dynamic Power Steering (DPS)
10-Gal. (38 L) of fuel capacity
Double A-arm front susp. / 11.5-in. of travel
TTA rear susp. / 12-in. of travel
FOX 2.0 Podium
12-in. Aluminum wheels
27-in. Maxxis Bighorn 2.0 tires
90.6-in. of wheelbase
12-in. ground clearance
1,392-lbs. dry weight
Profiled cage
Adjustable driver's seat
Ergoprint seats with color accent
2-in. hitch receiver
Front 55-W reflectors with LED Can-Am signature
Multifunction digital gauge
Premium half doors
Painted color options (Sunburst Yellow, Can-Am Red) Published April 3rd, 2018 10:06 AM
Top Brands
Popular Articles