44 Views
2020 Can-Am Maverick Sport X RC Review
April 2nd, 2020 11:30 AM
Share
We're committed to finding, researching, and recommending the best products. We earn commissions from purchases you make using links in our articles. Learn more here
Fast Facts
MSRP: $21,499
L x W x H: 122" x 64" x 74.25"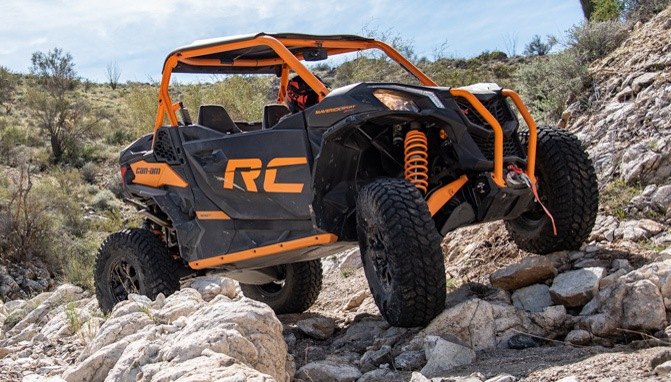 Nimble and ready to eat rocks for breakfast, lunch, AND dinner!
Specialty vehicles like the 2020 Can-Am Maverick Sport X RC are built for specific people to do specific things. In the case of the RC edition of the Maverick Sport, this vehicle is purpose built to conquer the gnarliest rock climbs you can find in the trails. The RC comes standard with full skid plates underneath the entire vehicle (even the front and rear A-arms), a winch, purpose-tuned FOX 2.5 shocks on all four corners, 30" tires, and an upgraded instrument cluster on the inside. Sure, these features make it super capable in the rocks, but just how capable is it? And, do those rock-specific features make this Maverick Sport less of a trail machine on your regular, tree-lined dirt trails?! Let's find out…
For starters, the chassis of the Can-Am Maverick Sport X RC is the same as base models, it just has a bunch more protection underneath and several specific, noteworthy add-ons. The Rotax V-Twin 976cc engine is retained and still puts out 100 horsepower. The CVT transmission is still geared very low for crawling speeds of under 2 mph. This RC edition has essentially the same functional interior as the standard Sport models, except for the upgraded 7" driver instrument cluster (it's actually a digital display) and X-branded seats. There's much more to this RC edition, though…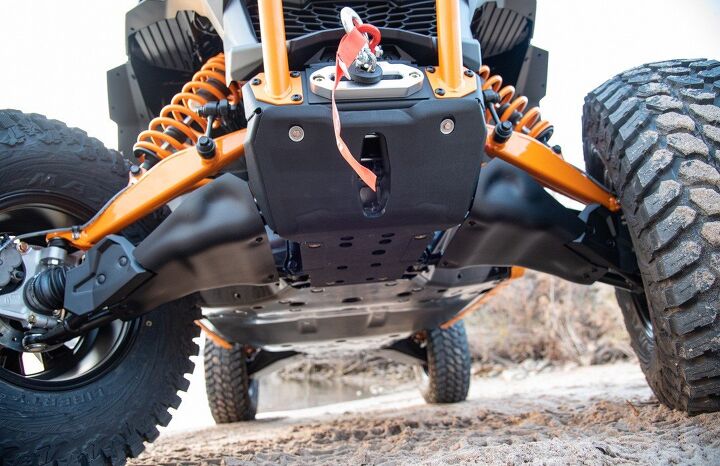 The RC edition comes with the aforementioned full HMWPE skid plates and UHMWPE rock sliders, along with A-arm skid plates on the lower front & rear arms and differential skid plates. The rear comes with a sport bumper that is typically an accessory. And, the RC comes with a front winch with synthetic line and a tow hook, as you would expect on a rock crawling vehicle. The last two things that make this RC edition completely unique in the lineup are the tires and front differential. The former are a set of 30" Maxxis Liberty tires, which through our testing have proved to have superior traction in tough terrain, even with the tightly spaced lug pattern. Credit is due to the soft tread compound, which still holds up well because of the tightly spaced lugs. The latter part of the equation is the Smart-Lok front differential, which should be standard on all Can-Am models at this point. It is just that good of a front differential. Once you experience a Smart-Lok-equipped Can-Am, you're never going to want to go back to a standard differential. With four modes of driver-controlled lockup variability, including fully locked, you can precisely control how much traction you want spinning out of the front two tires. This is extremely handy in hairy rock crawl situations, which is why the Smart-Lok diff is a true winner on this vehicle. More on that in a second…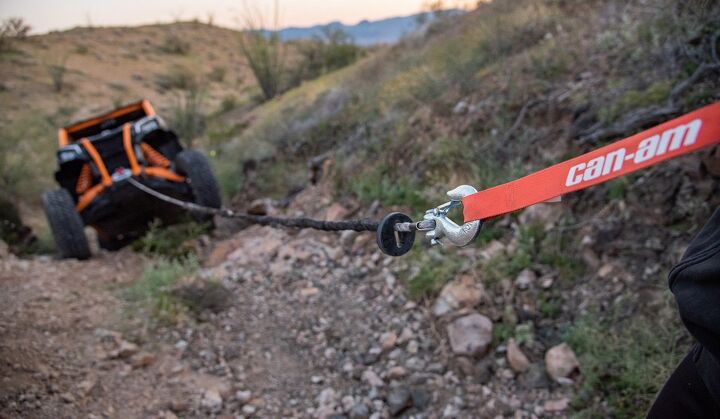 So, the Can-Am Maverick Sport X RC has a great list of standard features, and it better for its asking price of $21,499. But, what makes this vehicle so special to drive?
In one word – nimble.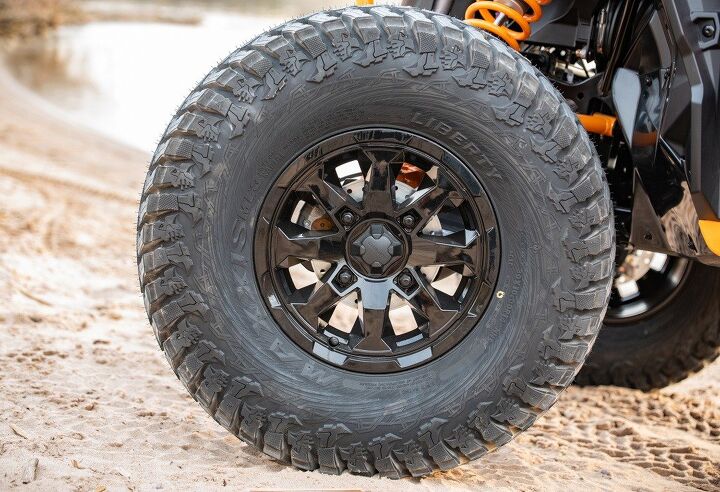 The Maverick Sport already has a nimble chassis with a compact 90.6" wheelbase and RC-specific ground clearance stat of 15". When you add in the 30" tires and the fact that this Sport has rear A-arms instead of trailing arms, the picture of just how nimble this vehicle is in the rocks starts to become clear. Without trailing arms, you have nothing in front of the rear tires to get hung up on, thus giving you a great breakover angle. When we come up to 2- and 3-foot tall rock ledges, this RC just eats those up for breakfast. A tight turning radius and excellently tuned power steering (it is light for the slow speed maneuvers that rock crawling requires) allows you to get the 2020 Can-Am Maverick Sport X RC in the perfect trajectory for nearly every climb. When you're ready to do the deed, the Smart-Lok front diff combines with the very low gearing and nicely weighted clutching to deliver consistent and positive forward bite. Credit the tires here, too, because they have a very soft tread compound that bites on the slipperiest of rock faces. The lugs are so tight that they will fill up in the mud and not clear out, though, so just be aware. Through our 500 miles of testing so far, the tires are really up to any task, and they have worn beautifully so far. The tight spaced lugs on the Maxxis Liberty tires offset the soft compound by delivering good longevity.
In order to achieve these kinds of stats for ground clearance and additional height for rock climbing, the RC-edition has to be higher overall compared to the standard Maverick Sport. Can-Am did that with the larger 30" tires, and they also did that through a stiffer spring package on the FOX 2.5 Podium QS3 shocks, which are three-way compression adjustable. Yes, this all combines to give you exceptional clearance that you aren't going to find anywhere else in the UTV market. Plus, the nimble driving characteristics are exceptional. However, there is one main caveat to all of this, and that is a very high center of gravity of this machine. It's almost like this RC could use a 66" or 68" wide stance to balance it out a bit better. It's top heavy when you really get it sideways on rock climbs, and drivers need to be keenly aware of their angles when rock crawling or climbing with this machine. It will tip on you if you're not careful. So, practice makes perfect here.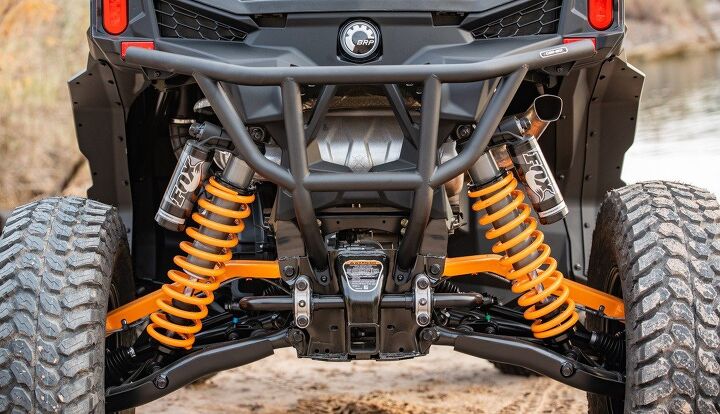 I mentioned the FOX shocks, and I'd like to come back to those for a second… If you have driven the standard Maverick Sport DPS models (either the 1000 or 1000R), you'll know that these are some of the smoothest vehicles on the market with a soft suspension setup that allows you to enjoy miles and miles of trails without feeling bumps. The RC definitely isn't tuned that way, let's be clear about that. The RC is tuned to keep the ground clearance high up so you can rock crawl, so the ride quality does suffer on the trail. It's not as rough as you might think, especially after you break the machine in for a 150-200 miles. However, it does not have the smooth ride that the standard Maverick Sport has. And, the Can-Am Maverick Sport X RC is not a whoop-eating machine, either, just like the standard Maverick Sport. The X3 is your better bet if you want to eat whoops in the trail. However, on so many of the 64" wide trails that dot this continent, the RC edition will give you a semi-compliant ride in most all terrains; it's just a bit more harsh than the standard Maverick Sport.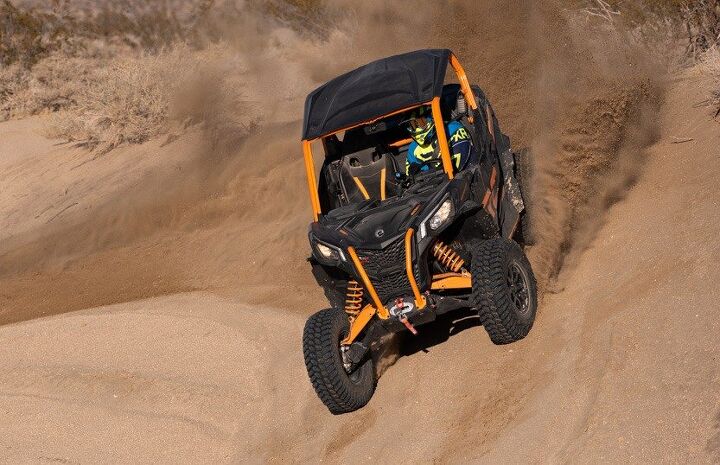 As you have probably seen in other Maverick Sport reviews on ATV.com, the RC edition still has plenty of power for trail domination. The Rotax V-Twin puts out a very hearty sound, which is awesome! With 100 horsepower on tap, our group of testers didn't feel like this machine needed anymore power for its intended purpose of trail riding and rock climbing. We even took it out to the open deserts with some sand dunes and felt that it had plenty of power. The powerband does sign off at the top of the RPM range, but it is V-Twin strong on the bottom. When you couple this low-end grunt with the excellently tuned CVT transmission, this UTV can crawl with the best of them on the market. Low gear is ready to crawl down to 1.5-2 mph all day long, and we love this low gearing! Plus, the belt engages smooth and steady, even when up against a rock lodge that is holding the tires back. We've put over 2000 miles on Maverick Sports over the past 2.5 years and have never blown a belt. This powertrain truly is a great system that has been tuned to work together.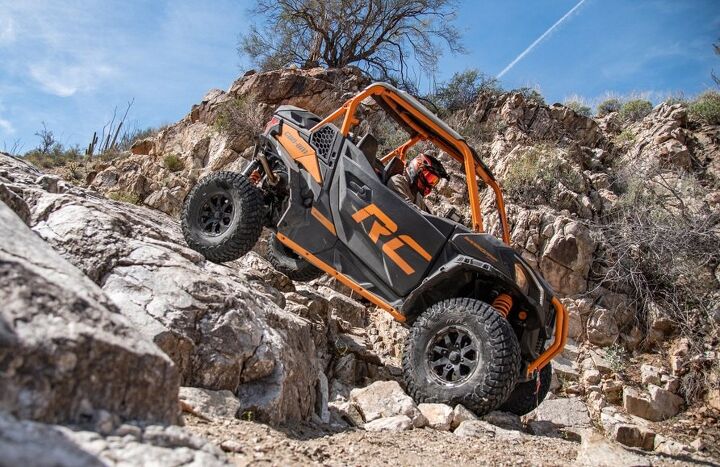 If you're into changing the power modes for different throttle response, you can still do that with the in-dash keypad for iTC. Frankly, I always leave it in Sport mode – it's the most fun and delivers the best throttle response. If you like engine braking, this electronic system does an OK job in Low gear, but it essentially allows the vehicle to free spool in High gear. Luckily, the brakes have good bite upon initial pedal depression, but the pedal doesn't have too much travel built into it. If you like less pedal travel in your brakes, you'll like this system.
On twisty trails, the Can-Am Maverick Sport X R really excels with its nimble handling and aggressive low end power. One recommendation is to take off the front swaybar for increased articulation. If you do this, you'll definitely see better traction as you traverse uneven terrain, but please get to know the new handling characteristics before you push it too hard. You will notice a handling difference with this change. The suspension may be on the stiff side from the factory (we ran it consistently in the softest compression setting), but it is sure nice to have all of that ground clearance, along with the larger tires.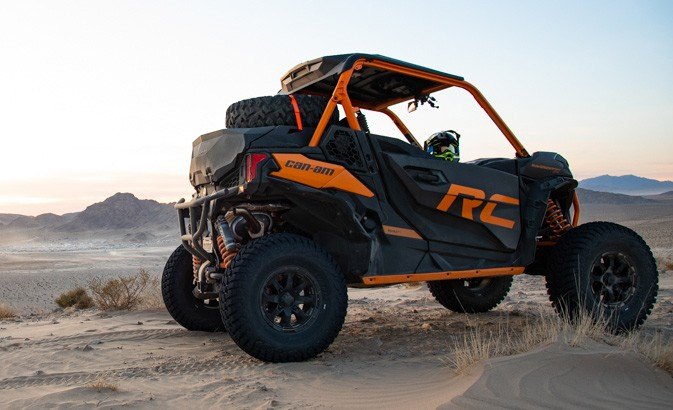 If I was going to buy an RC, I'd immediately put a roof on the top – why in the world doesn't this vehicle come with a roof from the factory, especially on a special edition package?! I'd also add the rear cargo cover, which is one of the best accessories on the market. You can see this cover in action in the pictures here. The ability to seal up the rear storage area with this simple bolt-on solution is amazing. Last but not least on the accessories list, I'd add a couple of auxiliary lights to the front of the vehicle because the stock headlights could use some tweaking to make them better for night rides. We found these stock headlights to be a bit dull when it came to lighting up the sides of the trail, and the high beams were too concentrated out front of the vehicle to make them usable on tight, twisty trails.
Shop for Can-Am Maverick Cargo Accessories
There are several other little things that make the Can-Am Maverick Sport X RC stand out from the other trail machines in this segment – it is truly a leader in this class. First, the interior has fully sealed half doors, which are still some of the best doors on the market, if not the absolute best. The rubber seal surrounding the entire mating surface of this door ensures that no water gets in the side, and it also allows the door to shut easily and effortlessly. The interior is also very spacious for a compact machine, easily fitting two adults up to about 6'3". If you're taller than that, you're probably going to be a bit cramped in the driver's seat, but you'll still fit. Both driver and passenger get their own glove box, with the latter being a massive unit.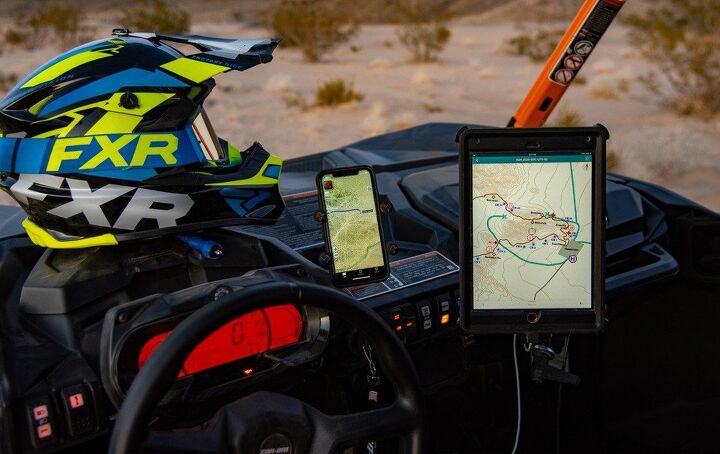 Every driver appreciated how you can easily install an AMPS mount to the center front dash area to hold your mobile devices or other accessories. If you're a purveyor of RAM mounts or other systems like this, you'll love this easy bolt-on compatibility. This was a fantastic idea on Can-Am's part, and we hope more manufacturers incorporate these little things in the future. Can-Am also smartly included quick-connect wiring attachments under the dash of the vehicle, giving us the ability to hook up accessories at will without running wires all over.
If you're looking into the Maverick Sport lineup as a possible UTV purchase for you, take a good look at the type of riding you do. If you love to rock crawl and the challenge that this type of terrain creates, then you should definitely consider spending the money on 2020 Can-Am Maverick Sport X RC edition. However, if you're mostly on the trails and have only a little bit of rock crawling in your life, then your money will be better spent on the DPS 1000R version, or, better yet, the X XC version, which has Smart-Lok, FOX 2.5 shocks with QS3 adjustment, and a better wheel/tire package compared to the stock Maverick Sports. The real thing that will sell the Can-Am Maverick Sport X RC for any of you is the sheer nimbleness of this vehicle. The larger tires, taller stance, and excellent clearance with the rear A-arm setup just make this RC a monster in the rocks!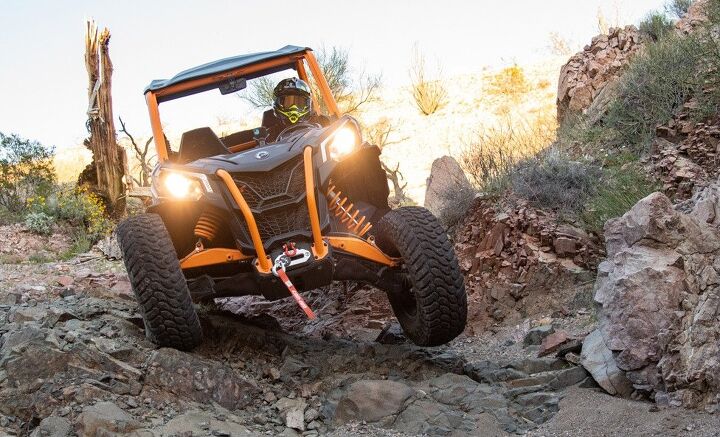 The 2020 Can-Am Maverick Sport X RC is currently available at your local Can-Am dealer with a retail price of $21,499.
Stay healthy out there, and we'll see you on the trails!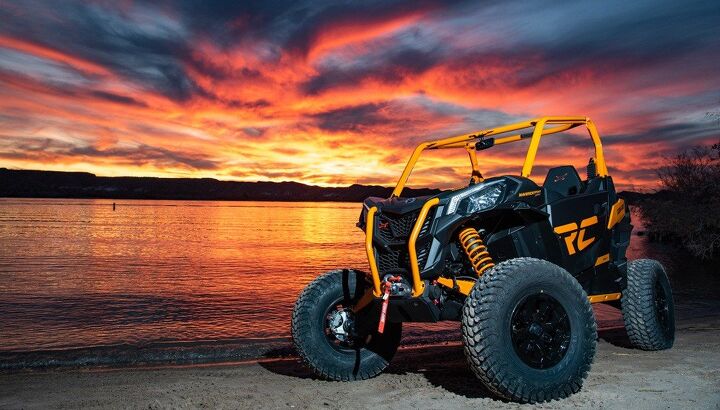 We are committed to finding, researching, and recommending the best products. We earn commissions from purchases you make using the retail links in our product reviews. Learn more about how this works. Published April 2nd, 2020 11:30 AM
Top Brands
Popular Articles