67 Views
2020 Can-Am Maverick Sport X XC 1000R Review
November 11th, 2020 11:31 AM
Share
We're committed to finding, researching, and recommending the best products. We earn commissions from purchases you make using links in our articles. Learn more here
Fast Facts
MSRP: $20,299
LxWxH: 122" x 64" x 74.25"
Towing Capacity: 1500 lbs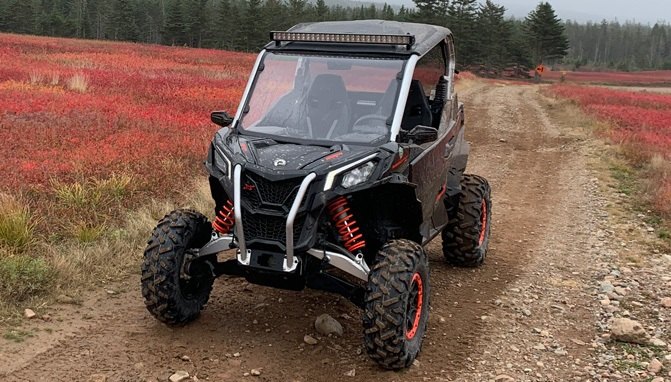 A confidence-inspiring Sport UTV
We had a chance to put some miles behind the wheel of the 2020 Can-Am Maverick Sport X XC 1000R and came away impressed at the machine's handling and performance.
The Maverick Sport line of machines occupy a white space between the workhorse Defender and psychotic Maverick X3. Its mission is to combine a powerful engine with the frame of a rig that can actually navigate a few trails without shearing off every single body panel the first time it encounters a tree. The X in its name (well, the first X) denotes a 64-inch wide stance, while non-X Maverick Sport models manspread 60 inches.
The other consonant, R (may we buy a vowel, Can-Am?) denotes a 976cc liquid-cooled Rotax V-Twin that's been goosed to belt out an even 100 horsepower. It is a sum more than enough for a machine of this size and weight (1428 lbs dry, if you're wondering) and a healthy jump from non-R Maverick Sport rigs which are good for 75 horsepower. Absent of a turbo, power delivery is linear but aggressive, permitting the machine to reach its top speed of 70+ mph in short order.
At that velocity, the throaty exhaust system of this R engine makes itself known at a frantic engine speed, creating a din that'll wake the dead. Two drive modes – Eco and Sport – are on tap, with the latter providing a very aggressive throttle tip in. It's forceful enough that we'll recommend owners put the thing back in Eco before loading it onto a trailer lest they find themselves the subject of a viral YouTube video.
We've been completely spoiled by turbocharged engines over the past few years, including with Can-Am's own 195hp 900cc triple, all of which provide acceleration akin to a World Rallycross car. The Can-Am Maverick Sport X XC 1000R has to haul 14.3 pounds of mass with each of its horsepower compared to certain variants of the X3 Turbo which only need to schlep 8.3 pounds per pony. The 1000R in this machine brings us back to reality, providing plenty of power for 99 and bunch more 9s percent of situations in which drivers will find themselves.
Under the Can-Am Maverick Sport X XC 1000R, Can-Am has fitted arched suspension arms good for nearly 15 inches of wheel travel front and rear. Fox 2.5 Podium Piggyback QS3 shocks do a good job of soaking up bumps and whoops, with a trio of compression settings available via manual dials at each corner. Maxxis Bighorn tires measure 29 inches on 14-inch aluminum beadlocks and help contribute to 14 inches of ground clearance. In the QS3's softest setting, there was enough lift and dive under hard acceleration and braking to widen the eyes of our passenger, but it is also this setting that prevents this Maverick from shaking the fillings out of one's head.
Information displays are basic, to put it kindly, employing the type of LCD numbers and letters one would have found on your high-school graphics calculator. Your author attempted to turn the thing upside down and spell rude words like he did with that very same calculator while sitting in the last row of class at Olds Collegiate, but the display was firmly affixed to the Maverick and could not be loosened. What it does do is move vertically in sync with the adjustable steering wheel, ensuring the gauges remain visible no matter the driver's height.
2020 Can-Am Maverick Sport X RC Review
Speaking of, the Can-Am Maverick Sport X XC 1000R has ample headroom for its occupants, despite standing only an inch or so taller than some of its immediate competition. Measuring 6'6″ in my stocking feet, I never once hammered by helmeted head off the X XC's roof, even when hammering over rough terrain at extra-legal speeds. The seating position is more upright than found in the current crop of extreme machines like Can-Am's own Maverick X3, but is far from uncomfortable at both warp and idle speeds.
It's worth noting Can-Am has been in this business just about as long as anyone, meaning it has figured out a few subtle tricks that make a ride more pleasant. Dead pedals are perfectly sized and placed for both passenger and driver, making the act of bracing oneself for landing quite easy. The passenger grab handle doesn't adjust for reach but the cabin is designed in such a way that it doesn't really matter. Can-Am is also the master of on-board storage, incorporating a deep box ahead of the passenger than can hold over 10 pounds plus a small covered unit in front of the driver that's good for a flashlight and a few snacks.
Just a few years ago, commenting on the cupholders in a side-by-side would have been unthinkable. Given the marketing efforts of different brands who are attempting to huck these things as a toy that's all-day comfortable, however, we've now the bandwidth to make features like that a focus. Like the dead pedals, Can-Am has figured out a winning solution. Flared rubber grips hang on to water bottles and other hydration like a scared child hangs on to their mother, with not even a hard handing sending your author's HydroFlask anywhere near the upper ionosphere. This would not have happened in some competitor's products. Our lone complaint? We wish the cupholders would move with the adjustable seat because setting the chair to a position comfortable for shorter drivers covers the cupholder and renders it useless.
If we're complaining about cupholders, you know the side-by-side industry has very nearly reached its peak.
The 2020 Can-Am Maverick Sport X XC 1000R is a great foil to the equal-width Polaris RZR XP 1000, even if it does give up 10 horsepower and a couple inches of wheel travel. Can-Am could stand to spend a few bucks upgrading its displays, given the sportbike-inspired gear that Polaris brings to the table. There's nothing inherently wrong with what's on offer inside the Maverick, but progress rarely happens in a vacuum.
But there's no arguing with this machine's comfort and capability. Daring, precise, and confident? You bet it is. Published November 11th, 2020 11:31 AM
Top Brands
Popular Articles