1 View
1000 Miles In The Can-Am Maverick Sport
September 6th, 2019 12:02 PM
Share
Fast Facts
MSRP: Starting at $15,299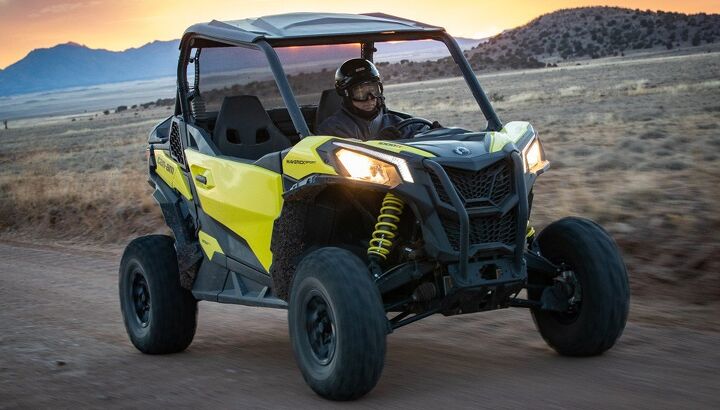 We go just about everywhere in Can-Am's 60" Sport UTV
From the mountains to the deserts to the trails in the trees, a 60" sport side-by-side can pretty much take you and your family anywhere you want to go. There are several options out on the market for this size of UTV, but the one that just might do it best the Can-Am Maverick Sport. We were truly impressed with this side-by-side when we first drove it in Canada last year, and with almost a year of driving this model under our belt and more than a 1000 miles racked up on the odometer since then, our impressions have remained consistent – this is truly a great and versatile machine.
What makes the Can-Am Maverick Sport great? Does it hold up well to tough trail riding? Does 1000 miles shake the bones out of it, or is it still in showroom quality after those miles? Did we have to fix anything? Those are all questions that we are here to answer…
Also, we're going to mix in items that we would change on this vehicle because, while it is at the top of its class, things could always be improved.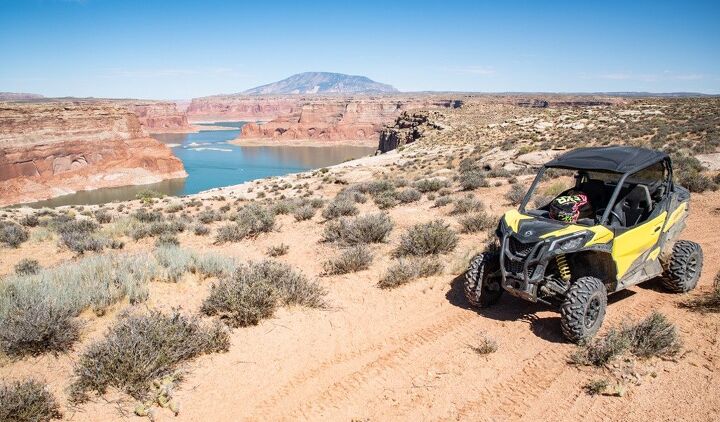 First, though, we've kept a log throughout our journey with the Maverick Sport. Here are the notes from that log, in no particular order:
Having both interior and exterior door handles is awesome! We love the easy-to reach interior handles
On that note: Best. Doors. Ever! No joke, these doors keep the unwanted stuff out and the important stuff in the vehicle.
If it rains really hard when someone is trailering a Maverick Sport on an open trailer, it would be wise to cover the engine air intake inlet.
While testing this week, it poured on our way to the location and the engine had a hard time starting with a bit of water in the intake. Got it going though.
I REALLY want the bigger Can-Am gauge cluster in this Maverick Sport. I'm missing the engine temp gauge and larger readout when flying through the trails.
100+ miles of riding and Nala (dog) and I are ready for 100+ more miles today. Suspension is just that smooth, and the seats are so comfortable. She can easily be strapped into the seat with the integrated cutouts and her dog harness.
Gas mileage has been pretty good. We can comfortably go 110 miles in this vehicle while hard on the gas all day.
It is darn near perfect, but I wish the driver's seat had an inch more legroom for my 6'3" frame. It's not bad, but a wee bit of extra stretching room would be welcome.
Need a revised electrical system to easily attach accessories. There is plenty of room under the front hood to do this. Just a bus bar would be great, or a quick-attach plug-and-play system would be the bees knees.
Some people hate the front bumpers/bars that protrude out. I love them. They not only provide protection, but they also would help in case of bad stuck situations.
Smooth suspension means that the bolts that hold this vehicle together (especially all the bolts for the exterior plastics) stay on nice and tight.
50 miles of 4-6" deep washboard roads today. Suspension fades after about 20 minutes of consistent use. Needs oil reservoirs on the shocks for prolonged use. Luckily, when these fade, they just get a bit more stiff, nothing that will jar me out of my seat.
All A-arm bushings have held up really well in 1200 miles. No squeaks either. Dig it.
Transmission is still extremely smooth in-and-out of gear. Belt still feels like brand new.
Pulled the CVTcover off today to check the belt. Looks brand new. 953 miles on the car now.
Roof is a lifesaver on this vehicle. Why would someone not buy a roof?
Driver and passenger storage areas (glove boxes) are top notch! Passenger-side storage, especially. Today, Jess fit supplies, food, and a spare jacket in this bottomless abyss.
Rear storage cover is a must-have accessory. Not sure how we would go without it. I upgraded our tool kit today to be a spare parts bag along with a 100-piece tool set. Those items fit no problem on top of each other. I have the Mexican blanket down for a bit of padding. The engine heat gets in this compartment a bit, but it isn't too bad. Just a bit warm when you open the hatch. Still didn't melt our cooler ice – win!
Brakes are always fade-free and feel very solid. Never have had an issue with the stopping power or pedal feel.
EPS is a bit too light going fast, I wish there was a bit more ramp up in steering effort at speed. But, slow speed maneuverability is spot-on with light steering. This system is still way better than the tri-mode system on X3 models.
This V-twin engine is tuned really well. Love the low-end power. It definitely signs off up top, but you don't need to rev it that high anyways.
Crawling capability with this V-Twin and CVT transmission is awesome in Low gear. 3 mph to crawl up the steepest climbs is easy. Plenty of traction with the stock Bighorn tires.
The exhaust note is a bit loud with the V-twin engine, but it does have a good engine note though. A bit tinny at times, but that's ok.
2" receiver is great on this vehicle. Makes it easy to move light trailers around and gives us a recovery hook should we need it. Note to self: make sure the hitch pin is in the tool/emergency box!
Rear tailights get covered up with mud. I wish the fenders extended back further or had some kind of mud protection built in. It's a bit of a safety hazard if the mud cakes on extremely thick.
The vehicle wiring is excellent on this machine. It is all tucked up and away and also wrapped well for protection. Again, just wish it had the hookups for accessories in the front of the vehicle.
Those are the log book notes, and let's expand upon some of those ideas…
The Interior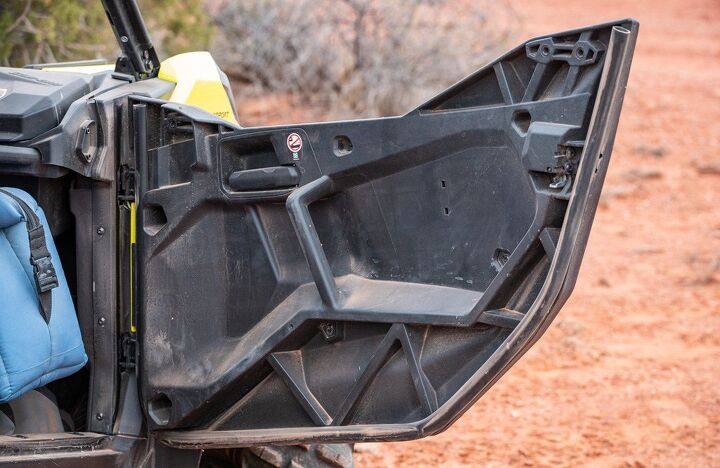 First, the interior of the Can-Am Maverick Sport is high on the list of items that make this 60" side-by-side stand out from the rest of the pack. The only people who are going to think it is too snug are drivers over about 6'4", but that's a pretty small margin of people. Everyone else will thoroughly enjoy the plentiful room that this Maverick Sport cabin provides for both driver and passenger. With an adjustable driver's seat, which includes an excellent slider system, many different sizes and shapes of riders can fit into this vehicle and make it their own. The adjustable steering wheel also aides in the comfort department. Plus, with about 2.5" more arm space on both sides compared to the Maverick Trail, the Sport model has plenty of room to stretch out your arms and truly enjoy the best full half doors on the market. Yes, you read that right, these sealed full half doors are simply the best on the market, bar none.
Interior storage is also one of the strong points of the Can-Am Maverick Sport. The passenger gets a massive top-load glove box that is built to take a ton of gear in it. The driver side also gets a glovebox, albeit a much smaller unit than the passenger, but it is perfect for storing the essentials like gloves, glasses, etc.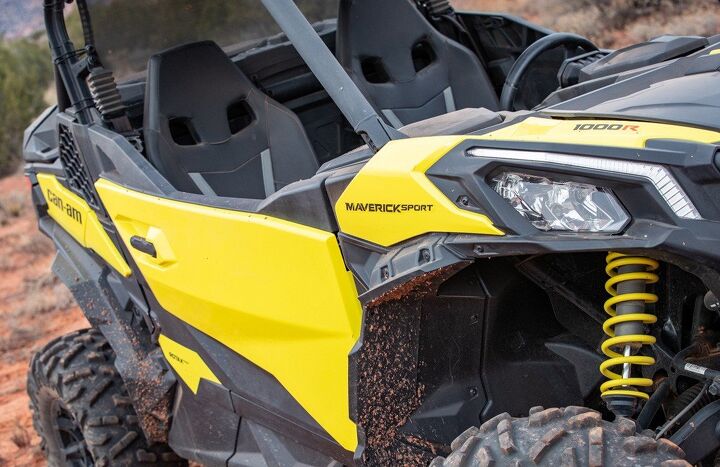 The only negative with the interior is the bare bones assortment of electronics. Sure, there are plenty of places to put auxiliary switches in the dash and a digital readout that has most of the items you need to see (where is the engine temperature gauge, Can-Am?!), but the instrument cluster lacks the appeal that we'd like to see in a high end side-by-side like this. It is a bit drab and isn't the easiest to read. Can-Am fixed this in the Maverick Sport rc model, which comes with the larger 7" display, and we hope they put this upgraded instrument cluster in all Maverick Sport models in the future.
#2 The Powertrain
Two engine options are available in the Can-Am Maverick Sport lineup. While both the 1000 (75 horsepower) and 1000R (100 horsepower) are equally capable, the 1000R really provides that extra grunt that all drivers who want some get-up-and-go are going to want. Our tester has the 1000R engine, and it has performed very well in all terrains. From the sand dunes and open deserts to the trails and mountains, there is always plenty of power. We took this vehicle up to almost 13,000 feet to test it out in elevation, too, and there was never a lack of power in the engine. I was really impressed in the power-robbing sand dunes. We took the Mav to the sand several times and had no problem tackling the biggest of dunes. Sure, it doesn't have X3 Turbo R power, but the X3 can't go on the rails like the Mav Sport can. The combo of power, compactness, and capability make the Sport truly a great vehicle.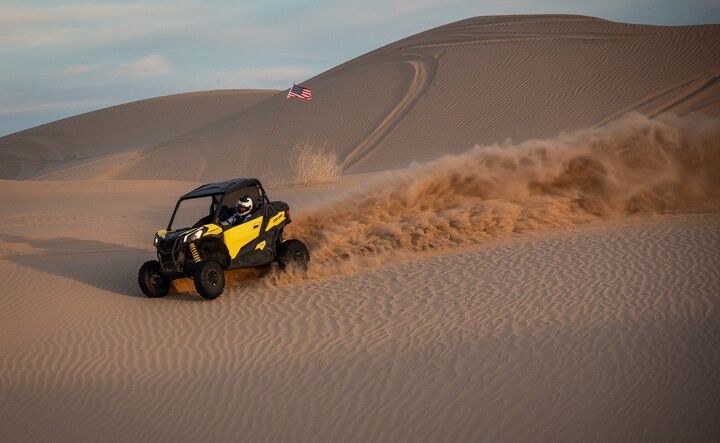 A lot of people say that the auto-locking front differential on the Can-Am Maverick Sport, specifically the Visco-Lok, doesn't give you the best traction in rock climbs and very technical terrain. This is true to an extent – the only place that you're going to notice that this differential doesn't fully lock fast enough is in the tough rock climbs where a Smart-Lok front differential would be extremely useful (the rc and all-new xc versions of the Maverick Sport have this differential). If you're not going over extreme obstacles, you'll never have a problem with the standard front differential. I tested it out in the regular rocks many times and never had an issue. Just plan your route and, if you're worried, put a winch on the front and then you'll have extra peace of mind.
Can-Am's claim that you don't have to service the engine, transmission, and differentials for one year or up to 1800 miles lived true for us. We haven't performed any services, but we have been watching the fluid levels constantly. I did notice that the oil levels have gone down slightly, so I had to add about a ¼ quart of XPS engine oil to make sure that everything was in good working order. Besides a bit of engine oil burn (watch that if you have a Can-Am Maverick Sport yourself), there is nothing particular to note about the powertrain. No rattles have come forth and all the chassis and powertrain parts have stayed tight and in good working order.
#3 The Suspension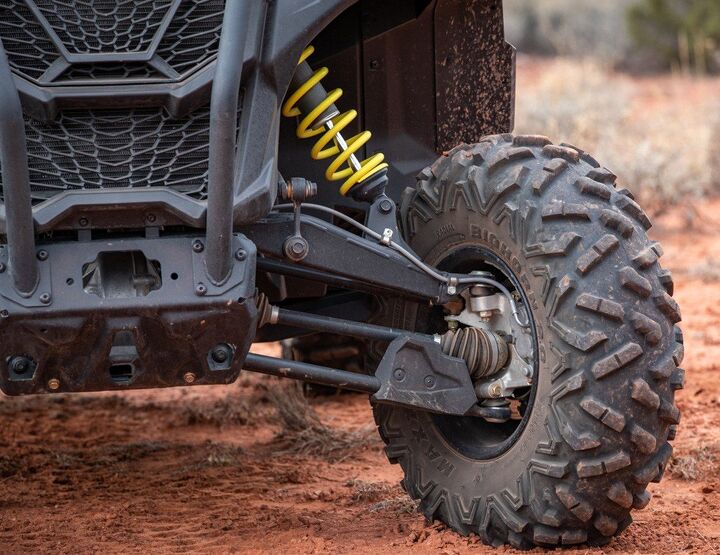 We've said it before and we'll say it again – the suspension on the Can-Am Maverick Sport is truly what makes this vehicle a pleasure to ride all day. And when we say, "all day", We truly mean all day. Many other machines tire a rider out with stiff suspension from the factory. Can-Am gave the Maverick Sport a smooth ride from the factory, and man-o-man does it pay off dividends on a long ride.
The suspension is so smooth that it truly makes you feel rested and ready to ride more at the end of the day. We also found that you can find the end of the travel pretty quickly when you push the Maverick Sport hard, especially with a fully loaded cargo bed in the back. Bottoming out is the only negative side effect to this setup. But there is a full length skid plate underneath that is thick and keeps the machine pretty safe from all rocks, roots, and other trail gators. Personally, we would much rather have this soft suspension so we can keep going farther on a ride than have a stiff suspension system that rattles you to exhaustion by the end of the day.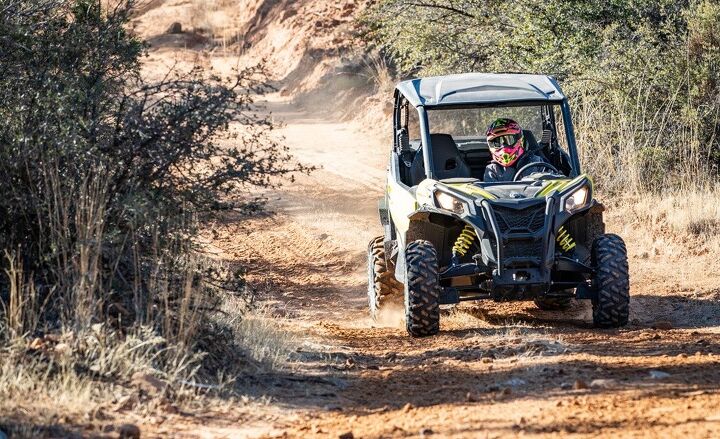 After prolonged washboard roads in the Can-Am Maverick Sport, we did notice that the Fox shocks heat up and fade a bit after 20 minutes straight of use. That's quite a long time, but if you want something with a bit more suspension fade resistance, then the new "xc" or "rc" models have piggyback reservoirs for increased cooling, plus the add-on for compression adjustability.
#4 The Accessories, especially the rear cargo area
In the stock unit, the rear cargo area is actually nothing special. In fact, it isn't super large and it doesn't have high sides to truly keep things in the bed. However, when you add the bolt-on, quick-attach LinQ accessory cover that has an opening back and full coverage of the bed, the entire rear cargo area of the Maverick Sport blossoms into this multi-functional, great storage area. We were able to fit a full parts bag, a 100+ piece tool bin, first aid kit, ice chest, and extra clothes, all securely in this rear storage area without a worry that anything would try to bounce out on the trail. Peace of mind is big on your adventures, and this is a must-have accessory.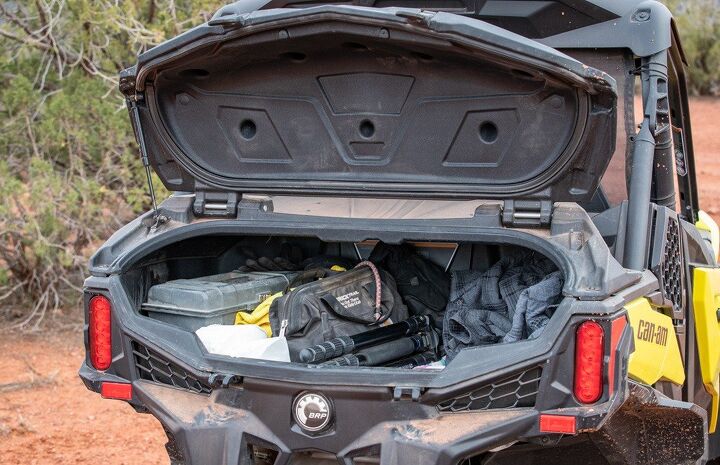 We had a half windshield installed on this unit from the factory. I have to say, I'm not a fan of these. With the combination of a low seating position in the Can-Am Maverick Sport and the contoured lines of this plastic half windshield, the passengers' vision is interrupted with this windshield, especially when you need to see just in front of the vehicle. I'd recommend optioning your Maverick Sport to include the full windshield instead, especially since the ROPS system on this model is extruded and seals extremely well with accessories like the full windshield. Your field of vision will thank you.
#5 Maintenance & Serviceability
While we haven't had to do much to our Can-Am Maverick Sport in its 1000+ miles in our stable, it sure has been easy to look it over after each and every ride. Yes, we are "those" kind of people… But the preventative maintenance and "check-overs" pay big dividends when you're getting ready for a long ride and don't want to completely go over the vehicle every time. Luckily, the Maverick Sport has all of the critical components in easy-to-reach locations. The oil checks are easy to get to for the transmission and engine, and the front differential isn't bad either. Again, we had to add a bit of engine oil to top it off and make sure it wasn't low for our rides, but other than that, we were good to go on the maintenance front.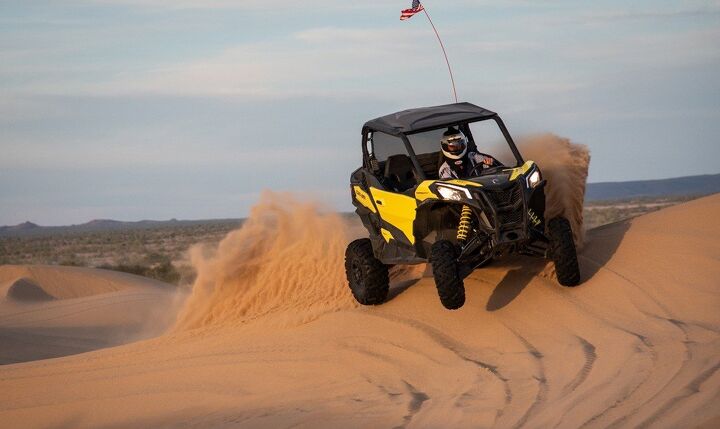 Can-Am does a good job of putting all of the plastic parts together securely, but some of them do come loose over time. The Maverick Sport has proven to be better put together than Maverick X3 models we have driven and used for a prolonged period of time in the past. The Sport's exterior fasteners stay tight (credit, again, to the smooth suspension on this vehicle). Only one fastener for the driver side door has come loose while out on the trail, and it turns out that it is stripped out slightly. We secured it as good as we could and it is holding just fine. The moral of the story there is to just make sure you don't over tighten the metal screws that go into the plastic door skins.
#6 Would We Still Buy a Can-Am Maverick Sport?
After having this Maverick Sport for over 1000 miles, the answer to that question is a resounding YES! This vehicle has not only been extremely reliable and comfortable to drive on long rides, but it has also been impressivley versatile for all different types of terrains. A Maverick Sport allows you and a passenger to have fun in the sand dunes one day and the mountains trails over the next day. Sure, it has some limitations, but as far as an all-around unit, it has to be one of, if not the, best performing all-around UTV on the market. Plus, it'll keep you wanting to go on longer and longer rides with its excellent, soft suspension.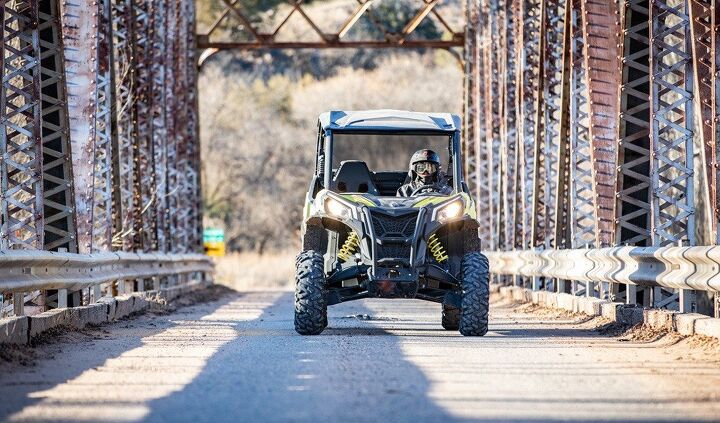 Your local dealer should be getting the 2020 models in now. Be sure to check out the Can-Am Maverick Sport lineup if you're looking for an excellent all-around UTV. You won't be disappointed. Pricing starts at $15,299.
Published September 6th, 2019 12:02 PM
Top Brands
Popular Articles