10 Views
Top Five Most Innovative UTVs for 2018
March 28th, 2018 5:08 PM
Share
We're committed to finding, researching, and recommending the best products. We earn commissions from purchases you make using links in our articles. Learn more here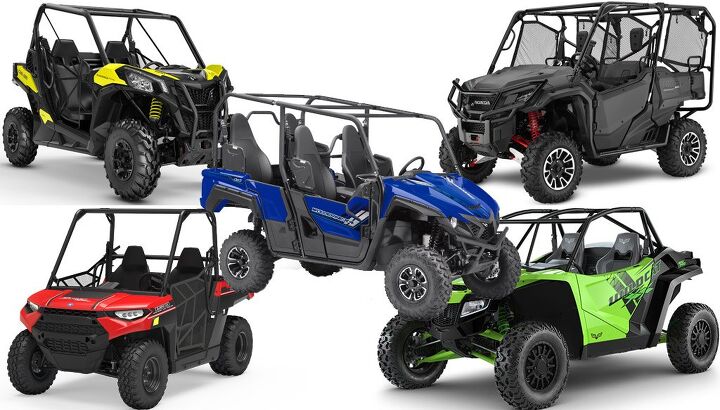 The innovative minds of ATV and UTV manufacturers have been busy the past month with some exceptionally cool new machines. Here are five of the most innovative UTVs for 2018.
Every year, the ATV and UTV manufacturers come out with new models and new features that make us, as consumers and end-users, want to try them out. The basics are usually the same, but each year there are some surprises that catch us off guard. The coolest part for us is that whatever the manufacturers release one year, you can bet that they're working on something for the future that will undoubtedly blow our collective minds. So far for the 2018 model year, there have been some truly amazing machines that have really caught the attention of the enthusiast market. Here are our top five most innovative machines for 2018.
#1 Yamaha Wolverine X4
There will undoubtedly be some that are shocked to see this at the top of the list, but the Yamaha Wolverine X4 is really an engineering marvel if you take a serious look at it. It is a sub 60-inch machine that is smoother and quieter than anything we've driven before. This is a machine targeting not the speed demons, but the adventurous amongst us. When they launched the new Wolverine X4, Yamaha also launched a new platform to encourage people to realize their adventures. This is the perfect machine to do exactly that. Read our review of the Wolverine X4 here.
#2 The Polaris Ranger 150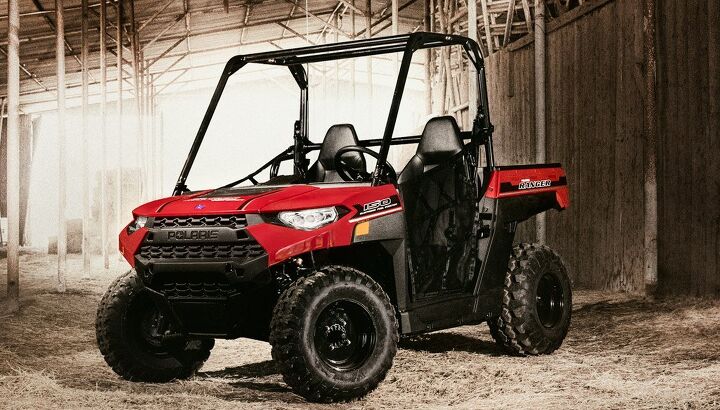 It's not often that a youth model gets on a list of most innovative machines, but the new Polaris Ranger 150 makes it with ease. Why? Simple. It is a 150cc powered machine with seating for two, but it comes loaded with technology from Polaris' Ride Command system. This lets you, as the parent, control the machine. You can set the speed limits and much more. The Geofencing feature has got to be one of the coolest things going for a parent's peace of mind. It lets you set a parameter via mapping software and from there, you can set the speed limits for inside and outside the boundary. Anyone with kids will be interested in what Polaris is doing to help get kids riding, but doing so safely.
#3 Can-Am Maverick Trail
While the competition has had a 50-inch side-by-side for several years, it took Can-Am a while to enter the market. The reason is, Can-Am was being very selective about how it wanted the machine to work. The result, the Maverick Trail, is arguable the best 50-inch UTV yet in terms of performance and overall handling. Rather than take an existing frame and adapt it for trail use, Can-Am engineered the Maverick trail from the ground up as a specialized machine. Available with either an 800, or 1000-class engine, the Trail is an outstanding machine for any trails, not just the narrow ones it was designed for. It is quickly gaining notoriety for the quality of the ride and don't be surprised if you see more and more on the trails this year. Read our review of the Maverick Trail 100 here.
#4 Textron Off-Road Wildcat XX
In a time when horsepower seems to be king, the arrival of the long-awaited Textron Wildcat XX, a naturally aspirated machine, seems almost anti-climactic, right? Wrong, McFly! The XX lands on this list for innovations that mean more than a horsepower number. A feature designed for durability is that all of the steering and suspension components are double shear. This means that all of these components are supported on two sides instead of one with the connecting bolt passing through two supporting members for increased durability. It has Fox Podium 2.5 QS3 shocks with Bottom-Out Control and 18 inches of travel. They ride in offset front A-arms that have unequal length to adjust the tire camber and ensuring maximum tire contact with the ground throughout the suspension travel. Out back, there is a newly designed rear trailing arm setup that lets the tire move nearly straight up and down through the stroke of the shock. Anyone who has driven one is saying the same thing – It is one of the best machines of the year. Read our Textron Off-Road Wildcat XX review here.
#5 Honda Pioneer 1000-5 LE
Honda narrowly edged out the new Polaris Ranger 1000 on this list with the Pioneer 1000 LE. Simply put, it was the combination of the new i4WD system, hill-start assist and Honda's DCT transmission that make the Pioneer a very innovative new machine. The i4WD system intelligently transfers power between the tires when traction is an issue using technology borrowed from Honda's extensive automotive branch. This system, in combination with Honda's DCT transmission, gives you unparalleled control of the machine in situations where traction is not always easy to find. Add to that a true hill-start assist and it's easy to see why Honda has a very innovative machine for you to hit the trails with. Read about our hunting adventure with the Pioneer 1000-5 LE here. Derrek Sigler
Derrek's love for all things ATV started when he was a mere 11 years old, growing up on his family farm. His mom gave him and his sister a choice - get a horse, or a three-wheeler. The sister wanted the horse, and Derrek wanted the ATV. Luckily he won out, and was soon burning up the trails on a Yamaha Tri-Moto 200. By the time he was 14, he had saved enough of his own money by working on the farm and in his folks restaurant to buy a new 4-wheeler. That happened the day he and his mom were driving past the dealership and saw 1987 Banshee. His mom had no idea what he was buying, and he never looked back. He's been riding ever since, and been writing professionally for many years. He has ridden all over North America and been behind the controls of just about every machine out there. And yes, he still has his 1987 Yamaha Banshee.
More by Derrek Sigler
Published March 28th, 2018 5:08 PM
Top Brands
Popular Articles