1 View
2018 Polaris RZR XP Turbo EPS Dynamix vs. Can-Am Maverick X3 X RS: By the Numbers
July 31st, 2017 1:40 PM
Share
We're committed to finding, researching, and recommending the best products. We earn commissions from purchases you make using links in our articles. Learn more here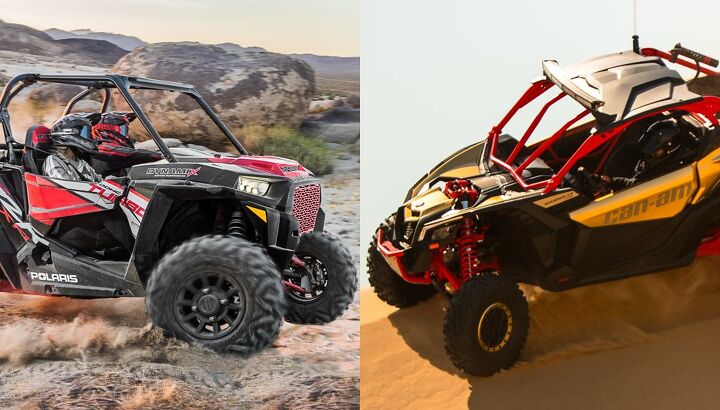 Top Gun Sport UTV Showdown
Ladies and gentlemen, make no mistake. There is a war going on. It is raging between Polaris and Can-Am over who can make the fastest and best handling Sport Side-by-Side. It is a war that Polaris held the high ground on for years, until Can-Am unleashed the X3 lineup. This new entry shook the very foundation of the UTV world.
Earlier this year, Can-Am unveiled the latest versions of the X3s and we all couldn't help but notice the boosts in horsepower numbers. This added fuel to an already burning fire. How would Polaris respond? Earlier this week, we all found out. How do the premier machines from each company stack up? For now, we can only speculate based on the specifications. Let's look how the 2018 Polaris RZR XP Turboo EPS Dynamix and Can-Am Maverick X3 X RS Turbo R stack up – by the numbers.
| | | |
| --- | --- | --- |
| | 2018 Polaris RZR XP Turbo EPS Dynamix | 2018 Can-Am Maverick X3 X RS |
| Price | $25,999 | $26,899 |
| Engine | 925cc ProStar Turbo H.O.; 4-Stroke DOHC Twin Cylinder Turbocharged | Rotax ACE 900cc Turbocharged Triple-cylinder engine, liquid cooled with integrated intercooler and Donaldson† high-performance air filter |
| Horsepower | 168 | 172 |
| Driveline/Differential | High Performance True On-Demand AWD/2WD | Selectable 2WD / 4WD with Visco-Lok‡ X auto-locking front differential |
| Transmission | Automatic PVT P/R/N/L/H | Quick Response System X CVT with high airflow, L / H / N / R/ P |
| Wheelbase | 90.0 in | 102.0 in |
| Overall Dimensions (LxWxH) | 119 x 64 x 73.75 in | 132 x 72 x 67 in |
| Dry Weight | 1,500 lbs | 1,589 lbs |
| Front Tires | 29 x 9-14; Maxxis Bighorn | Maxxis Bighorn 2.0 30 x 10 x 14 in |
| Rear Tires | 29 x 11-14; Maxxis Bighorn | Maxxis Bighorn 2.0 30 x 10 x 14 in |
| Ground Clearance | 13.5 in | 15.0 in |
| Fuel Capacity | 9.5 gal | 10.5 gal |
| Front Suspension | Dual A-arm, 16 inches travel FOX 2.5 Podium Live Valve with Bottom-Out Control | Trophy truck inspired Double A-arm with sway bar 22 in. FOX 2.5 Podium RC2 Piggyback with bypass, dual speed compression and rebound adjustments |
| Rear Suspension | Trailing arm, 18 inches travel FOX 2.5 Podium Live Valve with Bottom-Out Contro | 4-link Torsional Trailing-arm X (TTX) with sway bar 24 in. FOX 3.0 Podium RC2 remote reservoir with bypass, dual speed compression and rebound adjustments |
| Front/Rear Brakes | 4-Wheel Hydraulic Disc with Triple-Bore Front and Dual-Bore Rear Calipers | Hydraulic Discs with Triple Bore Front Calipers |
| Bed Capacity | 300 lbs | 300 lbs |
Horsepower
Horsepower has always been the "thing" to have. Each company has gone to great lengths to try to out-do the other when it came to having that top number. With the different turbo-powered machines, it's easy to see that there are a lot of ponies to be had with either machine. On paper for 2018, Can-Am tops the list with 172 horses, compared to Polaris' 168. Neither number is anything to sneeze at, as they are both ridiculously fast.
Polaris gets there with a 925cc ProStar high-output 4-Stroke DOHC twin-cylinder, turbocharged motor. Why 925cc you ask? That question has been asked by the off-road media for a while and the usual answer is that Polaris gets the output it wants that works best with its system with this particular engine. The bench racing community likes to joke that it is really so Polaris can claim that it gets big horsepower numbers with a smaller engine size than the competition. This worked when Can-Am only had the standard Turbo Maverick. However, the X3 blew that theory out of the water, when Can-Am unveiled its 900cc triple Rotax beast. Those same bench racers now wonder when Yamaha will put the turbocharger it has from its snowmobiles into the YXZ. It could get fun, folks!
Suspension and Handling
When the X3 came out, it had something else going for it besides horsepower. It could handle! With massive shocks and an even bigger wheelbase, the X3 could tame just about any terrain, although the size of the machine favored more wide-open territory. How was Polaris going to respond to the X3's amazing suspension?
The answer came with the new Dynamix system. Polaris boasts it is the first and only intelligent suspension system, tied into the Ride Command system Polaris unveiled last year. While the X3 still has huge Fox shocks, The Dynamix system on the Polaris uses Fox shocks, but the system can make adjustments based on a digital monitoring system that is capable of receiving hundreds of inputs per second from the machine. Taking a corner fast? The system is designed to make the proper adjustments to help stabilize the machine. Getting some air? Same thing. Imagine being able to change shock settings on the fly for every type of terrain and handling situation. Then add Fox 2.5 shocks into that mix. And then add the Ride Command system that lets you keep track of everything, as well as monitor your riding buddies, control your GoPro and more.
The off-road community has been waiting to see how Polaris would respond to the Can-Am X3, and it's interesting to see the direction the Minnesota company is taking. Which machine are you more excited to drive? If you're like us, you probably want to drive both of them. Derrek Sigler
Derrek's love for all things ATV started when he was a mere 11 years old, growing up on his family farm. His mom gave him and his sister a choice - get a horse, or a three-wheeler. The sister wanted the horse, and Derrek wanted the ATV. Luckily he won out, and was soon burning up the trails on a Yamaha Tri-Moto 200. By the time he was 14, he had saved enough of his own money by working on the farm and in his folks restaurant to buy a new 4-wheeler. That happened the day he and his mom were driving past the dealership and saw 1987 Banshee. His mom had no idea what he was buying, and he never looked back. He's been riding ever since, and been writing professionally for many years. He has ridden all over North America and been behind the controls of just about every machine out there. And yes, he still has his 1987 Yamaha Banshee.
More by Derrek Sigler
Published July 31st, 2017 1:40 PM
Top Brands
Popular Articles