1 View
2013 Polaris RZR XP 900 H.O. Jagged X Edition Preview – Video
July 3rd, 2015 12:11 PM
Share
High output engine pumps out 94 horsepower
While Arctic Cat and BRP/Can-Am have been getting the headlines lately for their new super-sport side-by-sides, Polaris has been hard at work on its latest and greatest RZR – the limited edition RZR XP 900 H.O. Jagged X Edition.
"We're very excited to offer the Jagged X Edition which provides a whole new customer solution featuring the most popular options straight from the factory," says Craig Scanlon, general manager, Recreational Off-Road Vehicles for Polaris. "This vehicle is the most complete RZR ever built, combining the ultimate in performance, comfort and incredible styling."
In name the newest RZR sounds similar to any other LE model in the XP family except for two very import letters – H and O. Polaris took the 88 horsepower ProStar 900 that's been powering the RZR XP 900 and RZR XP 4 and made it a high output engine – the first ever on a RZR. Changes include new profiles on the intake and exhaust camshafts, and the addition of stiffer valve springs. These changes were paired with a new engine calibration and a stainless steel SLP exhaust with dual outlets for increased exhaust flow and what Polaris calls an aggressive race-inspired sound. To accommodate the power increase, the clutches were updated with new weights to provide increased acceleration performance. The ProStar 900 H.O. now boasts 94 HP, with acceleration on par with the RZR XP 900 and 17 percent faster acceleration (0-60mph) than the RZR XP 4 900.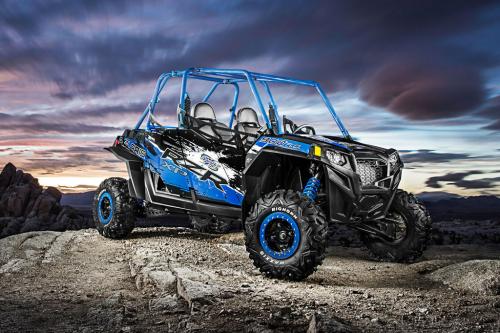 Along with having more power, The RZR XP 900 H.O. Jagged X Edition features a 107.4-inch wheelbase. That's 26 inches longer than the RZR XP 900 and the same as the RZR XP 4 900. Cushing the ride are Walker Evans 2.5" Body Rear Shocks and Walker Evans 2.0" Body Front Shocks. For comfort in the cabin, Polaris added deep-bolstered, five-point, harness-ready PRP seats, an easily adjustable driver seat and more than an inch of additional legroom. To reduce rider fatigue and steering effort, the vehicle also features electronic power steering.
As the most-premium RZR ever, the RZR XP 900 H.O. Jagged X Edition offers thousands of dollars in factory-installed add-on. Along with its black, blue and white Jagged X-inspired graphics, the vehicle sports matching factory-installed doors, Voodoo Blue painted suspension springs and valve cover, a race-inspired, color-matched, custom cab frame with integrated rear cab frame extension that wraps around the rear bed and Bighorn tires on Black painted Walker Evans beadlock wheels with color-matched beadlock rings. For added storage, the unit also features weather-sealed, dual cargo boxes in the rear cab area that have lockable lids and are easily removed.
"Off-road racing is incredible proving grounds for our machines and Polaris has been working closely with one of the premier off-road racing teams, Jagged X, for a number of years," says Donna Beadle, Polaris Off-Road Racing Team Manager. "Last year, for the introduction of the RZR XP 4 900, Jagged X raced a nearly-stock car for the Best in the Desert Series. The successful season, which included five podiums in six races, showed the capability of the unit, provided a whole new customer solution and is the inspiration for the RZR XP 900 H.O. Jagged X Edition."
The RZR XP 900 H.O. Jagged X Edition will be available at Polaris dealerships in very limited quantities in late January. The unit will retail for $21,999 in the United States and $24,999 in Canada.
2013 Polaris Ranger RZR XP 900 H.O. Jagged X Edition Specs
Engine Type:
4-Stroke DOHC Twin Cylinder
Displacement:
875cc
Fuel System:
Electronic Fuel Injection
Cooling:
Liquid
Transmission/Final Drive:
Automatic PVT P/R/N/L/H; Shaft
Drive System:
On-Demand True AWD/2WD
Front Suspension:
Dual A-Arm Walker Evans 2″ body (comp adjust/res.) 13.5″ (34.3 cm) Travel
Rear Suspension:
Trailing Arm Walker Evans 2.5″ body (comp adjust/res.) 14″ (35.6 cm) Travel
Front/Rear Brakes:
4-Wheel Hydraulic Disc with Dual-Bore Front and Rear Calipers
Front Tires:
26 x 9-12; Maxxis Bighorn
Rear Tires:
26 x 12-12; Maxxis Bighorn
Wheels:
Painted Black Beadlock Wheels with Color-matched Rings
Wheelbase:
107.4 in.
Dry Weight:
1,529 lbs
Overall Size (L/W/H):
134.4 in. x 64 in. x 73.25 in.
Ground Clearance:
12.5 in.
Fuel Capacity:
7.25 gal.
Bed Box Dimensions (L/W/H):
23 in. x 38 in. x 10 in.
Box Capacity:
300 lbs
Payload Capacity:
800 lbs
Cargo System:
Lock & Ride
Lighting:
White LED, High/Low
Electronic Power Steering:
Standard
Instrumentation:
Digital Gauge, Speedometer, Odometer, Tachometer, Tripmeter, Hour Meter, Clock, Gear Indicator, Fuel Gauge, Hi-Temp/Low-Batt Lights, Coolant Temp, DC Outlets (2)
MSRP:
$21,999
Related Reading
2012 Polaris Ranger RZR XP 4 900 Review – Video
2011 Polaris Ranger RZR XP 900 Review – Video
2011 Polaris RZR S 800 Review
2010 Polaris Ranger RZR 4 Review
2013 Can-Am Maverick 1000R X rs Review – Video
2012 Arctic Cat Wildcat 1000i Review – Video
2013 Arctic Cat Wildcat 4 1000 Unveiled
Published December 20th, 2012 9:08 AM
Top Brands
Popular Articles