1 View
2013 Arctic Cat Wildcat 4 1000 Unveiled
June 17th, 2015 4:58 PM
Share
Four-seat Wildcat hits retailers in February
In perhaps the least surprising news of the year, Arctic Cat has announced it will launch a four-seat version of its popular Wildcat side-by-side in February. The Wildcat 4 will be competing directly with the Polaris RZR XP 4 900, as well as the upcoming Can-Am Maverick 1000R MAX.
"The Wildcat 4 1000 answers the call for pure-sport ROV enthusiasts who want to carry two or more passengers," Arctic Cat says in a release.
While the Wildcat 4 is outfitted with many of the features found in its predecessor, it's more than just a stretched out version of the two-seat Wildcat.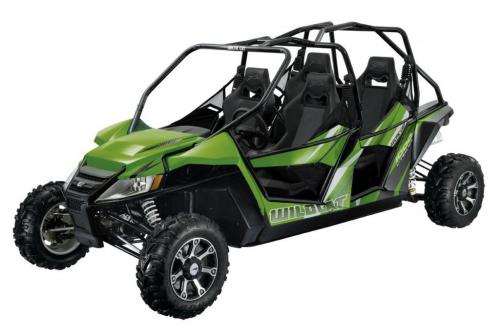 The Arctic Cat Wildcat 4 lets you take multiple passengers along for what promises to be a wild ride.
Setting the Wildcat 4 apart is a completely new drive and driven clutch, designed in partnership with the leading clutch authority, Team Industries. According to Arctic Cat, the new clutching system answers the call for improved acceleration while putting the massive torque and horsepower of the 1000 engine to the ground where it matters. In addition, a new sway bar has been designed to work with the all-new Podium Fox Shox, creating what Arctic Cat calls an unrivalled operator and passenger experience.
With an MSRP of $19,599 ($21,999 in Canada), the EPS-equipped Wildcat 4 rings is $1,600 more than the base RZR XP 4 900. However, it is priced exactly the same as the RZR 4 XP 900 EPS models. Pricing has not been released for the Can-Am Maverick 1000R MAX, which is scheduled for release this summer.
It's no coincidence that the Wildcat 4 has the same retail price as the EPS-equipped Polaris RZR XP 4 900.
Arctic Cat Wildcat 4 Features
• Five-Link rear suspension, 13 inches of ground clearance, and 18 inches of rear suspension travel
• Full Perimeter Exoskeleton frame was stretched 29-inches to accommodate four occupants with what Arctic Cat calls best-in-class ride-in comfort and leg room
• Interior has a locking glove box and cup holders, four high-back bucket seats with three-point seat belts and four tube-frame doors with integrated nets
• V-Twin, SOHC, liquid-cooled, 951cc, Electronic Fuel Injection
• Automatic transmission has a park-in-gear shifter with Reverse, Neutral, High and Low gears while the 2wd/4wd/Diff Lock switch is located on the dashboard
• Variable Assist Electronic Power Steering (EPS) designed to maintain a light steering input effort with an infinitely adjustable tilt steering wheel
• LED Headlights and Taillights utilize 50% less wattage
• Available in three painted metallic color choices: Sunset Orange, Black and Arctic Green
Published December 4th, 2012 8:33 AM