13 Views
Maxxis Razr Xc ATV Tire Review
August 9th, 2018 6:26 PM
Share
We're committed to finding, researching, and recommending the best products. We earn commissions from purchases you make using links in our articles. Learn more here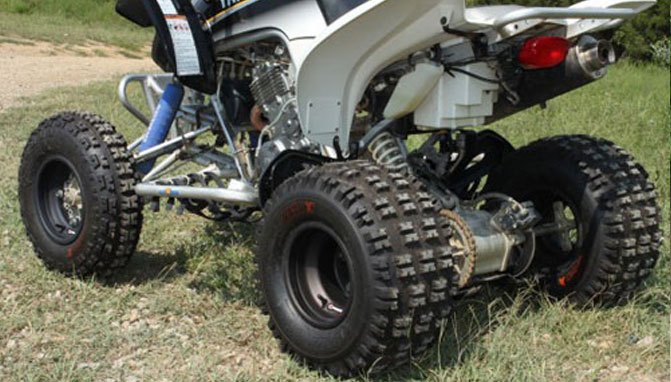 A cross country race tre for all conditions
With the help of dominating riders like Bill Ballance and Chris Borich, Maxxis has racked up a number of GNCC championships with its Razr and Razr 2 tires. The latest addition to Maxxis' cross-country line of race tires is the Razr Xc. According to Maxxis, "The Razr Xc represents the culmination of more than a decade of research and development and input from our countless champions." As a tire we expect to see a lot of people running in 2012, we decided to try a set for ourselves first.
We initially installed our Razr Xc tires on our Yamaha Raptor 125 project, a machine we gave away to one of our readers. Unfortunately, the GYTR nerf bars we had previously installed did not allow sufficient clearance for the 21-inch Razr Xc tires we were running up front. Since we didn't want to get rid of the nerf bars, we decided to find another test mule for the tires. You can read more about that in a little while.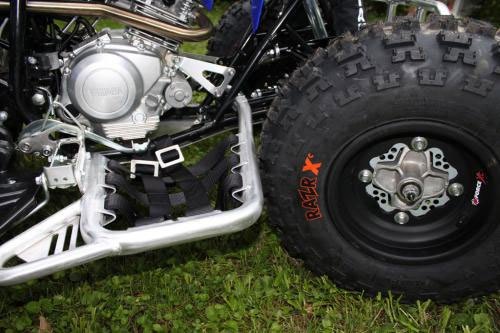 As you can see, the 21-inch Razr Xc front tires didn't mesh well with the GYTR nerf bars on our Yamaha Raptor 125.
Maxxis developed the Razr Xc for the terrain you'd expect to find in GNCC and WORCS racing. They were designed to perform well in conditions varying from mud, to rock, to dry hard-pack; all of which are available on many GNCC courses.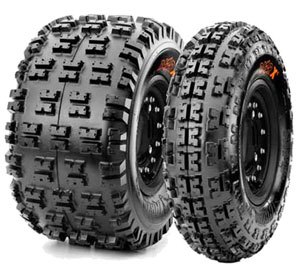 Six-ply construction means you can expect these tires to last quite a while.
These are six-ply tires, constructed of a long-lasting rubber compound designed to keep biting edges sharper longer. The rear tire's tread is similar to a Razr, with its knobs grooved horizontally through the middle – a setup many GNCC pros run. The additional edges provide increased traction on hard-packed, dry dirt or wet, slick climbs. To boost their performance in soft terrain and mud, the tread depth was increased from 15/33 inches on the Razr to 18/33 inches on the Razr Xc.
The front tires feature a unique tread design that resembles a blend of the Razr and Razr 2, although the center row of knobs seems a bit wider than either of its predecessors. The center knobs are spaced a bit farther apart like the Razr 2s. As well, the knobs are split vertically, multiplying the number of biting edges for increased traction in turns. It's worth noting that the Razr Xc fronts are directional. We tried them rotating both directions, diverting back to the recommended usage. We asked how weight varied between the various Razr tires, and Maxxis told us that the tires' weights were, "…very comparable."
The Test
As a premium race tire, we would expect the Razr Xc to add a good deal of performance to the average sport machine. For our test, we mounted our Razr's on a set of G Force Wheels and bolted them to the once very popular Yamaha Raptor 660. Its monstrous, lumbering engine delivers plenty of torque right off idle. Its handling is a bit rolly in the corners thanks to its higher center of gravity, soft stock suspension, and its more rounded, general use, stock sport tires. For the test, we visited Bills 491 Off Road Park in Demossville, Ky. in addition to a private testing facility we frequent.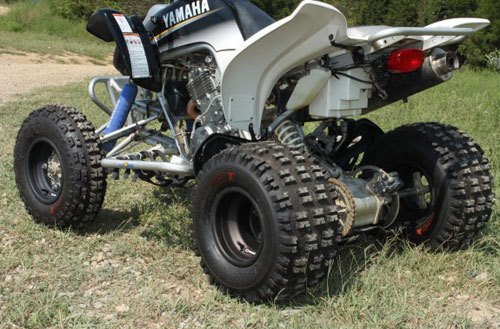 A Yamaha Raptor 660 proved to be a perfect fit for our Razor Xc tires.
In spite of their six-ply design, the Maxxis Razr Xc tires felt lighter than some other performance trail tires we've recently tested, thanks to their willingness to hook up, or slide, on demand. In a straight line, the Razr Xc's hooked up well in every environment in which we tested them. They make you feel Velcroed to the trail in conditions bordering on tacky and slimy; the kind of conditions you might find on a hot day a few hours after a long, summer shower. Acceleration was also outstanding in dry, dusty conditions, and predictable on slimy, hard-packed creek banks. Their forward hookup was duplicated under braking conditions, as both ends were excellent at transferring braking forces to the ground.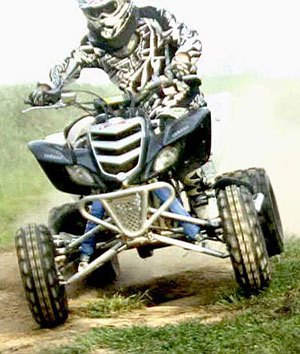 The Maxxis Razor Xc tires provided a significant improvement in the Raptor 660's handling.
The Razr Xc's cornering manners are predictable regardless of conditions. If you want to rail a corner hooked up, there is plenty of side bite available. Lean in just a bit more and grab the gas; the Razor Xc tires can be broken loose and slide predictably. These tires are not only versatile in their performance; they allow the rider to be versatile, adapting his or her riding style to the demands of the situation, by hooking up, or breaking loose, when it is most advantageous.
Directional control provided by the front tires was outstanding. Pushing was nonexistent in the conditions in which we tried them. Steering was light, and traction under braking was abundant.
Inflated to seven pounds front and six pounds rear, the Razr Xc tires offered some compliance over roots and square-edged rocks. High-speed stability was good, never bouncing or doing anything to adversely affect the machine's handling. In fact, we felt they did wonders for our Raptor, which really benefited from the superior handling provided by tires.
Despite some hard acceleration and braking runs on rocky trails, we are happy to report no DNFs due to flats. After a couple of rides, the edges are holding up strong.
Conclusion
The Maxxis Razr Balance or Razr 2 may offer a bit more performance for mud courses, and the standard Razrs are still ideal for dry, hard conditions. Many GNCC courses and trails that we ride provide a combination of all of it. If we were building a cross-country race machine or high speed trail runner, the Razr Xc's sporty handling manners and ability to handle whatever you throw make them an ideal tire choice.
Related Reading
ATV Tires: Buyer's Guide Published January 27th, 2012 4:50 PM
Top Brands
Popular Articles