4 Views
June 19th, 2015 4:37 PM
Share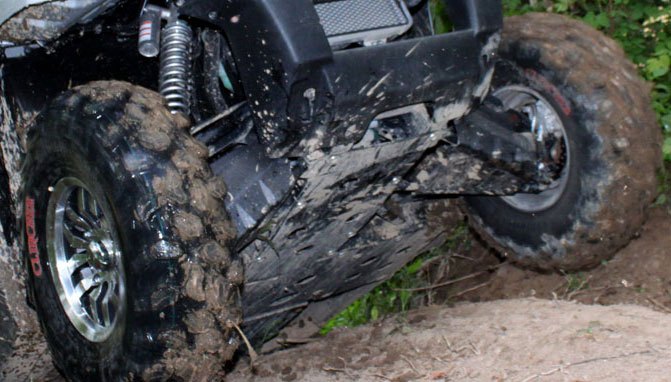 Mid-level price with high-level performance
ATV and side-by-side manufacturers have a lot to consider when choosing tires for their machines. Price, performance, and weight are all taken into account in selecting a tire that manufacturers believe will serve the needs of a diverse customer base. Quite often this means the OEM tire won't provide optimum performance for your specific needs. This is where the aftermarket comes in.
With wet springs and hot summers, dry dusty tails strewn with mud holes are the norm where we ride. CST's Clincher tires were developed for hard to intermediate conditions and are available in a variety of sizes that will fit most side-by-sides, and larger 4×4 ATVs. Sounding like a viable tire choice for our neck of the woods, we ordered a set to see if it could spruce up the ride of our Kawasaki Teryx Sport.
We outfitted our Kawasaki Teryx Sport with CST Clincher tires.
Construction
The six-ply CST Clinchers are non-directional, which means you can change the rotating direction for more even tread wear.
CST recommended that we try its 27×9-12 front and 27×11-12 rear Clinchers for our Teryx. Listed as one inch taller then the stock 26×8-12 front and 26×10-12 tires, we were a bit apprehensive of their additional size, fearing it may reduce our machine's stability. However, we decided to follow CST's advice and see how it worked out.
The Clinchers feature a six-ply radial construction, which means more durability than typical four-ply OEM tires. Max load rating is 1130 pounds up front and 930 pounds in the rear. A built-in rim guard was a welcome feature as our Teryx Sport's flashy wheels were beginning to collect a few battle scars.
The tread features interlocking C-shaped center knobs to provide a smooth ride in dry conditions, with wider spaced shoulder knobs for increased traction in the loose or sloppy sections of the trail. Grooved knob centers increase the number of biting edges on top of hard-packed dirt. Stepped knob edges provide additional bite when the knobs start digging in the softer stuff. As a non-directional tread, you can change the tires' rotating direction from time to time for longer life and more even tread wear.
The Test
It didn't take long to take notice of the improved handling.
After mounting our Clinchers up, we headed to Bill's 491 Off Road, located in Demossville, Ky. to put them to the test. The trails were dry and hard with mud holes and creek crossings thrown.
When you switch out tires on a machine, you are usually trading one thing for another. With the Clinchers, we gave up very little for a surprising improvement in overall handling. Small bumps were notably dampened thanks to the tires' radial construction. Their slight increase in height allowed them to roll more smoothly across logs, rocks and other obstacles. We were surprised how easily the Teryx steered and bump feedback through the steering wheel seemed lessened.
The tires perform superbly on hard pack. We aggressively negotiated some tight trails scattered with mud holes where the Clinchers easily found traction in two-wheel-drive. We managed to get the rear end spinning on a couple of slippery creek banks and in sections of the creek with deep sand, but switching into four-wheel drive got things hooked back up and driving.
Even climbing up a slick bank, the CST Clinchers hook up impressively well in four-wheel drive.
We expected the tires' taller size to make the Teryx feel more top heavy, but were pleasantly surprised to find that with the wider contact patch and reduction in tire roll the machine actually felt more planted on side hills and entering corners. We still noticed some font-end push when charging tight turns, though this trait seemed to be lessened with the Clinchers. Stomp the gas and the rear end can slide around predictably. The tires' extra size and weight, at 29.8 pounds rear and 23.75 pounds front, may slightly hamper acceleration, but the overall improvement in handling is worth way more in our opinion. Add a slip-on exhaust like we did, and you can easily offset any additional drag the tires may provide.
With a protruding front end, extreme approach angles can present a challenge to the Teryx. With the slightly taller Clinchers, our machine could tackle steeper approach angles without the front end digging in.
With the taller Clinchers, we could take steep approach angles without worrying about burying the front end.
After a full day of riding, the CST Clinchers still look nearly brand new. No cuts, no flats, and the edges are showing virtually no sign of breaking down.
Conclusion
Tire pricing varies a lot from MSRP to what people actually pay, but the clinchers seem to lie somewhere in the middle of the price range. A tire that can last through a couple of seasons while providing predictable traction, good stability, and excellent bump absorption seems like a winner to us.
Published September 7th, 2012 12:53 PM
Top Brands
Popular Articles