1 View
Yamaha Raptor 125 Project – Performance
May 4th, 2011 2:11 PM
Share
We add a DRD exhaust and new tires and wheels
ATV.com and Yamaha are teaming up to give away a 2011 Yamaha Raptor 125 to one of our readers. This is the third article in a four-part series on the newest Raptor. Click here for the more information on the Yamaha Raptor 125 Contest.
Since we upgraded our Project Raptor 125 with protection products from GYTR, aimed at making our machine more durable and longer lasting, we have been busy working on the next stage of upgrades. Record-breaking rainfall has kept us off the trails longer than we expected, but we've finally had a chance to see how our changes affect the performace.
Trail Ready Raptor
With GYTR skid plates, nerf bars, bumper, grab bar, and shock covers installed it was time to determine the destiny of our machine. We suspect that most individuals will purchase this machine for trail riding, so our modifications were chosen to make the little 125 a more capable trail machine.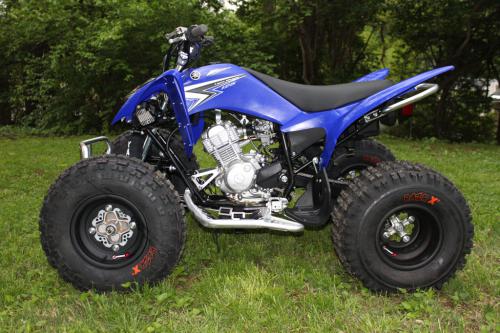 Having destroyed the stock plastic skid plate on rocks, we decided to gain some ground clearance. Going to a larger tire would gain us ground clearance, but we wanted to be weight conscious. We were looking for a light 20-inch tire and Maxxis suggested we use its new Razr Xc cross country racing tires – 2-11×9 rear and 21-7×10 front. Maxxis' latest generation cross country race tire features a brand new tread pattern with grooved knobs designed to bite hard under acceleration while sliding predictably. According to Maxxis the new Razr Xcs are constructed of a durable rubber compound, designed to maintain sharp biting edges longer in "gnarly" conditions. A six-ply rating helps provide puncture resistance.
The Rzrz Xcs 9-inch diameter meant we would have to switch out the stock 8-inch wheels. Looking for something light, strong, affordable, and of-course the proper size, we contacted Rocky Mountain ATV and ordered a set of its G-Force XC wheels. The 10×5 fronts and 9×5 rears retail for $49.99 polished, or $52.99 Black. That's a pretty good bargain compared to what some other wheel manufacturers are offering.
Upon installation of the wheels and tires, we discovered one major issue. The GYTR nerf bars we installed in the first part of this project don't allow sufficient clearance for a 21-inch front tire. When you turn the handlebars far in either direction, the front tires rub the front of the nerf bars. We were left with two choices: remove the nerfs, or stick with the stock tires. While this would have been an expensive mistake for you, we test so you don't make mistakes like this.
Feeling that rider safety is more important then a bit of ground clearance, we decided to retain the stock wheels and tires and the safety of the GYTR nerfs. The Raptor's stock Maxxis tires are excellent performers and becoming the tire of choice among youth ATV racing circles. Look for a test of the Maxxis Xc tires and G-Force wheels in the near future. For now, our test riders will have to rely on good line selection and GYTR's more durable rear aluminum skid plate.
More Power
We originally decided to add a Dubach Racing Development complete exhaust system to help compensate for the extra rotating mass of our aftermarket wheels and tires. As it turned out, the DRD pipe would wind up being added for pure performance enhancement. DRD works directly with Yamaha on a lot of projects, so we suspected it would produce one of the better performing exhausts on the market for this machine. We tested out a DRB pipe a couple of years ago on a Raptor 250 and were quite pleased with the performance boost.
The DRD head pipe features 304 stainless steel construction. The exhaust flange is welded to the head pipe, eliminating the weight and hassle of systems utilizing springs. The built-in billet aluminum exhaust hanger is TIG welded to the body of the silencer. A light weight magnesium end cap helps keep weight down and features Removable bolts on the inlet cap to allow for easy repacking and a stepped perforated core to reduce heat for greater durability.
With the stock engine putting our around 6hp, the DRD system is said to increase its horsepower between two and three horsepower throughout the RPM range. According to DRD, "We work to enhance the stock power output of a machine, providing more power everywhere. We don't focus on gaining power in one particular area, unless it is extremely deficient in one particular area. More power throughout is exactly what we were looking for.
DRD was back ordered on these exhausts when we placed our order so it took several weeks to get. DRD offers jetting recommendations for most carbureted models, but did not yet have anything available for the Raptor 125, since it is a new model. We contacted DRD directly and were informed that the exhaust can be run with the stock jetting with the airbox lid on, and that the additional two to three horsepower comes with no change in jetting. If you want to toss your airbox lid for even more performance, DRD recommended going up between one and two sizes on the main and one size on the needle.
The Dubach Racing Development complete exhaust system retails for $499.99. If you don't want a complete system, you can buy the slip-on for $319.99.
Roomy Ergonomics
To spice up the cockpit a bit we installed a set of Tusk Universal Big Bar Clamp Kit from Rocky Mountain ATV for $34.99. These bar risers are constructed of aluminum, raise the handlebar mounting point by ¾ inches, and allow for the use of 1 1/8 inch handlebars.
While we were at it, we ditched the stock steel handlebars for Tag Metals T2 handlebars for $89.99. The CR high bend aluminum bars are tapered from 1 1/8 inches to 7/8 inches for use with standard size grips and controls. The bar comes complete with a crossbar pad and cover and we have been extremely happy with their durability on past projects.
Spider Grip's A3 ATV and watercraft grips replace the stock grips for $10.99. These flangeless grips feature a deep pattern for water dissipation and a dual density construction to dampen vibration. This is another product we have used repeatedly due to its excellent performance and feel.
The Test
For the last month of rain, we have anticipated the opportunity to put our Project Raptor 125 to the test. Alas, the clouds have parted and after two days of drying we hit the trails to find out what our pumped up 125 was made of. We took our Raptor to a private one-mile trail loop we are cutting for mountain biking. The trails consisted of lots of tight switchbacks with many off-camber corners. Lots of hills have you riding the brakes or holding the throttle wide open, and there were lots of small logs littering the trails.
We fired up the engine to the meaner growl of the DRD exhaust. Our initial plans were to remove the airbox lid and rejet the carburetor. Knowing that our machine was being given away to one lucky contest winner, who might want to ride in wet conditions, we opted to leave the airbox lid on and maintain the stock jetting. While the little Raptor now possesses a meaner sounding exhaust note, the DRD system is still reasonably quiet.
The benefits of the DRD exhaust could be felt throughout the RPM range as advertised. The exhaust didn't transform the way we rode the machine, however it did make its performance feel a bit peppier, most notably in the midrange. The additional thrust of the freer flowing exhaust made it easier to power slide through corners. Large and small riders alike can have a ball on this thing.
We were impressed with the performance of the complete stainless steel DRD exhaust, having simply installed it. To see what would happen, we removed the airbox lid and the engine immediately started sputtering at high RPMs from a lack of fuel. If you win this bad boy and you don't ride in lots of water, toss the airbox lid and go up two sized on the main jet, and one on the pilot, as recommended by DRD. There is even more power to be had once you balance the intake with the exhaust.
The combination of the Tag T2 handlebars and Tusk handlebar risers provided a cockpit that allowed pilots of all sizes to ride more aggressively. The slightly wider, less swept back bars naturally raise your elbows up into the attack position. Being less swept back also provides more knee clearance for taller riders while cornering or riding aggressively. A proper fitting set of high quality handlebars like the Tag T2s is one of the most affordable ways to improve control and increase speed. Rocky Mountain's Tusk-brand bar risers allowed us to adapt the Raptor to accept the 1 1/8 inch handlebars, without the expense of purchasing a $300 steering stem.
Yamaha's stock grips aren't bad, however there are those of us on staff that simply prefer the feeling of Spider's A3 Grips. Their vibration absorbing qualities aren't as important on the smooth running Raptor, however their pliable tacky feeling creates minimal pressure points, providing a blister free ride. We definitely appreciated them on the machine.
Losing a few pounds and gaining additional power made the machine feel even lighter and more maneuverable attacking corners or bunny hopping logs on hill climbs. The new cockpit alone would have improved our speed. Having the confidence provided by GYTR's undercarriage protection and nerf bars allowed us to be a bit more aggressive in rocks and on log crossings. By addressing durability, ergonomics, and performance, we have taken every aspect of the 2011 Yamaha Raptor 125 to a higher level. Ultimately, that makes it even ore fun to ride.
Related Reading
Yamaha Raptor 125 Project – Protection
2011 Yamaha Raptor 125 Review
2011 Yamaha Raptor 125 Trail Review
Yamaha Raptor 250 Project – Overview
Dubach Racign Competition Exhaust Review
Published May 4th, 2011 2:11 PM
Top Brands
Popular Articles