7 Views
Dubach Racing Competition Exhaust Review
August 9th, 2018 6:58 PM
Share
We're committed to finding, researching, and recommending the best products. We earn commissions from purchases you make using links in our articles. Learn more here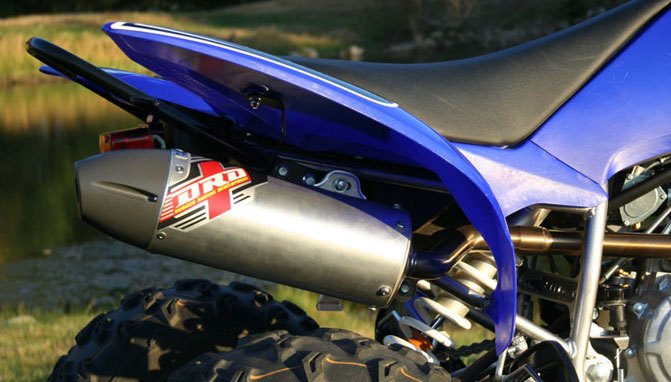 Product test and step-by-step install on Raptor 250
With the release of Yamaha's very popular little beast, the Raptor 250, many consumers were asking for even more grunt to add to this already powerful machine.
Dubach Racing Development (DRD) was one of the first aftermarket exhaust companies to get their hands on Yamaha's entry-level sport quad. After receiving the Raptor 250, DRD owner Doug Dubach and Yamaha factory rider Dustin Nelson immediately started testing. They put in many hours of seat time on various types of terrain to make this machine push out more power and fun.
"The goal for DRD was to improve throttle response, add more top end power and over rev," says marketing coordinator Mark Tilley.
We had a chance to install and ride the Dubach competition exhaust system on our 2009 Raptor 250. You can read about how to install the exhaust on your Raptor 250 below. Installation was a breeze; you can change out your stock header and slip on, and have the DRD header and brushed aluminum muffler on within 30 minutes.
Our stock Raptor actually had a good amount of power to begin with, but when it came to getting that extra oomph to sail our little machine over long jumps or tall hills we felt like it could use a boost. After installing the DRD competition exhaust system, that was no longer a problem. Our Raptor was now peppier and had better throttle response than with the stock exhaust. With the DRD system it felt like our gears were taller and could rev out the engine more than the stock exhaust. Ultimately, that means more power and a faster ATV.
Another bonus of adding the DRD exhaust is the way it sounds. The Dubach system, compared to stock, has a much deeper and more throaty sound to it, more like the sound you get out of a 450cc sport quad.
The Dubach Racing Development competition exhaust gave our Raptor 250 more power and deeper sound.
Dubach Racing Development put a lot of time into testing this system and the ride proves it. With the full system costing $524.99 ($334.95 for slip-on), its money well spent to make your Raptor 250 faster and improve its overall performance. It's the easiest way to improve your Raptor 250's performance and power without breaking into the engine and potentially diminishing its reliability.
Get Dubach Racing Competition Exhaust Here
Visit the official Dubach Racing Development website for more information.
'How–To' Install a Full System Exhaust
You'll need the following tools: Metric sockets (10mm or 12mm), socket extension, wrench (or ratchet wrench) and Loctite.
Loosen clamp between muffler and header. Remove upper and lower muffler bolts.
Remove header nuts (this is where a ratchet wrench comes in handy) and remove header.
Slide header into place over the engine bolts.
Put a dab of blue Loctite on the threads of the header nuts and finger tighten. Only tighten them finger-tight so you can move the muffler around and line up the bolts on the muffler easier.
Slide new muffler onto the header. Put a dab of blue Loctite on the upper and lower muffler bolts. Tighten muffler bolts and header bolts. Published November 19th, 2008 11:50 AM
Top Brands
Popular Articles