2 Views
Yamaha Raptor 125 Project – Protection
March 15th, 2011 9:58 AM
Share
We're committed to finding, researching, and recommending the best products. We earn commissions from purchases you make using links in our articles. Learn more here
GYTR helps toughen up our project Raptor
ATV.com and Yamaha are teaming up to give away a 2011 Yamaha Raptor 125 to one of our readers. This is the second article in a four-part series on the newest Raptor. In future articles we'll improve power and handling to make this machine even more fun and functional. We'll also compare it to another 125cc sport quad in a head-to-head shootout. Click here for the more information on the Yamaha Raptor 125 Contest.
Yamaha's 2011 Raptor 125 was a perfect machine to bring to the market. It offers true sport performance and quality that we suspect will have it being handed down from generation to generation of young riders.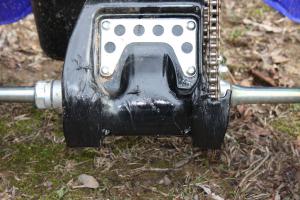 After our first track test of the Raptor 125 last year, we received our test unit, which we put through a thorough trail evaluation. The little Raptor proved that it is a very capable trail machine for its displacement, but after finishing up the test we noticed one small problem. The rear skid plate was pretty banged up and was even missing a chunk of plastic. While the stock plastic skids might be good enough for the sand dunes or trolling around the back yard, the Raptor's small rear tires and plastic skid plates make it vulnerable to rock damage.
With ATV.com's Raptor 125 giveaway right around the corner, we wanted to make the necessary changes to help ensure that our machine had the durability to withstand years of hard trail use. So in part one of our two-part Yamaha Raptor build-up, we will install the necessary products to maximize the machine's durability for the trail.
GYT-R Done!
Yamaha has a more extensive line of aftermarket protective and performance parts for its ATVs than any other manufacturer on the market. If you know you ride in rocky conditions you can have your machine fully outfitted with protective goodies before you leave the dealership for your first ride. Yamaha's GYTR products are developed using each machine's CAD drawings. This is said to ensure a true OEM quality fit. We found this to be true with our Yamaha Grizzly 550 EPS project last year.
Yamaha offers a number of products for the Raptor 125, which can be viewed at Yamaha-Motor.com. We started hardening our Raptor for battle by fixing its Achilles heel. We replaced the broken and vulnerable rear skid plate with a GYTR aluminum Swing Arm Skid Plate for $154.95.
The underside of the frame and A-arms are still looking good after its first hard trail ride and we want to keep it that way. The stock plastic chassis skid plate only covers the rear of the frame and underside of the engine. We replaced it with a GYTR Engine/Frame Skid Plate for $114.95. For the A-arms, which are unprotected stock, we bolted up a set of GYTR A-Arm Skid Plates which cost $89.95 for the pair.
All of the skid plates are made of brushed aluminum. The chassis and A-arm skid plates feature recessed bolt holes, helping protect the bolt heads from being damaged by trail obstacles. Fitment of the skid plates was perfect; however, the threads on one of the A-arm skid hooks had threads that weren't quite perfect and needed to be chased to clean them up.
To finish off the chassis protection we added GYTR's MX Front Grab Bar for $148.95, which is also available in black for $153.95. We think the front grab bar looks racy, provides better hand holds for tugging your machine out of the muck and is still super light. We like the standard aluminum finish since it won't show deep scratches as easily as the black bumper. As expected, fitment was perfect.
Since we had chosen aluminum for the bumper and nerf bars, we went ahead and switched out the Raptor's stock steel grab bar for a lighter aluminum GYTR Rear Grab Bar for $74.95 in silver, however black is available for five bucks more. The grab bar is constructed of 6063 aluminum and features a built in whip flag mount.
One area of the Raptor 125 that is vulnerable to damage from the elements we ride through is the suspension. Tiny particles of dirt, rock, and moisture wear on the chrome shaft and seals that keep the fluid in and the dirt out of your suspension. A set of GYTR Shock Covers, $32.95 front and $16.95 rear, can greatly extend the life of your shocks and look good doing it. The shock covers are available in blue, silver, red, or black to fit the looks of your machine.
The shock covers are made of a water-resistant material to help keep elements out while their small built-in vent holes allow moisture and heat to escape. They attach in a couple minutes with an easy-to-use Velcro closure.
To provide additional rider safety, we installed a set of GYTR Aluminum Nerf Bars for $249.90 in silver, or $269.90 in black. The nerfs feature 1.5 inch webbing and are AMA/ATVA race legal, should you have the thirst for competition. Whether you plan on racing or not, nerf bars greatly reduce your risk of injury should you lose a foot peg. The nerfs bolt up with no drilling or prying required and feel strong with minimal flex.
The Results
Looking at the machine, cosmetically the results speak for themselves. Our Raptor looks more aggressive and is now more bulletproof from the bottom up. While nothing we installed on this machine was designed to enhance performance, we believe the extra security of having nerf bars may allow some riders to push themselves a bit harder. We know we feel a lot more comfortable having them installed.
People new to riding with nerf bars sometimes feel like the nets get in the way of their boot while upshifting. Make sure you have enough play on the inside of your nets to allow you operate the shift and rear brake levers.
Comparing the GYTR skid plates to stock, there is no doubting their structural superiority. We navigated a few log crossings smoothly, with no fear of the stock plastic skid and what the log could be doing to our lower frame rails. Having a smooth underside to the machine also helps you traverse rocks and logs easier without getting hung up.
With winter coming to an end and spring right around the corner the ground was pretty saturated. Peeling away our GYT-R shock covers we were greeted by shocks free of virtually any grime. At least there is one part of the bike we won't need to wash!
Now that we have toughened up the Raptor 125, we want to work on making it a more capable trail machine. In spite of adding a tougher rear skid plate it could use a bit more ground clearance for gnarly trails. This means using taller tires and acquiring some extra power to turn them. Make sure you check out the next part of our Raptor 125 project for full details. Published March 15th, 2011 9:58 AM
Top Brands
Popular Articles