2 Views
2013 Yamaha Raptor 700 Project: GYTR Power and Protection
June 30th, 2020 9:28 AM
Share
New exhaust, nerf bars, bumper and graphics
As a way to thank our loyal readers, ATV.com is building up and giving away a 2013 Yamaha Raptor 700. We've teamed up with Yamaha and some of the biggest names in the industry for this project and one of our lucky readers will take home the finished product.
While the 2013 Yamaha Raptor 700 is piles of fun right out of the box – you can read our review of the stock machine here – you can always make something better. In our experience, the most logical place to look for ways to improve or enhance Yamaha ATVs is through GYTR (Genuine Yamaha Technology Racing).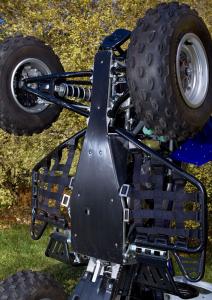 GYTR parts and accessories are made by Yamaha for Yamaha, so you know they're going to fit just right. We've worked with GYTR parts a number of times and have never been disappointed with the overall quality, fit, and finish.
In our experience, the first thing you should do with any new ATV or UTV is protect it – especially the easily forgotten underside. It was a no brainer to add a GYTR Plastic Frame Glide Plate, which will provide many miles of fun trail rides and keep the vital organs safe from rocks, roots and trail scrub that would otherwise penetrate and stop the ride. The GYTR Plastic Frame Glide Plate gets the rocket ship over the rough stuff without adding too much extra weight to slow you down.
As the greatest riders of our industry have stated, "you have to stick your nose out to smell victory," but sometimes a little protection up front will help you get through the crowd. We all know that bumpers help convince the competition to step aside so adding the GYTR Sport Front Grab Bar to the project will undoubtedly help the big bore machine to lead the way. The aluminum tube construction gives off a stylish and a serious tone for those who may challenge the Raptor.
Of course, it's not just the machine that needs to be protected. Whether you race or just trail ride you need to keep your legs, ankles, and feet protected. Our Yamaha Raptor 700 project comes equipped with GYTR Nerf Bars with Black Webbing to keep you safe. The aluminum Nerf Bars will keep the unwanted trees from the tight woods turns away from your legs and the webbing will also keep your feet above the pegs should they slip off during the ride.
A logical pairing for the Nerf Bars is a set of GYTR Aluminum Footwells, or heel guards as some of you know them. These black Footwells follow the same color theme as the Nerf Bars and the glide plate underneath. Footwells give the rider support for the heel and keep sticks or other debris from being thrown forward by the rear tires into the rider's legs. It's an investment in rider safety very much work making.
With protection out of the way, it's time to get a little silly. As if the 2013 Yamaha Raptor 700 wasn't powerful enough, Yamaha decided to team up with FMF and built the GYTR/FMF Power Core 4 pipe for the Raptor. This powerful addition to the Raptor's 700 engine just adds the right amount of attitude to the mix. With a gain of HP from the aluminum and stainless steel construction you will find power as well as massive amounts of torque to get the machine cruising down the trail. This slip-on pipe is built with durability in mind because we all know once you get this machine it is not going to be a trailer queen. The throaty sound of the pipe also draws the eyes of your competition and with a removable spark arrestor you can be prepared to ride any trail system. Since not every trail allows an aftermarket pipe due to sound restrictions, the winner of our Raptor 700 project will also take home the stock pipe.
What is all that power and added protection without a little boost in style? As luck would have it, GYTR has a handful of items that add a some bling and some attitude to the Raptor. GYTR specialty plugs dressed in Yamaha blue anodized 6061 aluminum fit in and replace the timing plugs and oil filler cap to just let everyone know that you're a class act. These really trick parts may not add big ponies or offer protection, but looking good is also part of the game! Speaking of looking good, Yamaha also hooked us up with a GYTR Graphic Kit by ONE Industries. This tough and stylish race suit will withstand abuse and with the combination of whites and blues the cool factor grows even larger.
Admittedly, we are a little torn about this machine because we can't win it. But with products provided by GYTR and others coming down the line, ATV.com will make sure the Raptor 700 Project vehicle gets everything it needs to make one of our readers really happy.
Published November 6th, 2012 9:36 AM
Top Brands
Popular Articles