22 Views
2013 Yamaha Raptor 700 Project: Control and Traction
June 30th, 2020 9:28 AM
Share
We're committed to finding, researching, and recommending the best products. We earn commissions from purchases you make using links in our articles. Learn more here
Tires and wheels and handlebars...oh my!
As a way to thank our loyal readers, ATV.com is building up and giving away a 2013 Yamaha Raptor 700. We've teamed up with Yamaha and some of the biggest names in the industry for this project and one of our lucky readers will take home the finished product.
The last time we had a great deal of action on what we would have considered as a powerful sport quad was almost two years ago. The market has become quiet and getting to push the thumb throttle on a Yamaha Raptor 700 brings back memories of our racing days. The 2013 Raptor 700 has a belly full of rage and getting the power out of the motor is really easy. The only problem we found with that much power is making it contact the earth beneath it and motivating the entire ATV forward without exploding the tires.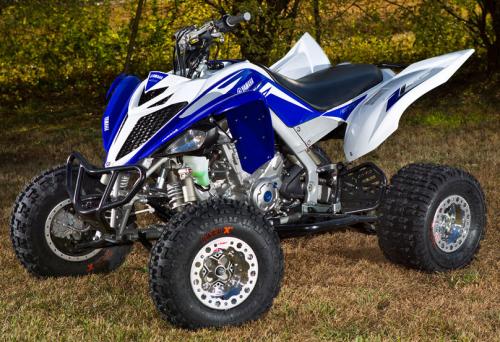 Head over to our Yamaha Raptor 700 Contest Page for a chance to win this ATV!
This was a consideration when our team began to put together a few add-on parts for this project/giveaway quad. We also wanted to get a good comfortable grip on the steering of our Raptor with that crossbar feel so changing the handlebars would also be on the list. One of our readers is going to take home this fantastic machine and we want the recipient to have what he or she needs to enjoy and control the fast-forward thundering torque that lies in wait for its rider.
Maxxis Tires and OMF Performance Wheels
As the name suggests, Maxxis' Razr Xc tires are ideal for cross country and woods riding.
As you may have figured out by now, we went digging for a great set of traction-filled tires for the front and rear of our Raptor 700. Since the spec tires on the machine are actually Maxxis tread and work for the general trail user, we opted to give the guys at Maxxis a call. After talking with Maxxis about the type of quad we were putting together, we found a brand new set of quality tires waiting at the shop in a few short days.
Maxxis sent us four of its new Razor Xc tires to cover our needs. This tire is built to grab at any trail condition and spit it out with a vengeance. The six-ply design has a compound of rubber that is designed to last longer and keep the sharp biting edges tearing away under the power of our Yamaha Raptor 700. The tire lugs are pre-grooved just like many of the top GNCC racers have done to add even more grip. We're comfortable with the thought that these tires will be a great addition to our project Raptor.
OMF Performance added inner and outer reinforcement rings to DWT red label wheels.
With the Raptor's new shoes delivered, we had but one issue to address before we were ready to install. We wanted a tough new wheel to be an equal to the tough new Maxxis tires. Reliability and toughness is a quality that only a few wheels can claim, so we gave our friends at OMF Performance Products a call. OMF has been building beadlock as well as reinforced rims for the ATV industry for many years now. The quality and durability of its wheels speaks for itself as many championships have been won with OMF's confidence-inspiring products.
Adding a reinforcement ring to a DWT red label .190 spun aluminum wheel creates an incredibly tough product. The guys at OMF not only add the rings to the outside of the wheel, but also to the inner lip as well. This makes our tire and wheel combo look and perform like a heavyweight prizefighter!
Beyond improved traction and durability, this tire and wheel package is easy on the eyes.
Pro Taper Handlebars and Grips
Pro Taper's crossbar-style SE bars are made with AS20 Aerospace aluminum.
After mounting the Maxxis Razr Xc tires on our OMF reinforced wheels, we installed them on the Yamaha Raptor 700 and took a step back for a look. All we could think was that this machine was going to make some person out there very happy! We climbed aboard the beast and noticed something was missing from the equation. Back in the cross country racing days we used to love the feel of a crossbar-style set of handlebars. With just a few more days to finish the fine-tuning of the Raptor, we contacted the great folks at Pro Taper for their thoughts on what may work best to control this machine.
After a few trips around Pro Taper's website, we found the SE (or Seven Eighths) line of replacement bars that had the crossbar in place. These bars are made of AS20 Aerospace aluminum developed by Pro Taper and feature a full 5mm wall thickness for maximum strength. The decision was made and we placed the order. The clutch side of the bars is knurled for secure grip hold and if you really need to cut off any length on the bars Pro Taper added quarter-inch lines on the bars to help you accurately trim the length.
Paired with Pro Taper's Dual Density Full Diamond grips, the SE handlebars help complete our Yamaha Raptor 700 Project.
Although we had our bars mounted and set to our preferred location, we were missing something else. As we shook the paper out of the box a brand new set of Pro Taper grips hit the floor. The ATV Dual Density Full Diamond Grips are made with two different types of Kraton rubber that offer a tacky feel, but are built to hold up over many rides. We even had a sweet new easy-to-use bottle of Pro Taper's Grip Glue to get these grips set in place for hours of trail raging.
Fly Racing Gear
As if a 2013 Yamaha Raptor 700 modified with performance goodies from GYTR, Maxxis, OMF Performance Wheels, and Pro Taper isn't enough, the winner of this awesome machine will also take home a complete set of riding rear from Fly Racing.
The winner of our Yamaha Raptor 700 project quad will also take home this Fly Racing Kinetic Inversion gear package. Basically, you get everything you need to go riding except a tank full of gas.
Fly Racing was kind enough to hook us up with its Kinetic Inversion gear package, which includes a Kinetic Inversion helmet, pants, jersey, and gloves. The kit also includes Zone Pro goggle and Kinetic Maverick MX boots.
Go Register Already!
Here is our fully completed Yamaha Raptor 700 project quad. Good luck to all who enter for a chance to win it.
Combine the price of the 2013 Yamaha Raptor 700 with all the parts, accessories, and riding gear and the winner will take home a prize worth more than $10,000! If you haven't signed up yet, now is the time. It only takes a minute or two for a chance to take home this fantastic package.
We are ready to take the completed Raptor 700 project out to the local trailhead and see just how our improvements make the machine work. With one more final ride review of the 2013 Yamaha Raptor staring us in the face we will then begin the process of finding this beast a new home. Good luck to everyone! Published November 19th, 2012 9:48 AM
Top Brands
Popular Articles