6 Views
Yamaha Grizzly 550 Project
June 30th, 2010 3:28 PM
Share
We're committed to finding, researching, and recommending the best products. We earn commissions from purchases you make using links in our articles. Learn more here
Three simple bolt-ons make a tougher Grizzly
The Yamaha Grizzly 550 is such a capable, nimble handing, and fun-to-ride ATV we've managed to rack up a lot of time on it. We have conquered a lot of rugged terrain on the machine, but one day while grinding over some rocks in a creek bed we managed to rip the front mounting holes out on our machine's stock rear chassis skid plate. Fortunately, we were able to re-secure the skid plate, but we knew it would need to be replaced before our next outing.
Like most 4x4s, the Grizzly is equipped with plastic skid plates. They're light weight and offer sufficient protection for most trail obstacles, but as we have learned, large jagged rocks are a formidable match. We wanted to continue riding our Grizzly wherever the trail led us, but we knew if we were going to play in the rocks some upgrades in undercarriage protection would be a good idea. With tough conditions in mind, we decided to add a small handful of accessories to our Grizzly to make it more durable and improve its overall capability in the worst trail conditions.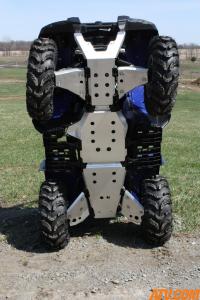 To protect the underside of our machine we installed a set of Genuine Yamaha, GYTR aluminum skid plates. The set includes a Frame Skid Plate ($114.95), Front Bash Plate ($115.95), Rear Bash Plate ($125.95), Front A-Arm Skid Plates ($136.95), and Rear A-Arm Skid Plates ($107.95).
"…Every GYTR product we have ever tried fits perfectly."
Going with GYTR skids was appealing for several reasons. First, since they are a Genuine Yamaha part they're readily available at your local Yamaha dealership for install on a new machine, or you can pick them up and install them yourself. Second, every GYTR product we have ever tried fits perfectly – these skid plates were no exception. Tearing off the stock skid plates and installing the new ones took just 40 minutes with no need for bending, grinding, or cursing. Third, the GYTR skids feature multiple holes for drainage and have rubber pads on top which sit against the chassis to prevent rattling from vibration.
Since we do so much of our 4×4 riding in the wet weather months, we decided to try a set of GYTR Brush Deflectors ($15.95 + $32.95 for mounts) with Brush Deflector Extensions ($12.95). Both the Brush Deflector hand guards and extensions are available in a variety of colors to match the look of your machine. The Brush Deflectors come with all the necessary mounting hardware and install easily in about 15 minutes.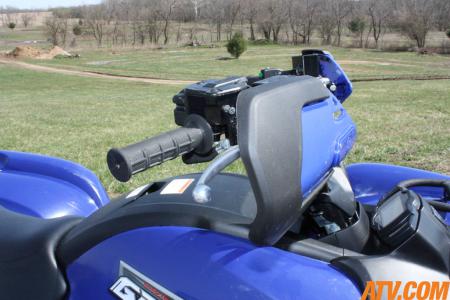 The last item we decided to install was a set of Excel Slingshot XT tires ($72.95 – $120.95). The stock tires are good for all around sport utility use, but we wanted a tire that would excel in the wettest months of the year and hopefully still provide a decent ride in drier conditions. The Slingshot XTs feature 1.25-inch lugs with an open tread pattern to provide good mud cleanout. The lugs extend to the center of the tire to provide a smooth ride and are dimpled, creating more biting edges for traction on hard-packed conditions. A tire this aggressive in a larger size could start detracting from the 550's overall performance so we stuck with the stock tire sizes. We also retained the ultra light stock wheels to keep rotating mass down for trail riding, although if you are a serious rock crawler you may want to look into some stronger aftermarket wheels.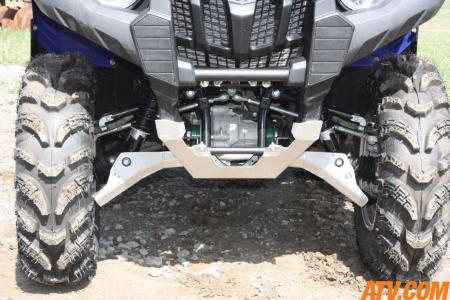 We hit the trail at New Vienna Motorsports for testing on an incredibly sloppy 60-degree March day, which proved to be about the perfect testing conditions for all products involved. Before we gave our Grizzly its first dunk, we had to take notice of its sportier appearance thanks to the GYTR skid plates and hand guards.
We began testing on the driest, hardest dirt we could find. The Excel tires rolled along nicely without excessive vibration. Directional control was good, but the Grizzly lost some of its easy-to-slide, fun-to-wheelie feeling it had with its lighter stock tires. It's a tradeoff we would expect from any soft terrain tire.
Next to the entrance of the trail loop we found a pile of railroad ties. Knowing our undercarriage was well protected we approached this obstacle with a completely different attitude than we would have on the stock machine. We were hoping to make some good contact to show how tough the skid plates were, but the Grizzly's good ground clearance (which is well maintained with the GYTR skids plates) made it difficult to get high centered. Later on we got bottomed out on some large rocks crossing a creek. A quick switch to reverse and some rocking action were all that was necessary to get us going.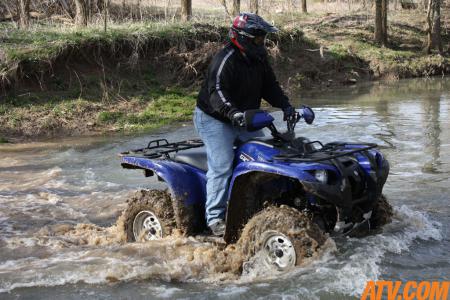 Most of the trail loop was saturated with a few exceptionally sloppy sections. The worse the trail conditions got the better the Excel SlingShot XT tires worked. Very few sections actually required four-wheel drive, and those that did were a breeze to get through. Even when attacking some nasty mud holes we were able to churn our way through without having to excessively spin the tires thanks to their excellent cleanout.
Towards the end of the day we took our beefed up Grizzly and our chase 4×4 back out for an hour of charging through the slop. We were very pleased with how well the GYTR Brush Deflectors deflected mud being kicked up by the SlingShot tires and the other machine. Final inspection of our skid plates show very little signs of wear despite being banged on by creek rocks and drug through deep ruts.
Conclusion
With only a few parts we took one of the best sport utility ATVs on the market and made it tougher and more capable of tackling the worst of conditions. This machine could easily be further customized for hunting, hauling, or plowing with Yamaha's other GYTR accessories available from your local Yamaha dealer.
You can check out the full line of Yamaha GYTR accessories by visiting Yamaha-Motor.com. To learn more about Excel tires visit ExcelTireandWheel.com.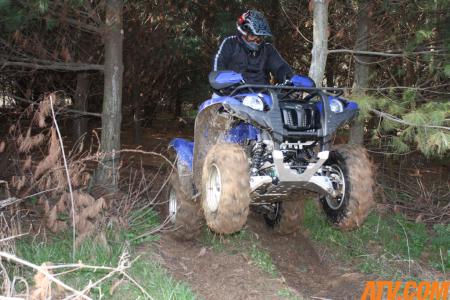 Published June 30th, 2010 3:28 PM
Top Brands
Popular Articles