12 Views
Best Kawasaki Mule Seat Covers
August 31st, 2021 5:04 PM
Share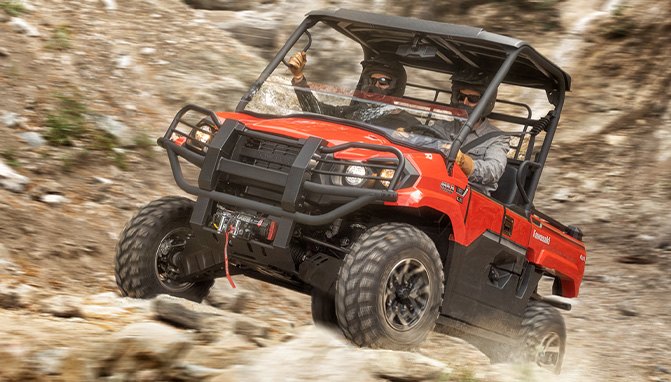 Keep your Mule looking fresh when you install these best seat cover options.
There's a non-zero chance that, if you own one of these rigs, you'll be in the market for a set of Kawasaki Mule seat covers at some time or another. After all, they are built for work – the word mule is right there in its name – so the chances of poking a hole in the seat with a screwdriver or dropping a reciprocating saw on its bench is actually pretty reasonable.
Assembled here are a variety of seat covers for your Kawasaki Mule, including some for that six-seat beast which gets deployed when all hands need a run to the jobsite. Make certain the cover you are buying fits your specific make and model (and year!) since there are minute but important differences between some vehicles.
1. Editor's Choice: Kemimoto UTV Bench Seat Cover
After stating we have two-row options, we'll naturally kick off the list with a product for single-row Mules. The fledgling Kemimoto brand pops up nearly everywhere now when searching for aftermarket UTV accessories, and the world of Kawasaki Mule seat covers is no different. The fit is said to be very snug with elastic all the way around, and its cover also has a strap on the bottom center to help hold it on the cushion. In other words, it shouldn't bunch up like ill-fitting bed sheets every time you or your workers clamber aboard the rig. Kemimoto seat covers are made of heavy-duty 900D fabric with a water-resistant backing and exterior coating for maximum weather and abrasion protection.
2. Best OEM Single Cab Seat Cover: Kawasaki Mule Seat Cover - OEM
Popping for a factory option is rarely a bad idea, since the accessory ends up being designed by the very company that built your machine in the first place. This seat cover has great reviews on Amazon (4.7 out of 5 stars from nearly 150 customers) and weighs just a couple of pounds. It is intended for single-row Mules and comes with both the seat bottom and back covers. In what must be presumed as a legal effort to cover (pun intended) themselves in case of manufacturing errors, the ad does strangely state the seller "cannot display fitment" at this time. However, they encourage customers to contact them with their Mule's VIN to make sure they're ordering the right cover. Most customers seem to be satisfied with this and have gotten specific feedback from the seller regarding fitment. Check them out for Mule 3010 seat covers and Mule 4010 seat covers
3. Best 6-Seater Seat Cover: Kawasaki Mule Seat Cover - OEM, six-passenger
Note that while this is advertised as a cover for two-row Mules, and the picture identifies it as such, the seller will only ship a single cover unless you specify otherwise. In other words, you need to double the price you see in the ad if you want full coverage for all the seats in your four-door Mule. The cover itself is a camo pattern, potentially matching the exterior of your rig and preventing those pesky mallards from spying on your machine and flying away. This cover is marketed as a gen-u-wine Kawasaki accessory, which is a good thing in terms of proper fitment. It features an elastic band along its edge to keep the thing in place; it's also machine washable which, given the lot in life handed to most Mules, is a very good thing.
4. Classic Accessories QuadGear Black UTV Bench Seat Cover
Heavy duty ProtekX6 fabric with water-resistant backing and exterior coating is said to provide maximum weather and abrasion protection, so feel free to go ahead and wear those sandpaper-rough work pants. Like others here, this cover protects new seats or renews the look of old ones while shielding against dirt, mud, and weather damage. The package includes bottom and back seat covers (also includes separate headrest covers where applicable). An elasticized hem and attachment straps provide a quick and custom fit, while stretch foam panels improve the fit on many models. If only we could say the same about our denim jeans after a big home-cooked meal.
5. Genuine Kawasaki Accessories Bench Seat Cover
We're adding this one to the mix since it is designed for brand-new machines that have not long been in the market, such as the 2020 - 2021 Mule Pro MX. Most of the covers on this list so far have been for older vehicles. Here, we find a seller that is promoting an OEM fit (despite a worrying crease in the picture provided). The cover is made from heavy canvas and, like other ones here, features an elastic band along the edge in a bid to keep it from flying afield while you're in the, erm, field. This Kawasaki Mule seat cover is available in either black or a bizarre camo pattern called TrueTimber HTC Green. Hey, who are we to argue with 'saki's camouflage designers?
6. Kawasaki Mule RealTree Camo Seat Covers
If it's actual woodland camo you're after, this RealTree option is sure to do the trick. Incorporating a lot of browns and greys in its pattern, there's a reason why this camouflage brand is one of the leaders in its industry. Real-world customers are right to say, however, that Kawasaki's camo pattern has changed over the years (and sometimes changes from year to year), so the seat cover style may not exactly match what's on the exterior of your rig. Should you care about such things, be sure to contact the seller for an accurate picture of the item, especially since the ad states the picture shown may be a generic image. Praise from buyers include citing them as being 'very well made' and 'ranch hand tuff', quotes that should go in the brand's marketing material. Actual pictures of the product uploaded by customers show a good-looking covers with proper fitment.
How best to install Kawasaki Mule seat covers?
More than one person will tell you it's easier to install these things in a heated shop, especially if you're toiling in a cold climate. Those of you in the American southwest do not have to worry about such things, though it surely wouldn't hurt to leave the cover out in the sun for a bit prior to stretching it over the seat.
Are there different types of Kawasaki Mule seat covers?
In addition to a variety of visual styles, there appear to be different weights. This suggests some covers are thicker - and potentially more robust - than others. The whole point of a seat cover is to protect (or refurbish) the OEM perch, so a paper-thin cover will be of little use in a harsh environment. Try and get a cover that has a bit of heft; adding an extra pound or two to your Mule won't make a difference in terms of performance.
Additional Resources
We are committed to finding, researching, and recommending the best products. We earn commissions from purchases you make using the retail links in our product reviews. Learn more about how this works.
Become an ATV insider. Get the latest news first by subscribing to our newsletter here.
Published August 31st, 2021 5:04 PM
Top Brands
Popular Articles