62 Views
2015 Honda Pioneer 500 Review
June 19th, 2015 3:10 PM
Share
We're committed to finding, researching, and recommending the best products. We earn commissions from purchases you make using links in our articles. Learn more here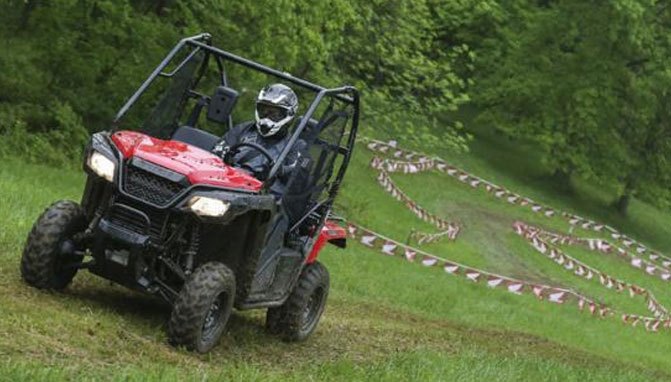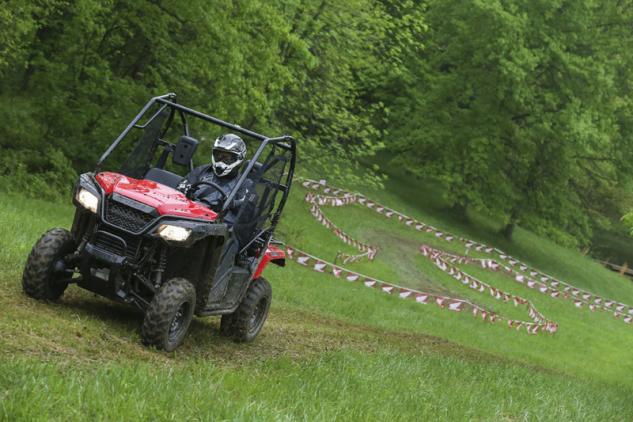 We have some fun in Honda's new middleweight UTV
The Side-by-Side industry continues to quickly evolve and manufacturing big guns are planting seeds with great new rides just as quick as you can turn the soil. Honda became one of the many movers in the market to launch an all out attack on would-be trail riders in two- or four-up machines with the launch of the Pioneer line. The Pioneer 700 and 700-4 made headlines as innovation began to flow from Honda and we had the chance to ride the next big thing from the Big Red Wing in the mountains of Kentucky.
Discuss this at our Honda Pioneer Forum.
Honda's latest Side-by-Side creation is the Pioneer 500. It's mildly powered 475cc four-stroke engine comes to life on the trail with the help of fuel injection and an automatic transmission that drives the excitement out of box. We had a full day of testing in the Pioneer 500 and quite possibly the most intriguing part of the machine was the paddle shifters, which we'll get to after covering the basics.
Starting with a 50-inch track width, Honda began building a machine that could not only be hauled in the bed of many pickup trucks but would also be easier to store. The narrow width also lends to many trails where things get really tight or where trail width is choked down to the 50-inch mark. This would also include access to narrow spaces around barns or through the tighter gates on the ranch.
COMPARISON: Read our review of the 2014 Honda Pioneer 700-4
With 9.6 inches of available ground clearance, the Pioneer 500 has the ability to travel over more rocky terrain or rutted out trails. Overall suspension travel of 5.9 inches seems a bit limited while looking at the numbers on paper, but in practice it seemed to work fairly well. Pre-load adjustable gas charged shocks on the rear allow for hauling heavier loads on the 450-pound capable rear rack system. It is unclear why the traditional bed was replaced with a rack, but looking at general use for the Pioneer 500 this could actually work out well. Maybe we are just to use to seeing the same thing over and over and a rack on a SXS is foreign to us.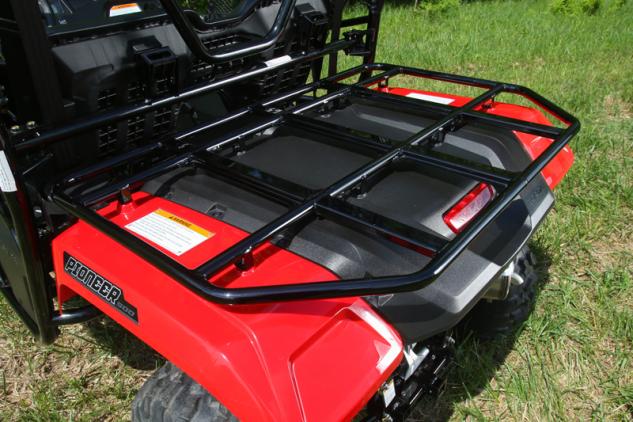 In lieu of a dump bed, Honda outfitted the Pioneer 500 with a rear rack capable of holding 450 pounds.
Towing capacity of the Pioneer 500 is a stated 1000 pounds from the rear receiver and with one super low first or "granny gear" to get you started off we bet it would drag a small truck around. With 200mm front disc brakes and 170mm discs on the rear, getting the machine stopped while empty is not a problem. However, we did not have a chance to load the Pioneer up and test its loaded stopping capabilities.
The engine of the Pioneer 500 was an inspiration taken from Honda's Foreman 4X4. Coupled to a five-speed automatic automotive-style transmission, the overhead valved, single-cylinder engine's power is sufficient for the Pioneer 500's 1010-pound weight. This water cooled four-stroke is built to last and while looking back through typical Honda tradition of reliability many are betting on it lasting forever. The driveline offers full time 2WD and 4WD, which is simply changed via a gate-style shifter just to the right of the steering wheel. Reverse is also included and getting there is as simple as downshifting while pulling out on a panel-mounted lever under the dash.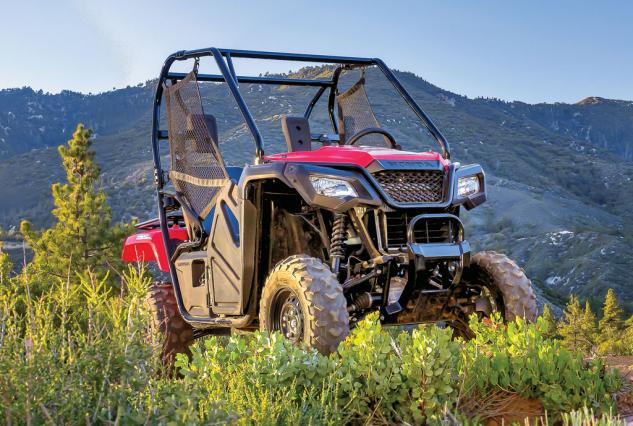 Inside the cab of the Pioneer 500 is a comfortable space for two. A very informative digital dash offers loads of information during the ride. Individually sculpted seats and diamond plate style embossing on the floor, for grip in many conditions, adds to the feeling of security and comfort. Three-point seat belt harnesses will most definitely keep you in the cushions. For a taller rider it seemed the shoulder mount for the harness could be moved up just a bit or maybe a strain relief could be added to make the ride more comfortable. Getting in and out of the Pioneer 500 is effortless with the large knob mounted just above the door latch. As well, the protective netting is attached to the door and swings out when the door is opened for easier access.
COMPARISON: Read our review of the 2010 Polaris Ranger 400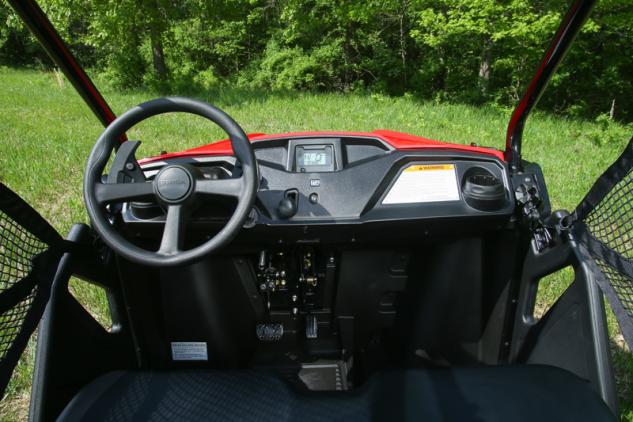 Despite its 50-inch width, the Pioneer 500 has plenty of room for two in the cockpit.
Ride Test
Honda chose a great ride location for our test ride as the home of GNCC Champion Scott Summers in the mountains of northern Kentucky was our playground for the day. Summers was well known for ruling the woods on his Honda XR600 dirt bike for several years and we think he could most likely still compete at a high level, but instead chooses to live a quiet life here. The track that had been laid out featured many turns, tight woods and soaring jumps that would sneak up on you but still leave you with a huge smile once you ran the loop a few times. These trails ran along a large river and crossed small streams, so variety of terrain as well as conditions were all there for a great ride.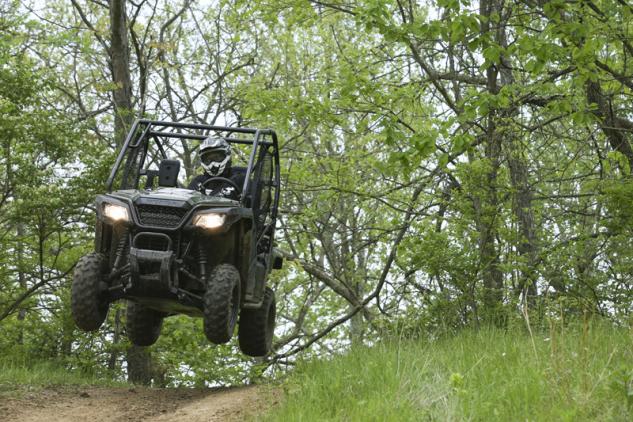 While we would have appreciated a little more suspension travel, the Pioneer 500 proved a competent trail machine.
Starting off in second gear we made our way around the course and we were more than a little anxious to get the foot feed down on the floor a bit. The mid-displacement mill responded well and the longer we rode it started to really wake up. As we moved a little faster the shifting of the five-speed transmission is where the fun factor was added to the mix. It has never occurred to us that shifting a Side-by-Side from the steering wheel could be such an awesome experience. We are used to the belt driven machines and dropping the lever in Low or High and leaving it there would have been an easy design for Honda. But taking incredible yet attainable ideas and creating innovative experiences is where these engineers wanted to be.
COMPARISON: Read our review of the 2014 Arctic Cat Wildcat Trail
Once off and running, the fact that we could change gears without really even thinking about it made the day of riding so much more fun. Handling on this Pioneer proved stable and true with a comfortable feel overall. The 9.6-inches of ground clearance gave us space for roots and rutted sections as speed picked up and even though we were reluctant to hammer the suspension it too worked really well with its 5.9 inches of travel. Even though this machine has a top speed of about 37-39 mph, it still feels like you're flying. Getting stopped was not an issue either as the brakes performed very well.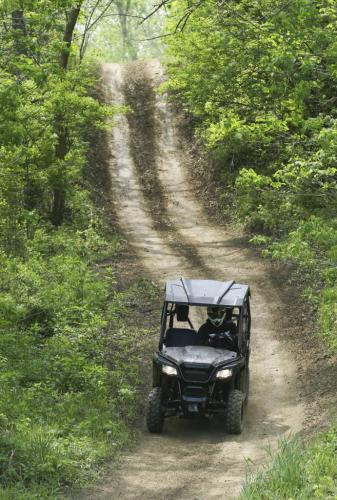 Getting the Pioneer 500 moving was easy, yet remembering the up and down shift movement was something everyone had to figure out. It can be easy to go down in gear when you really should have gone up, but it was piles of fun nonetheless!
With Honda's legendary reputation backing the new Pioneer 500 and over 40 new accessories already available, there will now be many more new riders on the trail. Pair all of these great features with a price below $8,500 and you have a winner! Published May 21st, 2014 1:22 PM
Top Brands
Popular Articles