1 View
Best Cheap UTV Accessories
August 10th, 2022 5:29 PM
Share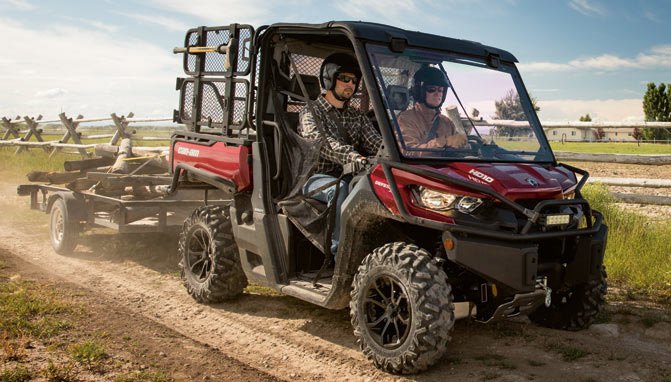 Personalizing your UTV doesn't have to cost thousands of dollars
UTVs are expensive, but getting one set up with accessories that make sense for you doesn't have to be. Here are some cheap UTV accessories to consider.
Owning a UTV is awesome and opens a lot of possibilities for both work and play. The vehicles make awesome platforms to customize them to your personal needs and tastes. There is a massive aftermarket of accessories to go along with your ride, too. The problem that plagues so many of us is cost. After spending the bucks to buy the UTV, there just isn't much left over to get the accessories you want and/or need. Luckily, there are some really good products out there that will work great for you and they don't cost and arm and a leg, either. Here are my picks of the best cheap UTV accessories that I have been really impressed with that you should take a look at.
Table of Contents
1. Editor's Choice: ECOTRIC Roof
The two most popular UTV accessories are a roof and a windshield, so this is a logical place to start. A roof will keep the hot sun from beating down on you and help keep the rain or snow off as well.
A quality UTV roof can get pretty expensive, but there are affordable options out there, including this ABS plastic one from ECOTRIC. It costs hundreds less than some options out there, but you still get a sleek-looking design that will work with most windshields on the market. It is a great value and does everything you need a UTV roof to do.
A windshield is the perfect partner for a roof and it works to keep dust and rain off you and keeps you a little warmer in the winter months. The problem with most windshields is cost – they aren't cheap, especially if you opt for a fancy one from the factory. An option to save a few bucks is a half windshield and you can save even more by going with this one from Tusk.
Tusk offers its removable half windshield in sizes to fit a huge array of of Sport and Utility UTVs. The half-windshield design lets more air into the cockpit, but still offers a layer of protection from dust, rocks and trail debris - keeping it out of your face. All are made of 3/16" polycarbonate and are easy to remove if you decide you'd like more of a breeze while you drive.
3. Bad Dawg Rearview Mirror
A rearview mirror makes so much sense in a UTV, you'd almost think they'd come standard from the factory. This is one of my must-have accessories because when you're really hammering on the trail, it makes backing up safer and easier, especially if you use a seat harness instead of the standard three-point belt.
Bad Dawg Accessories makes a sweet mirror that has a pretty universal fit and it costs less than a tank of gas. I don't know about you, but that is one deal I wouldn't mind backing in to. Cheap UTV accessories don't get much more useful and affordable than this one.
4. Rhino Recovery Tow Strap
It's always a bummer when somebody in your group breaks down, but it doesn't have to be a complete disaster. Carrying a tow strap or recovery strap with you means you can safety tow them back to their trailer so they can drive home for repairs.
We are big fans of Rhino USA products (they make great tie-down straps) and this 20-foot recovery tow strap is well worth keeping in your UTV in case of emergency. It comes with triple-reinforced end loops, poly-silk webbing, and has a breaking strength of 31,518 pounds.
5. Kolpin 4500-Pound Winch
A buddy of mine bought a Polaris Ranger 900 and wanted a winch for it. He went to a local farm supply store and bought an off-brand 4,000-pound winch that he was pleased as punch with – until it broke after a couple of light uses. He was upset about it and was even more upset when he started looking at buying a good winch, and the price that often goes along with buying good in the first place.
Buying a good winch in the 4,000+ rating range will often make your bank account nervous, but it doesn't have to. Kolpin is one of the biggest names in off-road accessories (it's actually owned by Polaris) and it a variety of winches. We like this 4500-pound winch with a synthetic cable, but you can save a few bucks if you opt for steel. It's not exactly cheap, but it costs hundreds less than some comparable winches we've tested.
6. Kolpin Switchblade Plow
If you live in snowy regions of the world, you undoubtedly have to find a way to remove the snow from the driveway. A snowplow for your UTV would work amazing, and is a lot of fun. Trust me, I know from experience. The problem is, snowplows for UTVs aren't cheap. You often have to buy a specific frame for your specific UTV, and then add in the blade and mounting hardware.
Kolpin changed that with the Switchblade. This is basically a plow in a box, with a universal-fit frame and adjustable plow blade. The best part is the price. You can get the entire plow setup for less than the cost of frame assemblies on other plows.
Storage is always at a premium in an off-road vehicle, so any time you can add some it's worth considering. This Kimpex UTV cargo box provides 85 liters of capacity. If you need a place to keep things out of the weather, this makes a great option as it comes with a weather-sealed lid. It is also lockable.
But what sets this cargo box apart from pretty much every other one we know of is that it is compatible with Kolpin (1.5 gal.) or Rotopax (2.0 gal.) gas tanks.
I know, there are cheaper coolers out there. I get that. There are some definite reasons to go with one of today's extreme coolers, and since you're driving a UTV, you already know them. They do hold ice longer and they hold up to the abuse trail use can dish out. That's where this 20-quart Kong cooler shines.
It is designed for adventure and it can keep your drinks cold while retaining ice for more than five days. It's also nice and compact, so it won't take up too much room in the back of your UTV. But there's still plenty of room to hold all the water and snacks you need for your off-road adventure (up to 16 cans and 12 pounds of ice). If you need more space, Kong has plenty of other sizes available.
Recent Updates
August 10, 2022: Removed promoted product recommendation
September 8, 2021: Added a promoted product recommendation.
May 6, 2021: Added the ECOTRIC roof, Rhino USA tow strap, and the Kimpex cargo box.
Additional Resources
We are committed to finding, researching, and recommending the best products. We earn commissions from purchases you make using the retail links in our product reviews. Learn more about how this works.
Published January 31st, 2018 2:47 PM
Top Brands
Popular Articles