46 Views
Best Cheap Action Cameras You Can Buy
February 16th, 2022 4:34 PM
Share
We're committed to finding, researching, and recommending the best products. We earn commissions from purchases you make using links in our articles. Learn more here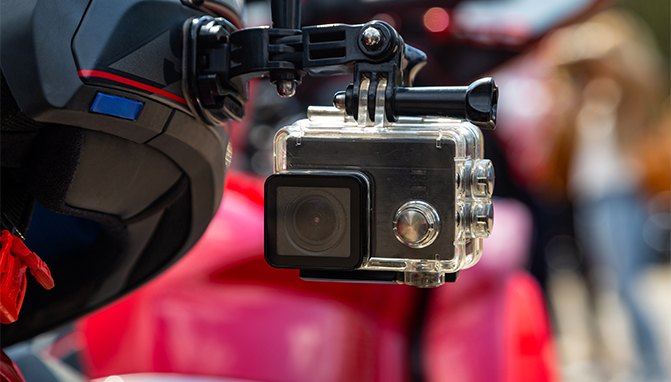 Record your next off-road adventure without spending a fortune
While GoPro has long been the leader in the action camera market, they can cost a pretty penny to own. If you are in the market for an action camera and don't have a GoPro budget, we've done a little digging and found five cheap action cameras that won't break the bank. In fact, some of these only cost a small fraction of the price of a new GoPro.
Keep in mind that we haven't had a chance to test these cheap action cameras out for ourselves just yet. We have extensive experience with cameras from GoPro and Garmin and they have never failed to impress with their video quality. We can't say that these cheap action cameras can match that quality, but at least on paper the specs look promising. At the very least, you can record the highlights of your next off-road adventure and put it on the gram.
Lead photo courtesy Zysko Sergii/Shutterstock
1. Editor's Choice: AKASO Brave 4 4K WiFi Action Cam
The AKASO Brave 4 tops our list of cheap action cameras because it it loaded with features and has a 4.5 out of 5 star rating from more than 11,000 reviewers. The Brave 4 features 4k/24 FPS, 2k/30 FPS, and 1080P/60 FPS recording options and high quality 20MP still photo capture, in a unit that provides view angles from 70° to 170° wide with image stabilization for smooth video recording. The AKASO Brave 4 also features a built in 2" IPS screen that allows you to see just what your camera is recording, so you're not guessing what you'll see at the editing table, and the included housing makes the camera waterproof up to 100'. Finally, this action camera kit comes with a ton of accessories like 2 rechargeable 1050mAh batteries that are capable of recording up to 90 minutes of action each, and plenty of mounts to get the perfect angle you want to capture. It's easy to see why this is our top choice of the best cheap action cameras.
2. Runner Up: AKASO EK7000 4K Action Camera
AKASO has a variety of cheap action cameras and one that stands out to us is the $60 AKASO EK7000, which features 4K video at 30 FPS, 12-megapixel photos, wireless 2.4G wrist remote, two rechargeable 1050mAh batteries (each capable of recording for 90 minutes), built-in WiFi and HDMI, downloadable app, and waterproof case (up to 100 feet).
3. Best Budget High-End Camera: GoPro Hero
When you think cheap action camera, the GoPro brand doesn't normally come to mind. But while newer GoPro models can cost hundreds of dollars, the base GoPro Hero can be found for much less. This model is currently on sale for $160 a 20% discount. That's a good bit more expensive than the others on this list, but you are guaranteed to get GoPro quality. Features include 1440 and 1080p video, 10-megapixel photos, tw0-inch touchscreen, waterproof case (up to 33 feet), voice control, WiFi + Bluetooth connect, and much more.
4. Neewer G1 4K Action Camera
Though it doesn't carry the cheapest price tag, the Neewer G1 action camera might offer the best overall value. Available for $60, not only do you get a camera that shoots 4K video at 25 FPS (or 2.7K at 30 FPS and 1080p at 60 FPS) with 12-megapixel photos, but it also comes with massive 50-piece accessory kit. Some of the pieces included in the kit include waterproof housing (up to 98 feet), USB cable, bandage tether strap, adhesive mounts, base buckle, a huge array of mounting devices, and a case that holds it all in one place.
5. Dragon Touch 4K Action Camera
The Dragon Touch 4k action camera packs a punch in an affordable package. This action cam is priced just over $60 and features 4K/30FPS, 2.7K/30fps, 1080P/60FPS video and 16MP photo resolution for superb video or photo quality. The built in 2" screen makes setting up your camera simple to get the angles you want an the WiFi signal that works up to 33', allows you to preview the action from your smart phone when used with the XDV app. With a 4 out of 5 star rating from over 7,000 reviewers, we thing it's a safe investment for your next riding adventures.
6. Inexpensive Action Camera Accessories
If you already have an action camera or are looking for a good selection of accessories to go with your new purchase, there are a number of kits available. The one that looks interesting to us is the 55-piece MountDog accessory kit, which is loaded with pretty much everything you could need for your cheap action camera and costs just $18. We won't go over everything included in this kit, but some of the highlights are a yellow floating handle for underwater recording, handlebar mount, suction cup mount, 360-degree wrist strap, backpack strap with clip clamp mount with 360-degree rotation, mini retractable tripod, WiFi remote fastening tape wrist strap, and a selection of adhesive mounts.
What kind of features should I look for in a good action camera?
If you want good recording quality, you'll likely want to have 4k recording capability. One feature that we really appreciate on newer cameras are built in screens. I can't tell you how many times in the past we've gotten to the editing table only to find that the camera angle was wrong so that all we captured was the ground or the sky. Having the ability to see exactly what the camera is seeing makes a world of difference.4
I see that some cameras come with a waterproof housing and others don't require them. Is one better than another?
While some units are waterproof without the need of a housing, utilizing a housing for your action camera is highly recommended if available. While the housings make the camera waterproof, the types of environment we use them on our ATVs or in our UTVs make the cameras more susceptible to damage from flying debris, mud, sand, and rocks. Having a housing provides an additional layer of protection for your camera.
Additional Resources
Recent Updates
2/15/2022: Ranked products, updated product descriptions, updated product links, removed obsolete products, added new products (Dragon Touch 4k action cam and AKASO Brave 4 action cam), added FAQ and additional resources.
Become an ATV insider. Get the latest news first by subscribing to our newsletter here.
We are committed to finding, researching, and recommending the best products. We earn commissions from purchases you make using the retail links in our product reviews. Learn more about how this works. Published September 26th, 2019 11:38 AM
Top Brands
Popular Articles