81 Views
GoPro HERO 10 Black: The Best Action Camera You Can Buy
October 6th, 2022 1:41 PM
Share
We're committed to finding, researching, and recommending the best products. We earn commissions from purchases you make using links in our articles. Learn more here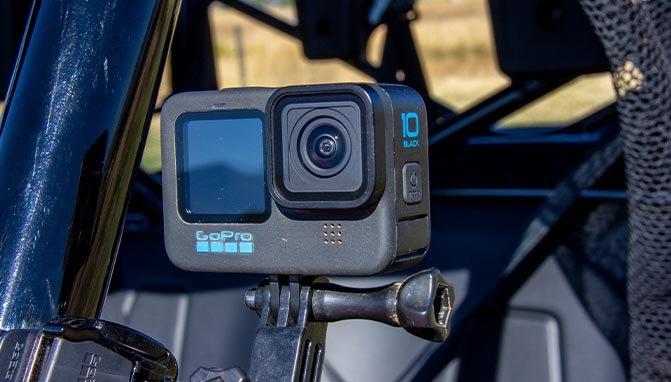 We test the new GoPro Hero 10 to see if it meets expectations as the industries best action camera.
When it comes to the world of action cameras, there is no better recognized and respected name than GoPro, and there's good reason. GoPro started the compact action cam revolution with the original HERO, and since then the company has only continued to improve on its success with various upgrades over the years, to what we now have today with their most recent model. Here's a quick list of the features you find in the GoPro HERO 10:
Lightweight at 183 grams, waterproof up to 33', removable lens cover that is both hydrophobic and scratch resistant.
New GP2 processor capable of recording the following video quality: 5.3K/60fps, 4K/120fps, 2.7K/240fps with 23MP still photo and 19.6 frame grab photo quality.
HyperSmooth 4.0 for smooth, stabilized video playback.
GPS data recording so you can see specific data during playback when using the GoPro App.
Rear touch screen that allows you to see what the camera is seeing and easily navigate user settings.
Hard, zippered carrying case that securely holds the HERO 10, battery mounts and charging cable
If you're looking for a decent camera that doesn't have these features and don't need the high quality recording capabilities of the GoPro HERO 10, one of the cameras from our list of Best Cheap Action Cameras might be more your speed.
The previous model, HERO 9 Black, released in 2020 had the latest technology to capture cinematic quality video of your favorite activities. For 2022 GoPro again took the HERO to new levels with video capture ability that is twice as good with the HERO 10 Black that features the new GP2 processor. The previous model was only capable of capturing 5.3K video at 30FPS, where the new HERO 10 is capable of the same video quality but a capture rate of 60FPS, meaning the new camera produces crisp and clean video. Additionally, this upgrade also allows for higher quality, 23MP still photos and 19.6MP photo quality from a frame grab. The new GP2 processor also allows for improved quality in low light conditions so you can capture the action even as the sun is going down or has disappeared for the night.
While GoPro cameras are famous for their incredible ability to capture high quality video, the HERO 10 is also capable of snapping amazing still images in excess of 20MP. Photo Credit: Eli Madero
In all honesty, it's been a while since I've upgraded my action camera equipment, with my most recent action cam being a HERO 4, it has served me well in its time. Now that I've been fortunate enough to get my hands on a HERO 10, I'm excited to see what advancements have been made over the years first hand.
Big Features In A Small Package
Right off the bat, the packaging is stellar. The unit comes well protected in a fabric hard case that has specific placement for the camera as well as one sticky mount, camera mount USB charging cable, and a 1720 mAh lithium-ion rechargeable battery. As someone who travels to various powersports events with camera equipment, I appreciate the convenience of having a case dedicated to the GoPro items. While the kit only comes with one mount, GoPro hasn't changed anything about the mounting systems since the original HERO. This means if you have a collection of mounts (handlebar, roll cage, helmet, etc.) they'll still work with the HERO 10. If you need to purchase more, GoPro has a great selection and there is no shortage of aftermarket mounting options as well.
The packaging of the GoPro HERO 10 is a far cry from what it used to be. Everything you see here has a place inside of that hard fabric carrying case that helps to keep it all safe and organized. Photo Credit: Eli Madero
I'm not going to deny that I wasn't a bit intimidated with all of the functions available with this new unit. When you look at the most recent HERO 4 I had in my camera bag, it's pretty much a dinosaur compared to this HERO 10. As usual, I gave the battery a full charge before even bothering to play with the camera. There's nothing worse than having the battery die as soon as you start getting the hang of something. Once I finally fired it up, I was pleasantly surprised at how simple it really was to operate. Gone are the days of looking at a tiny black screen to see which mode I was attempting to land one with multiple pushes of a button. The full color LCD screen was easy to navigate between time lapse, video, or photo settings with a swipe of a finger on the back screen.
Choosing from time lapse photo, to video, or still photos is as easy as swiping your finger across the LCD screen on the back of the HERO 10. Photo Credit: Eli Madero
Where it can get complicated is trying to decide which photo or video settings work best for your needs. While there aren't multiple lenses for you to choose from with this fancy handheld action camera, you do have different field of view options such as wide, linear, and narrow. The photo option also gives you different settings for which your still images can be captured that range from RAW to HDR images. You can also opt for the camera to automatically select the best image processing for your shots. If you need to get something detailed, you can also zoom in up to 2x. What does this mean? Well, instead of having to bring an extra camera or use your phone to capture great quality photos when you're taking a break from riding, you can just use the new GoPro HERO 10 in its place.
Premium Video Capability To Relive Your Adventures
As far as the video quality that you get from this compact action cam, I've never come across anything better in such a small package. With five different recording options that range from basic to cinematic quality picture, the content that you can record is amazing. When you're recording at 5k and 60 FPS, you have the ability to zoom in during post-production and still have 4k quality video. With this kind of video quality, the detail that it captures is second to none. This is where you really have to spend some time playing around with the settings to get the exact video quality that you want. Let's face it, not every adventure that you set out on requires cinematic quality.
Additionally, the higher the quality of the video that you're going to be recording has an affect on the camera itself. If you're shooting at cinematic quality (5K @ 60 FPS) the camera can get hot and automatically shut down. Now we're not talking burn your hands hot, but it's enough for GoPro to put this safety feature in the unit to prevent damage. Also, the higher quality you record at will affect the battery life of your HERO 10. Recording in that same cinematic quality, you can get roughly 45 minutes of quality recording time and if you drop that down to say 4K @ 60 FPS, you can increase that recording time by an additional 15 minutes.
The settings menu give you the ability to lock the camera orientation, maximize the video performance, and set how you want the camera to come on and start recording. Photo Credit: Eli Madero
In addition to the exceptional quality video, the GoPro HERO 10 Black also features three different levels of video stabilization. This makes for some of the smoothest video playback that you'll ever see regardless of how treacherous the terrain you're riding on is. Even when you are holding the camera in your hand and shaking it around (within reason) you can see in the screen that what the camera is capturing is extremely smooth. To ensure that what you're recording or taking still photos of has the best quality, the HERO 10 also features a replaceable scratch resistance lens that has a special Fluorine coating to repel water. I still recommend purchasing one of GoPro's protective housings since flying rocks and other debris can damage the unit, so why not invest to protect your camera as best as possible.
Do you have a ton of mounts for your old GoPro cameras? They will work on the new GoPro HERO 10 as well. Photo Credit: Eli Madero
Still The Best You Can Get
So is the GoPro HERO 10 the best action camera you can get? When I received it a few months ago, it absolutely was. As of this review, GoPro has recently launched their HERO 11 action camera so I can't guarantee that claim. What I can say is that you won't be unsatisfied if you purchased this camera before heading out on your next ATV or UTV adventure. It's by far the best all-in-one device to get quality video, that's good enough for professional use, and some great still photography without having to worry about carrying around an extra device like another camera or even your phone. Even better is the fact that it's waterproof so if by chance the GoPro slipped out of your hand into the mud or water, you wouldn't have to worry about ruining an expensive piece of electronic equipment.
What is even better about the fact that GoPro has just released the HERO 11, is that now this model has a discounted price making it even more attractive.
Become an ATV.com insider. Get the latest news first by subscribing to our newsletter here.
We are committed to finding, researching, and recommending the best products. We earn commissions from purchases you make using the retail links in our product reviews. Learn more about how this works. Published September 28th, 2022 11:11 AM
Top Brands
Popular Articles