170 Views
Best Action Cameras for Capturing Your Rides
May 25th, 2021 12:03 PM
Share
We're committed to finding, researching, and recommending the best products. We earn commissions from purchases you make using links in our articles. Learn more here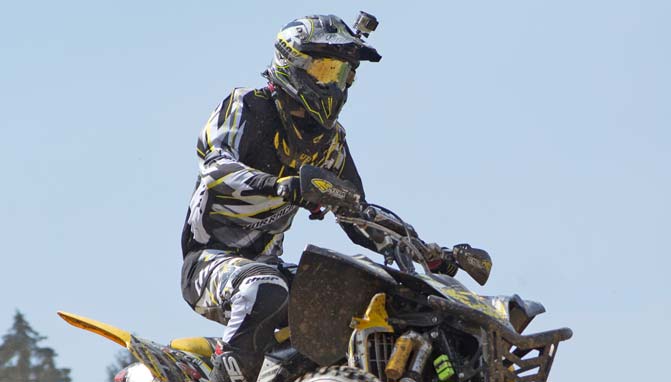 The best way to share your riding memories
Action cameras exploded onto the scene several years ago and have remained an extremely cool way to capture the memories of your riding adventures. These small, lightweight cameras have completely changed the way video is captured with exceptional video quality, rugged housings and easy-to-use editing software. Just like cell phones, each year new technologies come along that improve these cameras.
Now action camera brands come and go faster than most of us can keep up with (remember the Garmin VIRB?), so we did our research and below you'll find our top picks of the best action cameras from reputable brands.
Lead photo by Frank11 / Shutterstock.com
Table of Contents
1. Editor's Choice: GoPro Hero9 Black
GoPro started the compact camera revolution and remains the biggest player in the game. The latest, the Hero9 Black, takes video quality up a notch with 5K video that manages to maintain crisp detail even when zooming in. To save space on your SD card, you can also shoot in 4K, 2.7K, 1440p and 1080p. Other features include 20MP photos (and 14.9MP screen grabs), new Max Lens mod for improved stabilization and wide angle perspective, front and rear display screens, 8X slow motion video. You can also take advantage of LiveBurst and record 1.5 seconds before and after your shot. Finally, one of our favorite features is HindSight, which captures up to 30 seconds of video before you start recording...so you are never too late for a shot.
Staying with the leader in action cameras, the GoPro MAX is an incredibly versatile camera. You can shoot Hero-style videos or record 360-degree footage in 6K. A key feature is Max HyperSmooth, which is GoPro's next level video stabilization technology for the smoothest video yet. You also have access to four lenses to find the perfect shot - Narrow, Linear, Wide, and Max SuperView. We would highly recommend downloading the GoPro app, which lets you transform the 360-degree footage into a more traditional video. You can play back, edit and share...all from your phone.
Early GoPro cameras were lacking when it came to audio quality, but the new GoPro MAX is outfitted with six microphones with much-needed wind-noise reduction to get the best sound ever from a GoPro.
360Fly was one of the first action-cameras to feature true 360-degree video. The latest camera from 360Fly has 4K video quality as well as first-person POV, motion/audio active modes, and a very cool time-lapse mode. What's more impressive is that this camera does all of this with a single lens. The camera's housing is water, dust and shock resistant. It also has a built-in e-compass and non-assisted GPS feature.
A newer addition to the ATV video camera world comes from DJI - the same company that makes some of the best drones in the industry. The DJI Osmo Action visually looks quite a bit like a GoPro and packs some of the same type of technology. Features include front and rear screens, wide-angle 145-degree video recording, 4K HDR videos, 8x slow motion at 1080p (24 fps), 11-meter waterproof, and RockSteady image stabilization technology.
Cyclops Gear has been making action cameras for powersports vehicles for a number of years now and the latest offering is the CGX3. This ATV action camera shoots in 4K HD at 24 fps or 1080p at 60 fps. Features include built-in WiFi, 2-inch LCD touch display screen, and it's waterproof up to 10 meters. The package comes with a pair of cold-weather batteries.
You can pair the Cyclops CGX3 with the Cyclops app on your mobile device, which allows you to operate the camera up to 30 meters away.
Recent Updates
April 23, 2021: Added the newest GoPro Hero9, updated links to some products, and added an FAQ.
We are committed to finding, researching, and recommending the best products. We earn commissions from purchases you make using the retail links in our product reviews. Learn more about how this works.
How do you mount an action camera to your ATV or UTV?
Most action cameras offer accessory mounting solutions. Smaller clamps can be hooked up to your ATV's rack and larger ones can be secured to a UTV's ROPS. Perhaps the simplest solution, though, are adhesive mounts that you can stick on your helmet or even the plastic of your ATV or UTV. These mounting accessories can usually be purchased as a package and some cameras will come with everything you need. Derrek Sigler
Derrek's love for all things ATV started when he was a mere 11 years old, growing up on his family farm. His mom gave him and his sister a choice - get a horse, or a three-wheeler. The sister wanted the horse, and Derrek wanted the ATV. Luckily he won out, and was soon burning up the trails on a Yamaha Tri-Moto 200. By the time he was 14, he had saved enough of his own money by working on the farm and in his folks restaurant to buy a new 4-wheeler. That happened the day he and his mom were driving past the dealership and saw 1987 Banshee. His mom had no idea what he was buying, and he never looked back. He's been riding ever since, and been writing professionally for many years. He has ridden all over North America and been behind the controls of just about every machine out there. And yes, he still has his 1987 Yamaha Banshee.
More by Derrek Sigler
Published July 5th, 2017 12:15 PM
Top Brands
Popular Articles